Search this site
A Taste of Spain
This culinary tour gives the gourmet traveler a first glance at the mosaic of cultures & cuisines that Spain represents: Basque Country and Andalusia, completed with a visit to Madrid…
more...
Live Flamenco Dancing Performance in Seville From the roots of flamenco in the heart of Seville, we offer the best flamenco show in the city in the most luxurious and elegant venue in the country...more...
Luxurious Beach side Honeymoon in Sitges Costa Brava and Mallorca Island This honeymoon has been designed for honeymooners that would like to relax on romantic beaches and do some sightseeing as they please. 1st part of the vacation in Sitges near Barcelona. 2nd half of the trip is spent on the Balearic Island of Mallorca...more...
Luxury Honeymoon Vacation in Mallorca Romantic Honeymoon in Mallorca. Relax in beautiful surroundings, extensive landscaped gardens, enjoy first class facilities and dine on Michelin starred food..more...
Spanish Spices the Saffron and Paprika Route This culinary trip takes you to the annual harvesting of the saffron flower in La Mancha. Discover the roots of Spanish Saffron, the most expensive spice in the world, the secret of Spanish Paella…more...
The Valley of Gredos Riding in the heart of Castile in the Sierra of Gredos, one of the wildest and less populated areas of Spain. Excellent terrain for riding, gallop across pastures…more...
View all tours

Sagrada Familia,
Barcelona, Spain
Buy at AllPosters.com


Copyright © All World Vacation Station




Spain Travel Guide:
Featured travel reading:

Stay in style in marvelous Marbella on the Costa del Sol in Spain
A tantalizing mix of old and new, Marbella is nestled on the Costa del Sol in Andalusia, Spain, just 51 km from Malaga city by the fastest route. With its modern developments contrasting with the charm of its Old Town, Marbella has something to suit every taste, whether in dining, shopping or enjoyable activities... read more

Make some magical moments in Málaga on the Costa del Sol
When visiting the Costa del Sol in southern Spain, many people consider the city of Málaga to be merely an entry and exit point on their holidays. However, Málaga is a fascinating destination all on its own and is well worth a visit, even for just a day ... read more

An out of season visit to sunny Spain
Let's face it, July and August are busy months in Spain, with tens of thousands of visitors heading to the country's many attractive destinations. For anyone wishing to avoid the crowds, a spring or autumn holiday has all the same wonderful attractions, but with more space on the beach, less queues at the popular attractions and the ease of booking a restaurant table... read more

General:
10 Things You Must See In Spain
Golf holidays in Spain are a great choice
Spanish Music is Flamenco (Spain) not Mariachi (Mexico) bien!

Andalucia: Costa del Sol Travel Guide:
Activities for Children in Costa del Sol
Destination Guide: Malaga
Fuengirola on the Costa del Sol in Southern Spain
Guide to Spain's Costa del Sol
Sailing on the Costa del Sol
Malaga - Costa del Sol
Adventure and Water Parks near Nerja, Costa del Sol
The pull of the Costa del Sol

Andalucia: Granada Travel Guide:
La Alhambra, Jewel of the Spanish Past
Granada and Beyond

Andalucia: Cordoba Travel Guide:
A day trip to Cordoba, Spain
Visit The Historic City of Córdoba in Andalucia
Cordoba Photo Gallery

Andalucia: Seville Travel Guide:
Seville, A Flamboyant Spanish City
Seville, the wonderful capital of Southern Spain
Things to do in Seville Spain - The Maestranza Bullring
Seville Photo Gallery

Aragon Travel Guide:

Castilla y Leon Travel Guide:
Avila, Spain
Castilla Leon Holidays - Avila, Burgos, Leon, Salamanca, Segovia, Valladolid and Zamora
Salamanca, Spain - modern city with small village values
Segovia
The historic town of León

Cataluña/Catalonia Travel Guide:
Barcelona Travel Guide
The Best Beaches In Costa Brava
Catalonia - Holidays in Barcelona, Tarragona and Girona
Catalonia's Costa Daurada: The Family Friendly Destination
Costa Brava Holiday Ideas
Have fun in the sun at PortAventura Spain
Sitges - Resort for Alternative Lifestyles
Tossa de Mar, pearl of Costa Brava
Travel Spain: Girona and the Dali Triangle

Extremadura Travel Guide:
Extremadura Holidays - Merida, Badajoz & Caceres Attractions & Activities

Galicia Travel Guide:
Camino de Santiago de Compostela: A Modern Pilgrimage
Explore Northern Galicia
Ferrol and The Northern Coast of Galicia
Hunting For Treasures in Pontevedra
Stay in Southern Galicia
The province of Coruna in Spain
Vigo - A Tale of Two Cities
Visit The Rias Baixas Galicias Western Coast

Madrid Travel Guide:
Madrid - a guide to the key sites and monuments
Shopping Tourism in Madrid
Madrid Spain Is The Home Of Great Art
Nightlife Guide: Madrid by AJ Yeakel
Puerta del Sol - The Heart of Spain
Things to do in Madrid
Touring Madrid - Visiting the Church of San Francisco
Travel Abroad To Museo del Prado
Whistlestop Tour of Madrid, Spain

Murcia Travel Guide:


Valencian Community Travel Guide:

10 Things You Must See In Spain by James Burrows
Top
You just can't resist the charms of Spain, because they're really-really irresistible. Spain certainly has one of the most mesmerizing beauties. Surely, one of my favorite countries, Spain is an extremely popular destination in the Mediterranean Europe. It is an exotic land as surreal as a dream. Spain is the best destination when looking for holiday ideas.
Spain definitely has numerous charms, which include many art & architectural magnum opuses, moorish palaces, crumbling castles, roman ruins, gothic & renaissance cathedrals, museums & art galleries, etc. Thus, it's really tough to pick the 10 things that you must see in Spain. What makes it more difficult is that every single thing looks better than the other. Yet, I've tried to pick the ten most popular sites in Spain.

1. La Sagrada Família – one of the most iconic & popular architectural masterpieces in Spain. Associated with Antoni Gaudí, the monumental Roman Catholic basilica is under construction in Barcelona. Its construction began in 1882, and Gaudí worked on the project for over 40 years.


Sagrada Familia, Barcelona, Spain
Buy at AllPosters.com
2. Casa Milà – an outstanding Antoni Gaudí architecture, popularly known as La Pedrera, located in the Eixample, Barcelona. One of the finest works of Gaudi, it's part of the UNESCO World Heritage Site "Works of Antoni Gaudí".


View of Gaudi's Casa Mila Modernist Roof Terrace
Buy at AllPosters.com

3. Park Güell – a large garden complex located on the hill of el Carmel in Gràcia, Barcelona. Designed by Antoni Gaudí, the magnificent complex is part of the UNESCO World Heritage Site "Works of Antoni Gaudí".

4. Burgos Cathedral – a Gothic-style cathedral in Burgos, Spain. Dedicated to the Virgin Mary, the Cathedral is famous for its vast size and unique architecture.

5. Cathedral of Seville – one of the largest churches in the world, located in Seville, Spain. It is the finest example of the Gothic and Baroque architectural styles.
6. Alhambra – a palace and fortress of the Moorish kings, located in Granada, Spain. Onetime residence and court of the Muslim kings of Granada, the beautiful Islamic architecture presently houses a museum.

7. Aqueduct of Segovia – the most significant and best-preserved monuments of the Romans, located in Segovia, Spain. It has virtually become the symbols of the city of Segovia.
8. Guggenheim Museum – a modern and contemporary art museum designed by, located in Bilbao, Basque Country. The museum is designed by Canadian-American architect Frank Gehry.
9. Plaça de les Glòries Catalanes – a large square in Barcelona, located in the Sant Martí district, bordering Eixample. First designed by Ildefons Cerdà, the square gives fantastic view at night.
10. Santa María Magdalena – a monastery dating from the 19th century, located in Novelda, Alicante. It has a church designed by a disciple of Gaudi.

Spanish Music is Flamenco (Spain) not Mariachi (Mexico) bien! By Jonathan Irish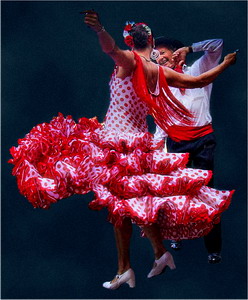 What kinds of music are you going to hear when you arrive in Spain? ¡Mucho! But just because Enrique Iglesias is from Spain, not Mexico, does not mean that you are listening to real Spanish music. When kids turn on the radio in the states they might hear Shakira singing her popular song la tortura (the torture) along with Spanish Grammy winner Alejandro Sanz, but sorry Enrique and Alejandro, Spanish music is and always will be flamenco, de pura sepa (the best of the best).

There are at least 30 varieties of flamenco in Spain and can be found everywhere, and since Spain invented the guitar the people know their music. The famous Spanish poet Fredrico Garcia Lorca called flamenco one of the greatest inventions of the Spanish people. During my 2 ½ years in Spain I heard flamenco more than anything, and especially in los barrios gitanos (gypsy neighborhoods).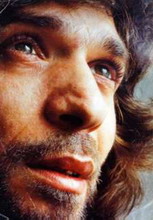 Flamenco can be considered much more than music, rather a lifestyle, with so much diversity in Spain the love of flamenco has been a constant through out and even has roots in France. The beauty of flamenco takes more than just a guitar; the style is tied to the elaborate dancers with castanets and the traditional hand clapping.
The type of flamenco most tourists see is with colorful dresses and music dating back to the 16th century beginning in the region of Andalucía with traces of Moorish and Jewish traditions. But flamenco is not just a style from centuries before, El Camarón de la isla (1950-1992) is considered a legend in Spain, his image is everywhere from car stickers to t-shirts, Camarón helped bring about nuevo (new) flamenco with the induction of the electric bass. After a battle with lung cancer Camarón died, with over 100,000 mourners at the funeral it truly showed the world the power of music with people. Following his death film director Jaime Chávarrí made a movie of his life which later received several nominations for the prestigious Goya Awards.
Today flamenco is still a huge part of understanding the culture; don't think that Enrique Iglesias is what Spanish music is all about. To really enjoy Spain and flamenco I would encourage listening to the various types of flamenco, preferably Camarón, Paco de Lucia, and Tomatito and when you arrive make sure you see a show. ¡Vive España!
View a full list of private tour options in Spain