Search this site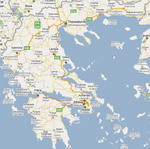 View map of Greece

Santorini, Greece Photographic Print
Buy at AllPosters.com


Santorini Island, Greece
Buy at AllPosters.com

Copyright © All World Vacation Station





Greece - The Most Admired Land On Earth by Pankaj Mohan
Greece is widely regarded as the place where the western civilization was born many centuries ago. It is widely acknowledged as the guiding force that has driven the human civilization for over 2500 years now. It is also the place where three continents, namely Europe, Asia and Africa, and three varying climatic conditions submerge into one. These enthralling shades make it one of the most visited places on earth today. Roughly 16 million tourists walk on its soil every year, thus allowing several hundred thousand Greek nationals to be employed by its tourism industry. Located at the southeastern fringe of the European peninsula, Greece is spoken of highly for its world class beaches, lavish hotels and the level of hospitality it offers. Hotels in Greece are an integral part of its tourism infrastructure, which earns around 15% of the nation's entire GDP in revenues.

Parthenon, Athens, Greece Photographic Print
Buy at AllPosters.com
Rich visuals may be recalled; if one began examining how the events of Greece had benefited the world we are part of. It was Greece that first gave the idea of democratic governance almost 2500 years ago. The word "democracy" itself stemmed out from the Greek language, meaning the rule of the people. In spite of its initial doubts, the Greek democracy survived on and was later followed by many other states. Modern states are often seen mimicking the same federal structure that Romans established around 2000 years ago. However, it should be noted down for academic reasons that Romans were more of an autocratic regime, as their later years suggest. Only parts in and around Athens had democratically elected councils to look after their people.
Greece also gets known for having gifted the world with Modern Olympic Games. It was Athens in 1896, where the first Olympic Games were organized after its modern-day revival. Olympic Games have since become a rallying point for the players and athletes from all over the world to compete and people from varying backgrounds to mingle with each other. Remains of the ancient Olympia stadium were excavated and restored in the middle of the 20th century. It is the same location from where the Olympic Flame starts its journey and gets carried to the game venues. These and many other exciting stories may suggest why Greece has been admired for ages now.
The world loves visiting Greece in huge numbers as a result, providing an immense boost to its tourism infrastructure. Its scenic Mediterranean coastline and the yearlong pleasing weather make holiday making fun and frolic. Athens, Peloponnese, Cyclades and Crete are some known cities carrying immense historic significance, where most travelers prefer heading on to. Hotels in Greece would be seen having high occupancy rates throughout the year, in this process, and one should plan their journeys in advance, for the same reason, to make their trips hassle free. Travelers can buy both cheap and high end accommodation from hotels in Greece, and also try to get best deals from tour operators, which include last minute holidays.
There is enough online support available for those who might be willing to book their accommodation from hotels in Greece. Sea-side resorts and self-catering apartments should also be taken into consideration apart from prime hotels in Greece for garnering accommodation. Planning out in advance should make your Greek journey memorable, since there were plenty of activities to be entertained from apart from visiting the usual heritage sites.
About the Author - Pankaj Mohan is a freelance writer who often writes on behalf of AmazeTravel.com. You can visit this site to learn more about hotels in Greece.

Naxos - Best travel tip for Greek Island Beach vacations by Stewart Palmer
Naxos is the largest island in the Cyclades - the group of islands in the center of the Aegean. The island is eighteen miles in length and 12 miles wide and is oval in shape. It is also the most fertile, and this makes it one of the most beautiful. But it is the miles of unbroken golden sandy beaches that attracts the majority of the thousands of summer tourists that flock to Naxos every year.
For the holidaymakers who can drag themselves away from the glorious beaches, Naxos provides a wealth of ancient Greek remains as well as plenty of Byzantine and Venetian history. The island's capital, also called Naxos, has a Venetian fortress as well as an ancient Greek temple to Apollo.
This temple is usually the first thing that a tourist sees when visiting Naxos by ferry because it stands proudly on the tip of the island, marking the way into the busy ferry port. The temple dates back to 522 BC but its ruinous appearance is not because much of it has been lost to the passage of time, but rather because the ancients never finished building it.
Naxos town is very picturesque port with a maze of whitewashed streets and alleyways, designed with the frequent invasions from Aegean pirates in mind. Its typically Cycladic architecture blends with the Venetian and every turning invites the visitor to explore. With such romantic charm and mystique, it is little wonder that Naxos has long been popular with writers and artists. Lord Byron visited in his youth and never forgot the experience, referring to it in his writings as the 'Dream Island' and often saying that he would love to return some day.
Naxos has 41 villages and most are worth exploring. They are found in the green fertile, valleys that are sandwiched between the rugged, arid mountains. Many of these are over 2000 feet high and the highest, Mount Zeus is 3,200 feet. Naxos enjoys the economic rewards of being a tourist island but it does not depend on them for its prosperity. A great deal of farming takes place in its rich valleys and the cultivation of lemons is especially successful. In addition to lemons, Naxos produces cherries, pomegranates and other fresh fruit. It also produces olives, nuts and potatoes whilst its grapes make some of the best of Greek wines.
Travel Tips for Getting to Naxos Naxos is deservedly popular with discerning tourists but unlike nearby Mykonos, it is not in danger of being turned into a mass tourism resort. What has saved it from doing so is its lack of an international airport. There is however an excellent airport providing domestic flights and some tourists, mainly Greek holidaymakers, arrive in Naxos this way, flying from Athens. The majority of tourists arrive by ferry however, and there is no better way to start a Greek island holiday than this. You can sail all the way from Athens but it will take at least six hours. Or you can fly to Mykonos and get on a ferry that takes only two hours. Both options have their pros and cons. We flew to Mykonos one year only to find all the ferries were booked. Another travel tip, whichever route you choose, is to be careful that you get off at the right island. The first time we visited Naxos, we misheard a landing announcement and got off the ferry only to see a sign that read 'Welcome to Paros'. Luckily, we had enough time to re-board and complete the remaining minutes of the journey to neighboring Naxos.
Visit the best-travel-tip.com website for more travel tips and articles about Greece and other holiday destinations.
About the Author - Stewart is probably a travel fanatic. Although he travels a great deal, trying to visit as many of the world's favorite travel destinations as possible, his biggest kick comes from just dreaming about the places he hasn't yet been to. With such a passion for travel, it is little wonder that Stewart has a website called best-travel-tip.com It is dedicated to providing travel tips and travel.

A Crete Travel Guide
The Mediterranean island of Crete is a favorite for Europeans who are looking for a second home, vacation spot or retirement haven. It has year round sunshine and beautiful scenery, and is currently undergoing a development boom. Crete has over 1,000 kilometers of coastline, is the largest island in Greece and the fifth largest in the Mediterranean, and is important historically as the home of the Minoan Civilization and has many archaeological remains for visitors to see and explore.
Crete, approximately 160 kilometers south of the Greece mainland, has a population of nearly 650,000 residents, who mostly reside on the north coast of the island. A long mountain chain runs through the island, coming right to the sea along much of the southern coast, where there a number of smaller towns and beaches. The climate is temperate, with summers long and hot and winters mild. During the winter, snow falls in the mountains, and occasionally along the northern side of the island but rarely on the south.
The largest city on the island is Heraklion, with nearly 150,000 residents, followed by Chania, with 54,000 residents and Rethymno. Chania and Rethymno are the most popular destinations for tourists on the western part of the island. On the eastern half, Heraklion is the business and commerce capital of the island, with Agios Nikolaos and Sitia being popular tourist destinations.
In between Heraklion and Rethymno is the small town of Panormos, where a new home development is under construction. Panorma Seafront homes all have sea views, shared or private swimming pools and are located within 50 meters of the sea.

Homes here begin at under €70,000 for a 1 bedroom property, while 3 bedroom houses can run over €200,000. This development is a fine example of the type of property available off-plan and nearly new on this idyllic island.

Chania is the major tourist destination on Crete. It has many resorts as well as the scenery and weather that Crete is known for. Chania has some of the best nightlife on the island, in the capital city of Chania Town and at resorts such as Platanias and Paleohora. The Golden Beach is within walking distance of downtown Chania and provides a sandy beach for those who want to stay in this lively city

The main airport for Crete is Heraklion International Airport, also known as Nikos Kazantzakis International Airport (HER), which serves many UK and European cities with daily, nonstop flights. The other international airport on Crete is Chania International Airport (CHQ), serving the western part of the island. A number of discount airlines fly to both airports, making it a reasonably priced destination. There are also ferries that travel to and from the Greek mainland, often taking an overnight for the trip.


Buy at AllPosters.com
Travel to Crete is a popular things to do in the UK,author Nicholas Marr has operates several Greek property websites including http://greece.homesgofast.com and http://www.greekhomes4sale.com



| | |
| --- | --- |
| FEATURED CORFU SELF-CATERING / VACATION RENTAL ACCOMMODATION | |

Andromaches Holiday Apartments (Ref: 28149), Corfu
The Andromaches Apartments are located just outside Benitses, a small fishing village on the eastern coast of the island of Corfu (Kerkira). Surrounded by a large garden, the property enjoys an excellent position offering enchanting views of the Ionian sea. Minutes away from unspoilt sandy beaches, where many water sports can be practiced, the residence lies only 9 km south of Corfu town, not far from tourist facilities and a wide range of restaurants, bars and cafès. Offers a warm hospitality and a traditional Greek atmosphere, as well as an attentive service that will make your stay a pleasant one. Families with children, couples and groups of friends will appreciate the quiet setting and enjoy unforgettable holidays. Sleeps 2.
Corfu Villa, Luxury Villa, Corfu
3 bedroom luxurious self-catering/vacation rental villa right on the water - sleeps 6. This dramatic and sophisticated house is set directly on the sea amidst flower- filled gardens in Kommeno, the most exclusive area of Corfu. With state-of–the-art technology, it offers the comforts of a modern year-round home in the relaxing surroundings of this beautiful Greek Island. In front of the house a traditional entry courtyard with fountain welcomes visitors. The house is spacious and luxurious, with exceptional entertaining areas. A large salon has walls of glass which open onto a wide seafront terrace overlooking the swimming pool. Another broad terrace adjoins the pool and features a pool-house with a bar as well as changing facilities for guests. A waterfall from the upper terrace to the pool is a special feature.
Villa Anemone, Corfu Greece
This three story villa was completed in 2002 and is located in Dasia, one of the nicest and most well known tourist resorts on Corfu. The villa is situated on a hillside in a very quiet spot in a magnificient landscape with panoramic views from every floor. It is just 300 meters away from the centre of Dasia, where you will find active nightlife, numerous restaurants, bars and shops. The outdoor area has large terraces and it is surrounded by two acres of private land with mature olive trees and a great variety of fruit tress. A private road (150 m) leads to the villa, which is accessed by a remote controlled gate. Various types of flowers are grown in the garden.
Villa Blue Whale (Ref: 13233) Self catering villa in Karousades, Corfu
If you are looking for a beautiful and unique location for your well-deserved holiday, than you will find everything you need in this place. Villa Blue Whale is a comfortable, spacious and completely privat house, directly on the beach, situated in the northcoast of the Ionian island Corfu. The house is well suited for 11 persons (12 with baby), has a large privat swimming pool and superb sunsets and views to the islands Erikousa and Mathraki and the coast of Albania. "Villa Blue Whale" has 5 bedrooms and 5 bathrooms. A second livingroom with comfortable couches and fireplace and many more terraces around the house to sit and lounge in the sun. Sleeps 12.
Search for more options

| | |
| --- | --- |
| FEATURED CRETE SELF-CATERING / VACATION RENTAL ACCOMMODATION | |

Alkionis Beach Apartments, Crete
12 km east of RETHYMNON town, right at the sandy beach of SFAKAKI - no road in between - is situated in a not very touristical area this new apartment complex. ONE ROOM STUDIOS for up to 3 people - APARTMENTS with one bedroom either for up to 6 people, or 2 bedrooms up to 4 people, kitchenette, but no living room, all with balcony or terrace - 1 FLAT with 3 bedrooms for maximum 8 people, living room, kitchen within, 2 bath rooms, 3 balconies - and another flat right at the sea with 2 bedrooms, big living room with some more beds, 2 bathrooms and a 100 m/2 terrace to the seaside.
Sunset Villa, Rethymnon Crete Greece
Sunset Villa is a detached self contained 2 bedroom holiday villa, with private swimming pool, 10 minutes from Rethymnon. Holiday for up to 6 people. Exclusively well-appointed, the villa offers a sophisticated, comfortable and relaxing holiday for up to 6 people (adults and children). Beach towels included. We will supply you with milk, tea, coffee and sugar on your arrival. There are so many things to do: walking, cycling, swimming, diving, wind surfing, water sports and historic attractions. The view from sunset villa is very stunning, if you are wondering where to spend your honeymoon, Sunset is the place to think about.
Villa A, Platanias/Chania, Crete
This property offers a relaxing holiday in a quiet location yet close to a wide variety of amenities. Villa A is situated just off the village square of Platanias on a little road leading down to a beautiful sandy beach. Approximately 12 km west of Chania, Platanias is a lively beach resort with traditional village houses perched on the hillside above. The 2-storey villa has been lovingly built in traditional style, is surrounded by trees and pretty gardens and has a comfortable private terrace with sun awning and an outdoor shower. The house is 85M2 in size, having two bedrooms, and is suitable for 4-5 people.
Villa E, Tavronitius/Hania, Crete
This is our most luxurious and beautifully appointed Villa yet and is probably one of the finest in Crete. Three double bedrooms. Indoor and outdoor swimming pool. Air conditioning. Central heating. Two bathrooms plus WC downstairs. Extensive use of stone and timber in construction. Private location yet close to all amenities. Villa Eleon is situated two hundred metres from the beach and just five minutes walk from the village of Tavronitis, nineteen miles west of Xania..
Villa Estia Fotini Kokkino Horio Crete (Ref: 37713), Chania
Beautiful detached fully fitted two bedroom stone built Villa with a/c, Large private tiled pool,half acre of land views over sea and mountains.blue flag beach in Almyrida 10 minutes away. On the ground floor is a large fitted kitchen/diner,1 Double bedroom with own terrace view of white mountain, second bedroom used as a snug with sofa to sleep child, also comfortable armchairs, with patio doors onto terrace and pool, with hi fi system, terrace off the kitchen with outside dining for six people , and clear heavy duty blinds for when the weather is not so warm, 50m2 infinity tiled swimming pool,hand rail and steps into pool,shallow end for children,sloping to full depth, poolside shower, surrounded by tiled terrace. Sleeps 5.
Villas D, Gerani/Chania, Crete
Built to luxury designer standards the immaculate and brand new Villas D comprise four ultra modern detached villas set around a generously proportioned swimming pool with beautiful surrounding large paved sun terraces. The position outside the village of Gerani, in Western Crete is ideal for a peaceful seaside holiday, with the sea, and sand and shingle beach just a short stroll away down quiet lanes. Each of these outstanding villas is suitable for 6 people, and each is beautifully finished with the finest quality fitments, with air conditioning (included in the price), and with marble and wooden floors.
Villa Ioa, Holiday Rental Villa in Maroullas, Crete
Villa Ioa enjoys an elevated position with wonderful sea views and has lawned gardens, private pool and air conditioning. Villa Ioa has a hilltop location with wonderful views over the surrounding area to the Cretan Sea below. The little village of Maroulas, 2km away, has a small range of facilities for your immediate needs whilst the bustling town of Platanes is 1km further on. The beach is long and sandy, with a range of water sports on offer and sunbeds and parasols available to hire. Sleeps: 6-7. Bedrooms: 3, Bathrooms: 2
Villa M, Melidoni/Bali, Crete
Villa M is a luxurious private 2-storey house, quietly positioned in the traditional village of Melidoni, some 10 km from Bali and 60 km west of Heraklion. The village of Melidoni with its historical atmosphere is well known for its impressive cave named "Gerontospilios". The house is surrounded by large grounds of 4000M2 with trees and colourful flowers. This 200M2 villa is suitable for 8-10 people. There is a 60M2 swimming pool with children's pool surrounded by sun beds and umbrellas. A built-in BBQ with traditional oven and a large stone table with wooden benches create a perfect private setting for relaxing and dining Al Fresco.
Villa Maria (Ref: 7565) Self catering villa in Rethmynon
A 3 bedroomed detached villa with private pool and garden. The villa consists of two twin rooms and a double room all with built in wardrobes. Two of the bedrooms lead onto the balcony offering panoramic views towards the coast. There is an upstairs bathroom containing bath, shower toilet and a washing machine. Downstairs offers an open plan living, dining, and kitchen area with built in oven and hob. From the dining room there are French doors leading to a patio area. Also downstairs there is a bathroom with shower and toilet. The (newly fully tiled for 2009) pool and garden is accessible from the door in the living room. Sleeps 6.
Villa Stav, Self-Catering Villa in Maroullas, Crete
Villas Stav and Ioa are 2 identical villas in the same plot of land but still private and independent, each one with its own pool in the size of 40 m2 (including a small section for children). They are situated just outside the village of Maroullas, 3 km. from the resort of Platanes and 8 km. away from the Town of Rethymno. The village is surrounded by the Cretan nature and the building blends harmonically with the whole landscape. The positions of the villas offer a panoramic countryside view and each one consists of three bedrooms, being suitable for 6-7 people.
Windmills K, Villas/Maisonettes/Apartments, Crete
This unique accommodation is quietly set in large grounds, yet only 150 metres away from the shingle beach. The windmills sit approx. 30 metres apart. Two of the windmills are divided into two units, and each apartment has air conditioning (included in the price) and a TV. In the grounds there is a swimming pool with children's pool, and a pool bar with patio furniture. Car hire included.
Search for more options

| | |
| --- | --- |
| FEATURED KEA (TZIA) ISLAND SELF-CATERING / VACATION RENTAL ACCOMMODATION | |

Kea Villas, Self-Catering/Vacation Rentals, Kea Island
The Villas are three individual, traditional, stone-built, luxury, Cycladic homes on the unadulterated, up-and-coming island of Kea (Tzia), in the middle of the famous Greek Aegean Archipelago of islands, but still close to Athens and Greece's mainland. Villa P, Villa M and Villa T are right on the water, huddled in the bosom of a small inlet, with their own pebble beach , right on aqua blue-green translucent waters, protected from any northern strong meltemia summer winds! All Villas provide modern amenities and each will comfortably sleep 5-6 people in a country modern interior setting, where stone meets wood. Each Villa is unique in location and decoration.
Villa Sandra-Maria (Ref: 63190) Self catering villa in Kea
The house has all around terrace and garden.there are three dining areas with confortable chairs,so people can enloy ,depending on the sun position and the wind.Around the swimming pool there are big confortable wooden beds with big pillows (these are not the 5 bunkbeds ) and small tables.There are 3 big umbrellas for the sunshine. Un outside separate shower corner is also available, (big nice towels and bathcoats included). The villa comprises 3 bedrooms in total; 3 double, 3 of the bedrooms with en-suite facilities. Sleeps 9.
Search for more options

| | |
| --- | --- |
| FEATURED MARATHON (NEAR ATHENS) SELF-CATERING / VACATION RENTAL ACCOMMODATION | |

Athens Seashore Villa Sxinias Marathon (Athens), Marathon
Aegean Sea Waterfront villa, swimming pool, 4 bedrooms, sleeps 8 people. In Sxinias Marathon only minutes away from Athens and the Athens Airport. Our vacation rental is a complete package. It includes Villa Sxinias, a beautiful estate home directly on the Aegean seashore with private swimming pool for your relaxation and, if you wish, an air conditioned van with a courteous driver who speaks excellent English to take you on your exploration of Greece. We are located in the Schinias Community of Themis, one of Athens' most prestigious seashore neighborhoods. Our home is directly on the Aegean Sea with its crystal blue waters seemingly touchable from our large balconies. The pool is in the garden and the sea is only steps away out our back gate.

| | |
| --- | --- |
| FEATURED MYKONOS SELF-CATERING / VACATION RENTAL ACCOMMODATION | |

Mykonos Island Villas, Mykonos
Fourteen individual luxury villas located at the south part of Mykonos island. Each property consists of 3 or 4 bedrooms, living room, dining room, kitchen, 3 bathrooms and toilet. All establishments have access to either strictly private or shared pool. They are newly built, fully furnished and just about 100 meters away from the sea.
Villa GB, Vacation Rental Villa, Mykonos
Magnificent Villa for rent on the famous Greek Island of Mykonos. The villa is located in a peaceful and picturesque area of this lively Island in Houlakia which is a ten minute ride from the main town Hora. It easily accommodates eight people but is also cozy enough just for two. The spacious floor plan with a lofty ceiling is open , airy and tastefully decorated with traditional Greek Furniture and artworks, the floors are marble throughout.
Search for more options

| | |
| --- | --- |
| FEATURED NAXOS ISLAND (CYCLADES) SELF-CATERING / VACATION RENTAL ACCOMMODATION | |

Naxos - Best travel tip for Greek Island Beach vacations by Stewart Palmer
Naxos is the largest island in the Cyclades - the group of islands in the center of the Aegean. The island is eighteen miles in length and 12 miles wide and is oval in shape. It is also the most fertile, and this makes it one of the most beautiful. But it is the miles of unbroken golden sandy beaches that attracts the majority of the thousands of summer tourists that flock to Naxos every year.... read more

Village K, Self-Catering Villas, Naxos Island
Village K is a complex of exclusive, privately owned villas of one, two or three bedrooms each, many of which have their own private swimming pools. Comfort and privacy in a peaceful and serene location overlooking the sea and the island of Paros. We offer self-catering accommodation, in a family atmosphere, run by my husband & myself. It was created to provide you with comfort along with privacy, in a quiet atmosphere, far away from city life. We are situated on the Southwest coast of the island of Naxos, 17kms from town, on a secluded hillside overlooking the sea and the island of Paros. Wonderful views & a ten minutes walk to some of the best sandy beaches in the island. Spectacular sunsets over the island of Paros.
Villa Kapares, Self-Catering/Vacation Rental, Naxos
Villa is 500m away from the beach, within a 10 minutes walk you will reach the small port of Agia Anna, with its romantic view, nice taverns and small supermarket. A bus station is near by. It is best for 2 or 3 adults or a small family with 1/2 children.
Villa Naxos, Self-Catering/Vacation Rental Apartments, Naxos
A renovated villa with a Cycladic Architecture consisting of eight self catering studios as well as four two room family apartments. All units are furnished. The villa has a large well maintained yard with several terraces to enjoy the sun. There is a reception area, a bar, a laundry room as well as a private parking area. Each unit offers a fully equipped kitchen, with Colour TV, Ceiling Fans, En-Suite bath as well as a terrace or balcony. The 2 family apartments have a/c.
Search for more options


| | |
| --- | --- |
| FEATURED SANTORINI ISLAND SELF-CATERING / VACATION RENTAL ACCOMMODATION | |

Villa in Oia, Santorini Island
Unique house in a breathtaking setting, high above the see with panoramic view to Volcano and the Mediterranean. Close to the beaches. Elegantly furnished and decorated with great care and fine taste, showing the owners devotion to the classical beauty and harmony. The property consists of 2 units: the House and the Maisonette which can be rented separately for 2-3 persons
Search for more options