Search this site





| | |
| --- | --- |
| GERMANY TRAVEL INFORMATION | |

Germany Travel Guide:

General Information about Germany:
Traveling Around Bavaria
Germany's Top Tourist Attractions
I Love German Wine and Food - A Mosel Qualitaetswein
Interesting Facts About Germany
Top Ten Places To Visit In Germany
Travel To Germany: The Pulse Of European History

City Guides:
Aachen Travel Information
Augsburg Travel Information
Baden Baden Travel Information


Buy at AllPosters.com


Buy at AllPosters.com

Traveling And Shopping In Berlin
Travel to Berlin: A Cultural Evolution
Bonn Travel Information
Bremen Airport And Beyond With Car Hire
Visiting Cologne Germany - five great places to see
Darmstadt Travel Information
Dortmund Travel Information
Dresden Travel Information
Düsseldorf Travel Information
Erfurt Travel Information
Frankfurt in 24 Hours
Freiburg Travel Information
Göttingen Travel Information
Hamburg: the major underdog of Europe
Hanover Travel Information
Heidelberg Travel Information
Heidelberg Travel Guide - Things to See
Kiel Travel Information
Leipzig Travel Information
Mannheim Travel Information


Buy at AllPosters.com


Buy This Allposters.com

Munich Travel Information
Munich's Top 3 Tourist Destinations
"München Liebt Dich" And You Will Love It, Too – Travel To Munich
The Munich Beer Festival - Oktoberfest
Nuremberg Travel Information
Rothenburg Travel Information
Ruegen (Rügen) Travel Information
Stuttgart Travel Information
Visit Stuttgart to discover a city of easy contrast
Germany Regional/State Information:

Baden-Württemberg Travel Information
Traveling around Bavaria
Eifel/Rhine-Mosel Travel Information
Hesse Travel Information
Lower Saxony Travel Information
North Rhine-Westphalia Travel Information
Rhineland-Palatinate Travel Information
Sauerland Travel Information
Saxony Travel Information
Thüringen Travel Information


Buy This Allposters.com
Travel To Germany: The Pulse Of European History by Frank Johnson
Germany has long been a mover and shaker of European history, creating waves in time for the rest of the continent to ride out. From Charlemagne and Otto von Bismarck to Nazism and the Cold War, Germany has become the epicenter of cutting-edge culture and music, and centuries of tradition and fine arts. The juxtaposition of medieval towns against ultra-modern industrialism is a fascinating reality to experience.
Thriving Urban Centers of Germany
The capital city of Berlin is by far the most dynamic and diverse metropolis for the German traveler. Despite reunification projects since the Wall came down in 1989, the city is still very much divided between the cosmopolitan chic of the West and the tattered Communist remains of the East. The Stasi Museum, located in East Berlin, is home to the former State Security Service. The intelligence body spied on and badgered citizens throughout the Communist era from this building. The Brandenburger Tor is a monumental building built in 1792 as one of the city's 14 gates. The history of this landmark is tied directly with the enclosing of West Germany from the East as it was essentially barricaded in by the Berlin Wall.
In addition to the other popular urban destinations of Munich and Frankfurt, Aachen (also known as Aix-la-Chapelle) should not be missed on a German visit. It is considered the most international of cities in Germany, situated close to the Belgian and Netherlands borders. Many citizens and travelers enjoy regular access to both border nations. The main draw is the Aachen Dom (Aachen Cathedral), which is the oldest landmark in Germany. Emperor Charlemagne had the chapel constructed over 1200 years ago and Holy Roman Emperors were coroneted here for nearly 600 years. The cathedral is also alleged to possess Christ's loincloth as part of its collection.



Buy at AllPosters.com

Fables and Fairytales

The German landscape is still comparable to your favorite fairytale or Robin Hood adventure. Castles in the sky preside over the rich green forests where Hansel and Gretel ventured to meet their witch. The Black Forest (Schwarzwald) is famous for its intense evergreen canopy, vast outdoor activities and secluded get-aways. It also happens to be where Nobel Prize winner Hermann Hesse spent much of his life living and writing. The Maulbronn monastery, situated in the forest's north end, is a UNESCO World Heritage sight that has been carefully preserved. The entire wooded expanse is dotted with medieval and farm towns and is fairly easy to navigate by train.

The notorious 19th century Bavarian king, Ludwig II (Ludwig Friedrich Wilhelm), left his personal legend all over the German countryside in the form of extravagantly ornate castles. Schloss Neuschwanstein is Ludwig's (and Germany's) most famous construction, particularly because he contracted a stage designer rather than an architect to do the job. Although the monstrosity was never actually finished, visitors may enjoy concerts in the castle's centerpiece, Minstrel's Hall, every September.


Along Germany's southwest border, The Rhine Valley stretches as a monument to the country's timeless culture and love affair with art, wine, food and beer. The Middle Rhine Valley (also a World Heritage sight) is the most popular segment, studded with medieval and gothic towns and wineries that hold their own festivals annually. Additionally, WWII has left its distinct mark throughout the region despite the incredible restoration efforts undertaken over the years.

Social revolutions, wars and a fair share of domestic turmoil combined with the legacy of the Holy Roman Empire and the split of the Protestant Church all make Germany unmistakably unique and internationally modern. Travel Germany and discover that it's not all about the Beer Gardens!
About the Author - Discount Airfare to Germany

I Love German Wine and Food - A Mosel Qualitaetswein by Levi Reiss
If you are in the mood for some fine German wine and food, you should really consider the Mosel region of central western Germany on the border of Luxembourg. You may even find a bargain, and I hope that you'll have fun on this fact-filled wine education tour in which we review a local white Qualitaetswein (read inexpensive) Riesling.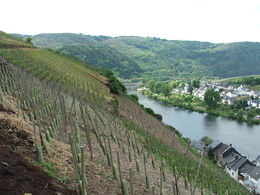 The Mosel Valley is felt to be one of the most beautiful river valleys in the world. This region, previously called Mosel-Saar-Ruwer in honor of its three rivers, is famous for its Riesling wine. Some of the greatest Rieslings in Germany and in fact in the entire world come from the Mosel Valley. Experts can often identify Mosel Rieslings because of the slate in the local soil, which may impart a taste of flint. The slopes are among the steepest in the wine-producing world, and sometimes attain 70 degrees. The soil is so precious that every spring local workers lug pails of soil up these steep slopes, temporarily reversing the effect of the rains that wash the soil down every winter.
Mosel ranks number five among the thirteen German wine regions when it comes to both vineyard acreage and total wine production. Slightly over three quarters of the regional wine is classified as QbA and somewhat less than one quarter is higher quality QmP wine. Only one percent is table wine. Over half of Mosel wine is Riesling. The German hybrid white grape variety Mueller-Thurgau represents about 20% of the wine production. In third place is the historic Elbing that dates back to Roman times. Only about 2% of Mosel wine is red.
The Mosel Valley pretty well stretches from Koblenz which isn't far from Germany's former capital Bonn to the city of Trier sitting very close to the border with Luxembourg. These two fine cities are linked by the Mosel Weinstrasse (Mosel Wine Road) which is approximately 140 miles (224 kilometers) long on the eastern side of the river and somewhat less on the western side. Of course, you could take the autobahn to travel between Koblenz and Trier at breakneck speed. If you do, you'll miss the interesting little towns and vineyards along the way.
Cochem lies about one third of the way from Koblenz to Trier. It's a fine little Mosel River Valley town. This medieval town is long and narrow. You should take a boat trip as well as a walking tour. Outside the town gate is the Kaiser Wilhelm railway tunnel, which at 2.5 miles (4 kilometers) is the longest in all Germany. About fifteen minutes of walking get you to the Reichsburg (Imperial Fortress), a thousand year old castle that overlooks Cochem. The castle hosts a medieval banquet which features period costumes and music on Fridays and Saturdays but you must reserve in advance. North of the city is a larger castle, the Burg Eltz a few miles inland from the Mosel.
Before reviewing the Mosel wine and imported cheeses that we were lucky enough to purchase at a local wine store and a local Italian food store, here are a few suggestions of what to eat with indigenous wines when touring this beautiful region. Start with Aalsuppe (Eel Soup). For your second course enjoy Rolladen (Beef rolls with Bacon and Pickles). As a dessert indulge yourself with Moselweintorte (Chocolate and Wine Cake).
OUR WINE REVIEW POLICY All wines that we taste and review are purchased at the full retail price.
Wine Reviewed Moselland Bernkasteler Kurfurstlay 2005 9.5% alcohol about $8.50
Let's start by quoting the marketing materials. Tasting Note: Pale straw yellow colour; citrus, mineral and dried apricot aromas and flavours; balanced with crisp acidity in the finish. Serving Suggestion: Serve chilled with pork, turkey or appetizers. Spicy asian dishes.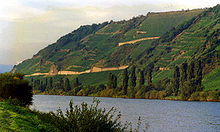 My first pairing was with a homemade pizza with lots of tomato sauce, vegetables, and cheese but no meat. This wine displayed refreshing acidity that worked well with the pizza sauce. It had good fruit and was surprisingly long.
The next meal included a barbecued chicken marinated in a commercial Mediterranean-style light sauce, red-skinned potatoes, and a somewhat spicy Turkish salad. The wine's acidity cut the fat very well and yet complemented the tomato's own acidity which largely defined the salad. This little and lightly alcoholic wine (9.5% when 13% plus seems to be the new norm) was quite assertive, especially with the potatoes. And yet it was somewhat flat with dessert, some orange fruit-juice candy.
The final meal was whole-wheat pasta in a sauce that started our as your basic commercial pasta sauce and then livened up by a fried medley of garlic, red onions, red and green peppers, topped with anchovies and shredded (local) Asiago cheese. The wine was light and fruity and the combination was quite tasty. I was happy that this Riesling was low-alcohol (and inexpensive) so that I could drink quite a bit without any negative effects, including to my pocketbook.
The initial cheese pairing was with a mild Italian Pecorino Fruilano. The wine was sweet but didn't impress me very much. Then I paired it with a nutty Dutch Edam cheese. Once again the wine was sweet but it was round and the combination went quite well.
Final verdict. Great bargain. The wine really goes well with simple food. I didn't get a chance to try it with gourmet specialties but wouldn't be surprised if it did as well as many wines including Rieslings at twice the price. If I weren't saddled with so many wines to taste (talk about problems) I'd buy half a case and drink one every two months or so. Then I'd try one from the next vintage and hope to repeat the process.
About the Author - Once upon a time Levi Reiss wrote ten computer and Internet books either alone or with a co-author. And yet, he really prefers drinking fine Italian or other wine, with the right food and friends. He knows about dieting but now eats and drinks what he wants, in moderation. He teaches computers at an Ontario French-language community college. Visit his Italian travel website http://www.travelitalytravel.com which focuses on local wine and food.

Interesting Facts About Germany by Milo Jarvis
Germany has always held a reputation of being a rich and progressive nation. Contributing much in terms of human progress and industrial/financial revolution. Germany has given birth to many people and ideologies that have helped to shape the world as we know it.
The official name of Germany is The Federal Republic of Germany. It is located in West Europe. The Baltic Sea, North Sea, and Denmark surround Germany on the north. It is flanked on the east by the Czech Republic and Poland. Flanked on the west by France, Belgium, and Luxembourg and Netherlands. The southern borders are Austria and Switzerland.
Germany is a member of the European Union (EU). Germany has Europe's largest economy and is Europe's second largest populous nation. The total area of Germany is 357,021 sq. km. The total land area is 349,223 sq. km. The total covered by water being 7,798 sq. km. The capital of The Federal Republic of Germany is Berlin. Other major cities are Munich, Hanover, Stuttgart, Hamburg, Dusseldorf, Cologne, and Bremen. Germany is a federal republic with a parliamentary democracy.
The ethnicity of Germany's population is 91.5% German, 2.4% Turkish, 6.1% others such as Greeks, Italians, Polish, Russians, Serb-Croatians, Spanish. The main religions in Germany are Protestant (Evangelisch) 38%, Roman Catholic (Katholisch) 34%, Muslim 1.7%, and others make up 26.3%. Classical music has been dominated by German speaking composers. A few of the famous ones born on German ground include Beethoven, Schumann, Bach, Brahms, Handel, Mendelssohn, Wagner and R. Strauss. Some of the worlds wisest philosophers were German: Nietzsche, Kant, Hegel, Schopenhauer, and Heidegger.


Germany boasts around 700 zoological gardens, aquariums, bird parks, wildlife parks, animal reserves, or safari parks, not to mention 414 registered zoos. Berlin's Zoologischer Garten is the world's largest zoo, number of species (1,500) and animal population (14,000). The Fairy Grottoes (Feengrotten) in Saalfeld, Thuringia, are the world's most colorful caves, according to the Guinness Book of Records.

Since 2003, Germany is the world's largest exporter of goods with $1.016 trillion exported in 2005. 10.1% of the world's exports come from Germany. Germany is the worlds second largest producer of cars (after Japan) and motor vehicle in general(after the United States). The German based company BASF (Badische Anilin- und Soda- Fabrik) is the second largest chemical company in the world, employing about 87,000 people in 160 subsidiaries and joint ventures in 41 countries.


Buy at AllPosters.com


The biggest train station in Europe is located in Berlin. The European Central Bank is in Frankfurt-am-Main, Germany. Frankfurt International Airport claims the world record in the most international destinations served. The Lufthansa, based in Frankfurt, is the worlds largest airline in terms of international passengers carried, and Europe's largest in terms of passenger-kilometers flown, freight tonne-kilometers flown and fleet size. The largest department store in continental Europe is the KaDeWe (Kaufhaus des Westens) in Berlin, with over 60,000 square meters covered.
About the Author - To learn about German Language Courses or for information about learning to speak German, please visit my blog Learn to Speak German at http://learnspeakgerman.blogspot.com

Top Ten Places To Visit In Germany by Jonathan Williams
If you're looking for a place that's rich with remnants of the recent past, then Germany's the place for you. As you may well know, Germany was a key player in the previous world wars. Thus, it filled Germany with monuments to the stories of our grandfathers about times long past but never forgotten.


1.) Berlin Wall

There's no other place in Germany that's more suffused with charged up emotions than the Berlin Wall. You can just imagine the tears and the blood shed over this very wall. This remnant of the wars stands as one of the greatest monuments to democracy known to man - a sign that freedom will always come out victorious.

2.) The Romantic Road

Driving through the Romantic road would be one of the most pleasant drives you'll experience in your whole life. This road is flanked by scenic landscapes on both sides.


Occasionally, you'll pass through a picturesque town, a beautiful gothic church, and sometimes, a quaint countryside inn.

3.) Augsburg

Passing through the Romantic Road will lead you to Augsburg, a town founded by the Roman Legions and named after the esteemed Roman emperor, Augustus. This picturesque town contains such historical places as St. Anne's Church, the place where Martin Luther took refuge, and Dom, a very unusual Cathedral. You can also find here the Renaissance Golden Room, a sight that will make you squint with its shine.

4.) Neuschwanstein Castle

Did you know that Walt Disney used a castle found in Germany as his inspiration for the castle of Sleeping Beauty? It's true, those alabaster walls and those high towers and wide parapets were all based on the Neuschwanstein Castle. It is now hailed as one of the most popular tourist spots in Germany.

5.) The Castles of Fussen

Like most of Europe, several castles are littered throughout Germany. It contains the other two of Ludwig's castles, the first one being the Neuschwanstein Castle. This is a must-see for all those families who are traveling through Germany because the place literally looks like it's been torn out of a storybook.

6.) Lake Constance

Lake Constance is both a tourist spot and an essential source of life for the Germans. Several areas in the country rely on this very lake for their drinking water, and this large lake is also a great place to swim and to go bird watching. Indeed, if you're one for beautiful natural sceneries, then Lake Constance is not to be ignored.

7.) The Black Forest

The name looks like it has been taken from one of the fairytales, doesn't it? The Black Forest - it sounds like a place where evil witches reside and cursed trees grow, but don't let that deter you though.


If anything, the Black Forest can hardly be related to its name as it's a sunny forest with tall and sturdy firs. It's a great place to go hiking and a great place for picnics.

8.) Cologne

When you hear the word, Cologne, what comes into your mind? A beautiful fragrance, right? Well, meet the town that's called Cologne for a reason, and indeed, the town of Cologne has its own peculiar fragrance that's very pleasing to the nose. Also, there you will find a beautiful view of the River Rhine and the Cologne Cathedral.


Buy This Allposters.com
9.) Dachau

Take a break from the fairytale castles and mystical forests and go to the place called Dachau. Dachau is a concentration camp - a remnant of Germany's dark past where you can just imagine the horrors that took place in this very spot. However, you will also find there a statue bearing the inscription, "Never Again", a solemn promise of the German people that they will 'never again' commit such unspeakable acts - another true victory for peace.

10.) Oktoberfest

The Oktoberfest - technically, it's not a place, but it's just too good a festival to leave out of any 'top ten list' that concerns tourism and Germany. This fun-filled festival in the town of Bavaria is guaranteed to leave you intoxicated and euphoric. You can spend days on end just drinking authentic German Ale and just letting yourself loose.
About the Author - Jonathan Williams is the travel writer for Destination Guide TV - the place to share travel videos. Visit http://www.destinationguide.tv/germany to view or share Germany travel videos.