Search this site

Other Options
Home Page
Adventure Vacations
Eco-Tourism Vacations
Join Us
Search Options
Site Map
Travel Poster Store
Web Design Service






Copyright © All World Vacation Station



| | |
| --- | --- |
| VALENCIAN COMMUNITY, SPAIN TRAVEL GUIDE | |

Featured Valencian Community Hotels / Tours in Valencian Community
Valencian Community / Costa Blanca Self-Catering/Vacation Rentals
Costa Azahar Self-Catering/Vacation Rentals
Valencian Community Travel Guide
City of Arts and Sciences, Valencia
Denia - Costa Blanca Holiday Resort On The Rise
Getting To Know Alicante Spain
Javea, Spain
La Tomatina - A REAL tomato food fight in Spain!
The Beauty Of Benidorm
Torrevieja, Spain - Sun, Sand and Culture
Towns in and Around Benidorm
Valencia - UK Holiday Gateway to the Northern Costa Blanca
Why Benidorm is a great choice for a break this summer
Valencia - UK Holiday Gateway to the Northern Costa Blanca by Sean O'Brien
The
Costa Blanca
in Spain has long been a popular holiday destination for UK holidaymakers. Most holiday makers arrive through Alicante airport, but thanks to the increase in budget airlines, an increasing number of tourists land at Valencia airport at the northern end of the Costa Blanca.
The distance to Denia is the same as from Alicante making it a good alternative airport for Denia, Javea, Moraira and Calpe, but the city itself is also worth visiting from any of these holiday resorts, whatever your interests are.


Valencia is the capital of the Valencian region of Spain which includes the Costa Blanca. The official regional language "Valenciana" is spoken in the towns and resorts all over the northern Costa Blanca.

One of the biggest attractions is the futuristic "City of Arts and Sciences". The complex includes an impressive Opera House and Performing Arts centre, Imax Cinema, Planetarium, Laserium, Science Museum and an open-air oceanographic park. Stretching away inland from the City of Arts and Sciences is a unique 7km (4 mile) park, built on a dry river bed, running through the centre of the city. The river itself was diverted around the city many years ago.


Buy at AllPosters.com

For those that like to try the Spanish beaches Valencia has four to choose from, each with their own character. Playa las Arenas is the where the city beaches start and lies next to the America's Cup Port. This is where various beach events, such as the "Landing of the Moors", always happen. It is lined with a restaurants and bars, and a few hotels. This is not the place to come for sunbathing, but more for walks and games on the sand. It is also the place you will be sent to try Spain's most famous dish "Paella Valenciana" in its birthplace.


Buy at AllPosters.com

Further along the coast the beach turns in to the Playa de Cabanyal, which is where the sunbathing, and the crowds, start. This in turn joins on to the Malvarossa Beach, which is the liveliest of all Valencia's beaches. It is next to the northern Tram Stop and the place were most Valencians go. Although most of the night clubs are in the city centre, there is still a lot going on down at this beach until around 4am. This is generally regarded as the "City Beach".

The last of Valencia's beaches is Playa de Patacona which is definitely the quietest of the four beaches. Although still close to the city, the view of it is masked from the beach giving the illusion of space and tranquility. This is the place to come for peace and quiet.

In 2007 Valencia hosted the 32nd America's Cup, which is the most famous and prestigious regatta in the sport of sailing. The Cup itself was won by the current champions from Switzerland, and because it is a land-locked country the team chose Valencia to host the event, and also to host the next America's Cup in 2009.
Another big event to please any visiting sports fans, is new European Grand Prix with Valencia being chosen to host one of the races. The Formula One race will be held in the city streets (similar to Monaco) from 2008.
It would be difficult for anyone to get bored in Valencia whatever their interests are. The city has something for everyone from Culture, Sport, Beaches, Food, Bars and Nightclubs, and only an hours drive from Denia and Javea.
Featured Valencia Hotels / Top
Valencian Community / Costa Blanca Self-Catering/Vacation Rentals
Costa Azahar Self-Catering/Vacation Rentals
About the Author: Sean O'Brien has lived on the Costa Blanca in Spain for over 6 years and works on behalf of the property management and holiday villa rental companies http://www.totalcarespain.com and http://www.totalcarerentals.com

La Tomatina - A REAL tomato food fight in Spain! by Gizmo
La Tomatina is the only event in the world where you can throw tomatoes at anyone you want and not get in trouble! It's the biggest food fight festival in the world with over 30,000 participants. Yes, 30,000 people really do spend an entire hour throwing tomatoes at each other!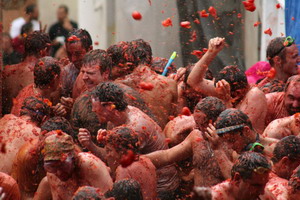 This event takes place in the town of Bunyol, Spain, which is near the city of Valencia. It always takes place at the end of August on a Wednesday - check the Festivals in Europe site for the exact date. The day starts off with a pole climbing competition. There is a large ham at the top of the pole, and someone needs to climb up there and get it. Sounds relatively easy, right? Nope. The pole is greased with fat. What typically happens is that people attempt to climb it and then the fat rubs off on their bodies, so eventually someone makes it to the top, usually a small child. At noon, the main event begins - the tomato fight!
Large trucks carrying thousands of pounds of tomatoes come rolling in Bunyol and empty their contents onto the streets. Everyone goes berserk and starts climbing onto the trucks or grabbing any tomato they see. The place is a mess and the streets are stained red. For one hour, tomatoes go flying all over the place. There is no way to avoid it and there are no rules, except for one - squish your tomato before you throw it! While they may look soft, a few of them hitting you on the head will hurt.
Around 1PM, the festival ends and everyone heads down to the makeshift showers setup near the river. If you're lucky, you'll find some residents willing to hose you down. If you don't like getting messy, this event is not for you. However, if you are a fun person, then this is definitely an event that you'll want to check out at least once in your life. Check the La Tomatina site for more details including how to get to Bunyol, tips for the event, and more practical details and advice for La Tomatina.
Featured Valencian Community Hotels / Tours in Valencian Community / Top
Valencian Community / Costa Blanca Self-Catering/Vacation Rentals
Costa Azahar Self-Catering/Vacation Rentals
About the Author: Gizmo is a writer for Festivals in Europe

Torrevieja, Spain - Sun, Sand and Culture by Peter Wilson
Featured Valencian Community Hotels / Tours in Valencian Community
Valencian Community / Costa Blanca Self-Catering/Vacation Rentals
Costa Azahar Self-Catering/Vacation Rentals
Are you planning a trip to Spain and haven't figured out where you should go? Spain is a country rich in natural beauty as well as history and culture so choosing regions to visit can be difficult. For a destination that really has something for everyone, make sure to add Torrevieja, located on the scenic eastern Costa Blanca to your travel itinerary. It is also a wonderful base or stopover to other tourist destinations such as Benidorm, Santa Pola and Alicante.
Torrevieja, Spain has become a popular destination for European tourists as well as tourists from around the globe and for good reason. There is so much to offer it would be difficult to see and do all that you want. If you enjoy outdoor activities then the Costa Blanca area won't disappoint. There is pleasant weather even in the winter months and if you visit in summer then the options are almost limitless. If you're a golfer then you can enjoy a few rounds at one of the world class golf courses that are surrounded by Mediterranean coastal vistas. The area is known for its beaches so if sun and sand is what you have in mind then you'll find plenty of options. There are also hiking trails and for the more adventurous, climbing.

If you prefer sights then Torrevieja and the surrounding area has plenty to see. It is an area rich in history and culture so you can see ancient sights or take in some galleries and museums.


Buy at AllPosters.com
Popular attractions include the Town Square, the Church of the Immaculate Conception and the Museum of Sea and Salt. Shopping is also exceptional with traditional wares that make the perfect souvenir or gift for friends and relatives.
After a full day of sightseeing and golf you can enjoy the cities fantastic dining options. There is a full range of cuisine and price ranges to fit anyone's budget. You can have a simple meal in a quaint caf while you people watch or you can have a leisurely dinner in a five star restaurant. After a meal, take in some of the city's nightlife including bars, clubs and nightlife or enjoy a relaxing message.
Depending on when you visit, you might be lucky enough to enjoy the many festivals. These are a wonderful cultural experience and a bonus to your already amazing experience. You can use the internet to research the dates of festivals and other cultural events.
Regardless of your interest you're sure to find Torrevieja, Spain a city that will have many options to fill your tourist itinerary

Featured Valencian Community Hotels / Tours in Valencian Community / Top
Valencian Community / Costa Blanca Self-Catering/Vacation Rentals
Costa Azahar Self-Catering/Vacation Rentals
About the Author: Peter Wilson frequently writes newsletters on topics relating to torrevieja city knowledge. His contributions on torrevieja in spain can be found on http://www.alicante-spain.com/torrevieja.html

The Beauty Of Benidorm by Lee Smith
Top
Featured Hotels in Benidorm
Valencian Community / Costa Blanca Self-Catering/Vacation Rentals
Costa Azahar Self-Catering/Vacation Rentals
Benidorm is a major city lying along the Costa Blanca, about 45 km north of Alicante, in Valencia, Spain. Home to over 65,000 people, it is the fifth most populous town in the Alicante province. However, outside of Spain, the popularity of Benidorm is borne out of the fact that it is one among the much sought after tourist resorts along the Mediterranean coast. Despite its modern look and feel, the city is synonymous with night life and beaches, and a popular vacation hotspot. The mild weather is another factor that attracts lots of tourists to Benidorm.


Benidorm was a small village until the beginning of the 1960s. That was when the earlier waves of tourism industry started to caress the quite settlements in and around Alicante. Once the pace was set, Benidorm's transformation from a sleepy village to a bustling tourist center was almost sudden, and soon the town was hosting thousands of vacationers and beach goers, whose numbers only increased with the every passing year, to the point where it is today.

According to tourist statistics, every year during summer, the population of Benidorm swells to over 1.5 million, a million of them tourists from different parts of Europe, especially Britain.


Buy at AllPosters.com


As mentioned already, the major attractions of Benidorm are its sandy beaches and the thrilling nightlife that not many towns in Spain can claim to have. The three major beaches in Benidorm are Poniente, Levante, and Mal Pas, all with a blue flag, the best quality standard recognized by the European Union. The Poniente and Levante beaches are about 5km in length. However, since a heavy traffic road passes by Poniente, the scene can be a bit noisy. Hence, if you are looking for a quiet and relaxing bath by the sun, opt for Playa de Levante. Regarding nightlife, the city has over 30 discos and 1000 odd restaurants; the entertaining mix of good food and leg tapping music, party lovers can have it in plenty in Benidorm.

Other Benidorm attractions include the casco antiguo - the old Benidorm city center - Terra Mitica, the theme park, the animal park Terra Natura, Mundomar Park, and Aqualandia Water Park. The latter two are located on the Lavente side, at the city outskirts, while the Terra parks are located at the foothills, outside Benidorm town limits. For golf lovers, there are few top class golf courses in and around Benidorm. The yearly Benidorm International Song Festival is a major event in the town. Try not to miss it if you are in the town during the occasion.

The best mode of transport in Benidorm is by car. You could hire a car for rent during your stay in the town. Alicante is the nearest airport. It has connections to all parts of Spain and Europe. From the airport to Benidorm, one can either go by car or bus, or can take the narrow gauge railway. Alicante is connected to Madrid, Valencia, Barcelona, or Seville by daily bus and train services.

Featured Benidorm Hotels / Tours in Valencian Community / Top
Valencian Community / Costa Blanca Self-Catering/Vacation Rentals
Costa Azahar Self-Catering/Vacation Rentals

About the Author:: Lee Smith writes about Benidorm in Spain.

| | |
| --- | --- |
| FEATURED HOTELS IN VALENCIAN COMMUNITY, SPAIN | |

| | |
| --- | --- |
| BENIDORM - COSTA BLANCA FEATURED HOTELS, VALENCIAN COMMUNITY, SPAIN | |

Search for more hotels in Benidorm, Costa Blanca, Spain
Estudios Benidorm, Holiday Apartment Complex, Benidorm
The Estudios Benidorm residence is housed in a contemporary five-storey building located 50 metres from the beach in the Spanish resort town of Benidorm. The railway station is one kilometre from the hotel. Alicante Airport is 55 kilometres away, with an approximate driving time of 50 minutes. The residence's front desk is staffed around the clock, and all floors are accessible by lift. Guests can use the facilities at the Hotel Benidorm Plaza, 150 metres away, including a restaurant, an outdoor pool with a poolside bar, a sauna and a jetted tub. The 70 studios over five floors feature light decor and functional furnishings and open onto balconies. All include kitchenettes with coffee/tea-makers, refrigerators, cookware and dishes. Other amenities include satellite television, climate control and safes.

Gran Hotel Bali, Benidorm
The Gran Hotel Bali is located in Benidorm, on the Costa Blanca, Spain, 400 metres from the beach and the city centre. Terra Mitica Theme Park is two kilometres from the hotel. This sleek, high-rise hotel is spread over two buildings, one of which is the highest in Europe and features 18 elevators, two offering panoramic views. The Gran Hotel Bali features a health and beauty area with a hot tub, sauna, gym, massage-treatment room, and an aerobics studio with fitness classes. An Aesthetic Medicine Department offers facial and body treatments such as lip enlargement, Mesotherapy, and nutritional treatments. There is also an open-air hot tub and three swimming pools, each with a sun terrace and poolside bar. Wireless Internet access is available throughout the hotel. There are two restaurants offering show cooking and buffet dishes, and four bars and cafeterias.
Hotel Marconi, Benidorm
The Hotel Marconi is a modern seafront property set opposite the sandy Poniente Beach and 100 metres from the resort's busy port area and harbour. The nearest golf course is 45 kilometres from the hotel, and Aqualandia water park and the Mundomar marine and exotic animal park are two kilometres away. It is four kilometres to the Terra Mitica theme park. Alicante International Airport is an approximate driving time of 45 minutes, a distance of 55 kilometres from the hotel. The hotel's restaurant serves a menu of Mediterranean and international dishes, in a relaxed, air-conditioned atmosphere. Guests can relax with drinks, snacks and ice creams in the hotel's air-conditioned bar-cafeteria, and swim in the rooftop pool which offers dramatic views of the Valencian coast.

Hotel Sol Costablanca, Benidorm
The Hotel Sol Costa Blanca is a modern, purpose-built block adjacent to a sandy beach, just 500 metres from the lively centre of Benidorm. Guests are in a perfect position for exploring the area; the Aqualandia water park is three kilometres from the hotel, and the traditional mountain village of Guadalest is 27 kilometres away. The Sol Costablanca Restaurant features air conditioning, show cooking, and excellent sea views, and serves international and Spanish cuisine buffet style. The hotel boasts an outdoor pool with a poolside bar, and a terrace with sea views. It also has its own hair salon, and guests can benefit from the television lounge and games room. In the evenings there is dancing with live music, plus regular shows.
Melia Benidorm
Located in the entertainment district, this business-friendly Benidorm hotel is close to Aqualandia. Additional attractions include Benidorm Beach. Recreational amenities include an outdoor pool, an indoor pool, a children's pool, a health club, and a sauna. Spa amenities include massage/treatment rooms, facials, body treatments, and beauty services. This 4.0-star property offers small meeting rooms and a technology helpdesk. Wireless Internet access (surcharge) is available in public areas. Room service is available 24 hours a day. A complimentary breakfast is served daily. Additional property amenities include a library, a poolside bar, and a bar/lounge.
Sol Pelicanos Ocas, Benidorm
Close to Benidorm Beach, this Benidorm hotel is situated in the mountains. Another nearby attraction is Aqualandia. Dining options at Sol Pelicanos Ocas include a restaurant. Recreational amenities include an outdoor pool, a children's pool, and a children's club. The property offers an airport shuttle (surcharge). Guest parking is available for a surcharge. Additional property amenities include a poolside bar, an arcade/game room, and multilingual staff. Guestrooms have balconies. Bathrooms feature shower/tub combinations, bidets, and hair dryers.
Browse more hotels in Benidorm and surrounding areas, Costa Blanca, Spain