Search this site


Copyright © All World Vacation Station




| | |
| --- | --- |
| CAPE TOWN TRAVEL INFORMATION | |



Cape Town (Afrikaans: Kaapstad, Xhosa: iKapa) is the third most populous city in South Africa, forming part of the metropolitan municipality of the City of Cape Town. It is the provincial capital of the Western Cape, as well as the legislative capital of South Africa, where the National Parliament and many government offices are located. Cape Town is famous for its harbour as well as its natural setting in the Cape floral kingdom, including such well-known landmarks as Table Mountain and Cape Point. Often regarded as one of the world's most beautiful cities because of its geography, Cape Town is the most popular South African destination for tourism.


View Google Map of Cape Town, South Africa

Cape Town originally developed as a victualling station for Dutch ships sailing to Eastern Africa, India, and Asia more than 200 years before the advent of the Suez Canal in 1869. Jan van Riebeeck's arrival on 6 April 1652 established the first permanent European settlement in sub-Saharan Africa. Cape Town quickly outgrew its original purpose as the first European outpost at the Castle of Good Hope. It was the largest city in South Africa until the growth of Johannesburg and Durban. Cape Town is town twinned with Nice in France.
Read More

Tours and Safaris in South Africa

| | |
| --- | --- |
| CAPE TOWN CITY BOWL SELF-CATERING / VACATION RENTALS - SOUTH AFRICA | |

Cape Town, Western Cape, South Africa
Often called the most beautiful city in the world. On the Southern tip of Africa, framed by the famous Table Mountain and overlooking Table Bay. Areas of interest are the V&A Waterfront (shops and restaurants galore), Table Mountain cableway, the Castle, Company Gardens, shopping streets, museums, excellent restaurants and more. Steeped in history and a short drive to many magnificent sandy beaches and the famed Winelands.
5 Camp Street Self-Catering Guest House, GARDENS
5 Camps Street, is ideally situated in the central, trendy and historic suburb of Gardens, on the lower slopes of Table Mountain. Includes full self-catering facilities, secure parking, communal pool, DSTV, unlimited Internet access (Wi-Fi), Office facilities, braai facilities. Ideal for a family or group! (5 units in total and can sleep 20 people). Our units are equipped with full kitchens, airconditioned ensuite bedrooms, comfortable lounge areas with flat screen tv and DSTV, and patios to relax. We are very close to well known Kloof Street, which is packed with a variety of restaurants, pubs and shops. We are also a walk away from places such as the Company Garden and city centre.
Best Western Cape Suites CAPE TOWN
Nestled at the foot of Table Mountain, with views of the Cape Town city skyline and Table Bay, lies the Best Western Cape Suites Hotel. Ideally located, the hotel is a five-minute drive to the famous V and A Waterfront and a 15-minute drive to the beaches of Camps Bay and Clifton. This new village-style hotel has 1, 2 and 3 bedroom spacious guest apartments that are elegantly decorated, comfortable and well equipped with modern amenities to make your stay enjoyable and memorable one.
De Waterkant Place, Guesthouse & Self-Catering, De Waterkant, CAPE TOWN
In the heart of the Old Malay Quarter, exclusive De Waterkant Place Guest House is ideally situated, with picture perfect views of Table Mountain, Table Bay and the Waterfront, in one of the oldest, most vibrant, sought-after areas of Cape Town, and only 20 minutes from the airport. With its distinctive and original Bo-Kaap architecture lies within the unique, historical 4 square-kilometer area of De Waterkant Village with its quaint, tree-lined, narrow cobbled streets and Old Cape atmosphere. The huge roof-top garden provides panoramic views of both Table Bay, with its busy harbor and waterfront, and the world famous land mark, Table Mountain.
Flatrock Suites - Luxury Serviced Apartments, CAPE TOWN

The spectacularly beautiful city of Cape Town, in Southern Africa, is home to Flatrock Suites. Here, just off Long Street, you'll find this unique combination of luxury apartments serviced in hotel style. Flatrock Suites provides you with the privacy and independence of apartment living combined with many of the services that you would expect from a top-class hotel - including changes of linen, daily service, concierge, reception and more. The location, at the top end of the town, was chosen specifically because it has one of the most soughtafter views in the world - a close-up of the breathtaking Table Mountain.
Java House, Self-Catering House, De Waterkant, CAPE TOWN CITY BOWL
Java House was originally built as Army Officers Quarters in the early 1800's. It is now a stylish yet comfortable "home from home" offering the best of the Cape from the heart of the Old Quarter. The house is a double storey terrace with incredible roof top views of Table Mountain and the City of Cape Town. It sleeps 6 in 3 double bedrooms. A balcony in the front looks onto Jarvis street and the new Cape Quarter where there are wonderful shops and many restaurants as well as a fabulous supermarket for groceries.
Navona Loft Apartment, 2 bedroom Self-Catering Apartment,
TAMBOERSKLOOF
Welcome to Navona! Navona is a three star graded self-catering apartment - four star quality at three star rates - graded by the Tourism Grading Council of South Africa and is an AA Travel Associate member. Navona is a modern, comfortable, stylishly furnished, self-contained loft apartment with airconditioning and two secure undercover parking bays. Navona is in a new secure complex to which access is strictly controlled. It is centrally located only 20 minutes from Cape Town International Airport, in the hub of Cape Town's trendy Kloof Street area and minutes away from the LongKloof Studios / E-TV and the Hiddingh Campus of the University of Cape Town.
VIP Cape Lodge, Self-Catering Units, GARDENS
This privately owned lodge with six private and intimate self-catering units is situated at the foot of Table Mountain in Gardens. We specialise in family units and couples and respect your privacy. We are passionate about our lodge and aim to provide excellent service. Relax in the garden under the shade of large trees and savour the tranquillity or watch squirrels and birds playing in the trees. Enjoy our Labrador, Nala, our gentle loving old lady. Gardens is perfectly placed to explore the rest of Cape Town and the hum of the city makes its presence felt here, while the neighbourhood is quiet and leafy.

More accommodation in Cape Town City Bowl

| | |
| --- | --- |
| CAPE TOWN - V&A WATERFRONT SELF-CATERING / VACATION RENTALS - SOUTH AFRICA | |

Cape Town, Western Cape, South Africa - The V&A Waterfront
Situated between Robben Island and Table Mountain in the heart of Cape Town's working harbour, the Victoria & Alfred Waterfront has become South Africa's most visited destination. Set against a backdrop of magnificent sea and mountain views, exciting shopping and entertainment venues are intermingled with imaginative office locations, world-class hotels and luxury apartments in the residential marina.
Home from Home at Canal Quays, V&A Waterfront Marina, CAPE TOWN
Canal Quays is situated just a short walk away from Cape Town International Convention Centre and is just a few minutes' drive to the hub of the V&A Waterfront's shops, cinemas, restaurants, galleries and craft stalls, as well as harbour activities and Robben Island Museum ferry. Uniquely situated on the canal waterway that runs from the V&A to the city (you can catch a water taxi that takes you right to the V&A's aquarium, an outing in itself), Canal Quays looks over to the working docks. So whilst ships come in and out, rigs get provisioned, goods are loaded and unloaded, you stay in the luxury of these new and beautifully designed apartments.

Home from Home at Marina Residential, V&A Waterfront Marina, CAPE TOWN
Marina Residential is the ultimate destination for those looking to stay in this most prestigious complex at the V&A Waterfront. Sweeping between the Cape Grace and the One&Only Hotels, the marina development consists of twenty different apartment buildings, all on the water's edge. The Bluff apartments (from Altmore to Lawhill) face onto the canal waterway that runs from the Convention Centre to the One&Only, whilst the Peninsula buildings (from Parama to Pembroke) face directly onto the yacht marina, or onto the canal waterway and the One&Only's island villas.

Kylemore B507 Luxury Apartment, V&A WATERFRONT MARINA, CAPE TOWN
Kylemore B507 is a 5 star, luxurious, modern 3-bedroom apartment situated at the prestigious V&A Waterfront Marina. This stylish, spacious apartment is both elegant and comfortable, furnished and themed to make you feel relaxed and welcomed immediately. It has been thoughtfully equipped for your every need. Airconditioning and underfloor heating gives the finishing touch to make your stay as comfortable as possible. It has an open plan lounge and dining area, including satellite television and DVD Player. Enjoy your morning coffee and breakfasts, sundowners and outdoor entertainment on the patio overlooking the gorgeous views of the Marina.
Waterfront Village, V&A Waterfront, Cape Town
1, 2 and 3 bedroom self-catering apartments right in the heart of the V&A Waterfront, close to shops and restaurants. These magnificent self catering, luxury apartments are located in the famous V&A Waterfront, where an innovative fusion of history and modern convenience has resulted in a multi-purpose dockside environment unlike any other in the world. Situated between Robben Island and Table Mountain in the heart of Cape Town's working harbour, the Victoria & Alfred Waterfront has become South Africa's most visited destination. Set against a backdrop of magnificent sea and mountain views, exciting shopping and entertainment venues....
More accommodation in Cape Town City Bowl and the V&A Waterfront

| | |
| --- | --- |
| CENTURY CITY SELF-CATERING / VACATION RENTALS - CAPE TOWN, SOUTH AFRICA | |

Century City is a suburb of the South African city of Cape Town that conforms to the "new urbanism" of creating integrated neighbourhoods including entertainment, residential, retail and office components. Development began under the vision of Monex Developments in 1998 and explosive growth continues under the new owners, Rabcav Properties. Investment thus far exceeds R5 billion. It is located 10km to the north-east of central Cape Town along the N1 motorway and is traversed by numerous waterways, wetlands and canals.

Corporate Accommodation - 1 & 2 Bedroom Self-Catering Apartments, CENTURY CITY
Set amidst the 8 kilometer waterways that meander through the Century City complex. The apartments are situated in the quiet and tranquil Island Club complex. You can enjoy a stroll in the well kept gardens, sit quietly and read a book, take a swim in the indoor or outdoor swimming pools or go on a shopping spree in the largest shopping mall in Africa. All of this on your doorstep. The apartments are all walking distance from Canal Walk Shopping Centre with 400 shops, 40 restaurants and coffee shops as well as 17 Cinemas and a big selection of take out meals.
More accommodation in Cape Town

| | |
| --- | --- |
| CLIFTON SELF-CATERING / VACATION RENTALS - CAPE TOWN, SOUTH AFRICA | |

Clifton, Atlantic Seaboard South, Cape Town, Western Cape, South Africa.
Clifton is an affluent suburb of Cape Town, South Africa. It is an exclusive residential area and is home to some of the most expensive real estate in South Africa, with dwellings nestled on cliffs that have sweeping views of the Atlantic Ocean.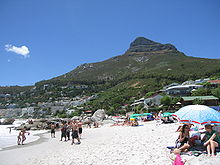 The area has a set of 4 beaches which are frequently used destinations for both locals and tourists. The beaches, which are named from 1st to 4th, are separated by falls of granite boulders and have almost pure white granitic sand. The four beaches of Clifton are well protected from the notorious south-easterly wind. A fifth beach, before First Beach, called Moses, appears and disappears as the sand is washed in and out with the seasons. The water, although chilly (12–16 °C), plays host to many watersports, mostly surfing, both board and body. The strongest surf is at First, diminishing to Fourth, where it is the weakest. Fourth beach (to the South),is the most populated and glamorous venue. Yachts anchor off Fourth beach, especially on summer weekends. Second beach attracts gay men. Third is the beach to which families and beach volleyball players gravitate. First beach, to the north, the largest beach, draws a mixed crowd. Clifton Beach was noted as one of Discovery.com's best beaches by region.
Clifton 4th beach has also been awarded the Blue Flag award in recognition of its environmental, safety and tourist standards.
The small size of the properties on which bungalows are built above first and second beaches is attributable to the fact that the area was laid out by the City of Cape Town for returning soldiers who had fought in World War I. Narrow flights of stairs run between Victoria Road and the various beaches. These houses now fetch very high prices on the housing market, despite being only able to be reached by stairs, and, in some cases, having no garaging.
Clifton was rated as one of the Top Ten Beaches by the satellite television network Discovery Travel Channel in 2003 and 2004 and has received Blue Flag status. In 2005 and 2006 it was rated by Forbes.com at number 8 in the Top 10 Topless beaches in the World.
361 Clifton, Luxury 2 bedroom Self-Catering Apartment,
CLIFTON
Live in the lap of luxury This brand new two bedroom luxury apartment is perfectly positioned at Cliftons most prestigious address. Enjoy a wind free holiday and 24 hour manned security with breathtaking sea, beach & mountain Views. Fully Serviced all working days with a magnificent cordon bleu kitchen. Its open plan living/dining area flows majestically to the large terrace and 10 metre infinity pool. Two ultra modern bathrooms and two double bedrooms, main en suite bedroom leads directly to the swimming pool.
White Cliffs, Luxury Self-Catering Apartment, CLIFTON
White Cliffs is a trendy & upmarket apartment situated a stones throw away from Cape Town's most famous & popular beach - Clifton 4th Beach. Wake up to sweeping views of Clifton Bay, and watch the waves crashing onto Clifton Rocks. Enjoy a breakfast in the warm Cape sunshine on your own private sundeck, whilst enjoying the views and the bustle below. During the days you can enjoy the privacy and luxury of your own apartment. Sun yourself on the deck and plunge into the refreshing pool. Alternatively spend the day enjoying Cape Town's most popular beach, Clifton 4th, which you are right next to.
More accommodation in Clifton

| | |
| --- | --- |
| CONSTANTIA SELF-CATERING / VACATION RENTALS - CAPE TOWN, SOUTH AFRICA | |

Constantia, Southern Suburbs, Cape Town, Western Cape, South Africa
Upmarket and beautiful southern suburb of Cape Town. Mountain views - some areas have magnificent views across to False Bay. 20 minutes from the Cape Town City Centre, and 25 minutes from the airport. Groot Constantia and the Constantia winelands close by. 15 minutes from the nearest beaches at Hout Bay.
Ascot Gardens Self-Catering Accommodation, CONSTANTIA
Ascot Gardens self catering accommodation is situated 20klm from Cape Town Centre, in the peaceful quiet suburb of Bergvliet, Constantia Valley. Our central location makes it ideal for touring around and experiencing Cape Town. Ascot Gardens self catering offers Private Entrance, Free Wireless Internet, Dstv, Dvd, Pool, Laundry, Library, Secure off street Parking, Private patio with BBQ facility. All Self catering units are situated in a beautiful garden which has appeared on BBC TV's Gardeners World. The 1 acre garden has magnificent plants, trees and shrubs, stunning water features and has colour all year round and is home to a variety of birds, squirrels, fish and frogs.

Constantia Vista Luxury Self-Catering Suites, Constantia, Cape Town
Overlooking forests, vineyards, mountains and sea, Constantia Vista is the ideal hideaway for those who wish to get away from it all. Nestling high on the hill in a beautiful forest setting, four fully self-contained, free-standing, self-catering units look out across the magnificent Constantia Valley to False Bay.
Navona Constantia Guest Cottage, CONSTANTIA
Welcome to Navona Cottage – a hidden treasure in the heart of Constantia, Cape Town's prestigious leafy suburb. A stay at Navona Cottage is the epitome of a truly relaxing experience – a time to indulge in serenity, privacy and a restful ambience, punctuated only by the soothing sounds of indigenous birdlife. As a completely secure, one bedroom (king bed) garden cottage, Navona Cottage is fully self-contained and secluded, with a private entrance and enviable panoramic views of the Constantiaberg mountains. The cottage itself is modern and stylishly furnished, with a refreshing feel to its interior.
More accommodation in Constantia

| | |
| --- | --- |
| DURBANVILLE AREA SELF-CATERING / VACATION RENTALS | |

Durbanville, Cape Town, Western Cape, South Africa
Suburb situated inland in the Northern Suburbs of Cape Town. Beautiful, mountainous scenery. Wineland area - 25km to 50km from City, Airport, Beach, Stellenbosch, Wellington and Paarl. Close to Tyger Valley Shopping Centre.
Cape Pillars, B&B, Self-catering, DURBANVILLE
Welcome to Cape Pillars Luxury self catering apartments and B & B where we offer the finest luxury accommodation. Located in the upmarket suburb of Durbanville, this establishment is conveniently close to Cape Town, the magnificent winelands, pristine white beaches, Table Mountain, the V & A Waterfront, Grandwest Casino and many other tourist attractions. The fully equipped apartments are beautifully appointed and lead out to the stunning garden and swimming pool area. The property is fully secure and offers safe, off road, enclosed and shaded parking. Cape Pillars has been accredited with a four star grading by the Tourism Grading Council of South Africa...
Taylor's Place, Self-Catering, DURBANVILLE
A 2-bedroomed self-catering unit that is situated in Durbanville Hills in a quiet area and green belt. The unit consists of 2 bedrooms, lounge with open plan kitchen, shower, toilet and basin. It has a private entrance which leads to it's own patio with braai area, which is fenced from the garden and swimming pool. Parking is off-street. The entrance is separate and private. The main bedroom has a Queen-size bed and built -in cupboards, as well as a wall safe in the cupboard. The other bedroom has 2 single beds, a chest of drawers and cupboard. The lounge also has a double sleeper couch. We have TV with M-Net and DSTV.Telephone, Fax and email facilities are available.
Vier Landen Garden Cottage, Self-Catering, DURBANVILLE
Wake to the song of birds in this spacious (70 sq. metres) 2-unit-cottage with private entrances and situated in a big garden. Enjoy your morning coffee on the patio in a peaceful and rural environment. Off-street, secure parking available. The non-smoking establishment offers comfortable and affordable self-catering holiday accommodation and consists of 2 units. Unit A. - One double bedroom with king size bed (or two single beds), sleeper couch and air conditioning, lounge / dining room with TV (M-net) , DVD player, air conditioning, fully equipped kitchen, with microwave oven, two plate stove, toaster, electric kettle, fridge, cutlery & crockery, bathroom with bath & separate shower...
More accommodation in Durbanville
Continue browsing self-catering holiday rentals in Cape Town and surrounding areas