Search this site


All Locations in Gauteng:
Cities:
Towns
Tourism Region
Copyright © All World Vacation Station




Gauteng Province, South Africa:
Johannesburg Travel Information - Pretoria (Tshwane) Information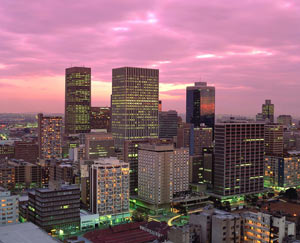 If money makes the world go round, Gauteng is one of its major axes. Meaning 'the place where the gold is' Gauteng is the economic powerhouse of Africa. It is South Africa's smallest, wealthiest and most frenetic province. Everything moves fast - cars zoom down the highways, people walk fast through the malls and offices, and new buildings spring up on the drab brown Highveld like so many glass and chrome mushrooms.
The whole place buzzes with the energy of making money and spending money. Johannesburg and Gauteng are virtually synonymous but there's more to this province than the hectic Jozi. Pretoria is a laid back city with some lovely old buildings and a wealth of cultural attractions.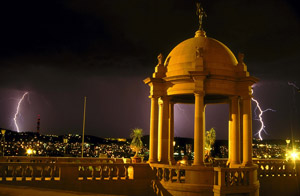 The restored mining village of Cullinan is worth a visit for its lovely old buildings as well a mine tour and the opportunity to buy diamonds on site.
There are a number of small nature reserves where you could go for walk, or even a horse ride, and see some game. You could go hot air ballooning, paragliding or skydiving. Or take a flip in a vintage plane. A tour of the Cradle of Humankind, which is a world heritage site, offers a new way of looking at human history and prehistory.
Being such a small province, Gauteng is virtually a hub, with easy access to attractions in neighbouring provinces, most notably the Free State and North West Province.
| | |
| --- | --- |
| JOHANNESBURG - GAUTENG - SOUTH AFRICA | |

Johannesburg Travel Information:
Johannesburg, also known as eGoli (place of gold), is the largest and most populous city in South Africa. The city is affectionately known as "Jo'burg", "Jozi" and "JHB" by South Africans.

Johannesburg is the provincial capital of Gauteng, the wealthiest province in South Africa, and the largest economy of any metropolitan region in Sub-Saharan Africa.

The city is one of the 40 largest metropolitan areas in the world, and Africa's only officially designated global city (classified as a gamma world city).

While often assumed to be South Africa's capital, Johannesburg does not form one of South Africa's three capital cities. Johannesburg does, however, house the South African Constitutional Court - South Africa's highest court.

Johannesburg is the source of a large-scale gold and diamond trade, due to its location on the mineral-rich Witwatersrand range of hills.
Johannesburg is also served by O.R. Tambo International Airport, the largest and busiest airport in Africa and a gateway for international air travel to and from the rest of southern Africa.

The city enjoys a dry, sunny climate, with the exception of occasional late afternoon downpours in the summer months of October to April. Temperatures in Johannesburg are usually fairly mild thanks to the city's high altitude, with the average maximum daytime temperature in January of 26ºC, dropping to an average maximum of around 16°C in June.


View Google Map of Johannesburg, South Africa
During the winter, the temperature occasionally drops to below freezing at nightime, causing frost. Snow is a rare occurrence, with snowfall having been experienced in September 1981 and light snow in August 2006. The annual average rainfall is 713mm, which is mostly concentrated in the summer months.
Read more

| | |
| --- | --- |
| JOHANNESBURG - GENERAL - FEATURED HOTELS | |

Search for hotels in the Johannesburg area
54 on Bath, Rosebank, Johannesburg
54 om Bath is an ideal choice for guests seeking a sophisticated city hotel with the highest levels of service and luxury, as well as that personal charm found only in small establishments. Set in the heart of stylish Rosebank, a secure, leafy suburb that is cosmopolitan and rich in eclectic restaurants, shopping, cinemas and culture. The hotel has easy access to Johannesburg's most prominent businesses and the International airport. The Dining Room Restaurant serves lunch and dinner (à la carte menus), with specially selected wines from the Vinothèque.
Africa Centre Airport Leisure Hotel - Guest Lodge & Travel Centre,
BENONI
Africa Centre Airport Leisure Hotel just 10 minutes from OR Tambo International Airport, offering a modern approach to hotel accommodation with high levels of maintenance and cleanliness. Africa Centre Airport Leisure Hotel offers free return shuttle transfers to and from O.R. Tambo International Airport. Including wireless Internet, meeting room, restaurant, bar, DSTV, pool table, sauna, Jacuzzi, barbeque facilities, heated swimming pool and travel centre. Situated close to malls (free drop off and pick up) flea market, night life, game food restaurants, casinos, golf club, water ski and water-world. Varied rooms, ranging from singles, and dbl, self catering to family en suites.
African Pride Melrose Arch Hotel, Johannesburg
The Melrose Arch Hotel is located in an urban development of the same name in Northern Johannesburg, offering shops, restaurants and bars, kilometres from the city centre. This four-floor hotel features 118 guestrooms with pared down contemporary decor, featuring crisp white bed linen, leather headboards, exposed brick and chrome light fittings. All have armchairs and writing desks, flatscreen televisions with DVD players, DVDs, and high-speed Internet connections. The hotel's main restaurant, the March, serves an exotic fusion of international cuisines and guests dine within contemporary black and white decor with innovative coloured walls and lighting features.
Don Johannesburg International Airport
Located just five kilometres from Johannesburg International Airport, the Don Johannesburg International suites are a good choice for travellers requiring easy access to the airport. Each suite contains a spacious lounge area and fully-equipped kitchen, with smart decor including cream walls and pale green and red furnishings. Suites also extend to marble bathrooms and provide cable television, telephones and hair dryers. Guests can relax around the outdoor pool or enjoy a meal in the buffet restaurant, which serves international cuisine at breakfast and dinner.
Don Rosebank 1, Johannesburg
The Don Rosebank is a modern aparthotel located in the fashionable Johannesburg suburb of Rosebank, two kilometres from the shopping available at Rosebank Mall. Apartments are decorated in light tones with brightly coloured fabrics and extend to fully-equipped kitchenettes (with cookers, microwaves and refrigerators) and dining areas. All also come equipped with Internet connections, and satellite television. Guests can hire barbecues on request. The hotel offers guests an outdoor swimming pool, free parking and has a security guard.
Protea Hotel Wanderers, Johannesburg
If you are looking for an ideal holiday destination in Johannesburg, the Protea Hotel Wanderers is a perfect place for you to reside and explore the surrounding areas. Protea Hotel Wanderers is ideally situated on the green belt of Johannesburg, in the prestigious northern suburb of Illovo, Sandton. This premier Protea Hotel is minutes away from many of the major attractions including Sandton City, Rosebank Mall, Melrose Arch precinct and the Johannesburg Zoo. Soundproofing, earth tones and the harmonious design principles of Feng Shui create an atmosphere of complete tranquillity and comfort in the superbly designed bedrooms. Protea Hotel Wanderers offers a 24-hour coffee and cocktail bar, with a separate up market smoking lounge for its guests to relax.
Rosebank Hotel, Rosebank, Johannesburg
The Rosebank Hotel, situated in the exclusive suburb of Rosebank, part of Greater Sandton Johannesburg, has had a complete makeover and is finally ready for you! This hotel, with an outstanding reputation for friendly, efficient service, is currently under construction and will soon be unveiling a modern new look and is open for bookings. Centrally located, the sights and sounds of cosmopolitan Johannesburg are literally on the doorstep including 3 shopping malls and the legendary African Craft Market. This hotel is already renowned for it's absolute elegance with a tranquil, relaxed atmosphere, it promises to exceed all expectations to new and returning guests.
Sunnyside Park Hotel, Parktown, Johannesburg
The Sunnyside Park Hotel features Victorian and Edwardian architecture and was built in 1895. It is located in the wealthy Johannesburg ridge-top suburb of Parktown and is surrounded lawns and gardens. It offers 109 guestrooms, located on two floors, which feature Victorian-style decor with floral prints and light wood and cane furniture. All include air conditioning, complimentary bottled water, coffee/tea makers, satellite television, direct-dial telephones, wireless Internet access and complimentary newspapers. Bathrooms have hair dryers and complimentary toiletries.
The Westcliff, Johannesburg
Situated in Johannesburg's most exclusive residential suburb, The Westcliff's hillside setting with cascading, sculpted gardens and elegantly opulent accommodation evoke a bygone era of leisure and refinement in one of the world's most vibrant and cosmopolitan cities. The hotel is a short drive from the many shopping malls Johannesburg is renowned for and just 22 km from O.R. Tambo (Johannesburg) International Airport. The hotel also offers easy access to key business centres and is within easy reach of numerous historical, sporting and adventure destinations, while being surrounded by a proliferation of character-filled suburbs.

| | |
| --- | --- |
| - AUCKLAND PARK BED & BREAKFASTS | |

Zietsies Guest House, Auckland Park
Zietsies is situated on the highest koppie in Johannesburg - some people say second highest, but we believe otherwise - with a 180 degree view to the north, east and west. We also believe that our Guest House is completely unique and that you will not find anything like it anywhere else in Joburg. Our dining room has been built with glass and steel, giving it the feel of a conservatory in the sky with a view only surpassed by the quality of food we serve. All our rates include breakfast and we do a three course dinner on request. The best quality linen, feather and down duvets, coffee and tea tray, fresh fruit, dressing gowns and a welcoming carafe of sherry in the rooms ensure the comfort and enjoyment of your stay with us.

| | |
| --- | --- |
| - BEDFORDVIEW & EASTGATE HOTEL RESERVATIONS | |

Search for hotels in the Johannesburg area
Don Suites Eastgate, Johannesburg
Overlooking the tranquil Bruma Lake, the Don Eastgate is a modern suite hotel two kilometres from the Eastgate shopping mall, the largest in South Africa, to the east of central Johannesburg. The spacious suites benefit from separate lounge and dining areas, and have well-equipped kitchens and cable televisions. The decor is smart and businesslike, with modern furnishings. All suites also come with telephones and private bathrooms. There is an outdoor pool, ideal for a quick dip or relaxed sunbathing on the sun deck.

| | |
| --- | --- |
| - CRAIGHALL PARK HOTEL RESERVATIONS / B&B | |

Liz at Lancaster, B&B/Self-catering, CRAIGHALL PARK
4 star graded accommodation located in Craighall Park, one of Johannesburg's most convenient areas - a stone's throw from Hyde Park, 10 minutes from Rosebank, equidistant from Sandton and Jozi CBD and Parktown, Braamfontein, Melville. 5 units with rates varying from R495-660 single and R295 pp sharing to R400 (for the 2 roomed units with kitchens) including breakfast.


| | |
| --- | --- |
| - JUKSKEI PARK GUEST HOUSES | |

Villa Schreiner Guest House, JUKSKEI PARK
Villa Schreiner is a family-owned romantic guest house under thatch situated in the quiet residential suburb of Jukskei Park. Villa Schreiner is located 15 minutes from Fourways Mall, 25 minutes from Sandton City and close to the famous Monte Casino. There are two excellent gourmet restaurants, a coffee shop & boutique shops at the Douglasdale Shopping Centre, only five minutes away. Our four beautiful, individually decorated rooms overlook the beautiful tropical garden and heated pool. A full English and continental breakfast is served outside on the sun patio or in the dining room.

| | |
| --- | --- |
| - MELVILLE HOTELS & GUEST HOUSES | |

motel Mi Pi CHi, Melville, Johannesburg
A LIGHT WHITE OPEN-PLAN SPACE, motel Mi Pi CHi is THE IDEAL SANCTUM TO RETREAT TO AFTER A DAY OF JOBURG FRENZY. UNLIKE OTHER MELVILLE PLACES OF STAY, ITS LOCATION OFFERS A TRULY UNIQUE MULTI-CULTURAL EXPERIENCE AS ONE WOULD EXPECT TO FIND IN AN AFRICAN CITY. DESIGNED BY ARCHITECT, ANDREW MAKIN WHOSE CREATIVE WIZARDRY HAS CONTRIBUTED TO WATERSHED PROJECTS LIKE THE SOUTH AFRICAN CONSTITUTIONAL COURT AND SINGITA LEBOMBO AND SWENI IN THE KRUGER NATIONAL PARK. (VOTED BEST HOTEL IN THE WORLD, SEVERAL TIMES IN A ROW!)


| | |
| --- | --- |
| - RANDBURG B&B/GUEST HOUSES | |

Ninety North Guest House, Ferndale, RANDBURG
This beautifully furnished guest house in Johannesburg's Northern suburbs, has a total of seven spacious bedrooms with en suite bathrooms, each with own television and tea and coffee making facilities. The entire house is dedicated to guests and the lounge and dining area has DSTV and DVD player with surround sound. Mrs Hakula provides a sumptuous breakfast each morning and tea and coffee are available all day. Welcome snacks are provided each evening and our "butler", SIpho, holds a fruit bowl in the hallway for a healthy snack on your way in or out.


| | |
| --- | --- |
| - SANDTON HOTELS, GUEST HOUSES & BED & BREAKFASTS | |

Sandton Travel Guide:
Sandton is a town in the northern part of the Greater Johannesburg Metropolitan Area, South Africa in the Gauteng Province. The name comes from the combination of two suburbs, Sandown and Bryanston, both of which were named after places in the United Kingdom. This year, the town will host the Miss World 2008 beauty pageant at the Sandton Convention Centre.

It has become the new financial centre of South Africa and Johannesburg's premier business centre. Much of the financial focus of Johannesburg has shifted from the Central Business District to Sandton, especially in the last 15 years. However, three of South Africa's four largest banks have kept their head offices in downtown Johannesburg, along with Transnet, the transport parastatal. The other bank, Nedbank, has its headquarters in Sandton.

But much of the "new money" has moved north to Sandton, including investment banks, financial consultants and the like. A considerable amount of the city's A-grade office space is to be found in Sandton. The JSE Securities Exchange, Johannesburg's stock exchange, relocated its offices to Sandton from the Central Business District in the late 1990s. Sandton's gain was the central business district's loss: it resulted from urban blight of the downtown Johannesburg area.

Sandton is home to the Sandton Convention Centre, one of the largest convention centres on the continent and primary site of the 2002 World Summit on Sustainable Development (also known as "Rio + 10"), which Johannesburg hosted. The convention centre also hosted the African National Congress' victory celebrations after the party won the 2004 elections.

Tourism and retail hub

One of the main attractions in Sandton is Sandton City, which ranks among the largest shopping centres in Africa. Together with Nelson Mandela Square, the centre, with some 144,000m² of shopping space, is one of the largest in the Southern Hemisphere, larger than Sydney's Westfield Parramatta or Melbourne's Southland Shopping Centres. Much of Johannesburg's business tourism is centred on Sandton, which has a string of 5-star hotels.

It was recently announced by Liberty Properties that Sandton City will receive a R1,77-billion upgrade. Liberty Properties chief executive Samuel Ogbu has envisaged the complex as South Africa's very own Wall Street "Africa is not for sissies, but we have a bold vision, which is to see the Sandton City precinct as our own Wall Street." The redevelopment will include the construction of an 80-storey office tower, a new hotel, new retail and office space and residential apartments. The 80-storey office tower will be the tallest building in Africa, replacing the Carlton Centre in Johannesburg CBD. The extension will stretch to 30 000m² and the total complex will have a gross lettable area of 158 000m² . London-based RTKL Associates have been chosen to design the complex.

Nelson Mandela Square, formerly known as Sandton Square, was renamed in March 2004, after the unveiling of a 6-metre bronze statue of the former president, one of South Africa's greatest statesmen. Perhaps ironically, Liliesleaf Farm, where Mandela and other political activists were arrested in the 1960s and tried as part of the now infamous Rivonia Trial, is north of Nelson Mandela Square, close to the M1 Highway, off Grayston Drive. The area is now home to massive office parks and other developments, and little remains of the farm.
read more
Search for hotels in the Johannesburg area
Don Suites Sandton I, Johannesburg
The Don Suites Sandton I is nestled in the heart of one of Johannesburg's most happening areas. The hotel is literally surrounded with 5-star restaurants, friendly pubs, trendy shops, cinemas and more. All rooms have fully equipped kitchens, private bathrooms and lounges, making the Don Suites Sandton I a real "home away from home." The hotel is nestled in the center of Johannesburg's prime business center and near sights like Thrupps Centre, Illovo Square, Sandton City, Wanderers Cricket Club, Ellis Park and the Johannesburg International Athletics track, making it a perfect location for business travelers and tourists alike.
Don Sandton 3, Johannesburg
The Don Sandton III is a modern hotel set in the lively town of Sandton, three kilometres from a golf course and cricket stadium, and 25 kilometres from central Johannesburg. Guests can start the day with a full english breakfast in the hotel's breakfast room. Babysitting and childcare are available and any visitors arriving by car will find free parking onsite. Those wishing to explore the area can seek tour assistance from the 24-hour front desk. The 44 apartments (studio, one bedroom and two bedroom) are decorated in light colours with bright fabrics and separate sitting areas.
Rivonia Bed & Breakfast, Rivonia, SANDTON
Winner of the 2010 and 2009 AA Accommodation Awards, Rivonia Bed & Breakfast offers secure accommodation in tranquil surroundings. Situated in a quiet cul-de-sac, its rooms nestle in large rambling gardens. It is the ideal location for business travellers and holiday makers alike. Strategically located in Sandton, north of Johannesburg, the guesthouse offers easy access to all major highways. It is located within easy reach of Sandton City, the Sandton Convention Centre, Gallagher Estate, Sunninghill and Morningside Clinics and Montecasino (transfers available).
The Michelangelo Hotel, Sandton
This elegant hotel has captured the spirit of a bygone era while being at the heart of the pulsating vibrant corporate capital of Africa, Sandton Square. The hotel offers unsurpassed attention to detail and ensures that individual needs and tastes are catered for in every possible way. Beautiful Renaissance-inspired décor ensures that guests enjoy the utmost luxury both in their private suites as well as in the lounges and other public areas of the hotel. The Piccolo Mondo Restaurant for breakfast, lunch, and dinner can accommodate up to 130 people in style and comfort. Member of the Leading Hotels of the World.
The Michelangelo Towers, Suite Hotel, Sandton
The Michelangelo Towers rises majestically above the Sandton skyline and offers exquisite business accommodation in Sandton to both the corporate traveler and leisure seeker. Offering panoramic views over the Magaliesburg and the Gauteng skyline, Michelangelo Towers offers 194 suites that are the epitome of luxury and style. Rooms at this business accommodation in Sandton boast modern amenities including business facilities, indoor and outdoor pools, and a private gymnasium. The Sandton Convention Centre is in close proximity, making Michelangelo Towers the ideal venue for high powered business executives.
Tladi Lodge, Guest House/Bed & Breakfast, SANDTON
Set in 2 acres (0.8 hectares) of lush tranquil gardens, Tladi Lodge Johannesburg, combines all the benefits of a hotel with the intimacy of a guest house. This beautiful area boasts an abundance of cultural, natural and social highlights - from the Lion and Rhino Parks, to the Cullinan Diamond Mine, you'll be spoilt for choice for things to do. Whether you fancy an awe-inspiring champagne balloon ride or a day on a manicured golf course, the hospitality staff at this 5 star guest house will be happy to advise. Tladi Lodge is an extensive thatched property surrounded by verdant trees and set amidst romantic winding pathways.