Search this site

Copyright © All World Vacation Station



| | |
| --- | --- |
| TRAVEL READING ON THE KAROO IN SOUTH AFRICA: | |

The Karoo is a semi-desert region of South Africa.
Central Karoo
The broad, mostly sandy, expanse of undulating plains known as the Karoo is divided between the Little Karoo, nearer the coast and the Great Karoo, which seems to stretch into the interior forever. The Karoo, which means 'great thirst' in the local Khoi-San language, receives little rain so the rather dramatic landscape exhibits interesting geological features. The broad expanse of the endless plains is broken by flat-topped mesas and kopjes (conical hills), which display interesting stratigraphy, contorted fold structures and deeply striated glacial pavements. The Karoo is particularly rich in dinosaur fossils, many of which can be seen at the Old Library Museum in Graaff-Reinet.

Many people consider the Karoo something to be endured in order to get from Johannesburg to Cape Town, or vice versa but it really is an attraction in its own right. The two national parks, the Karoo National Park near Beaufort West and the Mountain Zebra National Park near Cradock are nothing like the bushveld reserves around the Kruger National Park. The vegetation is much more sparse but, strangely, far more interesting, as it's characterised by low-growing succulents and aromatic shrubs which, upon closer inspection are very beautiful and many of which flower spectacularly for a short season.

There are black rhinos in the Karoo National Park and, not surprisingly, many of the beautiful, endangered and rather rare Cape Mountain Zebra in the Mountain Zebra National Park.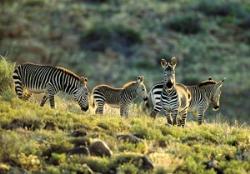 Although midday can be over-bright and washed out, the quality of light in the Karoo is magnificent. Sunrises and sunsets are awe-inspiring with pastel shades of purple, blue, pink and gold filling the entire horizon. The sky before a storm is particularly dramatic, with shafts of light burning down through indigo clouds and rainbows dancing merrily just behind the thunder and lightning.
And the clear skies and freedom from light pollution makes for wonderful stargazing - the recently built Southern African Large Telescope (SALT) is in the small, rather remote Karoo town of Sutherland.
As well as showcasing some very pretty Victorian houses, the many small towns reflect a sort of sleepiness, which is appropriate to their status as urban centres in a large sheep farming area.
On the edges of these vast plains lie lovely, almost unexplored mountains, with deep gullies, pretty streams and overhangs filled with rock art. And even the older buildings - one-roomed stone cottages, corbelled huts and old stone sheds are coming into their own as they are renovated as tourist or hikers accommodation.
Graaff-Reinet and Cradock offer a wealth of cultural attractions as well as some great accommodation Nieu Bethesda is the site of South Africa's best known outsider art - the Owl House, created by Helen Martins. Nothing happens very fast in the Karoo. It's a place to go to relax, to sit back and watch time move gently over the purple hills.
The Great Karoo stretches over part of the Eastern Cape, the Western Cape and the Northern Cape.
Planning a trip to the Northern Cape or the Eastern / Western Cape Karoo? A useful and inspirational book to have on the road is the Getaway Guide to the Karoo, Namaqualand & Kalahari - Out and About in the Northern Cape by Brent Naudé-Moseley & Steve Moseley, who are also the proprietors of Karoo Cottage in Loxton.
Karoo, Namaqualand and Kalahari represents not only some of the most remote areas in southern Africa, but also the most scenic and rustic on the subcontinent – a region framed by a stark beauty that provides an ideal getaway from well-trodden tourist paths. This fascinating guide provides a unique exploration of its hidden treasures, national parks and wildlife reserves. Find out where to go and what to see, sound advice on finding your way through the Karoo, Namaqualand and Kalahari as well as alphabetical accounts of all the towns, villages and stopovers, maps and the what, where and how of adventure activities.
Authors Steve Moseley & Brent Naudé-Moseley live in the Karoo where they've spent the past ten years writing and photographing this and neighbouring regions. During this time they have developed a great love and respect for its natural and historical heritage, people and culture - all of which have opened their eyes to a simpler lifestyle and different values. Their travel articles and images appear in local and international publications and, after years of travel and research, they have launched a unique photo library (www.karooimages.co.za) specialising in the Great Karoo, Kalahari and Namaqualand.
Little Karoo (Klein Karoo)
The Little Karoo is the hot, dry region squeezed between the Outeniqua Mountains that separate it from the green and luscious Garden Route, and the rugged Swartberg Mountains that separate it from the wider, hotter Great Karoo.

The well marketed Route 62 extends further than the actual R62, including parts of the Breede River Valley. It's a lovely, quiet alternative to the rather more goal-oriented N2, passing through some interesting little towns and winds its way past loads of wineries and guest farms that specialise in rugged activities like 4x4 trails and quad bike trails. The major part of Route 62 runs straight through the Little Karoo towns of Ashton, Montagu, Barrydale, Ladysmith, Calitzdorp, Oudtshoorn and De Rust.
It's a lot of fun to zig-zag backwards and forwards between the N2 and the R62 over some very scenic mountain passes, alternating between the lush green Garden Route and the drier, more austere Little Karoo. Most well known for its ostrich farms, which have developed into mega tourist traps, the Little Karoo supports a thriving agricultural industry. Olives, deciduous fruit and wine add to the rather heady mix that most local restaurants exploit gleefully.
Calitzdorp, which is most well known for its great port, holds a port festival every July, and there are fabulous wine farms along the whole length of the R62. Probably the most well known attraction in the region, though, is the enormous Cango Caves in Oudtshoorn. There are some great rock paintings in various parts of the Little Karoo.
The magnificent landscapes, locally known as red hills, offer some fun day walks, and the high mountains on either side of this long, thin valley, offer fantastic multi-day hikes. There are loads of really great cultural attractions, not least of which is the annual KKNK, the Klein Karoo Nasionale Kunstefees (Little Karoo National Arts Festival) in Oudtshoorn. It's a party. Big time.

| | |
| --- | --- |
| CENTRAL & GREAT KAROO - BED & BREAKFASTS/GUEST HOUSES - BEAUFORT WEST | |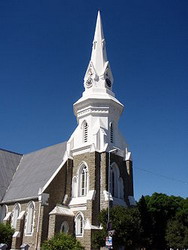 Beaufort West is a town in the Western Cape province in South Africa. It is the oldest and largest town in the arid Great Karoo region, and forms part of the Beaufort West Local Municipality, with 37 000 inhabitants in 2001. The town was founded in 1818 and initially named Beaufort after Henry Somerset, 5th Duke of Beaufort, who was the father of Lord Charles Henry Somerset, then governor of the Cape Colony. The town was renamed Beaufort West in 1869. Today Beaufort West is the centre of an agricultural district based mainly on sheep farming, and is a significant town on the N1 national road. Next door to Beaufort West is the Karoo National Park. Important fossils have been found in the area, initially by David Baird, son of the local magistrate in 1827. As part of a drive to create employment opportunities, a hydroponics project was started and now supplies premium herbs and vegetables nationally. The old Town Hall and the Dutch Reformed Church have been declared national monuments. Christiaan Barnard, the pioneering heart surgeon, was born and grew up in Beaufort West. He is commemorated in the local museum.

Beaufort Manor, BEAUFORT WEST
Some of the beautiful scenery one can expect to see when visiting Beaufort Manor in Beaufort West. Beaufort Manor offers tasteful Karoo dinners, by candle light, either in our dining room or under the brilliant stars during summer months. Choose a bottle of wine to accompany your five course meal, served by our friendly staff. Guests can expect dishes such as our famous Leg of Lamb, home made chicken pie, bobotie, mouth-watering gammon and organic vegetables straight from our Garden. Please book to avoid disappointment.

Lemoensfontein Guest House, BEAUFORT WEST
Set in the vast expanse of the South African Great Karoo, this beautiful homestead/lodge dates back to 1850. Built slowly and soundly to the exacting standards and architectural style of the time, the building remains unchanged with characteristic high ceilings, original wooden floors and wide verandahs which offer guests a sweeping panoramic view of the Karoo landscape. The self same atmosphere can still be felt throughout the old building even though modern comforts like ceiling fans, wall heaters, air-conditioners and en-suite bathrooms have been added to ensure our guests a comfortable stay.
Tree Top Guest House, BEAUFORT WEST
Tree Top Guest House is one of the oldest residential buildings in Beaufort West. Restored to a magnificent 3-star guest house, this could be your accommodation establishment of choice on a journey through the Karoo. Easy accessible and situated in quiet surroundings, this will make it an unforgettable experience for the discerning tourist or businessman. Come and unwind in the shade of huge pear trees, enjoying sundowners overlooking Birdstreet, unmistakably the most beautiful street in the Karoo. We offer eight stylishly decorated en-suite rooms with air-conditioning, dstv, secure parking, swimming pool, barbeque area, licensed bar, and breakfasts.
More Accommodation in Beaufort West

| | |
| --- | --- |
| KLEIN KAROO - ROUTE 62 - GUESTHOUSES/B&B/GAME & SAFARI LODGES - MONTAGU | |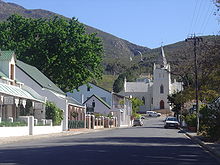 Montagu is a town in the Western Cape province of South Africa, about 180 km from Cape Town in western Kannaland. It is named after former secretary of the Cape Colony, John Montagu, but was once known as Agter Cogman's Kloof. It is situated at the confluence of the Keisie and Kingna rivers.

Montagu is a tourist destination, known for its hot mineral springs and scenic beauty. It is also an agricultural centre, where orchards and vineyards are in production and local herbs are grown. Nearby rock formations make it one of the country's major rock climbing venues. Montagu is near the Robertson Wine Valley, and is most easily reached via the Route 62 scenic route.

20 on Church, Guest House, MONTAGU
Nestled on the foothills of the Langeberg Mountain range in the heart of Montagu, 20 on Church is a picturesque two hour's drive from Cape Town on the popular Route 62. This ideal stopover destination between Cape Town and the Garden Route, offers intrepid travelers a stylish haven to relax and rejuvenate not often associated with Bed & Breakfast establishments. Surrounded by majestic mountains in the heart of the Robertson Wine Valley which is incidentally South Africa's longest wine route. 20 on Church offers you the choice of four lavish en-suite bedrooms, one of which opens up into a private garden where you can enjoy the luxuries of an outside shower.
African Game Lodge, Self-Catering/Full-Board Thatch Chalets, MONTAGU
Situated in the spectacular mountains of the Cape Winelands, only 2.5hrs from Cape Town and 30 minutes from the quaint karoo town of Montagu, African Game Lodge is a private nature reserve which offers you a taste of nature where you can relax and enjoy the scenery and wild animals without any pressure. If you love the environment as much as we do, you will be pleased to know that we are completely off the grid, using the power of the sun for our energy. African Game Lodge is down to earth South African hospitality at its best in the most beautiful natural setting. We offer daily nature drives and game viewing to see large game on our property, as well as a cheetah conservation and awareness program.
Montagu Vines Guesthouse, MONTAGU
Montagu Vines is situated in the historic conservation area of Montagu. The main farmhouse was built between 1900 and 1910 and reflects the early Victorian-influenced Karoo-styled farmhouses of that period. The garden rooms overlook the wine-producing vineyard and compliment the stately main house. We offer our guests a taste of old-fashioned comfort and luxury in the town of Montagu on the world famous "Route 62". You can relax in the splash pool set in the tranquil gardens with magnificent old oak and milkwood trees. Alternatively, you could lounge on the lawns with glorious views of the vineyards and surrounding mountains, sipping a glass of Chenin Blanc produced from grapes from our vines.
Villa Victoria, MONTAGU
Absorb the ambience of a lovingly restored Victorian villa. Sleep in a luxurious en-suite bedroom between percale linen sheets on an extra length bed. Enjoy an elegant breakfast served with freshly baked homemade breads on the verandah overlooking the garden and mountains. Relax alongside the sparkling pool while taking in the splendor of a Karoo sunset on the Langeberg. Our aim is to make your stay memorable.
More Accommodation in Montagu

| | |
| --- | --- |
| KLEIN KAROO - OUDTSHOORN (ROUTE 62) ACCOMMODATION | |

Oudtshoorn, the largest town in the Little Karoo, is most well known as the centre of the ostrich farming industry. Taller than many men, these huge flightless birds weigh in at about 150kg and are very fast and – surprisingly – very dangerous. Don't tangle with one. How embarrassing would it be to have to explain to the guys in the office that, while you were on holiday, a bird kicked you almost to death and you landed up in hospital with broken bones, concussion and a few major lacerations? You'd never live it down. But they are interesting – and delicious. Their almost totally fat-free and cholesterol-free red meat is reputed to be particularly healthy, and is made into a huge range of innovative dishes in local restaurants. The most traditional way to eat an ostrich, though, is in the form of biltong – sun-dried, spiced strips of meat. But, hey. Why eat the bird, when you can wear it?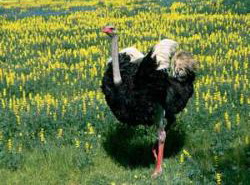 Ostrich feathers have moved in and out of fashion a few times over the last couple of centuries but, at their heyday, they were worth more than their weight in gold and they funded the building of some magnificent mansions, which were dubbed "feather palaces" by the envious neighbours. Le Roux's Townhouse, which is an annex of the CP Nel Museum, is an excellent example of this early form of conspicuous consumption.
There are also a number of farms where you could watch an ostrich display, learn all about these amazing birds and go wild buying ostrich feather and leather products. The leather has almost overtaken the feathers as a must-have fashion accessory. Distinctively knobbed (how many leathers are plucked?) and very hard-wearing, it's used to make anything from key rings to full length coats, car upholstery and even saddles. (OK – so far, one rather weird Cape Town polo player has decided that a knobbly ostrich leather saddle is a good idea. But, who knows, it could take off.)
You could, if you were totally heartless, also ride an ostrich. Sure – they weigh 150 kg and are very strong but – and this is a big but – they have really tiny little ankles so many of the birds that are ridden are permanently injured. Which is not really a problem, as they're destined to be turned into biltong and handbags, anyhow, but it's worth thinking about.
Speaking of handbags, there's a crocodile ranch just outside the town, and also a "wildlife ranch", where you can dive with crocodiles from the safety of a cage, see a range of predators, including lions, tigers and jaguars, and you could even – for a price – "adopt" a baby cheetah. While we're on the animal thing – there's a bunny farm, where you can pet the angora rabbits and buy lovely soft garments from angora wool, and even a lovely, child-friendly restaurant where you can ride a camel. Camels, fortunately, are renowned for their sturdy ankles.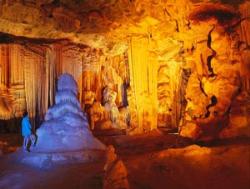 The other major attraction in Oudtshoorn is the Cango Caves, which extend for miles into the extensive limestone hills and exhibit beautiful crystal and flow structures. You can do a one hour tour or tackle the more adventurous one and a half hour tour, which includes some tight squeezes.

One of the best ways to see Oudtshoorn and its surrounds – if you're relatively energetic – is to do a semi-escorted cycling trip on the Swartberg Pass. You (along with the bikes) get driven to the top of the pass 50km from town, from where you make your own way back. The first 10km is a steep, twisting, turning, incredibly scenic unpaved mountain pass – but all downhill. From there the next 10km is a relatively steep downhill on tar, and the last 30km is mostly downhill or flat.

En route back to town, you can stop to visit the Cango Caves, the Wildlife Ranch, an ostrich farm, and even stop to ride a camel. A short detour (with some uphills) could take you to a lovely waterfall. It's a full day ride but – here's the best part – if you decide you've had enough cycling, you can phone to be picked up and only pay a small "rescue fee".

There are some great restaurants and a smattering of lovely guest houses. The Klein Karoo Nasionale Kunstefees (Little Karoo National Arts Festival), which is a whole load of fun, is held in April.

Adley House, Bed & Breakfast, OUDTSHOORN
Built in 1905 by Sidney Herbert Adley during the 'Ostrich Feather Boom period' 1880 to 1914. This magnificent Sandstone Victorian Homestead is situated on an acre of land in a quiet up market residential area near to the centre of town. Rated 4 stars by the S.A. Tourism grading council, it has 14 Air Conditioned, individually decorated rooms with T.V, tea and coffee facilities, Hairdryers, bar fridge and all the necessary amenities to make your stay most pleasant. Relax at our 2 pools in our well kept English Garden.

Die Ou Pastorie - De Hoop, OUDTSHOORN /
We invite you to the grand, gabled, sandstone lady - Die Ou Pastorie. You will be overwhelmed by calm, wonderment and beauty because of her architecture, accommodation and landscape. The Parsonage and Dutch Reformed Church of De Hoop, Oudtshoorn were completed in 1909 by imported Scottish stone masons. This gem of the Klein Karoo has passionately and respectfully been restored and refurbished as a Guest House for the comfort and entertainment of guests. It is centrally located for exploration of the Klein Karoo and the exquisite Garden Route nearby.

Hlangana Lodge B&B, OUDTSHOORN
Oudtshoorn's premier destination. This highly recommended lodge offers individually decorated en suite rooms, all equipped with queen size beds or twin beds, TV, mini-bar, safe, telephone, free coffee/tea and air conditioning. A warm welcome awaits you in this Victorian Lodge with its exotic garden settings. Relax at the large salt water swimming pool and enjoy the superb views of the Swartberg Mountains. Try the fitness center, hire a mountain bike or just enjoy a drink at the fully licensed bar. Opened in 1996, Hlangana Lodge has been the home away from home for many visitors to our beautiful town.
Villa Rustique Guesthouse & Fine Dining Restaurant,
OUDTSHOORN
Villa Rustique guesthouse offers 5 luxury rooms (1 Honeymoon suite) all en-suite, with private entrance and air conditioning. 365 days a year, when the weather is fine, we let you enjoy our superb champagne breakfast buffet on the patio around the pool. Guests can relax and stay refreshed around the swimming pool or enjoy a day trip to the local Oudtshoorn attractions. Villa Rustique is located in a quiet residential area of Oudtshoorn, the city of ostriches and the world famous Cango Caves.
More accommodation in Oudtshoorn


| | |
| --- | --- |
| CENTRAL & GREAT KAROO - SELF-CATERING - BEAUFORT WEST | |

Haus Holzapfel, BEAUFORT WEST
Your German hosts Marion and Zwingli have created a charming home with a beautiful garden for the discerning guest who is looking for luxurious self catering or B&B. Accommodation in a "home away from home'' haven in a secure and peaceful setting, in one of the most beautiful areas in the Karoo. Honeymooners and those seeking something special will delight in the exclusivity that the suites offer. Haus Holzapfel offers two sunny and bright Suites which are beautifully decorated and furnished.
Olive Grove Guest Farm, Country House, Self-catering, DBB,
BEAUFORT WEST
Olive Grove Guest Farm is owned and hosted by Ian and Sonia Taylor. In the AA Accommodation Awards 2007, Ian and Sonia won the prize for the Host and Hostess that go the extra mile for their guests, throughout the Western Cape, this ensures a high standard of service and hospitality at this establishment. The unique combination of Olive, Sheep and Game farming makes this a Karoo experience that cannot be missed. Accommodation choice is between 7 stylish chalets and 5 luxury suites, self-catering or country cuisine from our Karoo Kitchen.
More Accommodation in Beaufort West

| | |
| --- | --- |
| CENTRAL & GREAT KAROO - SELF-CATERING - LAINGSBURG | |

Die Blokhuis, Self-Catering Houses on an Olive Farm, LAINGSBURG
Blokhouse was built in 1901 and housed 30 soldiers to protect the bridge during the Anglo Boer War. The Blockhouse is a National Monument situated on the farm. Geelbeksbrug is also a working olive farm and guests can enjoy awesome stargazing. The owner will take you on Geological & Paleontological walking tours where you can see how erosion exposed ancient rock formations. 37 species of birds have been ringed, watch birds, swim in the dam or just enjoy the nature of the karoo.
More accommodation in Laingsburg