Tourism Information for Mauritius:
Mauritius - briefly explained
Mauritius - Your Mauritius Vacation Means Life Is A Beach
Mauritius - Your Mauritius Vacation Will Be A Golfers Paradise

Mauritius - briefly explained by RALPH RAMAH
The island of Mauritius has a total land area of around 784 square miles or otherwise a total area of around 788 square miles. As per reports recorded in the year 2006, the population in Mauritius amounts up to about 1,240,827. The capital of Mauritius is Port Louis. According to statistics published in the in the year 2003, around 148,000 people live in the city of Port Louis. It is believed that around 1 percent of people in Mauritius talk English, 81 percent talk creole, 12 percent talk bhojpuri and 3 percent talk French.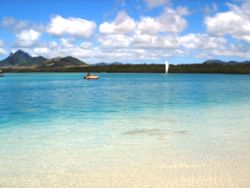 Moreover, around 68 percent of people in Mauritius are Indo-Mauritian, 27 percent are creole, 3 percent are Sino-Mauritian and around 2 percent are Franco-Mauritian. Mauritius is a multiracial island. So, people of different religions exist. Around 48 percent of Mauritians are Hindu followed by nearly 24 percent of Roman Catholic. On the other hand, around 8 percent of people are Catholic while approximately 17 percent are of Islamic origin. Also, as per surveys carried out in the year 2003, the literacy rate in Mauritius sums up to 86 percent.

Furthermore, about half the population of Mauritius, that is around 570,000 people form part of the labour force. A more detailed approach to this figure would resemble as follows: about 36 percent of people in Mauritius are employed in the construction and industry, around 24 percent in services, nearly 14 percent in agricultural and fishing, around 16 percent in trade, restaurants and hotels, 7 percent in communication and 3 percent in finance. Additionally, the industries that operate in Mauritius are the food processing, textile, clothing, chemicals, metal products, transport equipment, nonelectrical machinery and tourism.

In addition to, the gross income of exports in Mauritius may have amounted up to $ 1.949 billion f.o.b (free on board). This figure had been revealed from surveys in the year 2005. The major export products in Mauritius are mainly clothing and textiles, sugar, cut flowers and molasses. While the government of Mauritius gains some revenue in export, various products need also to be imported. Statistics form the year 2005 reveal that imports may have amounted up to $ 2.507 billion f.o.b (free on board). The main imported products are manufactured goods, capital equipments, foodstuffs, petroleum products and chemicals.

The major trading partners of Mauritius are UK, France, U.S., Madagascar, Italy, South Africa, China, India, Bahrain, Japan (2004). Also, there are no transportation railways in Mauritius. But the road and public infrastructure is well developed with 1926 km of highway of which around 1868 km had been paved. These highways are also equipped with around 44 km of expressways to ensure the fluidity of traffic circulation. Only around 58 km of roads in Mauritius had been left unpaved. It is important to remember that Mauritius is a developing country and infrastructures are best in more important areas.

Mauritius claims the Chagos Archipelago (UK-administered British Indian Ocean Territory), and its former inhabitants, who reside chiefly in Mauritius, but were granted UK citizenship and the right to repatriation in 2001; claims French-administered Tromelin Island.

-------
Mauritius welcomes you. The Official Web Site for Mauritius
Mauritius - Your Mauritius Vacation Will Be A Golfers Paradise by Mauritius
top
If you are like many people, you probably have a special sport that you enjoy more than any others. If golfing is your main interest, you can focus your Mauritius vacation around your favorite sport!
When you began thinking about a Mauritius vacation, you may not have considered the idea of having one particular theme for your trip. However, as the entire point of a vacation is to get as much enjoyment as possible from activities that you like the most, you will see that Mauritius is a golfer's paradise!
Mauritius offers a dozen extraordinary golf courses, all for your playing pleasure! If you still are not convinced that a golfing vacation is right for you, think about it this way: This is a sport that you really love, but you may find it difficult to fit it into your busy schedule. If you are lucky, you might get to spend a few hours on the golf course on the weekend. If this sounds like your pattern, you do not have to be satisified with just an occasional few hours after a long week at work, you can make your favorite game the central focus of your attention and an unlimited amount of your time. If this sounds much better, then you are ready for a golfing vacation on the beautiful island of Mauritius!
There are a number of choices which will help you to accommodate your passion for golf. Whether your preference is for eighteen-hole or nine-hole golfing, there are a dozen of each from which you can select the one that suits you the best. While most of the island's hotel resorts have their own lovely golf courses, you may also like to try the huge, gorgeous course at the Gymkhana Club. Whichever you prefer, you will delight in the well-kept grounds and modern facilities they are a golfer's dream come true!
If you prefer to structure your time most efficiently, there are also a number of special packages available. You can select from between the budget academy package, the independent package, or the family package. All of these packages include superb accomodations at some of Mauritius's finest hotels, assistance if you wish; and the budget and independent packages also offer car rental service for you.
Whether you are a golfing expert who wants to focus as much time as possible into the game, or a beginner who will gain much hands-on learning experience from the available lessons, there is a golfing vacation that will be just perfect for you!
While you are reveling in your game, however, don't forget to check out everything else that this lovely island has to offer; you will find activities galore, and plenty of opportunities for relaxation on Mauritius. But if golf is your game, and you do not have nearly enough time to enjoy it in your everyday life, a Mauritius vacation with your passion for golf at the center is sure to fit your definition of the greatest vacation you could possibly imagine!
About the Author - Mauritius www.tourism-mauritius.mu/