Gabon, officially the Gabonese Republic, is a country in west central Africa. It borders on Equatorial Guinea, Cameroon, Republic of the Congo and the Gulf of Guinea. Since its independence from France on August 17, 1960, the Republic has been ruled by only two autocratic Presidents; the incumbent El Hadj Omar Bongo Ondimba has been in power since 1967 and is currently (2007) Africa's longest-serving Head of State. Gabon introduced a multiparty system and a new democratic constitution in the early 1990s that allowed for a more transparent electoral process and for reforms of governmental institutions. A small population, abundant natural resources, and foreign private investment have helped make Gabon one of the most prosperous countries in the region. Its coat of arms shows two jungle cats representing their prided animals.

Gabon is located on the Atlantic coast of central Africa. Located on the equator, Gabon has an equatorial climate with an extensive system of rainforests covering 85% of the country. There are three distinct regions: the coastal plains (ranging between 20 to 300 km from the ocean's shore), the mountains (the Cristal Mountains to the northeast of Libreville, the Chaillu Massif in the centre, culminating at 1575 m with Mont Iboundji), and the savanna in the east. The coastal plains form a large section of the World Wildlife Fund's Atlantic Equatorial coastal forests ecoregion and contain patches of Central African mangroves especially on the Muni River estuary on the border with Equatorial Guinea.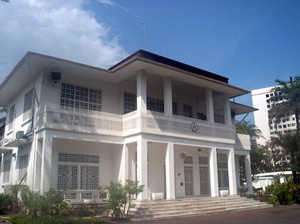 Gabon's largest river is the Ogooué which is 1200 km long. Gabon has three karst areas where there are hundreds of caves located in the dolomite and limestone rocks. Some of the caves include Grotte du Lastoursville, Grotte du Lebamba, Grotte du Bongolo, and Grotte du Kessipougou. Many caves have not been explored yet. A National Geographic Expedition visited the caves in the summer of 2008 to document them (Expedition Website).
Gabon is also noted for efforts to preserve the natural environment. In 2002, President Omar Bongo Ondimba put Gabon firmly on the map as an important future ecotourism destination by designating more than 11% of the nation's territory to be part of its national park system (with 13 parks in total), one of the largest proportions of nature parkland in the world. Natural resources include: petroleum, magnesium, iron, gold, uranium, and forests.
Tourism
Straddling the equator, this rainforest nation is situated on West Africa's Atlantic coast. Animals are abundant – Gabon is the continent's fifth least densely populated country – and is 85 per cent covered in tropical forest.[citation needed] This, along with savannahs, mangroves, lagoons and beaches makes it an ideal habitat for varied species of animals and reptiles including 20,000 western lowland gorillas and 60,000 forest elephants – the largest population in Africa – and 700 types of exotic birds.
The National Tourism Strategy, written in consultation with the The Wildlife Conservation Society, aims to achieve 100,000 visitors per annum.