Search this site


Copyright © All World Vacation Station




| | |
| --- | --- |
| LIMPOPO & NORTH WEST PROVINCE - SOUTH AFRICA | |


Real Africa - roam the endless bushlands on an exciting safari.. close to exciting Sun City (Casino Resort)
Limpopo Province is Africa undistilled. It is raw and wild and wonderfully enigmatic. With about half of the Kruger National Park and many other game reserves, it has miles and miles of untamed wilderness where the Big Five and other animals roam in a space so large it may almost be considered unfenced. This low-lying area, which is generally referred to as the Lowveld, is archetypical Africa - broad-leafed open forest interspersed with grassy plains dominated by huge bulbous baobab trees.

In stark contrast, the high-lying Waterberg, which rises from the plain like a hippo standing up in a shallow stream, has a totally different vegetation type, but is nevertheless a fantastic game viewing destination with the added advantage of being malaria-free - unlike Kruger and the Lowveld reserves. For wilderness of a different kind, Limpopo Province has some of the most awesome wilderness hiking in the world.


Buy at AllPosters.com
The Blouberg and the Wolkberg (Blue Mountains and Cloud Mountains) are wild and virtually untouched. Experienced hikers can explore spectacular mountainous areas that few people have seen, and climbers can clock up loads of first ascents. Deep and uncharted caves await those brave enough to explore their depths and patient enough to endure the red tape necessary to get permission to mount an expedition.
The Magoebaskloof area is characterised by lovely mountain scenery. Pretty streams with tumbling waterfalls and secluded rock pools wind their way through vast stands of indigenous forest, many with laid out hiking trails. Limpopo has some of the best horseback safaris in South Africa, including luxury trails in the malaria-free Waterberg and one fabulous operation in a Big Five reserve near Kruger. The white water rafting on the Mutale and Olifants Rivers is wet and wild. But there's more to this fascinating place than animals, birds, mountains, rivers and trees. With sacred forests clothed in mist, a hereditary semi-divine queen who can make rain, and mystical lakes inhabited by mythical giant serpents, it's a place of mystery and magic. Over Easter literally millions of adherents of the Zionist Christian Church - a dynamic blend of charismatic Christianity and traditional African beliefs - gather in the holy city of Moria for a long weekend of frenzied devotion. Close to the borders of South Africa, Zimbabwe and Botswana, Mapungubwe was a thriving city state in the 11th, 12th and 13th centuries, and its remains have yielded fascinating archaeological data, as well as some beautiful artefacts, the most notable of which is an exquisitely worked gold rhino. It is a world heritage site.
Dating from a similar era, Thulamela, in the Kruger National Park, is also worth a visit. Of great botanical, as well as anthropological, importance is Modjaji's Forest - the largest stand of cycads in the world. Consisting of thousands of these austerely beautiful primitive plants, some of which reach over 13m in height, this magical forest has been under the personal protection of Modjaji - the hereditary Rain Queen of the Lobedu people - for centuries. But Limpopo also has its prosaic aspects. Huge iron mines dominate the landscape in places, and the small towns serve mostly the large farming community that breeds cattle and grows delicious tropical crops like avocadoes, citrus fruit, litchis, mangoes, bananas, macadamia nuts, pecan nuts, coffee and tea. The area around Bela Bela (previously called Warmbaths) is renowned for its therapeutic hot springs. In fact, there is a whole string of hot springs all through the province, and the many private game lodges and boutique hotels have attached wellness centres, so it's a great venue for some pampering combined with a bit of game viewing.
Note: If you are planning to travel to the Kruger National Park or Lowveld please be aware that certain parts of this region are malarial. Consult your doctor or travel clinic for advice and refer to our article on malaria.
North West Province by Samantha Black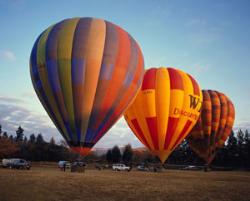 The North West Province is mostly pretty close to the urban conurbation of Johannesburg and Pretoria. While vast areas are dedicated to maize and cattle farming, and the mining industry is very well developed, there are some wonderful destinations.
The fantastic Madikwe Game Reserve, right on the Botswana border is a wonderful place with all of the Big Five and - major bonus - a large population of the gorgeous and endangered African wild dog. It's not often you get to see these particularly attractive animals, with their 'painted' coats and white tipped tails.
Another fantastic reserve is Pilanesburg, which is situated in an enormous volcanic crater - long extinct, don't worry. One of the major attractions of Pilanesberg is the hot air balloon flights from which you're likely to see a variety of animals. Pilanesberg is smack bang next door to the rather over-the-top casino resort of Sun City and the outrageous Lost City. As well as gambling, there are fun rides, water parks, horse trails and two championship golf courses. It's all designed to separate you from your hard earned cash but, if you go there expecting that, you'll have loads of fun.
The small town of Groot Marico is deeply entrenched in the South African psyche as the setting for the stories of one of the country's most well loved authors - Herman Charles Bosman. His rather far fetched, hilariously funny and touchingly poignant short stories tell of the ambitions and misadventures of the thinly fictionalised residents of this rural enclave in the early 20th century. And Bosman lives on. The whole town is a tribute to the man who put it - literally - on the map. The literature map, that is. You can do a mampoer tasting trips, which are only recommended for people with strong and healthy livers, visit the pub in which most of his stories are set, and do some general tours of the area, including a visit to the Eye of Mariko - a pretty spring, which is also a rather low key dive site, strangely enough.
Really close to Johannesburg is the lovely Magaliesburg, where you'll find all manner of rural pleasures including craft outlets and studios, coffee shops, restaurants, guest houses, cheese factories, horse trails and hot air balloon rides.
Of interest to note in the far north of the province, the Kgalagadi Transfrontier Park offers a wonderful location for game viewing, hiking and peaceful relaxation.

| | |
| --- | --- |
| PILANESBERG - NORTHERN PROVINCE - SOUTH AFRICA ACCOMMODATION | |

The Cabanas Hotel at Sun City Resort, Sun City
The refreshing, laid back ambience of the Cabanas at Sun City is the immediate impression one receives upon welcome. The most relaxed and casual of all the hotels at Sun City, the Cabanas offer informal yet comfortable accommodation. When he's not too busy exploring what the other pool decks have to offer, guests can spot Figaro, Sun City's resident Blue Crane, strutting his stuff by the Grande Pool Bar. Sun City Cabanas offer three dining choices– the chefs excel at creating imaginative theme style buffets at the Palm Terrace and everyday a full breakfast buffet and dinner buffet is offered. Light and scrumptious daytime fare is served at the Grande Pool Bar.
The Sun City Hotel & Casino at Sun City Resort, Sun City
A superior deluxe hotel, located in Sun City Resort entertainment and theatre complex, sheer Sun City elegance. All rooms have colour television, telephone and radio. Hotel facilities include 4 restaurants, 2 bars, 24 hour room service, coffee shop and beauty salon. Complex facilities include conference for 2000 people and gym, bowls and horse riding. Also access to two of the worlds best 18 hole golf courses and lost citys valley of waves. Whatever you want you will find it at sun city from sizzling entertainment, world class casinos and restaurants to cater for all tastes, to our more relaxed poolside venues, quiet places, lush gardens and extensive sporting facilities including two world class golf courses.
The Cascades Hotel at Sun City Resort, Sun City
A cool breeze, a sultry summer's day, an exotic cocktail at the sand bar and a hint of Turkish music, set the scene for a perfect holiday retreat. The Mediterranean is the deep, blue heart that gives life to the countries that surround it. With this in mind, Sun City has transformed the Cascades Pool and Grotto Restaurant into an area reminiscent of the azure blue of the tranquil Mediterranean. The pool deck has been extended by about 7 metres and the lawn areas have been converted into a sandy beach complete with a secluded bathing area and sand bar evocative of Tom Cruise's "Cocktail" movie.
The Palace of the Lost City at Sun City Resort, Sun City
The Palace of the Lost City at Sun City is one of the most enticing travellers' destinations in the world, a tribute to man's imagination and revered for its art and architecture. Fabled to be the royal residence of an ancient king, it is truly one of the 'Worlds Leading Hotels". The Palace lavishes its guests with 5-star service, and is luxurious in every facet of its fabulous architecture and décor. Surrounding the hotel is a 25 hectare botanical jungle. The jungle is threaded with meandering paths, cascades, lakes and pools and a variety of water-borne adventure rides. The Palace has 338 rooms inclusive of four deluxe suites.
Tshukudu Bush Lodge, Pilanesberg National Park
Set in the Pilanesburg National Park, the Tshukudu Bush Lodge is a modern wooden building in keeping with its surroundings, with views across the plains and waterhole below. The lodge's six luxury cottages have separate lounge areas with open fires, which open onto balconies with views of the plains and wildlife. They have African decor with colourful paintings and wall hangings; the bathrooms have dark wooden decking and sunken baths which also overlook the plains. Amenities include ceiling fans, minibars, safety deposit boxes and hair dryers. The Tshukudu Bush Lodge runs morning and afternoon game drives and walks with their experienced field guides.
More Sun City accommodation

| | |
| --- | --- |
| RUSTENBURG ACCOMMODATION - CLOSE TO SUN CITY | |

Rustenburg (Afrikaans and Dutch: Town of Rest) is a small city of 125.000 inhabitants situated in at the foot of the Magaliesberg mountain range in North West Province of South Africa. The town was established in 1851 as an administrative centre for a fertile farming area producing citrus fruit, tobacco, groundnuts, sunflower seeds, maize, wheat and cattle. On 10 February 1859, the Dutch Reformed Church was founded in Rustenburg. Just north-west of the town, the Transvaal President Paul Kruger bought a 5 square kilometre farm in 1863.

Among the first residents of Rustenburg were settlers of Indian origin. One of the first families of Indian origin was the Bhyat family, whose contribution to the City's history was marked by the renaming of a major streetname to "Fatima Bhayat Street". The spelling of the surname on the street name is unfortunately incorrect. Fatima Bhyat and husband Abubakr Ahmed Bhyat, the first residents of Indian origin, owned a hardware store that supplied equipment on credit to Paul Kruger for use during the Anglo-Boer War and for which they were later rewarded with in gold. Rustenburg was one of the host cities of the 2010 Football World Cup with the 40000 seat Royal Bafokeng Stadium.

Boschdal Upmarket Guesthouse, RUSTENBURG
Offering an outdoor pool and bar, Boschdal provides air-conditioned rooms with well-equipped kitchenettes. Guests can enjoy a buffet-style breakfast outside on the tree-lined terrace. The rooms are fitted with wooden furniture and colourful pillows. A seating area with a chair and selected satellite TV with a decoder are included. Toiletries are provided for guests' comfort. Free WiFi is available throughout. Some rooms have sleeper couches. The guest house as a 24-hour front desk, 2 remote controlled gates and security cameras. Conference facilities are available for up to 50 guests. There is a golf course and cinema in the surrounding area. Rustenburg Nature Reserve are within 6 km of Boschdal. The property is situated in a secure suburb within 54 km from Sun City.
More Rustenburg accommodation

| | |
| --- | --- |
| VAALWATER / WATERBERG BIOSPHERE RESERVE - LIMPOPO PROVINCE | |

Jamila Game Lodge, Vaalwater (Mabatlane), Limpopo Province
Showcasing a year-round outdoor pool and hot tub, Jamila Game Lodge is located in Vaalwater in the region of Limpopo. The property features a spa tub. All units have a sitting area. A refrigerator and kettle are also provided. Bed linen are available Jamila Game Lodge also includes a terrace. Guests can enjoy a meal at the on-site restaurant, followed by a drink at the bar.

More Limpopo accommodation