Search this site


Copyright © All World Vacation Station



| | |
| --- | --- |
| BREEDE RIVER VALLEY, WESTERN CAPE - TRAVEL GUIDE | |

Breede River Valley is a region of Western Cape Province, South Africa known for being the largest fruit and wine producing valley in the Western Cape, as well as South Africa's leading race-horse breeding area. It is part of the Boland bordering on becoming Little Karoo towards the east.

The Breede River Valley is relatively broad and flat for a Western Cape valley, averaging at a floor height of 80m-250m above sea-level. Western regions are mostly alluvial and flat, while eastern regions have more hills of the Bokkeveld Formation with narrow alluvial deposits. The valley was formed by its namesake, the Breede River. It is completely encircled by high mountains of the Cape Fold Belt ranging in height from 1500m to upwards of 2000m's. It stretches from Tulbagh in the north to McGregor in the south and Rawsonville in the west to Ashton and Bonnievale in the east.

It is climatically diverse, however it completely falls within a Mediterranean Climate. Towards the north and west, rainfall approaches upwards of 1000mm p.a., particularly in the Slanghoek Region near Rawsonville, whilst it becomes drier towards the south and west, with most areas averaging 300mm p.a., with areas near Worcester only receiving 175mm p.a. Thus Karoo Shrub dominates eastern hills, with lush Fynbos vegetation dominating western regions.

| | |
| --- | --- |
| CERES ACCOMMODATION - BREEDE RIVER VALLEY | |

Ceres is a town with 46,251 inhabitants in the Western Cape Province of South Africa. It is the administrative centre of the Witzenberg Local Municipality.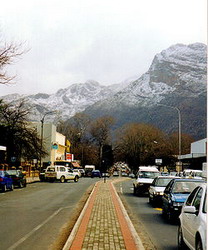 It was named after the Roman goddess Ceres, a name which is fitting as the valley in which the town is situated is extremely fertile and is a major producer of South Africa's deciduous fruit. It is situated in the Warmbokkeveld (Afrikaans: "warm antelope field") Valley about 170 km north-east of Cape Town, which is climatically warmer than the surrounding highlands, which is known as the Kouebokkeveld ("cold antelope field").
Ceres experiences a typical Mediterranean climate tempered by its altitude. The town experiences warmer temperatures in summer, due to its inland location with infrequent rainfall, however winters are cool to quite cold and wet, with frequent snowfalls on the surrounding higher-lying ground, rarely falling on the valley floor itself. Total annual precipitation averages 1088mm, with average temperatures ranging from a February maximum of 29,9°C to a July minimum of 2,4°C.
Ceres is well-known for fruit juices exported worldwide bearing the town's name. It is also famous locally for winter snow and cherries: Cape Town residents flock to the town during winter to ski or simply play in the powder — something of a rarity for the otherwise mild climate they are used to. If you forgot to pack your ski gear there are opportunities in town for rentals in case you want to hit the slopes. Whilst in summer, people come to pick cherries from "Klondyke" farm.
South Africa is one of the most stable parts of the world in seismic terms but on the 29th of September 1969 a massive shock shook the district without warning. The epicentre of the quake was on a major local structure called the Worcester fault, which had clearly been geologically active in the distant past but had not moved in over three hundred years of recorded history. Ceres was affected badly. Many old Cape Dutch buildings were damaged and some lives were lost. The quake was strong enough to knock plaster off walls in Cape Town, a hundred miles away

Ceres Matroosberg Reserve, Self Catering, Camping and Caravanning,
Tented Camp, CERES
The Matroosberg Reserve is situated on the farm Erfdeel, 35 Km from Ceres. The reserve covers more than 1000 Ha of mountain area, and reaches the Matroosberg Peak, which at the altitude of 2249m, is the highest in the Boland. (About 250m higher than Sneeuberg in the Cedarberg.) During the winter months, Matroosberg is often covered with snow. After a good snowfall, the Southern slopes remain snow-clad for quite some time and you can drive to the snow. This area is also well known for its private ski-slope.
Inverdoorn Game Reserve, Game Lodge, CERES
Inverdoorn is situated in the Ceres-Karoo area ±2hrs from Cape Town. You can spot buffalo, white rhino, giraffe, zebra, eland, kudu, nyala, lechwe, oryx and more on an open 4x4 safari vehicle with a professional guide. Enjoy a sun downer at the look-out point while viewing game at the waterhole. A peaceful oasis in the middle of nowhere, surrounded by wide open spaces; Inverdoorn offers refreshment for the soul and delicious food the body. Inverdoorn has guesthouses and chalets. The guesthouses can accommodate 9-11 people each and the 7 luxury en-suite chalets can accommodate 2 people each. The guesthouses have ceiling fans in each room and the chalets have each got air-conditioning.
Kagga Kamma Private Game Reserve, CERES
Kagga Kamma is a very unique private game reserve located near Ceres in the magnificent Cedarberg Mountains of the Western Cape. It is totally malaria free and only 260km (±40 min. flying time) from Cape Town. As a guest you can indulge in the viewing of game from an open vehicle, enjoy a sundowner at the Ceres Karoo escarpment as well as explore 6000 year old Bushman rock art. At our mini observatory you can navigate the Southern skies with our powerful high-tech 10 inch telescope. You can also learn more about the culture and beliefs of the ancient Bushmen.
More accommodation in Ceres

| | |
| --- | --- |
| ROBERTSON B&B / GUEST HOUSES - BREEDE RIVER VALLEY | |

Robertson is a town in the Western Cape Province of South Africa known as the valley of wine and roses. It was founded in 1853 and named after the Scottish Dutch Reformed Church Minister, Dr William Robertson.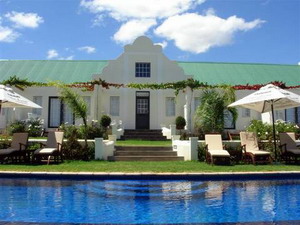 Situated in the fertile Robertson Valley, farming and wagon building were the town's original industries. However, after the Second Anglo-Boer War of 1899, the wagon building industry collapsed when the railways took over the transport of all goods.
Robertson subsequently became famous for its ostrich farming, but this industry collapsed as well shortly after World War I and thus the farmers of the area turned switched to wine and fruit farming. Later, several successful racehorse stud farms were founded. Agriculture remains the mainstay of the town's economy up to the present day.
Tourism has also grown in recent years and the town has several South African National Monuments, such as the Pink Church (1859), the Museum (1860), the Edwardian-style house 12 Piet Retief Street (1904), the Victorian-style house 59 Van Reeneen Street (1914) and the Powder House (which used as a storage for gunpowder).
The wine industry in Robertson has grown from less than 25 cellars in 1995 to more than 50 registerd wine cellars as of today. There are a number of wine cellars that receive the highest awards both locally and internationally every year. Robertson wine cellars include: Graham Beck, Springfield, Bon Cap, Majors Hill and Excelsior Estate. There are also a range of small boutique wineries as Rosendal and Fraai Uitzicht.

Ballinderry, The Robertson Guest House, ROBERTSON
Ballinderry, The Robertson Guest House is a luxury guest house in the heart of Robertson, on Route 62. The four star graded guest house, in a double storey thatched villa, is owned and managed by the Belgian owners Luc and Hilde Uyttenhove. They aim for the highest standards in quality, service and personal attention. Ballinderry offers five comfortable double en-suite rooms and a deluxe honeymoon suite. Each room has its own character and design, but they all combine luxury with charm. The suite, with views on pool, garden and mountains, consists of a big living room, bedroom and bathroom and has air-conditioning as well as a private fireplace for chilly winter days.
Randrivier B&B, ROBERTSON
Randrivier B&B is a 3 star S.A.Tourism graded institution on a Wine & Fruit farm with a lovely garden. 1km outside Robertson in the heart of Route 62 with all the famous wine farms and numerous tourist attractions in the Robertson Valley. We offer 4 ensuite double rooms with high quality standards and service + 1 selfcatering cottage that sleeps 2 +2 on couch fully equipped. We are near several Restaurants, the Golf course, Holiday resorts and 5 nearby villages each with its own splendour.
Rosendal Winery & Wellness Retreat, ROBERTSON
Rosendal Winery & Wellness Retreat is a boutique winery situated in Robertson only 1 hour and 45 minutes from Cape Town on the Route 62 Stay at Rosendal this green season and enjoy the beautiful winelands of Robertson. Experience the quietness, the quiet wine cellars and that people have time for a chat. Enjoy wholesome country cuisine in our small town, galleries, a holistic visit to McGregor or just sit by the fireplace with some Rosendal Red in your hand. Professional therapists in the SPA center and a great European kitchen team at the Rosendal restaurant.
More accommodation in Robertson

| | |
| --- | --- |
| ROBERTSON SELF-CATERING - BREEDE RIVER VALLEY | |

Agterkliphoogte Guest Farm, Self-Catering Cottages, ROBERTSON
Agterkliphoogte Guest Farm offers more than just accommodation in the Breede River Valley. Spend a few days enjoying the famous Route 62 hospitality on a 150ha farm with the majestic Riviersonderende and Langeberg mountains unfolding as far as you can see. At night the sky is filled with millions of stars, without any air or light pollution. Two Victorian style guest cottages - in years gone by were originally farm workers houses which have now been revamped and updated with French doors leading off each bedroom onto a large verandah.
Robertson Self Catering, ROBERTSON
Country comfort in the shadow of the majestic Langeberg Mountains. Scenic surroundings & Cozy accommodation in a historic Victorian Guesthouse close to nature. Meal options includes: Breakfasts – Dinners - Sunday lunches (bookings only) braai facilities. The Lodge consists of 6 bedrooms, 5 doubles and 1-twin rooms, all double rooms en-suite accommodating in total 16 people sharing; it also has a communal lounge with TV, large kitchen, dining area and fireplace - braai area outside. Robetson Self Catering is the perfect setting for small weddings up to 30 people in the large glass restaurant or outside under the pepper trees. Our swimming facilities is ideal for the adventurer, both cement dams are rather deep but great for swimming in the warm summer days...
More accommodation in Robertson

| | |
| --- | --- |
| TULBAGH B&B / GUEST HOUSES / SELF-CATERING ACCOMMODATION - BREEDE RIVER VALLEY | |

Tulbagh is a town in the Tulbagh valley and is situated in the Witzenberg Local Municipality, with the valley called "Die Land van Waveren" locally. Closest towns are Wolseley, Prince Alfred's Hamlet, Gouda and Ceres in the Boland (Highland) district of the Western Cape Province, South Africa.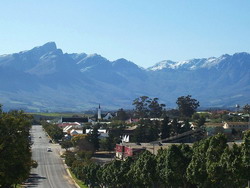 The valley has been inhabited for thousands of years by indigenous Bushmen and Khoi peoples. It was about 300 years ago when, after a land grant by the Dutch Colonial Government to a more or less equal number of Dutch and Huguenot settlers to settle the area, that the town of Tulbagh was founded. The town developed slowly and over time and in the period many notable examples of Cape Dutch architecture, Victorian and Edwardian houses and other buildings such as Die Oude Drosdy (the original colonial Magistrate's complex) were built in the valley. Many of these lovely buildings were destroyed in an earthquake in 1969 but quite a number did survive the catastrophe. Church Street in Tulbagh is now graced by the largest number of original Cape- Dutch, Edwardian and Victorian National Monuments in one street in South Africa and is a major tourist attraction of the town to the present day.
Tulbagh is situated in a bowl surrounded by imposing mountain ranges, with the Obiqua Mountains to the west, the Winterhoek Mountains in the north and the Witzenberg Mountains to the east. The valley experiences a mediterranean-type climate. The southern side of the valley is open to cooling south-east winds during the hot summer months. Accordingly Tulbagh enjoys some of the most diverse and attractive conditions for viticulture in the Cape, and the differences in terroir available to wine makers allow for a wide diversity of distinctive wines of excellence, attributes which have attracted many new producers to the valley.

Manley Wine Lodge, TULBAGH
Situated in a tranquil country setting in Tulbagh, South Africa, Manley Wine Lodge is a little piece of heaven. Surrounded by majestic mountains, sweeping vineyards and orchards, this is the perfect place to catch your breath and stay for a while. Manley Wine Lodge is situated 1.4 km from the historic town of Tulbagh and surrounded by magnificent mountain scenery. Tulbagh, famous for its historic buildings, is only 75 minutes from Cape Town. There is a lovely Gothic chapel for that special country wedding, a sunny breakfast room, swimming pool, and thatched lapa with great barbeque area - all adding to the facilities on this tranquil farm.
The Cape Dutch Quarter, B&B/Self-Catering, TULBAGH
The Cape Dutch Quarter is a portfolio of heritage properties offering a range of B&B & self-catering accommodation options in the heart of old Tulbagh village. Tulbagh Country Manor: offers guests 200-year-old grandeur, with '4 Star' luxury en suite, king -sized rooms on a B&B basis. "The little Courtyards' and 'The Wagon Shed:' offer guests upmarket self-catering options. Tulbagh Travellers Lodge/Backpackers' in the 'Old Bank:' offers travellers on a budget a comfortable, value for money option.
The Witzenberg Country Inn, Bed and Breakfast, TULBAGH
The Witzenberg Country Inn is owned and managed by a committed husband and wife team who are dedicated to providing warm hospitality and comfortable accommodation in the magnificent Cape Winelands. The Witzenberg Country Inn offers outstanding bed and breakfast accommodation in double en-suite rooms that all have TV, fans and heaters and tea & coffee making facilities. Relax with a long cool drink in our beer garden or air-conditioned sports bar and enjoy all the sports action on DSTV.
More accommodation in Tulbagh

| | |
| --- | --- |
| TULBAGH HOTELS - BREEDE RIVER VALLEY | |

Tulbagh lies about 180 kilometres north-east of Cape Town in the Breede River valley, surrounded by the picturesque Witsenberg mountain range. The town was founded in 1743 by the first settler families, the Trekboers. The "Oude Kerk", established by the Trekboers, is the oldest church in South Africa.

Bartholomeus Klip Farmhouse Hotel, TULBAGH
Bartholomeus Klip is unique. There are only five bedrooms in this small hotel, the original homestead on a large private estate which is both a working wheat and sheep farm and a nature reserve with a spectacular mountain backdrop. Here, in this unexplored region only an hour by car from Cape Town's international airport, you can feel part of the peaceful life of rural South Africa and its clean crisp air and star-filled night skies. The Victorian homestead has been meticulously renovated, and the fine fabrics and family antiques make you feel as if you are a guest in someone's much-loved home.
Tulbagh Hotel, TULBAGH
THE TULBAGH HOTEL - Western Cape Winelands. Tulbagh, only 1 hours drive north of Cape Town, is located in one of the most scenic valleys of the Western Cape Winelands, surrounded by majestic mountains, snow capped in winter. Famous for its Cape Dutch architecture, the town features 27 National Monuments in one street alone, and the Tulbagh Hotel is fortunate to incorporate 2 of these properties as 'heritage' annexes to the main building, which was itself founded in 1859. We source much of our fresh produce from our own farm in Tulbagh. The Tulbagh Hotel offers you the most versatile wedding venue in the Tulbagh valley; a ceremony in the oldest Church in the country, with a reception in the same historic street of 27 National Monuments.
More accommodation in Tulbagh

| | |
| --- | --- |
| WORCESTER ACCOMMODATION - BREEDE RIVER VALLEY | |

Worcester is a town in the Western Cape, South Africa. It is located 120 km north-east of Cape Town on the N1 highway north to Johannesburg.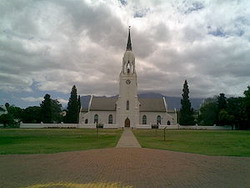 Being the largest town in the Western Cape's interior region, it serves as the administrative capitol of the Breede Valley Local Municipality and as regional headquarters for most Central- and Provincial Government Departments. The town also serves as the hub of the Western Cape's interior commercial, distribution and retail activity with a Shopping Mall, well developed Central Business District and infrastructure.
In the early days of the Cape's history the main road through the great mountain barrier which streches northwards from the Hottentots-Holland, Wemmershoek and Slanghoek mountains to the Groot Winterhoek mountains, lay through the Roodezand Pass into the valley of Tulbagh. From here the road gave access in the south-east to "the original great rift valley of Africa" as Jan Smuts once described the Breede River Valley.
Worcester is located at an elevation of 220m and can be reached by road either travelling on the N1 highway through the Huguenot Tunnel or by driving through spectacular Mountain passes. From Cape Town Du Toitskloof, from Wellington Bainskloof, from Malmesbury Nieuwekloof, from Ceres Mitchells, from Robertson Goree, from Hermanus Rooihoogte and from Johannesburg Hex River, with vistas over the Hex River Valley.

Aan de Doorns Guesthouse and B and B, WORCESTER
Aan De Doorns is a historical farm house with five en-suite bedrooms in the main building. The lush and private gardens have a pool with hammocks under the ancient pepper tree. Magnificent views of the surrounding mountains and farm land. mainly vineyards. Aan De Doorns is conveniently situated seven kilometres from Worcester and one and a half hours to Cape Town city centre. Ian and Wendy Adamson, the owners, ensure you of a hospitable stay. Worcester boasts the largest brandy distillery in the southern hemisphere and tours can be arranged. The Karoo Botanical Gardens are worth a visit and has a good restaurant. It is situated close to the Worcester Golf Club. Robertson, Franschhoek, Montague and Tulbagh are nearby and have some world class restaurants and wineries.
Die Eike Farm Accommodation, WORCESTER
Die Eike is a lovely Cape Dutch Homestead, originally built in the early 1800's. Surrounded by vineyards and orchards with views of majestic mountains, the guesthouse offers warm hospitality in tranquil setting. A horse riding school nearby offers vineyard and wine tasting trails on well-trained horses. Die Eike also has a small conference and function facility (20), which includes a private covered braai-patio. Accommodation comprises seven en suite double bedrooms of which two have an extra bedroom with twin beds-ideal for the family. All rooms have DStv, tea/coffee facilities. Barbecue facilities available. Enjoy our cellar's excellent sweet wine during winter in front of a log fire and crisp dry white wine in summer on the patio or just relax beside the swimming pool.
More accommodation in Worcester