Search this site


Copyright © All World Vacation Station



| | |
| --- | --- |
| THE WILD COAST - EASTERN CAPE TO KWAZULU-NATAL, SOUTH AFRICA | |

The Wild Wild Coast by Sandy Cosser
The Wild Coast of South Africa lies along its east coast. It is largely inaccessible and untamed, hence the wildness. This also means that it has retained most of its natural beauty and has been unspoilt by developers, which makes it a holidaymaker's paradise. Part of its unspoilt, natural charm is that a lot of the roads are still gravel and full of potholes. It really is best to use a 4 x 4 to get by, although a regular car will suffice. If you don't own a 4 x 4 though an option is to rent one for the duration of your holiday. That way you don't have to risk your car getting stuck on muddy or rocky roads. It's probably advisable to go for the insurance option on the rented 4 x 4, that way you won't have to pay for any damage suffered on the roads.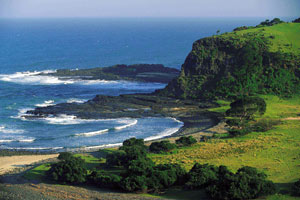 Xhosa is the local language in that part of the country. You will find that not many of the locals, apart from those in the hospitality trade, speak English. It would be useful to learn a few basic words to get by and to increase peoples' general attitude towards you. A few examples are: Hello – molo; how are you? – unjani; good bye – sala kakuhle; please – enkosi; thank you – enkosi kakhulu; yes – ewe; no – hayi.
The Wild Coast has an excellent climate for holidaymakers. It is neither too hot nor too cold all year round. It varies slightly from temperate sub-tropical in the south to moderate sub-tropical further north. In the winter, which is temperate, dolphins and whales abound in the sea and the weather is ideal for a winter holiday, as it rarely gets colder than 14 degrees Celsius. In fact, the best time of year to visit Port St Johns is in April and May, as the seasons change to winter. Temperatures in the summer months stay cool and comfortable. The Wild Coast gets its rainfall in summer. You needn't worries about the mosquitoes though; despite its tropical climate it's a malaria free zone.
Some of the towns that you will encounter as you travel along the Wild Coast are: Viedgesville/Jojweni – a town that has 2 names depending on the language you speak. You might find either or both on a map. It's a well travelled road and is tarred all the way. Umtata – has many roads leading from it, the most travelled one being the tarred one to Port St Johns, with beautiful countryside to look at as one drives. There is also a less travelled road to the Umtata River Mouth, which is not as good as the Port St Johns road.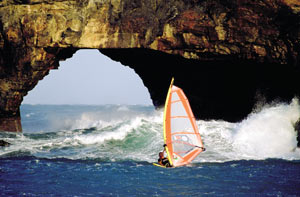 Umtata is home to the Nelson Mandela Museum, which is divided into 3 sections. The central section traces his life with photos, write-ups and displays and the other 2 rooms display all of the gifts that have been given to Nelson Mandela from all over the world. There is also an open-air swimming pool and some craft projects. Thirty kilometres north of Umtata is a little town called Qunu, which has the enviable claim of being Nelson Mandela's birthplace. You can see his "palace" from the N2. One of the improvements that he has made there is that he has had a tunnel built under the road so that the school children can cross the road safely. The Mandela Museum runs free tours of the area and if you book in advance you will be treated to a traditional Xhosa dinner. If you feel a little bohemian, or artistic or you would simply like to soak up that kind of atmosphere then Port St Johns is for you. It has the best selection of accommodation and restaurants on the Wild Coast. It has also become a haven for backpackers. It has 3 beaches, known very originally as First Beach, Second Beach and Third Beach. They are each several kilometres apart and unique in spirit and atmosphere. Quite a popular tourist attraction is the natural geographical phenomenon – Hole in the Wall. The natural movement of the sea has pounded a large tunnel through a freestanding cliff. The area was a good one for shipwrecks and to this day you have a very good chance of finding traces of the wrecks that occurred. Beads, coins and pottery shards are often found in rock pools. The locals have many colourful stories of their ancestors who came from the ships that ran aground there. The small community of Coffee Bay, which is not much more than a trading store, a plain camping site and an old hotel, but is also one of the most beautiful spots on all of the Wild Coast. The spectacular beach lies between rolling green hills and the sparkling sea, and the view is simply breath taking. The bay got its name when a ship full of coffee beans ran aground, some of the beans took root and started to grow but the soil was too salty and the shrubs all died. Today no trace of the coffee beans remains.
If you like your coastline rugged and wild, and your beaches pristine and unspoilt, then the Wild Coast is the place for you. If you like to work hard to reach your destination and drive for long hours in difficult conditions and have infinite patience with gravel and muddy roads, then the Wild Coast is for you. If you like mountains and rolling hills and rural scenes and dodging farm animals then the Wild Coast is for you. The Wild Coast is for anyone who likes to have fun and who likes to relax and if that is not you, then what planet are you from and where have you hidden the mothership?


| | |
| --- | --- |
| WILD COAST BED & BREAKFASTS, EASTERN CAPE SOUTH AFRICA | |

Amanda's B & B, Gonubie, WILD COAST
Amanda's B & B is located in Gonube. right on the beach where you can hear the waves breaking on your doorstep. Your hosts, Pieter and Amanda cater for those who seek comfort with warm hospitality in a peaceful atmosphere. A special place not to be missed. Centrally situated with 6 en suite bedrooms all with private entrances, 1.5 km from main beach, boardwalk and scenic rivermouth. Enjoy the stunning seaviews from the balcony while sipping at a cocktail.
Cremorne Estate, B&B/Self-Catering/Camping, Port St Johns,
WILD COAST
'There are still a few places on earth where, if you listen carefully, you can hear your heartbeat echo across the water...' Welcome to Cremorne Estate, just outside Port St. Johns, the very heart of South Africa's hidden natural wonderland, The Wild Coast... At Cremorne Estate we offer 3 distinctly different accommodation options: For a little bit of Wild Coast hospitality, we offer Bed and Breakfast in our cosy Timber Cabins with en-suite facilities. For the "Do It Yourself" holiday maker there are our fully equipped and serviced luxury Self Catering Cottages at prices to suit your pocket.
Sips B&B and Conference Centre, Lusikisiki, WILD COAST
Sips B&B offers you a relaxed secure stay in rural Lusikisiki with comfortable and affordable accommodation within close proximity to some of our province's best beaches and attractions in the true essence of mother Africa. With 32 double en-suite rooms, a conference centre with free wireless internet, gardens, swimming pool, BBQ / Braai area, our home is a place you can call home. We offer single rooms, double rooms and family rooms. total of 32 rooms. Offered on accommodation including breakfast. Lunch and dinner available on request.
The Nest Bed & Breakfast, Gonubie, WILD COAST
Your hosts at The Nest B&B, warmly welcome visitors to their appealing and attractive home located in Gonubie, the increasingly popular holiday resort, only 15 minutes from the East London city centre. Gonubie is the end of the well-known and popular Strandloper Hiking Trail as well as the Wild Coast meander. For those who are normally under the strains and pressures of city life, Gonubie is the ideal spot to relax and unwind and to be refreshed and restored as they enjoy its tranquil atmosphere and unspoiled, natural beauty. We offer three star and AA Highly Recommended luxury B&B and self-catering accommodation. Situated in a delightful treed garden, only four minutes' drive from our Blue Flag Main Beach and popular Boardwalk
Umtamvuna River Lodge, Bed & Breakfast/Lodge, Port Edward, WILD COAST
Umtamvuna River Lodge is the South Coast's best kept secret. Nestled at the foot of a mountain, in the heart of the nature reserve and on the banks of the Umtamvuna River... you will discover a lodge of leisure. With its sub-tropical gardens, soothing sounds of water falling from the edge of the cliffs and the majestic call of the Fish Eagle you find yourself lost in an unhurried tranquility that soon dispels the tensions and stress of every day life. The Lodge offers accommodation in 8 comfortable airconditioned en-suite Double, Twin or Single rooms with DSTV and private balconies which provide the opportunity to relax at sundown with views of the river and surrounding mountains.
More accommodation on the Wild Coast

| | |
| --- | --- |
| WILD COAST GAME LODGES / PRIVATE GAME RESERVES, EASTERN CAPE SOUTH AFRICA | |

Inkwenkwezi Private Game Reserve, Chintsa, WILD COAST
Inkwenkwezi is situated in the malaria free Eastern Cape, only a 30-minute drive from East London at the start of the Wild Coast. Here one can view the Big Five and other game housed within the boundaries of the reserve. Inkwenkwezi is a rare exquisite combination of bushveld, grasslands and forests, with an area encompassing 4000 hectares. This reserve boasts a Bush Camp, consisting of six two-person lavish ensuite safari tents. The Valley Camp offers 8 guests accommodation in four custom designed luxury tents and 2 family units each accommodating a family up to 4, which emphasize space and quality.

| | |
| --- | --- |
| WILD COAST GUEST HOUSES, EASTERN CAPE SOUTH AFRICA | |

Le Petit Provence, Guest House, Cintsa, WILD COAST
Le Petit Provence (Little Provence) brings a piece of Arles and Avignon, the playground of Vincent van Gogh, to Cintsa. Enjoy the village of Cintsa by walking to the village centre, country club, beach and many other local attractions. Breakfast is served from early morning, lingering into lunch, and then drawn out to sunset, slowly transforming the day into pastel evening colours when dinner is served, joining pallet and visual senses in symphony. The dining area invites the visitor to enjoy its warmth, where one can enjoy the view, served with a choice of excellent wines and other beverages, setting the scene for companionship. Le Petit Provence Guest House hosts 6 luxury private suites with spectacular sea views...
Port Edward Guest House, Port Edward, WILD COAST
High quality, good value accomodation. Situated a stroll away from the beach, shops and restaurants. Nestled in large tropical gardens where birds, butterflies and monkeys are frequent visitors. Facilities include a large swimming pool, braii area and access to internet (wi fi zone) and fax. Rooms are all en suite and equipped with fridges, fans, safes, hairdryers, towels, ironing facilities and hospitality trays. Full delicious breakfasts are served on the covered verandah with the Indian Ocean as the backdrop. Other meals are available on request. Special diets are catered for. Secure parking is provided and the property is fully walled.
Umzimvubu Retreat Guest House, Port St Johns, WILD COAST
Umzimvubu Retreat Guest House is situated on First Beach, overlooking the great Umzimvubu River Mouth and Indian Ocean and within comfortable walking distance from the town center. All rooms are individually furnished - some with en-suite bathrooms and TV (satellite television available). Laundry facilities, fax and internet facilities and free tea and coffee are at hand. Selected rooms are available where children are able to share with parents at a minimal rate. Self-catering options and rates are available on request. Join us for pre-dinner drinks on the veranda under a starry expanse. Enjoy alfresco dining on the veranda or treat yourself to sophisticated dining in the restaurant.
Windsor Guest House, WILD COAST
Welcome to Windsor Guest House where you can relax in comfort. Windsor Guest house is located within metres of the beach shops and restaurants of the friendly, safe town of Port Edward. We pride ourselves on providing clean, comfortable and well equipped guest accommodation and cater to the needs of both business and holiday visitors. Enjoy a delicious freshly cooked breakfast and later sunbathe around the pool with a drink from the bar. Children are made welcome and the pool area is fenced for safety. Secure parking is provided and we have staff on duty 24 hours a day. Let Windsor Guest House provide you with that well deserved break.
More accommodation on the Wild Coast

| | |
| --- | --- |
| WILD COAST HOTELS, EASTERN CAPE SOUTH AFRICA | |

Coffee Bay Hotel & Conference Centre, Coffee Bay,
WILD COAST
This easily accessible, owner managed hotel is situated in the heart of Coffee Bay on the Eastern Cape Wild Coast. The accent here is on friendly service in a comfortable environment. Guests are encouraged to curl up and read a book in the airy, spacious lounges, relax under an umbrella beside the private pool, or make new friends in the convivial pub. For the more adventurous guests there's plenty to do – from abseiling down a sheer cliff face with the waves raging and swirling at its base, to exhilarating guided quad bike excursions. Hiking and walking are popular leisure options – with a variety of routes to suit all ages and degrees of fitness..
The Estuary Country Hotel, Port Edward, WILD COAST
Welcome to the Estuary Country Hotel. Located on Kwa Zulu Natal South Coast just a few kilometers short of Port Edward. The Estuary Country Hotel was originally built in 1941 as a Manor House in the Cape-Dutch style for a wealthy family. It has been cautiously transformed into a beautiful and private Hotel, Restaurant & conference centre. Its genuine design and harmony of proportions, immediately reflects the work of a master builder. We offer a total of 24 large air conditioned, en suite rooms with private balconies with an exclusive Honey moon suite.
More accommodation on the Wild Coast

| | |
| --- | --- |
| WILD COAST SELF-CATERING/VACATION RENTALS, EASTERN CAPE SOUTH AFRICA | |

Cremorne Estate, B&B/Self-Catering/Camping, Port St Johns
WILD COAST
'There are still a few places on earth where, if you listen carefully, you can hear your heartbeatecho across the water...' Welcome to Cremorne Estate, just outside Port St. Johns, the very heart of South Africa's hidden natural wonderland, The Wild Coast... At Cremorne Estate we offer 3 distinctly different accommodation options: For a little bit of Wild Coast hospitality, we offer Bed and Breakfast in our cosy Timber Cabins with en-suite facilities. For the "Do It Yourself" holiday maker there are our fully equipped and serviced luxury Self Catering Cottages at prices to suit your pocket.
De Novo Lodge, Self-Catering Accommodation, Port Edward
WILD COAST
A secure lodge in Port Edward on the famous Natal South Coast. Situated on the renowned Old Point Road leading to the Umtamvuna River. De Novo Lodge is located in idyllic subtropical surroundings with lush vegetation. This gives the lodge a unique, scenic and untouched nature. A wide variety of bird life is found here and this makes the area a bird lover's paradise. The park like gardens gives a restful and serene atmosphere. There is a fresh water swimming pool on the grounds and lots of room for the kids to play. Colourful flowers and cycads are just some for the flora on the grounds. The braai facilities, washing line and laundry facilities are available to all guests.
Estuary Villa 27, Self-Catering Villa, Port Edward, WILD COAST
The VILLA is situated in very secure surroundings on a Country Estate, a short stroll to the beach. All three bedrooms are en-suite with shower and toilet. The kitchen is fully equipped with glass topped stove, oven, microwave, fridge/freezer, dish washer, kettle, toaster, pots, pans and cooking utensils. Cutlery, crockery and glassware provided for 6 guests. The bedrooms come fully equipped with sheets, blankets, duvets, pillows and towels for use in the Villa. Please bring your own swimming towels. Strictly no pets allowed. Port Edward and the surrounding district have a large variety of activities that cater to all tastes and requirements.
Khululeka Retreat, Port St Johns, WILD COAST
If you want to get off the beaten track to a place that is unique for its beauty and unspoilt surroundings, you will love Khululeka Retreat. Set in an indigenous forest, high on the hills with an awesome 180-degree view of the sea and estuary, Khululeka Retreat is just that. Peaceful, private and remote. We are hidden away in Pondoland, 10km up the coast from Port St. Johns. There is no town, no shops or anything else to detract from the beauty of one of the most spectacular and unspoilt tribal areas in South Africa. A pristine 2km beach, accessible by the Ntafufu River awaits your discovery. With no electric lights to interfere, star gazing on the hill is an easy way to pass laid back evenings. Our Inn is well equipped with all the immediate luxuries of modern day living and rural hospitality.
Traills End, Chintsa, WILD COAST
Situated in Chintsa East - formerly Cintsa East about 40km north of East London. Considered to be the start of the Wild Coast. Great swimming, surfing and fishing. Lovely beach with great walks. We offer a 3 bedroom, 2 bathroom, fully equiped kitchen (microwave, eye level oven and hob, washing machine, tumble dryer and dishwasher). 6 single beds and 1 double bed as well as a sleeper couch in lounge. Lovely view of river from veranda. Approximately 700 meters from Chintsa Beach and lagoon.
More accommodation on the Wild Coast