Search this site


All Locations in Gauteng:
Cities:
Towns
Tourism Region
Copyright © All World Vacation Station



| | |
| --- | --- |
| PRETORIA - GAUTENG - SOUTH AFRICA | |

Pretoria Featured Hotels - Pretoria Bed & Breakfasts
Pretoria Travel Guide:
Gauteng's two major cities are just 50km apart, but could hardly be more different. PRETORIA, or ePitoli as it is known in the townships, has throughout much of its history been the epitome of staid traditionalism, with its graceful government buildings, wide avenues of purple flowering jacarandas, and staunchly Boer farming origins. Yet, although South Africa's administrative capital was long regarded as a bastion of Afrikanerdom, with its notorious supreme court and massive prison, things are changing fast.

Ever since the nation's re-acceptance into the international arena, Pretoria has become increasingly cosmopolitan, with a substantial diplomatic community living in Arcadia and Hatfield, east of the city centre. Furthermore, most Pretorians are not Afrikaner, but Sotho and Ndebele, and the change of government has brought many more well-educated and well-paid blacks into the ranks of civil servants living in the capital.
The city's Afrikaner community is hardly monolithic, either: As well as the stereotypical khaki-shorted rednecks, there are thousands of students, an active art scene and a thriving Afrikaans gay and lesbian community.

Pretoria is close enough to Johannesburg's airport to provide a practical alternative base in Gauteng, though don't fall into the blithe assumption that Pretoria is crime-free. The main attractions are that it feels safer and less spread out than Johannesburg, there are more conventional sites, some of which are worth seeing, and the nightlife of Hatfield and Brooklyn is energetic and fun...


View Google Map of Pretoria, South Africa
Pretoria (Tshwane) Information:
Buy at AllPosters.com
Affectionately known as the Jacaranda City for all the purple blossom-bedecked trees, which line its thoroughfares in summer, Pretoria is an elegant, quiet city that's a perfect contrast with its more frenetic neighbour, Johannesburg, just half an hour away. Pretoria has a long, involved and fascinating history - first as the capital of the independent Boer republic of the Transvaal, then as one of the three capitals of South Africa, it became an international synonym for apartheid. But that all changed in 1994. With Nelson Mandela's inauguration, the Union Buildings morphed overnight from a symbol of white, neo-colonial domination to one of true unity. And it's only one of the many landmarks in this cultural city.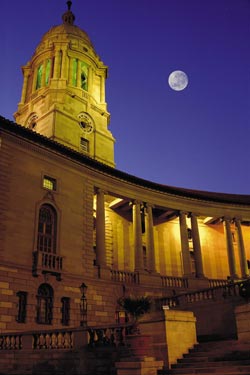 The Transvaal Museum boasts excellent natural history displays and is the home of Mrs Ples, the australopithecine fossil found at Sterkfontein in the Cradle of Humankind. Artefacts from the Iron Age state of Mapungubwe are exhibited at the Mapungubwe Museum at the University of Pretoria. The famous golden rhino, golden sceptre, golden bowl and various gold, ivory and copper ornaments, trade beads and Chinese ceramics are on display.

Also worth visiting are the Cultural History Museum and the Smuts Museum, in Irene, just outside Pretoria. The fact that the iconic Voortrekker Monument still stands is a tribute to the inclusiveness of the new regime in South Africa.

More adventurous travellers could do a short horse trail at the Voortrekker Monument or through the Premier Game Reserve, taking a careful look at some white rhino and a number of eland. Or perhaps a tandem skydive or a first jump at the Pretoria Skydiving Club, which is the largest in the country.

The nearby town of Cullinan is the site of the discovery of the biggest diamond in the world. It's worth a visit; there are mine tours, lovely restaurants, beautiful stone buildings and - best of all - an on-site manufacturing jeweller where you can buy a stone from the mine and have it mounted in a custom-designed piece.

| | |
| --- | --- |
| PRETORIA (TSHWANE) BED & BREAKFASTS | |

A BnB to See, Waverley, PRETORIA
A rest above the best. A BnB to see is located in Breyer Avenue, Waverley. Stunning view over Pretoria. Fully equipped with 6 Double ensuite rooms, small conference facility, barbeque, 3 entertainment areas, pool table, Jacuzzi. Safe parking. Shuttle services. Mini-bus taxi. A BnB to see is situated in a quiet and serene area but still near to the center of town. Lying at the foothills of the Magaliesberg mountain, A BnB to see provides a tranquil home from home. Waverley is a city suburb with a peaceful country-side ambience.

All Seasons B&B, Moreleta Park, PRETORIA (TSHWANE)
Winners of Tshwane Tourist Award: Best B&B in Pretoria 2007 and 2008. Family owned and managed, All Seasons B&B invites guests to a memorable experience while on business or on holiday. All Seasons offers personalized service, attention to detail and incomparable stylishness, giving each guest a sense of belonging. ll Seasons is situated on the East side of Pretoria on a ridge with a spectacular view of Pretoria suburbs. Excellent shopping Malls, golf courses, medical facilities, restaurants, Barnyard and The Preformer are all within 15 minute drive.
Amper Bo Gastehuis, Bed and Breakfast, Riviera, PRETORIA
(TSHWANE)
Upmarket, clean, comfortable and secure bed and breakfast or self-catering accommodation located in scenic Malan Street, Riviera, Pretoria. Amper Bo is easily accessible and a short distance from historical landmarks, the zoo, main shopping centres, hospitals, bus routes and major highways. Our property has 2 separate guesthouses (Lower Guesthouse & Double Storey Guesthouse) each with separate rooms, as well as 3 wooden lofts and a garden unit. Our upmarket accommodation consisting of well equipped bedrooms includes daily services.
Anderley Guest House, Bed and Breakfast, Waterkloof Ridge,
PRETORIA (TSHWANE)
Your hosts Michael and Wendy provide a unique and special experience for their guests and you are immediately made to feel comfortable and welcome. Spoil yourself by staying in one of the luxurious double rooms that have been individually decorated with superior finishes creating a fresh, bright atmosphere that immediately make you feel at home and relaxed. In the morning a delicious full English or Continental breakfast 'fit for a King' is served on the patio or in the beautifully furnished dining room.
At Sunset View B&B, Bed and Breakfast, Self-catering, Riviera, PRETORIA (TSHWANE)
Situated in the suburb of Riviera, on a hill overlooking the city of Pretoria and a magnificent view of the beautiful African sunset. Close to the city yet in tranquil surroundings: set in a lush evergreen garden with a beautiful and fun featured rock pool. We offer 6 tastefully decorated en-suite rooms. Communal TV. All rooms have access to a balcony and some rooms have private patios and entrances. Transfers from Johannesburg International Airport can be arranged as well as tours in and around Pretoria.
Bed & Breakfast At Ted's Place, Wapadrand, PRETORIA
(TSHWANE)
Experience superb hospitality and personal service in this beautiful private home where guests are always welcome. Ted's Place offers the discerning traveller four tastefully decorated ensuite double bedrooms all with television. There is a private lounge and games room. Safe, secure lock-up garages leading directly into the home is a further convenience. A full breakfast is served. Nestling on the gentle slope of the Bronberg Mountain with its breathtaking views it is close to all major highways. This residence provides quick access leading to the inner city or 'Big Five' game parks and Mpumalanga to the east.
Capital B&B, Self Catering / Guest House, Capital Park, PRETORIA (TSHWANE)
Older Suburb (older type house)One of the 1st suburbs in Pretoria... Affordable accomodation - Budget Beaters. Do not expect modern - Older Establishment. Personal Service and a quiet relaxed atmosphere, clean, friendliness, helpfulness, safe surroundings and secure parking are all part of our service. Well–kept gardens, with a stone built braai for those times when you would like to do your own barbeques. Charcoal, wood, etc. for sale. Nostalgic journey into the past! Cottage furniture, Art, Wood carvings, old copper street lights, stained glass windows complete the charm of the pressed ceilings and wooden floors.
Jakaranda Lodge, Luxury accommodation & self catering, Rietfontein
PRETORIA (TSHWANE)
Jakaranda Lodge now offers a variety of 3 & 4 star luxury accommodations at affordable rates. The new four star suites and studios are all air-conditioned. You have a choice of and suites or studio, B & B room or self catering units. Each room has tea/coffee facilities, cleaning service, telephone, TV and parking. Jakaranda Lodge is situated in a quiet neighbourhood near hospitals and educational institutions etc. The lodge also has an on premises restaurant and conference facilities.
Kloof B & B, Bed & Breakfast / Self Catering, Moreleta Park, PRETORIA
(TSHWANE)
Kloof B & B is situated in the Moreleta nature reserve with impala and Blesbok. Enjoy peace and tranquility in our quiet tree filled suburb with its abundant bird life. Kloof is near Menlyn shopping centre with a variety of restaurants and over 300 shops. Close proximity to many golf courses. Top class medical facilities at Kloof, Denmar and Pretoria East hospitals. We have a spacious double room, en-suite fully equipped kitchen, lounge, separate entrance, lock-up garage, pool and 24 hr security.
Maribelle's Bed & Breakfast, Lynnwood Ridge, PRETORIA
(TSHWANE)
Feel at home with our Inter-national hospitality in the eastern suburbs of Pretoria. Exquisitely furnished rooms, lead into a relaxing swimming pool area surrounded by subtropical plants. Observe and listen to the abundant bird life. Enjoy your breakfast on the patio or under palm trees in a tranquil setting at the poolside. We speak English, Afrikaans, German, Dutch & Polish fluently. Maribelle's B&B has a homely atmosphere with an African theme. Hosts, Chris and Isabelle go out of their way to make their visitors feel welcome. Separate entrance and private living area.
Park Gables of Arcadia, Bed and Breakfast, Arcadia, PRETORIA
(TSHWANE)
Friendly yet unobtrusive hospitality in a gracious, homely atmosphere; with scrumptious health and English-style breakfasts. Dinner available by prior arrangement. High premium is placed on comfort and privacy. 12 en suite bedrooms with sparkling white linen and towels, each with own TV (M-Net) and telephone. Laundry facilities and secure parking available. Easy walking distance to Pretoria Art Museum and Minolta/Loftus sports complex and many embassies. Close to State Theatre, Union Buildings, Hatfield commercial and trendy night-life attractions, University of Pretoria, several hospitals, clinics and schools.

Pebble Fountain Guest House, Bed & Breakfast, Self-catering, Brooklyn, PRETORIA (TSHWANE)
The Pebble Fountain is situated in a safe & beautiful eastern suburb of Pretoria. We are located opposite the University of Pretoria and within walking distance from various schools, Loftus Versfeld, churches & main shopping centres. Our seven luxury rooms are all en-suite, air-conditioned, with T.V, DSTV, telephones and tea and coffee making facilities. Wifi in all rooms. We also have 3 fully equipped luxury self catering units. Monthly rates are available on request. An outdoor swimming pool, laundry facilities and transport & tours can be arranged.
Royal Ridge Guest House, Bed and Breakfast, Self-catering,
Waterkloof Ridge, PRETORIA (TSHWANE)
Situated in the prestigious suburb of Waterkloof Ridge Pretoria/Tshwane. Accommodation is offered in stylish en suite bedrooms with private entrances. Added comfort includes satelite TV, tea trays and all amenities to ensure a pleasant stay. Relax in a tranquil landscaped garden with its abundant bird life. We also offer Self-Catering garden suites, which are unique in character, tastefully furnished, fully equipped and serviced. Close to restaurants and shopping centers. Secure parking.
Two Oaks Lynnwood, Bed and Breakfast, Lynnwood, PRETORIA
(TSHWANE)
Accommodation is in one of two suites attached to the main home, but private. Suite # 1 comprises a large twin bedroom and lounge area with a large full bathroom en suite. Mini Kitchenette with Tea/coffee facilities, fridge and Microwave. Suite # 2 comprises a large twin bedroom and lounge area with a sleeper couch. There is a separate bathroom, separate toilet and separate shower. Kitchenette with a wash-up, bar fridge, tea/coffee making facilities, microwave, steam iron, board etc. Both suites have TV with access to M-Net, electric blankets, and fans.
More accommodation in Pretoria (Tshwane) and surrounding areas




Search for hotels in Pretoria, South Africa
Arcadia Hotel, Pretoria
The Arcadia Hotel is located at the foot of Pretoria's Union Buildings, just 40 minutes from Johannesburg International Airport. The administrative capital of South Africa, Pretoria is a popular destination for both tourists and business travelers. Its avenues lined with trademark Jacaranda trees, Pretoria offers guests a taste of South African hospitality and plenty of open-air parks and gardens. Its National Zoological Gardens are amongst the world's largest, with countless animal species and a fascinating aquarium. Visit the Voortrekker Monument, commemorating the Battle Of Blood River, where the Voortrekkers defeated the Zulus, or take a tour of the premier diamond mine in Cullinan, about 30 km east of town, where the world's largest diamond was found.
Centurion Lake Hotel, Pretoria
Centurion Lake Hotel is situated on the banks of South Africa's picturesque Centurion Lake, located 500 metres from a shopping centre and 750 metres from the Centurion Park cricket ground. The 160 air-conditioned guestrooms are located on six floors and feature warm, earth tones and patterned fabrics. Amenities include wireless Internet access, direct-dial phones, televisions, minibars, coffee and tea-making facilities and safes. Bathrooms have shower/tub combinations and complimentary toiletries. Hypo-allergenic bedding is available on request. The hotel's cricket-themed Lords Restaurant has a relaxed atmosphere and an à la carte menu.
Don Arcadia I, Arcadia, Pretoria
From the moment you arrive at The Don Suite Hotels you'll experience the freedom to stay your way. We believe in more than just a philosophy of extra care and attention to detail. We've created a fully serviced home-away-from-home. Whether you stay for 1 day or 100 days you'll enjoy the lifestyle that only South Africa's largest suite hotel group can offer you. Looking for political clout? Don Arcadia l is situated close to the Union Buildings and Embassies on jacaranda-lined streets with famous restaurants and shops close by. 1 and 2 bedroom fully self-catering suites for your business or travel enjoyment.
Don Arcadia II. Arcadia, Pretoria
Within walking distance of the Union Buildings and Embassies, this Don Suite hotel is also an important political address and has a number of restaurants and shops on its doorstep for your breaks from affairs of state! The Don Arcadia II is a modern hotel built in a traditional style with white exterior walls and red tiled roofing. The hotel is situated two kilometres from the Union Buildings and seven from the golf course. Guests can enjoy a swim in the outdoor pool or hire the barbecue to cook an alfresco meal. In the mornings guests can make use of the breakfast service and order a full English breakfast. Guests with children can take advantage of the babysitting service, and free parking is on offer for those arriving by car.
Search for hotels in Pretoria, South Africa