Search this site


Copyright © All World Vacation Station



| | |
| --- | --- |
| PRETORIA - GAUTENG - SOUTH AFRICA | |

Pretoria Featured Hotels - Pretoria Bed & Breakfasts
Pretoria Travel Guide:
Gauteng's two major cities are just 50km apart, but could hardly be more different. PRETORIA, or ePitoli as it is known in the townships, has throughout much of its history been the epitome of staid traditionalism, with its graceful government buildings, wide avenues of purple flowering jacarandas, and staunchly Boer farming origins. Yet, although South Africa's administrative capital was long regarded as a bastion of Afrikanerdom, with its notorious supreme court and massive prison, things are changing fast.

Ever since the nation's re-acceptance into the international arena, Pretoria has become increasingly cosmopolitan, with a substantial diplomatic community living in Arcadia and Hatfield, east of the city centre. Furthermore, most Pretorians are not Afrikaner, but Sotho and Ndebele, and the change of government has brought many more well-educated and well-paid blacks into the ranks of civil servants living in the capital.
The city's Afrikaner community is hardly monolithic, either: As well as the stereotypical khaki-shorted rednecks, there are thousands of students, an active art scene and a thriving Afrikaans gay and lesbian community.

Pretoria is close enough to Johannesburg's airport to provide a practical alternative base in Gauteng, though don't fall into the blithe assumption that Pretoria is crime-free. The main attractions are that it feels safer and less spread out than Johannesburg, there are more conventional sites, some of which are worth seeing, and the nightlife of Hatfield and Brooklyn is energetic and fun...


View Google Map of Pretoria, South Africa
Pretoria (Tshwane) Information:
Buy at AllPosters.com
Affectionately known as the Jacaranda City for all the purple blossom-bedecked trees, which line its thoroughfares in summer, Pretoria is an elegant, quiet city that's a perfect contrast with its more frenetic neighbour, Johannesburg, just half an hour away. Pretoria has a long, involved and fascinating history - first as the capital of the independent Boer republic of the Transvaal, then as one of the three capitals of South Africa, it became an international synonym for apartheid. But that all changed in 1994. With Nelson Mandela's inauguration, the Union Buildings morphed overnight from a symbol of white, neo-colonial domination to one of true unity. And it's only one of the many landmarks in this cultural city.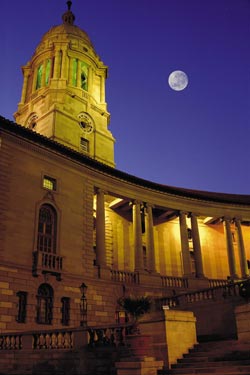 The Transvaal Museum boasts excellent natural history displays and is the home of Mrs Ples, the australopithecine fossil found at Sterkfontein in the Cradle of Humankind. Artefacts from the Iron Age state of Mapungubwe are exhibited at the Mapungubwe Museum at the University of Pretoria. The famous golden rhino, golden sceptre, golden bowl and various gold, ivory and copper ornaments, trade beads and Chinese ceramics are on display.

Also worth visiting are the Cultural History Museum and the Smuts Museum, in Irene, just outside Pretoria. The fact that the iconic Voortrekker Monument still stands is a tribute to the inclusiveness of the new regime in South Africa.

More adventurous travellers could do a short horse trail at the Voortrekker Monument or through the Premier Game Reserve, taking a careful look at some white rhino and a number of eland. Or perhaps a tandem skydive or a first jump at the Pretoria Skydiving Club, which is the largest in the country.

The nearby town of Cullinan is the site of the discovery of the biggest diamond in the world. It's worth a visit; there are mine tours, lovely restaurants, beautiful stone buildings and - best of all - an on-site manufacturing jeweller where you can buy a stone from the mine and have it mounted in a custom-designed piece.

| | |
| --- | --- |
| PRETORIA (TSHWANE) BED & BREAKFASTS | |

40 on Ilkey B&B, Lynnwood, PRETORIA
This family-run bed and breakfast is nestled in a secluded area about 20 km from downtown Pretoria. An extensive breakfast is served each morning, and special diet menus can be arranged. Each room at the 40 on ilkey B&B is carefully appointed with wooden floors and decorated in warm colours. Some rooms feature a well-equipped modern kitchen. Free tea, coffee and biscuits are offered in each room. The breakfast features a range of seasonal fruit dishes, muffins or fresh pastries from the oven. Freshly brewed coffee can also be served directly in the room. Guests can enjoy the warmth of the lobby area, seated around the fireplace, or they can choose to relax outdoor, immersed in the scent of the roses.
Amper Bo Gastehuis, Bed and Breakfast, Riviera, PRETORIA (TSHWANE)
Upmarket, clean, comfortable and secure bed and breakfast or self-catering accommodation located in scenic Malan Street, Riviera, Pretoria. Amper Bo is easily accessible and a short distance from historical landmarks, the zoo, main shopping centres, hospitals, bus routes and major highways. Our property has 2 separate guesthouses (Lower Guesthouse & Double Storey Guesthouse) each with separate rooms, as well as 3 wooden lofts and a garden unit. Our upmarket accommodation consisting of well equipped bedrooms includes daily services. Peaceful atmosphere, sparkling pool and full Continental breakfast (R50 per person) should be a highlight of your visit in our new updated lapa. Self-catering facilities available in our kitchen. Secure parking facilities.
Bed And Breakfast In Waterkloof, PRETORIA (TSHWANE)
Offering an outdoor pool, Bed And Breakfast In Waterkloof is located in Pretoria. Free WiFi access is available. Each room here will provide you with a terrace and a seating area. There is a full a kitchenette with a microwave and a refrigerator. Featuring a shower, private bathroom also comes with a bath and free toiletries. You can enjoy garden view from the room. At Bed And Breakfast In Waterkloof you will find a garden, barbecue facilities and a terrace. Other facilities offered at the property include meeting facilities and luggage storage. An array of activities can be enjoyed on site or in the surroundings, including hiking. The property offers free parking. Waterkloof is a great choice for travelers interested in food, restaurants and nature.
Park Gables Guest House, Bed and Breakfast, Arcadia, PRETORIA (TSHWANE)

Friendly yet unobtrusive hospitality in a gracious, homely atmosphere; with scrumptious health and English-style breakfasts. Dinner available by prior arrangement. High premium is placed on comfort and privacy. 12 en suite bedrooms with sparkling white linen and towels, each with own TV (M-Net) and telephone. Laundry facilities and secure parking available. Easy walking distance to Pretoria Art Museum and Minolta/Loftus sports complex and many embassies. Close to State Theatre, Union Buildings, Hatfield commercial and trendy night-life attractions, University of Pretoria, several hospitals, clinics and schools. Transfers to and from Johannesburg International Airport (30 mins.) and all surrounding airports arranged.
Royal Ridge Guest House, Bed and Breakfast, Self-catering, Waterkloof Ridge, PRETORIA (TSHWANE)
Situated in the prestigious suburb of Waterkloof Ridge Pretoria/Tshwane. Accommodation is offered in stylish en suite bedrooms with private entrances. Added comfort includes satelite TV, tea trays and all amenities to ensure a pleasant stay. Relax in a tranquil landscaped garden with its abundant bird life. We also offer Self-Catering garden suites, which are unique in character, tastefully furnished, fully equipped and serviced. Close to restaurants and shopping centers. Secure parking Easy access from freeways, 30 min drive from Johannesburg International Airport. Your hostess Dot de laRouviere looks forward to welcomming you to your Royal Ridge experience
More Accommodation in Pretoria and surrounding areas



Arcadia Hotel, Arcadia, PRETORIA
Located at the foot of the Union Buildings, the Arcadia Hotel is an integral part of the Arcadia Shopping Centre and is within walking distance to other major shopping centres, street markets and entertainment areas. The Arcadia Hotel is easily accessible from all major freeways and only 40 minutes from the Johannesburg International Airport. We are also close to the Diplomatic Missions and Embassies in Pretoria The Arcadia Hotel offers a variety of food and beverage choices. The 'eMonate' restaurant serves a full English Breakfast buffet daily. For lunch and dinner, a la carte options and Pub lunch options are available.
Lombardy Boutique Hotel & Conference Venue, PRETORIA
Lombardy Boutique Hotel is a place that for years has remained a secret amongst those in the know, a retreat from the hustle and bustle, a place where old world values still mean something, a place that treats you like a guest, and not a number. Your needs are our concern, your dreams - our challenge. From our Restaurant menu to our Wine list the effort that has been put in to create something special, something unique. The personalised service, attention to detail, from 2 guests to 120. We will make you feel special. Lombardy Restaurant is renowned for its sophistication, outstanding service and quality. Enjoy breakfast as fresh as the morning sunshine and lunch that will carry you away to the Italian countryside. Wine and dine in the evening with Vittorio Alfieri in our cozy library under candle light.
Protea Hotel Capital, PRETORIA
The Protea Hotel Capital has 99 superior en-suite rooms furbished to international standards with mini-bars, individual safes, satellite TV and 12 music stations. Facilities include a theme pub, lounge and distinctive dining room overlooking a landscaped garden with 12m swimming pool and secure parking. The Protea Hotel Capital is affilitated to the local health Club and offers free transport for GUESTS to and from golf courses, shopping centres, theatres and restaurants within the Pretoria area. Centrally situated in Van Der Walt Street next to the Burgers Park, within easy access to all major highways and roads. 45kms from Johannesburg International Airport. Tasty meals are served in the restaurant and theme pub. Safe, secure parking is available 24 hours a day. For the energetic, we offer a large swimming pool...
Protea Hotel Centurion, PRETORIA
The 4–Star Protea Hotel Centurion is located on the safe and tranquil Centurion Waterfront, midway between Johannesburg and Pretoria. The Hotel is situated adjacent to the Centurion Mall shopping complex with its variety of restaurants, bars, boutiques, cinemas and banks. This elegant yet affordable 4–Star Hotel is surrounded by beautiful landscaped gardens, complimented by an outdoor pool and lake deck overlooking the Centurion Lake, ideal for sundowners. The Hotel was built in 1998 and has 151 en–suite rooms. The Hotel also offers a fully equipped day–conference centre and secure parking. Located on the water's edge is Protea Hotel Centurion's a la carte restaurant, Emanzini, with its contemporary African atmosphere.
Continue browsing hotels in the Pretoria area