Search this site

Copyright © All World Vacation Station





Beijing Featured Hotels
Begin In Beijing - Beijing Travel Information
Chongqing Museum invites you to experience 360-degree "mountain forest city"
Dongguan Information
Hangzhou Travel - The "City of Heaven"
Hong Kong Shopping - What are the best buys?
Nanjing travel info for your China vacations - 2 days in Nanjing
National Stone Museum – A Collection of Fascinating Stones in Wuhan
Shanghai Sightseeing, a perfect holiday destination
Study in Guangzhou, Guangdong Province
Tianjin City - Embrace the Journey and the Adventure
Top Attractions in Shenyang – A vibrant mixture of history, culture, nature and entertainment
Yangtze River Tours
Your China Travel Guide: How to discover the wonders of China
Begin In Beijing - Beijing Travel Information by John Binder
Beijing Featured Hotels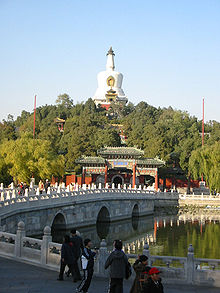 The best way to kick off your Asian travels is in China's progressive and even tragically hip capital city of Beijing. Traditional relics like the Tiananmen gate stand juxtaposed against the imposing modernist architecture of recent history, most notable in the Dashanzi Art District. The People's Republic of China has its financial industries mainly in Shanghai and Hong Kong, but Beijing remains the nation's true cultural and political center.
Orange County Meets Ming Dynasty in Beijing
When many travelers think of Beijing, they imagine the dictatorial atmosphere of Mao Zedong or television images of protesting citizens; however, Beijing has a tremendous history beginning as early as the 1st century BCE and has persevered through Kublai Kahn's Mongols, Japanese invasion, and the Communist Civil War victory in 1949.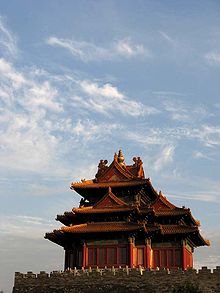 The Forbidden City is a fascinating journey through 500 years of Imperial secrecy. The head of state no longer resides here and the beautiful buildings and breathtaking gardens are open to the public year-round. The entrance to the Forbidden City is the infamous Tiananmen Square and gate, protected by four formidable marble lions. Nearby, the Temple of Heaven is another sublime representation of an era of dynasties and royal architecture. With airfare to Beijing, you also have the extra opportunity to see the Great Wall of China, which is only one and a half hours away by bus.
Although there are hundreds of historical sites in Beijing, the rapidly sprawling metropolis is also overflowing with contemporary wonders and luxuries. The National Zoo houses the largest inland aquarium in the world as well as China's famous pandas. Next to the Imperial Palace, the Wan Fung Art Gallery provides insight into the artistic transition from regal and traditional to cutting edge contemporary. Most interestingly, the suburban sprawl has witnessed the creation of a $60 million American-inspired community called Orange County, complete with town homes and tract housing.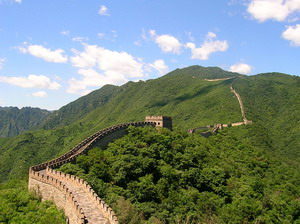 Chinese Cultural Centrifuge in Beijing
Experience two cultural traditions in one at the Laoshe Tea House where you will be both charmed by Chinese opera and soothed by a variety of traditional teas. For world-class shopping in Beijing, visit Wangfujing, or you can find your way into the many enchanting smaller districts for traditional Chinese shops and boutiques. Beijing is also home to several notable temples like the Miaoying, and even a mosque that was built in 996.
With such dynamic experiences to offer and the immaculate preservation of its past, Beijing is truly an international city and there's no wonder the cosmopolis has been chosen for the Olympics. Get your airfare to Beijing now.
About the Author: For more information on Beijing and cheap airfare & flight tickets, go to www.cfares.com.

| | |
| --- | --- |
| BEIJING FEATURED HOTELS, CHINA | |

Beijing is the capital of the People's Republic of China. The city is also known as Peking. It is located in the northern and eastern parts of the country. The city of Beijing has played a very important role in the development of China. Many people from different cities and countries come to Beijing to look for better chances to find work. Nearly 15 million people live there.
Beijing is well known for its ancient history. Since the Jin dynasty, Beijing has been the capital of several dynasties, including the Yuan, Ming, Qing, and others. There are many places of historic interest in Beijing. These places include the Summer Palace, the Temple of Heaven, and the Great Wall of China.

Search for hotels in Beijing

Beijing Hutong Inn (Zaoyuanju) Hotel
To experience the charm of old Beijing, complete with its traditional lifestyle, a stay at the Hutong Inn is required. This budget property is located near the Bell and Drum Towers and the Ditan Park. A subway station is also close by to easily transport you to the sights and sounds of modern Beijing. All guest rooms enjoy complimentary wireless Internet access as well as 24-hour room service. The Tiki Bar is a Caribbean-style, outdoor entertainment venue, which serves exotic drinks. And if you are looking for a meal, the County Yard serves international dishes, while the Conservatory is ideal for snacks.
Beijing Landmark Hotel
Located in the heart of Beijing's business and diplomatic districts and within walking distance of Beijing's most famous landmarks. Just minutes to the Beijing Agriculture Exhibition Center. The hotel and apartments offer premium accommodations and services, and provide space for over 200 international firms in our Office Towers. The entire complex is a city within itself, ready to serve the needs of both business and leisure travelers as well as long-term guests to Beijing. Our comfortable atmosphere and friendly staff will be sure to make your stay a pleasant one! Conveniently situated on the Third Ring Road in northeastern Beijing near the Lufthansa Centre and Airport Expressway.

Capital Hotel Beijing
Enjoying a central location and well known for its hospitality and professional service, the Capital Hotel is a good choice for both business and leisure travellers. The Capital Hotel is situated in the heart of Beijing and is close to many attractions and shopping centres. It is surrounded by a beautiful landscaped garden on elevated land and is only a short walk from the Tiananmen Square and the legendary Forbidden City. The hotel offers a variety of dining options for guests to choose from. You can enjoy Italian, Chinese, Korean and western cuisine in the cosy atmosphere of the onsite restaurants.

Grand Hotel Beijing
With all the comforts of the 20th century, the hotel makes its guests to enjoy a friendly and personal service as well as ensure their stay is comfortable. The Grand Hotel Beijing is situated within the red wall to the east of the Forbidden City, the neighboring Tiananmen Square and Wang Fu Jing Shopping Street. The relics of the old royal garden and woods such as Zhong Nan Hai, Beihai Park Zhong Shan Park and Chang Pu He Park are all within walking distance from the hotel for its visitors to stroll down during their visit. Guests can dine at the in-house restaurant that serves international, Chinese and Cantonese cuisine in a pleasant and graceful atmosphere. You can also relax at the cafe that offers light snacks and beverages, while the bar is an ideal place to sip your favourite cocktail.
Grand Millennium Beijing
In the heart of China's capital city lies this premium five-star hotel of 521 grand and spacious guestrooms designed for discerning travellers. Located in the heart of the business district in Beijing, the hotel puts you in touch with the vibrant commercial centre of the city. Known as a hotel that offers the best facilities, the Grand Millennium Beijing offers hotel-wide broadband access, the latest in meeting & conference services, three levels of spa & fitness facilities and restaurants offering a fine selection of international cuisines.
Novotel Xin Qiao Beijing
Novotel Beijing Xin Qiao is ideally located in city center of Chongwenmen. The Famous tourism wonders of Tiananmen Square, Forbidden City and Temple of Heaven, Wangfujing street are just a short walk away.New World Shopping Mall and office complex is just across the street.Hotel offers in-room broadband internet as well as free access to a web corner with Apple Mac computers. Subway Line 2 & 5 are right in front of hotel and 10 minutes walk to Beijing Railway Station, 40km to the airport. From breakfast to lunch, dinner or a tasty little snack, Novotel provides balanced choices and à la carte service 24/7 at all its hotels.At Novotel, you can count on enjoying a relaxing meal in a friendly, stylish setting.

Raffles Beijing Hotel
Reflecting Oriental refinement and French élan, Raffles Beijing Hotel epitomises refinement and exclusivity. Established in the early 1900s, this luxury Beijing hotel was then proclaimed as "the only deluxe hotel in the Far East". A century on, guest rooms and suites draw inspiration from the golden age of travel but are technologically enabled with discretion for 21st century living. Personality Suites pay homage to luminaries from the hotel's fabled history while Raffles Inc Business Rooms cater to business travellers on the move. Indulge in gastronomic delights at this Beijing hotel. Innovative French cuisine takes centrestage at the elegant Jaan Restaurant which recalls the glamour of the 1920s with glittering chandeliers and its original timber dance floor.
Xijiao Hotel Beijing
Xijiao Hotel Beijing is a courtyard-style artwork resting three star hotel right in between ten famous Beijing Universities. The hotel is provided with various restaurant 21, can accommodate 800 people dining, provide new seafood cantonese, sichuan, shandong series and japan-korea flavor, undertaking various size, different grades of bender, wedding banquet, conference meal with family meals, etc. Xijiao Hotel Beijing Large-scale indoor recreation center, Xijiao Hotel Beijing hotel has extremely european-style swimming pool, accord with the standard of international competitions and bowling alleys, billiard room, chess and card room, gym, sauna, etc.
Continue browsing hotels in Beijing
Bangladesh - Cambodia - China - Georgia - Hong Kong - India - Indonesia & Bali - Japan -
Kazakhstan - Korea (South) - Kyrgyzstan - Laos - Macau - Malaysia - Maldives - Nepal - Pakistan -
Philippines - Singapore - Sri Lanka - Taiwan - Thailand - Turkmenistan - Uzbekistan - Vietnam