Search this site

Copyright © All World Vacation Station





Wuhan Featured Hotels
Begin In Beijing - Beijing Travel Information
Chongqing Museum invites you to experience 360-degree "mountain forest city"
Dongguan Information
Hangzhou Travel - The "City of Heaven"
Hong Kong Shopping - What are the best buys?
Nanjing travel info for your China vacations - 2 days in Nanjing
National Stone Museum – A Collection of Fascinating Stones in Wuhan
Shanghai Sightseeing, a perfect holiday destination
Study in Guangzhou, Guangdong Province
Tianjin City - Embrace the Journey and the Adventure
Top Attractions in Shenyang – A vibrant mixture of history, culture, nature and entertainment
Yangtze River Tours
Your China Travel Guide: How to discover the wonders of China
National Stone Museum – A Collection of Fascinating Stones in Wuhan by Pushpitha Wijesinghe
Wuhan Featured Hotels
Deeply rooted to its rich history, those who visit Wuhan are encountered by an overwhelming number of enthralling architecture evident during the colonial period. Reputed for its museums, it has perhaps one of China's finest museums that recount stories of local history encapsulating its rich art and culture. Located in the serene setting of China's celebrated river famous around the globe, the Yangtze, river cruises can be easily arranged for visitors who wish to engage in a leisure cruise along the river.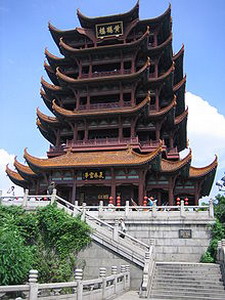 One journey that is deemed to be one of the most fascinating experiences Wuhan has to offer is a visit to its National Stone Museum. A place worthy of visiting, it exhibits an array of distinct stone and crystal. There is a record of 1300 pieces that are displayed to the public with many adorned in paintings or decorated in carvings. In addition, there are many rare and unique stones which appear to capture an unusual shape, sculpted by natural forces of water and wind.
Situated in Cuiwei Lu in the district of Hanyang, the National Stone Museum has been established as a tourist attraction since 1993. Appealing to those both locals and tourists alike, it attracts a large number of people regularly. A haven for many who appreciate the beauty of rocks and stones, the museum beautifully captures the enchanting and mystifying nature of stones in its unique creation.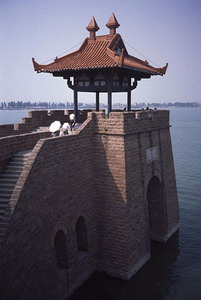 All of the stones portrayed in the museum have been discovered within the country itself. However, there has been one instance where one such unique stone has originated from another country, Malaysia. Considered to be the most famous types of stones, the Yuha, Yingde, Lingbi and Taihu are displayed to the masses where travelers are able to have close encounter with the large collection of such stones. The highlight of the museum belongs to the third largest crystal in China, the most priceless piece in the museum. The stones are categorized into varied groups by different characteristics such as ancient animal fossil, figure, mineral component and vein.
These collections of stones have been gathered from many parts of the country, ensuring that the museum has a complete wealth of such precious stones. Wholly dedicated to the field of stones, exquisitely rare rocks such as Peony stone and Chrysanthemum stones will grasp the curiosity of its beholders, defying the limits of our imagination. It is said that almost all types of rock that exist in our world could be found in the museum, from the fancy rocks to the more valuables ones.
Those on the lookout for a Wuhan apartment accommodation, one such place that offers the comfort of a modern and stylish setting is Citadines Zhuankou Wuhan. Staying in a Wuhan serviced apartment such as this allows you to explore the city of Wuhan easily as it is located conveniently near an extensive variety of activities such as dining and shopping.
About the Author: Pushpitha Wijesinghe is an experienced independent freelance writer. He specializes in providing a wide variety of content and articles related to the travel hospitality industry. Wuhan apartment accommodation.


| | |
| --- | --- |
| WUHAN FEATURED HOTELS, CHINA | |

Search for hotels in Wuhan
Holiday Inn Riverside Wuhan
The towering, 20-floor Holiday Inn Wuhan Riverside hotel overlooks the Yangtze River from its embankment location in the heart of the Hubei Province capital. Stay steps from Wuhan landmarks like the Ming Dynasty Qingchuan Pavilion, next door, and spectacular First Bridge. You can drive in from Wuhan Tianhe International Airport, 35km away, and leave your vehicle in our complimentary car park. With our central position it's easy to get to businesses around Wuhan like Wuhan Economic Development Zone with Honda, Peugeot and Coca Cola, 8km away. We're 3km from the Central Business District and perfectly placed for events at Wuhan International Convention and Exhibition Centre, 8km away.
Howard Johnson Pearl Plaza Wuhan
Offering world-class standards in service and modern facilities, this prides itself as an ideal location for business and leisure travellers. Overlooking the majestic Yangtze River, the Howard Johnson Pearl Plaza is ideally located in the heart of Hankou's commercial and entertainment district. This property is 15 minutes drive from the train station and 40 minutes drive from the Tianhe International Airport. The Vienna Cafe offers exclusive Viennese specialty and delicious dishes for you to enjoy. The Lindonchine French Vietnamese Restaurant serves authentic Indochine, French, Hong Kong Dim Sum and Chinese cuisine for you to feast on. Recreational facilities like gymnasium, swimming pool and sauna can be availed during your stay.
New World Wuhan Hotel
For your stay in Wuhan, the New World Wuhan Hotel offers convenience and luxury, all close to downtown and only 25 km (15 miles) away from the international airport. Guests will enjoy the hotel's excellent facilities and services including 24hr room service, executive floor, elevator, coffee shop, bar/pub, laundry service/dry cleaning, meeting facilities. For the enjoyment of guests interested in sports or leisure, there are gym, sauna, steamroom, tennis courts, outdoor pool, garden on the grounds. Offering guests quality accommodation since 2008, this hotel combines first-class service and the most modern facilities.
Marco Polo Wuhan
Built as a celebration of Wuhan's coming of age, the deluxe five-star Marco Polo Wuhan is located on the riverfront overlooking the famous Yangtze River, and has been designed to cater to the leisure and business travellers. Marco Polo Wuhan's 370 rooms and suites are built offering a spacious design with deluxe amenities against the backdrop of spectacular city or river views. The restaurants at Marco Polo Wuhan are sure to indulge your good taste. Whether it is the signature teas of The Verandah, Cantonese fare of Shangdu Tao Yuan or the Asian and international delights of Café Marco, your dining experience will surely be unforgettable. You could work away the day's pressure in our state-of-the-art Gym or enjoy a splash at the indoor swimming pool and jacuzzi overlooking the Yangtze river.
Novotel Wuhan Xinhua
The Novotel Wuhan Xin Hua is centrally located in Hankou, the dynamic commercial and financial district of Wuhan. Along with 303 modern and well equipped rooms, Novotel Wuhan Xin Hua offers WiFi Internet access and conferencing facilities for up to 260 people. A great base for holidaymakers exploring the fascinating history and culture of Wuhan as well as its legendary food, shopping and nightlife, the hotel features two restaurants, four bars, a heated indoor swimming pool, a sauna and gym. From its excellent position in the centre of town, the hotel offers easy access to the nearby International Convention Centre, making it the ideal choice for your next business trip to this major hub in Central China.
Shangri-La Hotel, Wuhan
Conveniently located in the heart of the city's financial district, Shangri-La Hotel, Wuhan offers 442 guestrooms and suites with city views, and several dining options. Recognised as one of the city's most luxurious hotels, it has recently completed a series of refurbishments to offer guests a higher level of hospitality. At Shangri-La Hotel, Wuhan, guests can expect to dine in recently refurbished restaurants that assure quality and taste. Shang Palace serves Chinese specialities, while Café Wu offers international fare. For those who love Japanese food, the new tori-ji Japanese Restaurant features freshly prepared ingredients and a good selection of sake.
Continue browsing hotels in Wuhan
Bangladesh - Cambodia - China - Georgia - Hong Kong - India - Indonesia & Bali - Japan -
Kazakhstan - Korea (South) - Kyrgyzstan - Laos - Macau - Malaysia - Maldives - Nepal - Pakistan -
Philippines - Singapore - Sri Lanka - Taiwan - Thailand - Turkmenistan - Uzbekistan - Vietnam