Where To Go Scuba Diving In Bali by Chris Chew
The tropical Indonesian island of Bali is still attracts millions of tourists every year. Tourists on vacations to Bali are attracted by the mystique, charms and allure of the predominantly traditional Hindu culture, spectacular tropical jungles, mountains and beautiful beaches. Many tourists especially from nearby Australia and Singapore travel to Bali for scuba Diving. The islands in Bali are well known for its excellent scuba diving locations.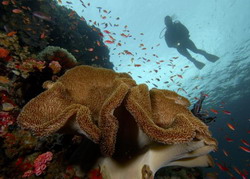 Scuba divers in Bali can expect to encounter awesome underwater landscape as well as sighting a very wide array of marine sea creatures. Let's visit some scuba diving Bali dive spots.
In Nusa Penida and Lembongan Islands, there are spectacular drop off reefs making reef and wall diving the predominant staple on these two scuba diving locations. It takes about a 45 minute speedboat ride to reach these dive destinations.
Water visibility is excellent all year round but the current here is stronger. Experienced divers will love it here as they can enjoy some drift dives. However, the current may get very strong occasionally and dives may have to be abandoned when this happens.
The dive sites at Nusa Dua and Sanur are just 5 minutes away from the coast and therefore easily assessable. The novice divers will love these dive spots because of the gentle current. Water visibility ranges from low to moderate since they are located in the coastal area and are more affected by pollution. Although hard coral life is limited, the dive spots have a surprisingly diversity of marine fishes, soft corals and sponges which are thriving on the reefs.


Buy This Allposters.com

There is a very wide variety of corals, colorful sea fans and huge pelagic fishes here. Big schools of sweet lips fish, turtles, sharks and manta rays are often sighted by excited scuba divers.

Jemeluk and Amed Beaches are one and half hour away from Denpasar. Denpasar is a popular tourist coastal town with many wonderful hotels, resorts and night entertainment. Scuba divers need to be very experienced as the current here can get very strong. However the dives here can be very exciting because of long coastal reefs, reef slopes/drop offs and majestic wall diving. Water visibility can be considered as moderate to good. To add a final touch, these dive spots have one of the best hard coral communities in Bali.

The Tulamben Wreck Dive is a must dive spot for scuba divers to enjoy wreck diving. The water visibility here is fair to good and the current is gentle. Night dive on this wreck are often described as breathtaking.

The wreck, USS Liberty which met its fate in 1942 when a Japanese torpedo fired from a submarine in the second world war found its target.
The above are just some of the many splendid scuba diving destinations in Bali. For more superb dive sites,just contact the many scuba diving operators in Bali Island.
Bali Vacation Rental Villas - Bali Hotels
Balinese People of Indonesia by I Gede Sanat Kumara
Bali Vacation Rental Villas - Bali Hotels
The Balinese are just one of Indonesia's 250 ethnic groups. Like most Indonesians they are a blend of races, with the accent on the deutero-malayan race of Central and East Java, with traces, of Polynesian and Melanesian blood, as well as Indian and Chinese.

This genetic back ground explains the variety of radical types seen on the island most Balinese are small hand some people with round delicate features thick black hair long sweeping eyelashes heart shaped lips and warm brown complexions others are darker skinned and straight haired like pacific islanders, or curly haired with flat noses like Papuans.

The Balinese are an extraordinarily creative people with a highly sensual theatrical culture. Culturally, the Javanese lean more toward refinement and modesty, keeping themselves in check in life and art, while the Balinese prefer the headier, flashier sensations – laugh, terror, spicier and sweeter foods. Balinese are more lavish and baroque in their colors and decorations, with more explosive music and fast, jerky dancing.

The first inhabitants of Bali were Austronesian ethnic from Tonkin in South China, they are known as Bali Mula (the true Bali). Around 8th century the great Sage Markandya and 800 of his followers came from Mount Raung in the Basuki area of East Java to settle in Bali, but a pestilence broke and killed most of the settlers. Some years later he returned, this time with only 400 people, from the village of Aga.


Buy This Allposters.com
They performed the ceremony of burying the Five Metals (pancadatu) - gold, silver, iron, copper and precious stone - at a place on the slopes of Mount Agung. This place is now called Pura Besakih. They are settled in the areas around Campuan, Taro, Tegalalang and Payangan and the present temple area of Besakih. These settlers are known as Bali Aga.


Buy This Allposters.com

The successful establishment of settlers from Aga in Bali led to constant influx of settlers from Java. The most significant influx of Javanese settlers to Bali was arrived at the time when Bali was conquered by Majapahit Empire of East Java. Many Majapahit's settlers came to Bali, they are known as Wong Majapahit. Early in 16th century Majaphit collapsed, thousands of Majapahit's scholars, jurist, dancers, painters, craftsman, intellectual, literati and priests came to settle in Bali. This new settlers brought new breath to the Balinese culture.

With total population of around 3,300.000, the population density of Bali is nearly 560 per square kilometer; Bali is Indonesia's second most densely populated island after Java. The vast majority of rural population practices sycretic Bali-Hindu religion. There are also sprinkling of Muslim in the coastal town and Denpasar, a Bugis settlement on Serangan Island, Buddhist in the mountain and Christians everywhere. Several thousand Arabs and Indian live in Denpasar. Ten thousands Chinese are found in the main trading centers of Denpasar, Singaraja, and Amlapura.
There are also around 27,000 Western expatriates – clothes designers, exporters, artists, aid workers, consultants, English teachers. Many western jewelry and garment makers have intermarried with Balinese.
Bali Vacation Rental Villas - Bali Hotels