Search this site

Copyright © All World Vacation Station




Bandung is the capital of West Java province in Indonesia, and the country's fourth largest city.
Bandung Featured Hotels
Located 768 m (2,520 ft) above sea level, Bandung has relatively year-around cooler temperature than most other Indonesian cities. The city lies on a river basin and surrounded by volcanic mountains. This topology provides the city with a good natural defense system, which was the primary reason of Dutch East Indies government's plan to move the colony capital from Batavia to Bandung.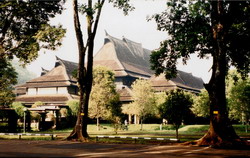 The Dutch colonials first opened tea plantations around the mountains in the eighteenth century, followed by a road construction connecting the plantation area to the capital (180 km or 112 miles to the northwest). The city was founded in 1906 and gradually developed itself into a resort city for the plantation owners. Luxurious hotels, restaurants, cafes and European boutiques were opened of which the city was dubbed as Parijs van Java.
After Indonesian independence, the city experienced a rapid development and urbanization that has transformed Bandung from idyllic town into a densed 15,000 people/km² metropolitan area, a living space for over 2 million people. Natural resources have been exploited excessively, particularly in the conversions of protected upland area into highland villa and real estates. Although the city has encountered many problems, ranging from waste disposal, floods to chaotic traffic system, Bandung however still has its charm to attract people flocking into the city, either as weekend travellers or living in..

Indonesia by Josiah William
Indonesia is derived from "indos nesos", meaning islands near India. It is the world's largest archipelago with exactly 17, islands spread between the Asian continent and Australia, and between the Pacific and the Indian oceans.

Air transport is the easiest and most comfortable means of travel in Indonesia. Domestic air service, including the remote areas are provided by Garuda Indonesia, Merpati Nusantara, Sempati Air, Bouraq and Mandala Airlines.



Buy This Allposters.com

Garuda Indonesia, operates both international and domestic routes and the only airline with an all-jet fleet for domestic Indonesia operations. Garuda serves Honolulu, Los Angeles, London, Amsterdam, Brussels, Frankfurt, Paris, Zurich, Rome, Vienna, Cairo, Abu Dhabi, Jeddah, Riyadh, Ho Chi Minh City, Bangkok, Hong Kong, Taipei, Manila, Tokyo, Kuala Lumpur, Nagoya, Seoul, Singapore, Brunei, New Zealand, Sydney, Melbourne, Perth, Darwin, Port Hedland and Auckland. The country's second national carrier, Merpati Nusantara Airlines, flies to 110 local destinations and to Australia (Darwin), Brunei Darussalam and East Malaysia (Kuching).

The country's three main gateways are Soekarno-Hatta International Airport, Polonia Airport and Ngurah Rai Airport.

International airlines that serve Indonesia are Singapore Airlines, Malaysian Airlines System (MAS), Qantas, Cathay Pacific, and JAL.

ENTRY REGULATIONS Citizens of most countries can stay 60 days without a visa.


CLIMATE Indonesia's climate is tropical, hot, and humid but moderate in highlands.

LANGUAGE The national language is Bahasa Indonesia (a modified form of Malay), English, English, Dutch, almost 600 local dialects, the most widely spoken of which is Javanese.

CURRENCY

The official currency, Indonesian Rupiah (IDR) is valued at IDR 9,704.7 per US Dollar.


DOMESTIC TRANSPORT Domestic rail service is available throughout Java, parts of Sumatra, Jakarta, Bandung and Surabaya. There are comfortable sleeper trains that serve Yogyakarta, Solo, and Semarang.

Bus services are also available and ply the Bali - Banda Aceh route; many are air-conditioned with reclining seats as well as TV with video programs. Cars can also be hired, for longer out of town trips, from taxi or car rental companies.

Inter-island ships are comfortable and offer an alternative to flying. There are regular sailing schedules and routes at the main port of Jakarta.

COMMUNICATIONS FACILITIES International Direct Dial Country Code = 62 Fixed Lines = 10,000,000 Mobile Cellular = 30,000,000

Indonesia's telecommunications service is generally good, provided by an inter-island microwave system, HF radio police net, a domestic satellite communications system and satellite earth stations.


Buy This Allposters.com


Indonesia's GSM cellular service providers are Telkomsel, PTT Saleti Palapa, Excelcom and PT Indosat.

Several prepaid calling card and phone card companies are available to call both to and from Indonesia.

About the Author: Josiah William works in marketing for Cheap Phone Cards, Deal King, Snap Mobile and eCellular

| | |
| --- | --- |
| HOTELS IN BANDUNG, INDONESIA | |

Search for Bandung Hotels
Ardjuna Boutique Hotel Bandung
Ardjuna Boutique Hotel Bandung is located in Bandung, close to Villa Isola, Bandung Zoo, and Paris Van Java Mall. Nearby points of interest also include Bandung Institute of Technology and Cipaganti Mosque. Dining options at Ardjuna Boutique Hotel Bandung include a restaurant. Room service is available. A complimentary breakfast is served daily. Recreational amenities include an outdoor pool. This 4.0-star property has a business center. Wireless Internet access is available in public areas. The property offers an area shuttle (surcharge). Televisions are available in guestrooms. Air-conditioned rooms also include coffee/tea makers.
Arion Swiss-Belhotel, Bandung
The finest boutique hotel in Bandung, a four-star outfit that blends the warmth of home with the Swiss-Belhotel brand of service. Ideally located in the heart of Bandung, we are 15 minutes from the city's airport, within walking distance from the railway station and only 2 hours from Jakarta. Choose from over 100 guestrooms in six different types: deluxe, business, Family Suite, Business Suite, Junior Suite, and Presidential Suite. Entertainment and food choices abound, as a large variety of shopping and dining facilities are either within walking distance or just a few minutes away by car.
Aston Braga Hotel & Residence Bandung
A four star deluxe property offering both short and long stay accommodation in an all-suite hotel. Tastefully furnished with Art Deco interior, the Aston Bandung offers the best of a modern city hotel and apartment with all of the luxuries that matter. Aston Bandung offering 161 luxuriously appointed all-suite guest rooms which is furnished with bedroom, living room, kitchen and dining area, bathroom, utility area and private balcony. 161 luxuriously guest rooms with individually controlled air conditioning, IDD telephone, mini bar and voice mail. Condotel accommodation units are furnished with bedroom, living room, kitchen and dining area, stove, washing machine, bathroom, utility area, and private balcony.
Galeri Ciumbuleuit Hotel Bandung
This property, situated in Ciumbuleuit area of North Bandung, combines comforts of a hotel and an apartment, and is in close proximity to the Bandung airport. Set on the main road of Jalan Ciumbuleuit, this hotel/apartment is surrounded by shopping and entertainment options including the Cihemplas Walk Mall, Alun-alun and Wayang Golek. Guests can cool their own meals in a fully-equipped kitchen, or dine at a restaurant on premises. There are six meeting rooms that cater for all needs. Other services include 24-hour room service, laundry and dry cleaning. Swimming pool and karaoke facilities are also there for guests to enjoy.
Holiday Inn, Bandung
This is a 4 star plus hotel with fully serviced fitness centre like sauna, massage services, spa and swimming pool. Bandung, where beauty comes from, is renowned for its indigenous beauties, cool climate, people's friendly smile and its exotic Parahyangan culture. The rooms are spacious and in a good condition. They are nicely furnished and equipped with the modern facilities. Kebun Bambu Restaurant at Ground Floor of the hotel is serving Breakfast, Lunch and Dinner - International Cuisine. It offers buffet and a la carte menu. Braga Bar and Lounge in hotel lobby area, serves afternoon tea and coffee as well as your favourite cocktail or drink in a relaxed setting.
Jayakarta Hotel, Bandung
This is a 4 star hotel and considered as first class property. The hotel is good either for business and/or pleasure. Banquet and conference facilities are also available. The hotel has the latest additional boutique suite that adjacent to old wing and has 75 suites with four different design themes. The concept designs are minimalist, ethnic, Mediterranean and classic. The Jayakarta Bandung has 138 guest rooms and suites. All rooms feature electronic keys and air conditioning, and are equipped with; remote controlled TV featuring cable tv & in room movies. North Dago cafe serves breakfast buffet, lunch and dinner of Indonesian & International cuisine, Scenery bar & lounge for a relax tea/coffee time with live piano, Cake & Bakery Shop and Aoyama karaoke
Continue browsing Bandung Hotels



Bangladesh - Cambodia - China - Georgia - Hong Kong - India - Indonesia & Bali - Japan -
Kazakhstan - Korea (South) - Kyrgyzstan - Laos - Macau - Malaysia - Maldives - Nepal - Pakistan -
Philippines - Singapore - Sri Lanka - Taiwan - Thailand - Turkmenistan - Uzbekistan - Vietnam