Search this site
Copyright © All World Vacation Station







Scottsdate Featured Hotels
Arizona Golf Vacations
Scottsdale, Arizona For a Vacation, There Are So Many Things To Do
Scottsdale is a city in the eastern part of Maricopa County, Arizona, United States, adjacent to Phoenix. Scottsdale is regarded as an upscale tourist and shopping destination and as a representation of western American style. The New York Times described downtown Scottsdale as "a desert version of Miami's South Beach" and as having "plenty of late night partying and a buzzing hotel scene".
Scottsdale is bordered to the west by Phoenix and Paradise Valley, to the north by Carefree, to the south by Tempe, and to the east by Fountain Hills and the Salt River Pima-Maricopa Indian Community.
Scottsdale is known nationally and abroad for its art and cultural amenities. Though generally high-end and affluent in nature and product, the local art community remains very diverse. A national capitol of Southwestern art and culture (the city often competes with Santa Fe, New Mexico for this bragging right), the city has more recently become a large and well-respected mecca for the modern and contemporary arts. In 2005, the city's annual Scottsdale Arts Festival was ranked the number-one such event in United States by American Style Magazine.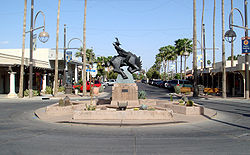 The highest concentrations of galleries, studios and museums that are open to the public can be found in Downtown Scottsdale. Its Scottsdale Arts District can be segmented into three distinct districts. The largest is the Main Street Arts District, home to the largest and most diverse collection of styles and genres, the more contemporary Marshall Way Arts District, and the more touristy and western-themed Old Town district. The very popular Scottsdale Artwalk is held weekly, every Thursday evening.
Due to such a large concentration of high-end amenities and businesses that exist in the city, over the generations Scottsdale has developed a noted reputation both locally and somewhat nationally for having a certain snobby air about its residents. Many outsiders often mockingly refer to the city by its alter-ego "Snobsdale."
Scottsdale's affluent culture has been depicted by shows such as MTV's My Super Sweet 16, which filmed an episode in the area in 2006, and by the short-lived CBS reality show Tuesday Night Book Club In 2008, a local radio disc jockey Craven Moorehead, parodied the Flobot's alternative hit "Handlebars" to make fun of the trendy, supercilious nightlife culture in Scottsdale. The opening and closing line "I can ride my bike with no handle bars" was replaced with the parodied "I'm a big douche at the Scottsdale bars." The parody became an immediate local hit and was placed in heavy rotation.
Scottsdale, Arizona For a Vacation, There Are So Many Things To Do
Copyright © 2008 Chad Sullivan
When you go to Scottsdale, Arizona for a vacation, there are so many things to do that there is never enough time to do it all.
Scottsdale has nearly 300 days of sunshine in a year. It is known as the West's most western town. Seven million people visit Scottsdale and the surrounding towns every year. There is something for everyone. There is plenty of golfing opportunities for the golf lover and major league teams of football, baseball and hockey train in and around Scottsdale. Cafes and restaurant of every American and other cultures are situated in Scottsdale. Indian, Mexican and American food specialties can be savored in the eateries of Scottsdale. You can indulge in fine dining or go to quaint small café's. Shopping is unlimited in Scottsdale. The fashion square is the place to go for one of a kind boutiques. It is the haunt of the rich and the famous and you can do a bit of celebrity watching while shopping. There are other unique boutiques, designer discount shops, specialists in home décor and specialty men's wear shops.
The greenbelt of Scottsdale is the park area and connects the Vista del Comino, El Dorado, Indian School and Chapanal. The parks are well kept and there are shelters, Ramadas, a fishing lake, jogging and biking paths.
For lovers of art Scottsdale has an art festival showcasing the creations of artists in different mediums. There are art dealers galleries and exhibitions take place round the year. A conducted tour of the arts takes you to the homes of prominent artists and architects and their workshops. It is a truly southwest art experience. The Scottsdale Arts Festival organized by the Culture Council at the Civic Centre Hall showcases the work of over 200 artists.
For transport enthusiasts, a visit to the Arizona Wing commemorative air Force museum is a educative experience The annual Barrett Jackson Car show is a world renowned auction for collectible cars. The Mcormick Stillman Railroad park has a stretch of narrow gauge on which you can take a ride.
To enjoy a Scottsdale experience like a local you must live there and not merely visit. The best way of living the Scottsdale experience is by staying at a vacation rental which can be rented by the week. You can enjoy cooking or calling in local food. You can live at your own pace and enjoying pursuing your interests in Scottsdale. You can rent villas to cabins at locations close to your place of interest by the week or even the month. You have more living space and flexibility of routine while living in a home rental than a hotel.
If you are looking for things to do on a vacation Scottsdale Arizona is the never fail option.
The native culture is not neglected in Scottsdale. The Head Museum is a museum of Native American culture. The shop sells native American handicrafts. On the first and second of March the Indian Fair is held and features over 650 Native American artists, jewelers, potters carvers, artists and doll makers.
Rides through the desert on hummers give a fascinating insight into desert flora and fauna and folklore. You can take a sunset tour and have a typical cowboy dinner.
Gliding on a hot air balloon over the desert is a simply magnificent experience. The sonoran desert is conserved by the efforts of the Mcdowell Sonoran Conservancy and you can go to the desert with a trained guide and learn about the desert and the efforts of the conservancy. There are
Chad Sullivan has been involved into helping people located to Arizona for many years. visit his website http://www.sunbeltvacations.com

Arizona Golf Vacations by Chad Sullivan
Copyright (c) 2008 Chad Sullivan

Arizona Golf Vacations are hugely popular because golfers can play the game through the day and through the year. The climate round the year is pleasant and the hospitality of the locals is historic.

Arizona State has a variety of terrain ranging from canyons, rolling hills, unusually shaped rocks and winding rivers. It is the ideal location for golf courses because each golf course can give the golfer new challenges and makes the golfer overcome different and varying hazards. The choice of golf courses in Arizona is vast. Many golf courses are designed by famous golfers. The views in almost every golf course in Arizona are spectacular.

The handicapper and the hack, the nature lover and the golf addict have a choice of golfing options that is hard to beat. The golf courses in Arizona have different lengths and yardage. There are courses with limited holes and full golf courses. There are old world clubs and modern golf courses, traditional link style courses, desert courses and adobe courses. An interesting way of spending a golf vacation in Arizona is to take lessons. Schools and academies that teach golf for improvement or for basic instruction are plenty and can be booked in advance. Most lessons range from twelve to thirty hours. Lunch is included and the problem areas of an experienced golfer are sharpened. Beginners will find themselves off to a good start as the staff in Arizona's golf academies and schools are trained PGA standard instructors.

Accommodation for golfers and packages for golfers are also available in hotels, resorts, clubs, condos and home rentals. All packages can be customized according to the individual needs of the golfer. The golfer can get a package with up to five rounds in different reputed courses. A golfer can return every year in different seasons of the year and taste the thrilling challenges of five new golf courses. Some Hotels like the Hyatt Gainey Ranch have their own golf courses.

There are different discount rates available for golfing groups. Tee times can be booked 60 -90 days in advance. Cars can be hired in advance so that traveling from course to course is not difficult. There are many after golf activities available .The climate of Arizona makes it the best place for spa treatments and wellness treatments. The mingling of cultures gives the state a festive edge. There are always art shows, cultural festivals and shopping. Arizona boasts of some of the best American cuisine with a distinct flavor of what was once the 'wild west'.

Whether the golfer is a languid , take it easy golfer who looks at the game as a pleasant walk or a highly competitive golfer who looks to improve the game and face challenges, Arizona has so many options that a golfer will realize that one vacation is not enough. The vistas and the challenges are so many that the golfer holidaymaker will make Arizona a permanent golf vacation destination.
About the Author - Chad has been a travel adviser for many years in Arizona. Starting back in 1984 after college, he found the great love for people to travel to Scottsdale Arizona. He recommends using vacation homes by owner in Scottsdale as the most cost effective way to travel http://www.sunbeltvacations.com


| | |
| --- | --- |
| SCOTTSDALE FEATURED HOTELS | |

Search for Scottsdale AZ Hotels (and surrounding areas)
3 Palms Resort Oasis Scottsdale
When you enter our stunning yet intimate lobby, the desert stone accents set in the hand laid white crystal granite warn you to expect something special including a level of service that some people consider sublime. All of our rooms and suites are tastefully appointed with carefully selected modern art, contemporary custom made furnishings, and entertainment centers. Passionate attention to detail continues throughout the 3 Palms with features selected with your comfort and convenience in mind. Cable/satellite TV with premium channels, DVD players, stereos, refrigerators, microwaves, and the all important coffee maker are just some of the amenities we've included in anticipation of your every need. Spa services are available in our private spa suite.
Best Western Papago Inn Scottsdale
Located in upscale Scottsdale, known as the west's most western town, only 15 minutes from Phoenix Sky Harbor International Airport. Guests will enjoy easy access to unparalleled shopping and dining on Fifth Avenue and at the Scottsdale Fashion Square. Area offers world-class golf, tennis and is convenient to popular destinations such as the Scottsdale Stadium and the Desert Botanical Gardens.
Chaparral Suites Scottsdale
Located 3 blocks from the Old Town area of Scottsdale, Ariz., and 4 blocks from the Scottsdale Fashion Square is the Chaparral Suites Scottsdale. Scottsdale Stadium is 2 miles away. Complimentary cooked-to-order breakfasts are featured each morning and evening receptions are hosted 7 days a week. The 4th Floor Grille offers freshly baked pizzas, grilled fish, pasta and steaks for lunch and dinner. The Sports Bar hosts a state-of-the-art sound system, two wide-screen televisions, 10 HDTVs, and Grille menu items. Cascading fountains and tropical landscaping lead to a courtyard with two outdoor pools and a spa tub encircled by lounge chairs. Additionally available are a fitness center, gift shop and arcade.
Clarion Hotel Scottsdale
Located three blocks from Old Town and the Scottsdale Fashion Square is the Clarion Hotel Scottsdale in Scottsdale, Ariz. Camelback Golf Course is two miles away. The hotel has a town car service that will pick up guests from the airport (for a charge). On-site Cezar's Restaurant & Bar serves three meals daily. A business center, computer rentals and complimentary wireless Internet access are available for business needs. The property boasts a freeform outdoor pool with a spa tub in the palm-lined courtyard, and a 24-hour fitness room provides treadmills, Nautilus equipment and elliptical machines. The 218 guestrooms are embellished with blond-wood furnishings, framed Mexican artwork, colorful floral bedspreads, an upholstered chair and ottoman, and decor in dusky rose, pale mauve and jungle green.
Country Inn & Suites Scottsdale
Located in Scottsdale, Ariz. and shadowed by the majestic McDowell Mountain Ridge, Country Inn & Suites Scottsdale is five miles from the Mayo Clinic of Scottsdale and 15 miles from Sky Harbor International Airport. Westworld, a premeire user-friendly equestrian center and special events facility, is located 4 miles from the Country Inn & Suites Scottsdale. The hotel is close to Sun Devil Stadium, home of the Arizona State Sun Devils, and to Chase Field, home of Arizona Diamondbacks. Comfortable overstuffed furniture invites guests to sit and relax. Guests can beat the Arizona heat in the outdoor pool. The fitness center's cardiovascular and strength training equipment make it easy to keep up workout routines.
Doubletree Paradise Valley Resort-Scottsdale
The 22-acre Doubletree Paradise Valley Resort-Scottsdale is located less than two miles from Fashion Square Mall and Old Town Scottsdale in Scottsdale, Ariz. This resort was designed by students of Frank Lloyd Wright. The hotel features a concrete exterior and a labeled cactus garden that occupies a mountain-view courtyard. The enFuego restaurant serves regionally inspired cuisine and features a waterfall fountain and an outside patio with fountains and a central fireplace. The Palm Café serves Starbucks coffee and breakfast fare. The Cabana Bar is located at the north pool and prepares light sandwiches, salads and beverages. Loggia Lounge offers wines, imported and microbrewed beers, single-malt scotch, small-batch bourbons, specialty vodkas and tequilas.

Fairmont Scottsdale
The Fairmont Scottsdale stands at the foot of the McDowell Mountains in north Scottsdale, Ariz. This property is located two miles from the Cracker Jax Family Fun & Sports Park. The hotel is surrounded by 450 acres of sun-washed desert. Hotel dining options include Bourbon Steak which serves natural, organic and hormone-free beef cooked over a wood-burning grill. LV Bistro prepares Southwestern-style meals. La Hacienda specializes in gourmet Mexican fare. The Grill clubhouse restaurant overlooks the 18th hole of the PGA-rated TPC golf course. The hotel includes access to two 18-hole championship golf courses, a fitness center, five outdoor pools, rental cabanas, spa tubs, tennis courts and a children's water park with slides. Lawn sports include bocce ball, badminton, volleyball, basketball, croquet and miniature golf...

Hyatt Regency Scottsdale Resort & Spa At Gainey
Set amidst flowering cactus and framed against the majestic McDowell Mountains lies the Hyatt Regency Scottsdale Resort and Spa at Gainey Ranch. Here, breathtaking desert vistas blend with intriguing Native American culture and pampering amenities to create a Scottsdale Arizona hotel designed to please every guest. Explore our 27 acres and discover your own perfect Hyatt Scottsdale hotel stay, including championship golf, luxurious Spa Avania, water playground , tennis or Camp Hyatt Kachina. Expansive meeting facilities provide the premier setting for business gatherings, just minutes from all the attractions of this vibrant area. We invite you to experience the ultimate luxury hotel and resort in Scottsdale, Arizona.
La Quinta Inn & Suites Scottsdale
La Quinta Inn and Suites, located in Scottsdale, Ariz., is conveniently positioned 12 miles from Tempe, 14 miles from Phoenix and 20 miles from Mesa. Golfers can tee off one mile away at Starfire Golf Course and four miles from this property at Kierland Commons & Golf Course. West World is two miles away and Phoenix Sky Harbor International Airport is 20 miles from the property. Active days of business or leisure pursuits may begin and end at the 24-hour fitness center. This property also offers an outdoor heated pool with spa tub, complimentary newspapers and complimentary high-speed internet access. Two meeting rooms can accommodate up to 50 people while banquet facilities and catering services can meet corporate or celebratory needs.
Millennium Resort Scottsdale Mccormick Ranch
Beyond our front doors awaits an escape that will soothe and refresh your spirit. Scottsdale's only lakeside boutique resort, the Millennium Resort McCormick Ranch offers a relaxing and intimate atmosphere just three miles from Old Town Scottsdale and surrounded by world-class golf and breathtaking views of the Camelback Mountains. Unwind in our 125 Southwestern-style guest rooms and suites watching television on a new 40" flat panel screen while relaxing on an upgraded Dynasty Bedding package with Frette linens, all with balconies or patios. Enjoy fine dining at the Piñon Grill or a casual, inviting atmosphere at Diamondbacks Lounge or find small bites at the poolside cabana. Whatever you are seeking, you will find what you need within the resort.
Ramada Limited Scottsdale on 5th Avenue
The Ramada Limited Scottsdale hotel provides affordable lodging in the heart of the Scottsdale Gallery and Entertainment District. Although our guests also enjoy exploring Phoenix, Tempe, Chandler, Mesa and the entire Valley of the Sun, our Scottsdale location provides the greatest value and convenience for travelers who wish to experience Scottsdale. Our Ramada hotel faces famous Scottsdale 5th Avenue, home to shops and galleries alike. We are an easy walk to literally dozens of restaurants, and Fashion Square Mall is less than a mile north of our hotel. If Major League Baseball Spring Training is your reason for traveling to us, we are 1.5 miles from Scottsdale Stadium, the Cactus League Home of the San Francisco Giants
Scottsdale Links Resort
Scottsdale Links Resort showcases elegantly appointed accommodations with private patios that provide guests the ultimate in convenience and luxury complete with a steam room and fitness center. Vacationers interested in the magic of Scottsdale, Arizona, will find this resort nestled between the TPC Desert Golf Course and the breathtaking McDowell Mountains offering a host of scheduled activities, and relaxing pool and spa-side areas.

The Scottsdale Plaza Resort
Located less than 1-half mile from The Borgata shops in Scottsdale, the Scottsdale Fashion Square is positioned three miles away, while Old Town Scottsdale is four miles from the resort. Set amid a cluster of championship golf courses, the Southwestern- style Resort is positioned in the shadow of Camelback Mountain on 40 acres of desert gardens and arid terrain. Hotel dining options include fine dining at Remington's Restaurant, buffets at the Garden Court Restaurant and poolside refreshments at Café Cabana Restaurant. J.D.'s Lounge provides beers on tap, pool tables and sports action broadcast on five large televisions. Plexi-paved tennis courts are lighted, and an indoor racquetball court is air conditioned. Five pools provide outdoor recreation. The concierge arranges tee times at any of the area's golf courses.
The Scottsdale Resort
The Scottsdale Resort is located in a Scottsdale, Ariz., residential neighborhood. This property stands four miles from The Borgata shops and less than five miles from Old Town Scottsdale. Resort dining venues include the rustic, Spanish-style Palm Court. Candlelit ambience establishes the mood for dinner service that features favorites such as Maine lobster. Vista Verde's linen-draped tables are set with chinaware. This restaurant serves buffet-style breakfasts and lunches, and offers dinner menus. Sangria's Lounge serves appetizers, beer, wine, cocktails and signature sangria. Two golf courses are adjacent to the resort. Lounge chairs and umbrellas line the two outdoor pools' sundecks. Amansala Spa offers treatments including Swedish, Hot Stone, aromatherapy and sports massages.
View the full list of Scottsdale AZ Hotels (and surrounding areas)