Search this site
Copyright © All World Vacation Station







A family vacation in Phoenix, Arizona
Live Music in Phoenix, AZ - The top 10 best spots to visit in 2010
Live Music in Phoenix, AZ - The top 10 best spots to visit in 2010 by John Durham
Arizona may not be well known as a music hotspot, but in the valley of the sun there are some great music hotspots that anyone must visit. Consider checking out these spots for some good old rock, indie, metal or jazz.
1.) Venue of Scottsdale - This is a large 1200 person venue located right in the center of Old Town Scottsdale. They make great drinks, but are only open when they have a concert of event. Check there website for more information on upcoming shows. The Venue of Scottsdale is located at 7117 East 3rd Avenue, Scottsdale, AZ? - (480) 945-5150
2.) Dodge Theatre - This is a beautiful venue located right in downtown phoenix. They have many national and traveling artist appear here. This is also the premier spot for national latin artist. Visit there website or livenation.com for more information on this venue. Park can be a pain here, on sold out shows. Plan ahead. The Dodge Theatre is located at 400 West Washington Street, Phoenix, AZ? - (602) 379-2800
3.) The Marquee Theatre - If you want to see a punk, indie or rock show, this is the venue for you. It is located in Tempe, AZ right near ASU just off of Mill Ave. Parking here is also a pain, so plan ahead. This venue huge and had great sound. The Marquee Theatre is located at 730 N Mill Ave, Tempe, AZ - (480) 829-0707

St. Mary's Basilica with Arizona Center Tower Behind, Phoenix, Arizona
Buy at AllPosters.com
4.) The Clubhouse - This is a smaller bar/venue, but seams to be the hotspot for all up and coming artist. It is also located in Tempe, and has another dive bar attached to it if you need some quite for a bit. The Clubhouse is located at 1320 East Broadway Road, Tempe, AZ? - (480) 784-4444
5.) The Red Room - This is another Tempe bar and live music venue. They typically only have shows on Thursday through Saturday, but it is a great place to hear music. The Red Room is located at 2155 East University Drive, Tempe, AZ - (480) 258-2733
6.) Yucca Tap Room - This is where all the local bands and artist perform. The place is a total dive bar, but the locals love it. It has a "western" feel to it. You can even see rockabilly music here. Yucca Tap Room is located at 29 West Southern Avenue, Tempe, AZ? - (480) 967-4777
7.) Sail Inn - Wanna see reggae, dub, or new age? Check out the sail in for all the alternatives to popular music. This place has a great patio stage for the spring and fall seasons. Sail Inn is located at 26 South Farmer Avenue, Tempe, AZ& - (480) 966-9565
8.) Modified Arts - If you are into indie, artsy, or experimental music Modified is the place for you. It caters to that crowd and does not serve alcohol. But it is a great place to check out on the first Friday of every month, during the Phoenix Art Walks. Modified Arts is located 407 East Roosevelt Street, Phoenix, AZ - (602) 462-5516
9.) Joe's Grotto - If you love real rock or heavy metal then Joe's Grotto is your hot spot. This is a West-side bar and features some of Phoenix's best. Great Drink specials too. Joe's Grotto is located at13825 North 32nd Street, Phoenix, AZ - (602) 992-1007
10.) Martini Ranch - This is a multi-room facility, it the live music room you can catch many great cover bands, and the occasional regional or national artist. It is a great place to see music, located in old town Scottsdale. Martini Ranch is located at 13825 North 32nd Street, Phoenix, AZ& - (602) 992-1007.
About the Author - Learn more about Music Production. Check out, MusicProducerInfo.com for information on recording music, audio mastering, making beats or being a music producer. Visit MusicProducerInfo.com for information.

A family vacation in Phoenix, Arizona
A family vacation in this corner of the American Southwest offers more than cool pools and slippery water slides.
One of America's top outdoor destinations and the country's fifth largest city, it is not an accident that Phoenix is home to several of the best destination resorts located in the United States. Explore desert parks and lakes, tour archaeology ruins and historic gold mining towns, or visit one of the many the museums and state-of-the-art sporting facilities.
From Surprise to Apache Junction, the twenty distinct communities that make up the greater Phoenix area offer visitors everything from the slow-paced rural southwest to a bustling college atmosphere. Whether your interest is sports or archaeology, history or hiking, biking, horseback riding, or bird watching Phoenix offers something for everyone not wanting to venture beyond the Valley of the Sun.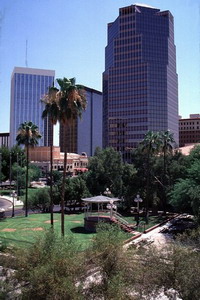 Enjoy hiking, biking and horseback riding at the many area parks such as South Mountain, McDowell or Papago. And if quintessential southwest is your goal, explore Hohokam Indian ruins and participate in a simulated excavation at the Deer Valley Rock Art Center or pan for gold and tour a gold mine in Goldfield Ghost Town.
On the chance that it does rain or the kids simply need a break from the great outdoors, take advantage of Valley's cultural side. Children of all ages will enjoy exploring a re-created Zuni Pueblo and participating in hands-on activities at the Heard Museum, discovering science and technology at the Arizona Science Center, or taking in a performance at one of the children's theaters, Childsplay or Valley Youth Theatre.
While you will need to do a fair bit of planning if you intend to take advantage of the many activities unique to Phoenix, there is no need to venture very far. Many child-friendly activities are less than an hour's drive from anywhere in the Valley.
So if you are looking to escape the bitter cold of winter or an overcast rainy spring, plan a trip to Phoenix and once you've pulled your kids away from the numerous activities offered at your destination resort, explore a few of the many fun things to see and do in the Valley of the Sun.
Getting there
The Sky Harbor International Airport is conveniently located in the heart of Phoenix. Direct flights to/from most U.S. locations. International flights to London (UK) and several cities in Canada and Mexico.
Getting around
Your mode of transportation will greatly influence your options. While shuttle services will get you to and from your hotel and public transport will get you around downtown, families wishing to venture beyond their resort should consider renting a car. A light rail system is scheduled to begin operation in 2009.
When to travel
The best time to visit is from November to April.
Health & safety
Car seats are required for children weighing 40 pounds or less. Booster seats are required for children under the age of 8 or less than 4 feet 9 inches (144 cm) tall. Children under 12 should sit in the back seat and buckle up.
Things to keep in mind
Distance! The greater metropolitan area covers nearly 2000 square miles.
Copyright © more2explore S.r.l. All rights reserved. - Ann LoCicero is the founder of www.kidscantravel.com an emergent website for families intent on making the most of their leisure time together.


| | |
| --- | --- |
| PHOENIX, ARIZONA FEATURED HOTELS | |

View the full list of Phoenix AZ Hotels (and surrounding areas)
Arizona Grand Resort, Phoenix
The Arizona Grand Resort stands one-half mile from the Arizona Mills Mall in Phoenix, Ariz. Downtown Tempe and the Sun Devil Stadium are located less than six miles away. This mission-style property occupies a 17,000-acre nature preserve. The wood-beamed Phantom Horse Grill overlooks the golf course and serves Southwest- inspired fare for breakfast, lunch and dinner. Aunt Chilada's Mexican-style cantina prepares homemade tamales and Mexican favorites during lunch and dinner hours. The Oasis Bar & Grill offer poolside service. Recreational amenities include the par-71, 18-hole course at Arizona Grand Golf Club, a 7,000-square-foot practice green with a sand bunker and chipping area, and the Skill Tec 3-D golf trainer....

Arizona Biltmore Resort Phoenix
Arizona Biltmore Resort stands amid 39 acres of manicured gardens in Phoenix, Ariz. The Biltmore Fashion Park is positioned one mile away. Dining options include Wright's at the Biltmore which prepares American Lodge Cuisine enhanced with fresh, local ingredients. The Wright Bar offers beverage specialties, a selection of fine wines and a light appetizer menu. The Biltmore Grill prepares American and regional dishes. A complimentary, limited-hour fitness center contains a full complement of free weights, and cardiovascular and weight-training equipment. The Biltmore Spa offers select treatments drawn from Chinese teachings, as well as therapies based on native Sonoran Desert tribal practices.The Arizona Biltmore Country Club offers two 18-hole championship golf courses. Eight outdoor pools and spa tubs are on site.

Crowne Plaza Phoenix-Airport
Crowne Plaza Phoenix Airport hotel is the closest hotel to the Phoenix Sky Harbor International Airport (PHX) with 24-hour airport shuttle transportation and now you can take advantage of a new METRO Light Rail system, connecting you directly to Downtown Phoenix, Phoenix Convention Center, Downtown Tempe, Mill Ave with shopping and dining, and Arizona State University. As the only hotel with a stop directly on the new Light Rail, the Crowne Plaza Phoenix Airport gives you seamless access to the city. Complimentary Ruckus wireless Internet, Cafe Sha restaurant and lounge, and Cafe Sha Express featuring Starbucks coffee and pastries for that early morning snack. The Crowne Plaza is also the perfect location for those looking to relax, with a heated outdoor pool and whirlpool.

Days Inn Central & Camelback, Phoenix
Welcome to the newly renovated Days Inn, Central & Camelback in sunny Phoenix, Arizona. With a Metro station across the road our Hotel and Conference Center is located only a 10 min Light Rail ride from Downtown Phoenix & the convention center. It's just a further 10 mins to Phoenix International Airport. Enjoy a complimentary continental breakfast daily. Our rooms feature high-speed internet access, coffee maker and HBO. While visiting Phoenix enjoy the many attractions as well as some great dining options - many within walking distance. With competitive rates, friendly staff, quality rooms and a fantastic pool area we certainly are the best value under the sun!
Four Points by Sheraton Phoenix North
Located in Phoenix's Northwest Valley business metropolis, Four Points by Sheraton Phoenix North offers a central location to major sports venues, a diverse selection of restaurants within walking distance, and is adjacent to Metrocenter shopping mall. The hotel is 20 minutes north of Sky Harbor International Airport and easily accessible off Highway I-17 at Peoria exit. Parking is complimentary. We also offer an Olympic-size outdoor heated pool and whirlpool, spacious sun deck and cozy courtyard patio with fireplace. Enjoy the Copper Creek Bar & Grill offering American cuisine. The fitness center is available 24-7 for all hotel guests.
La Quinta Inn & Suites Phoenix I-10 West
Stay at the newly remodeled La Quinta Inn & Suites Phoenix I-10 West! Enjoy convenient amenities such as free high speed internet, onsite fitness center, and full service business center, or just relax in our outdoor heated pool and Jacuzzi. Enjoy a Free Bright Side BreakfastTM each morning and fresh baked cookies in the afternoon. Our La Quinta Inn & Suites Phoenix I-10 West is an ideal hotel for those visiting the West Valley hot spots such as The Westgate City Center, Phoenix International Raceway, Arizona State Fair Grounds, The Cardinals Stadium, and Cricket Pavilion.
Pointe Hilton Tapatio Cliffs Resort Phoenix
Nestled on 400 scenic acres at the base of the majestic North Mountains, adjacent to the Phoenix Mountain Nature Preserve in Phoenix, Ariz., the Resort offers an exceptional three-and-a half acre water facility set against the Sonoran landscape with downtown Phoenix only 10 miles away. Guests can traverse the hiking trails on the property, while more adventurous hikers can blaze the paths of the Piestewa Peak Summit Trails 5 miles away. Golf enthusiasts can tee off on the greens of the Lookout Mountain Golf Course, the resort's championship 18-hole course. Families can plunge into Falls Water Village, with acres of pools, waterfalls and the 138-foot Plunge waterslide. The resort features a romantic restaurant with an American cuisine influenced by the cultures of Italy, North Africa and Spain, a casual, family-friendly grill, a Mexican cafe and a poolside grill.
The Bell Hotel & Suites, Phoenix
The Bell Hotel & Suites is conveniently located in Northwest Phoenix on Interstate 17, just minutes from the Valley of the Sun's attractions, including Castle and Coasters Amusement Park, four golf courses, and downtown Phoenix 15 miles away. Easy interstate access puts guests within scenic drives of the Grand Canyon, Flagstaff and Sedona. For business guests, the Bell stands in Phoenix's high-tech corridor. Complimentary perks include continental breakfasts and wireless Internet access. The Bell Hotel & Suites also features a heated pool, spa, barbecue grills and a picnic area ideal for family and group get-togethers. The hotel doesn't have a restaurant, but guests are close to neighborhood eateries serving everything from country-style buffets to steak to Italian cuisine.
The Clarendon-Midtown Museum District, Phoenix
The Clarendon-Midtown Museum District in downtown Phoenix, Ariz., is one mile from the Encanto Golf Course. The hotel is within three miles of the theatre district, Japanese Friendship Gardens and the Phoenix Convention Center. The Phoenix Convention Center is three miles away and Biltmore Fashion Park is four miles away. Phoenix's hip culture is displayed in this colorful contemporary hotel with bold geometric design and neon lights. The heated outdoor pool and spa tub area, called The Oasis, is accented by tall vertical lights and a spiral staircase. The smoke-free hotel also features a rooftop bar and lounge. The hotel's fitness center, featuring cardiovascular equipment, elliptical machines and free weights, is open 24 hours. Wireless Internet access, conference rooms and business services are all available
Search for more Phoenix AZ Hotels (and surrounding areas)