Search this site
Copyright © All World Vacation Station




Interesting Facts About Arkansas
Vacation Spots in Arkansas
The state of Arkansas, with its geographic diversity, natural beauty and variety of flora and fauna, is a traveler's delight. Its scenic landscape and rich history makes it a perfect spot for vacations.
Fed up with the mundane nature of everyday life? Feel like taking a vacation and getting back to nature? Well thankfully, you don't need to look too far. The southern state of Arkansas, with its unmatched natural scenic beauty, totally lives up to its tag-line of 'The Natural State'. Fantastic climate, lush green mountains, picturesque lakes and rivers, coupled with an endless choice of exciting indoor and outdoor activities make the state of Arkansas an ideal vacation spot for weekend road trips, spring breaks, summer breaks, family vacations, romantic getaways and much more. Here are some of the most popular vacation spots in Arkansas.
Arkansas State Parks
Arkansas has a whopping 52 state parks, including a few history parks which offer a wide variety of recreation and adventure options for vacationers. Adventure freaks can have the time of their life exploring nature trails, wildlife parks, enjoying mountain biking, rock climbing, hang gliding and much more. Caving enthusiasts can make good use of the wide choice of guided tours and tour caverns available. Those inclined towards history can enjoy a stroll through the history parks and museums where they can visit the Civil War battlefields, glance through war memorabilia and learn about the diverse culture and history of the state.
Crater of Diamonds
Arkansas is home to the world's only public diamond mine - Crater of Diamonds. Although it is a century-old-mine, the Crater of Diamonds Park was made open to public, only in 1972. One of the unique attractions of the park is the Diamond Discovery Center. It is the only place in the world where visitors are actually allowed to dig for diamonds on payment of a small fee. The park also offers many other recreational activities for visitors in the form of a camping ground, a water park and a picnic area.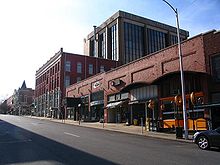 Fayetteville, Arkansas
Clinton Presidential Center and Park
Located on the banks of the Arkansas River in downtown Little Rock, the Clinton Presidential Center and Park is home to the largest presidential library in the United States. It houses a well-maintained museum that showcases a wide variety of memorabilia from the Clinton regime which includes documents, photographs, artifacts, etc. The park also features an exact replica of the Clinton-era Oval Office, which is a major hit among tourists and visitors.
Arkansas Lake Tours
Blessed with a large number of pristine lakes and rivers, Arkansas is a water baby's delight. Lake Chicot State Park and Lake Ouachita State Park are the most famous lake tour parks among visitors touring Arkansas. In addition, there are a variety of lake resorts and river resorts, all of which offer a wide range of activities such as river rafting, kayaking, canoeing, jet skiing and snorkeling. Families can enjoy a day out on the water with float trips, boat rides, fishing trips, spa visits and much more. The warm and natural spring water ensures that a visit to the spa is a completely relaxing and soothing experience.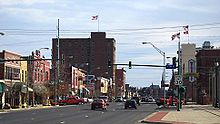 Fort Smith, Arkansas
Art enthusiasts won't be disappointed since Arkansas has a lot to offer in the form of art centers, museums, galleries and theaters. A holiday in Arkansas is never complete without a visit to its vintage wineries, breweries and its unusual-themed restaurants. Swanky malls, designer boutiques, flea markets and tiny antique stores are a sure-shot temptation for shopaholics to loosen their purse strings. A wide array of hotels, bed and breakfasts, lakeside cottages and rental cabins, ensures that accommodation is never a worry for tourists vacationing in Arkansas.
The 'Natural State' truly offers some of the best vacation spots for an enriching holiday experience. So what are you waiting for? Pack your bags and head to Arkansas for that memorable vacation you always dreamed of.
By Parashar Joshi

Interesting Facts About Arkansas
Arkansas joined the Union in 1836 and was the 25th state to do so. It received its name from a French word 'Arkansa', which meant 'downriver' people. To know more about it, read on...
Arkansas is bordered by Missouri on the northern side, Louisiana on the southern side, the plains of Oklahoma and Texas on the western side and the Mississippi River on the eastern side, which separates it from Mississippi and Tennessee. It ranks 27th among the states in size and has an area of 53,187 square miles. Arkansas's nickname 'The Land of Opportunity' reflects its diversity and fairly well-balanced economy.
History
Before the European settlers arrived, Native Americans lived in Arkansas. It was inhabited by Indian tribes including the Arkansa, Caddo, Cherokee, Choctaw and Osage. In 1541, a Spanish expedition under Hernando de Soto explored Arkansas. In 1686, Henri de Tonti established a trading station at Arkansas Post, the first permanent white settlement in the area. In 1803, the United States bought the Louisiana Purchase from France, which also included Arkansas. In 1819, Arkansas Territory was formed, that included Arkansas and a part of Oklahoma.
The next decades were known for the development of the cotton industry and spread of the Southern plantation system in Arkansas. On June 15,1836, Arkansas entered the Union as 25th state, with Little Rock as its capital. In 1861, due to slavery, anti-secessionist sentiment developed in Arkansas, which led to the American civil war. Arkansas adjourned from the United States and joined the Confederacy. The war got over in 1865, Arkansas accepted the laws against slavery and by 1868, it rejoined the United States. From 1868 to 1874, the reconstruction period in Arkansas started; many roads, railways, and schools were built and the University of Arkansas was also established. People in Arkansas discriminated Africans and wanted public schools to be segregated. As a result, in 1957, President Eisenhower had to send US troops into Little Rock to help the African Americans in attending schools and colleges. By 1970, the Arkansas river development program was completed and many cattle and poultry industries were also promoted.
Geography and Natural Resources
Arkansas is divided between lowlands and highlands; on the southern part, it has the Gulf Coastal Plain, on the eastern part, it has the Mississippi River Alluvial Plain and on the western and northern parts, it has the Interior Highlands. The hill section comprises of Ozark plateaus in the north and Ouachita province in the south, and between them flows the Arkansas river. The Arkansas river valley is known for its highest and extraordinary peaks like, Nebo, Petit Jean and Magazine. Petit Jean is cleft by a ravine with a 75-foot waterfall, and Mount Magazine, which is 2,753 feet above the sea level and has the highest elevation in the state. Mississippi, Arkansas, White, St. Francis, Red and Ouachita are some of the main rivers in Arkansas that drain to the south and southeast. Its plateau section is quite popular for springs, especially Mammoth Spring in Fulton County near the Missouri line, having a flow of nine million gallons per hour. Arkansas possesses a wide variety of minerals such as petroleum, natural gas, and bromine. It leads the nation in the production of bauxite, bromine and silica stone. Arkansas has 17.2 million acres of forest land; Ozark, St. Francis, and Ouachita are the three national forests of Arkansas.
Climate and Population
Arkansas has humid subtropical climate, without extreme heat or cold. In summers, the temperature averages around 90 °F (32 °C) and 50 °F (10 °C) in winter. The annual rainfall and snowfall in Arkansas varies from 45 to 55 inches and 2.8 to 10.4 inches respectively. With respect to population, it ranks 33rd among all the states. Its population density is 20 people per sq km and has a per capita income of $24,284.
Symbols and Cities
Like any other state, Arkansas has state related symbols like:
State Flag: In 1913, the design of the state flag was chosen in a contest and finalized in 1926. The flag has diamond shapes in the center, as Arkansas is the only state in USA where diamonds have been found. Arkansas was the 25th state to join the Union, hence, there are 25 white stars around the diamond. The three blue stars in the lower part of the center represent the countries that have ruled Arkansas: Spain, France and the United States. In the upper center of the diamond, there is a blue star that represents the Confederacy, of which it was a member.
State Flower: Apple Blossom is the Arkansas's state flower. It is a five-petaled white color flower with a pink tinge that gradually fades.
State Bird: Mockingbird is the state bird. This bird is known for mimicking the sounds and songs of insects, amphibians and other birds.
State Dance: Square dance is the state folk dance of Arkansas, which is performed by four couples arranged in a square.
State Capital: Little Rock is the state capital and the largest city in Arkansas.
State Mammal: The White-tailed Deer is the state mammal of Arkansas. It is a long-legged, fast-moving mammal found mainly in North and Central America and northern parts of Southern America.
Likewise, its state gem is diamond, state tree is ponderosa pine, state song is Arkansas (You Run Deep in Me) by Wayland Holyfield. Some of the important cities in Arkansas are: Benton, Cabot, Fort Smith, Fayetteville, Hot Springs, Little Rocks and Van Buren.

Trivia and Fun Facts
Arkansas is also known as Hot water state. It has 47 hot springs that flow from the southwestern slope of Hot Springs Mountain at an average temperature of 143 °F.
Arkansas is part of the Bible Belt and is predominantly Protestant.
Arkansas consists of over 600,000 acres of lakes and 9,700 miles of streams and rivers.
Wal-Mart stores launched by Sam Walton, have its head quarters in Bentonville.
While in this state, it is illegal to mispronounce Arkansas. It should be pronounced 'Arkansaw'.
Murfreesboro in Arkansas, is the only diamond mine open to the public from around the world.
In Arkansas, voters are given only five minutes to mark their ballots.
In Arkansas, a man can legally beat his wife, but not more than once a month.
Arkansas is also known as the 'Natural State', having diverse mineral resources like diamonds, amethyst, garnet, jasper, agate, and quartz. It is well known for some of the famous Arkansans like, US President Bill Clinton; US Senator James Fulbright; actor Billy Bob Thornton; singer Johnny Cash; and legendary college football coach Paul "Bear" Bryant.
By Kanika Khara

| | |
| --- | --- |
| FAYETTEVILLE VACATION RENTALS/EXTENDED STAYS | |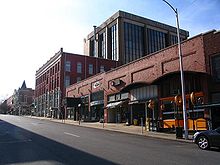 Fayetteville (formerly Washington) is a city in and the county seat of Washington County, Arkansas, United States, and is home to the University of Arkansas. The Fayetteville–Springdale–Rogers, AR-MO Metropolitan Statistical Area's population is estimated at 420,876.

It is the third most populous city in Arkansas. Fayetteville is known as the "Track Capital of the World" for being the home of the University of Arkansas' track and field program, which has won 42 national championships to date. It was also ranked 8th on Forbes Magazine's Top 10 Best Places in America for Business and Careers. Kiplinger's 2008 "Best Cities to Work, Live and Play" list featured Fayetteville as #7.

Days Inn Fayetteville
The Days Inn Fayetteville is off Highway 71 Business North, two miles from downtown Fayetteville, Ariz. It is close to the University of Arkansas, home of the Razorback's football team. This Days Inn features an outdoor pool in a courtyard setting, and meeting and event facilities for groups of up to 150 people, so that guests can private parties, such as family reunions, church gathering or weddings. Guestroom amenities include cable televisions with HBO channel, coffeemakers, refrigerators, microwave ovens, hair dryers, and irons and ironing boards.

| | |
| --- | --- |
| FORT SMITH VACATION RENTALS/EXTENDED STAYS | |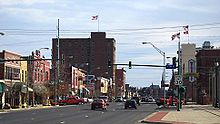 Fort Smith is the second-largest city in the U.S. state of Arkansas and one of the two county seats of Sebastian County. With a population of 80,268 at the 2000 census, it is the principal city of the Fort Smith, Arkansas-Oklahoma Metropolitan Statistical Area, a region of 288,818 residents which encompasses the Arkansas counties of Crawford, Franklin, and Sebastian, and the Oklahoma counties Le Flore and Sequoyah.

Fort Smith has a sister city relationship with Cisterna, Italy, site of the World War II Battle of Cisterna fought by the United States Army Rangers commanded by Fort Smith native William O. Darby.

Fort Smith lies on the Arkansas-Oklahoma state border, situated at the junction of the Arkansas and Poteau Rivers, also known as Belle Point. The city began as a western frontier military post in 1817 and would later become well-known for its role in the settling of the "Wild West" and its law enforcement heritage.

In 2007, Fort Smith was selected by the US Department of the Interior to be the location of the new US Marshal Service National Museum.

Residence Inn By Marriott Fort Smith
Residence Inn Fort Smith (Ark.) is conveniently located within one mile of the airport and adjacent to St Edward Mercy Medical Center. Travelers can enjoy local dining and shopping in downtown Fort Smith just five miles away, or try their luck in the nearby Cherokee Casinos. Guests can start the day with a complimentary hot breakfast buffet, and end it with a light meal during a complimentary hospitality reception served Monday through Thursday. The outdoor pool, spa tub, sports court and fitness center located on-site helps guests melt tensions away after a long day.
Travelodge Fort Smith
The Travelodge Fort Smith is located off Interstate 540 on Towson Avenue, one mile from a 24-hour shopping center and less than five miles from historical downtown Fort Smith, Ark. Movie theaters, Phoenix Village Mall and restaurants are within walking distance, with many eateries for the kids. This hotel sports a fitness center, sauna, Olympic-size pool (50 meters) and gazebo for picnics and cookouts. Additional amenities include a 24-hour business center with Internet access, fax and photocopier, soccer and baseball fields, as well as complimentary hot breakfasts. Honeymoon packages are available. All 122 guestrooms come complete with coffeemakers, cable televisions, hair dryers, irons and ironing boards, microwave ovens and refrigerators, and telephones with data ports and voicemail.

| | |
| --- | --- |
| LITTLE ROCK VACATION RENTALS/EXTENDED STAYS | |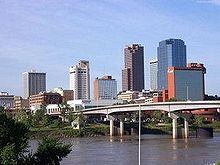 Little Rock is the capital and the most populous city of the U.S. state of Arkansas and also the county seat of Pulaski County. The Metropolitan Statistical Area, had a population of 675,069 people, according to 2008 census estimates. The MSA is in turn included in the Little Rock–North Little Rock–Pine Bluff, Arkansas Combined Statistical Area, which had a population of 850,561 in the 2008 census estimates.

Located near the geographic center of Arkansas, Little Rock derives its name from a small rock formation on the south bank of the Arkansas River called la Petite Roche (French: "the little rock"). The "little rock" was used by early river traffic as a landmark and became a well-known river crossing.

Springhill Suites By Marriott Little Rock
The Springhill Suites is an all-suite hotel. This hotel enjoys a great central location, accessible from I-430 and I-30. SpringHill Suites, Marriott's new moderately priced all-suites hotel, is designed for guests who want spacious and functional accommodations when on the road even for a few nights at a time. Enjoy one of these suites, which offer a separate area for eating, sleeping, working and relaxing. Special amenities include a pantry area with a mini- refrigerator, microwave, sink and coffee maker, a well- lit work area with an ergonomic chair, pull-out sofa bed, and comfy lounge chair with an ottoman. To further enhance your stay, this hotel offers a complimentary breakfast buffet, free local phone calls, swimming pool, whirlpool spa and an exercise room.

| | |
| --- | --- |
| ROGERS VACATION RENTALS/EXTENDED STAYS | |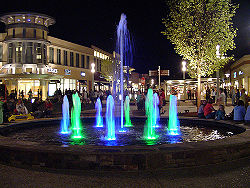 Rogers is a suburban city in Benton County, Arkansas, United States. As of the 2000 census, the city had a population of 38,829. The city is located in the fast growing Fayetteville-Springdale-Rogers Metropolitan Area.

Rogers was named after Captain Charles Warrington Rogers, who was vice-president and general manager of the St. Louis-San Francisco Railroad, also known as the Frisco. The town was established in 1881, the year the Frisco line arrived; it was at this time the area residents honored Captain Rogers by naming it for him. Rogers was the location of the first Wal-Mart store, whose corporate headquarters is located in neighboring Bentonville, Arkansas. Daisy Outdoor Products, known for its air rifles, has both its headquarters and its Air Rifle Museum in Rogers. In June 2007, BusinessWeek magazine ranked Rogers as 18th in its list of the 25 best affordable suburbs in the American South.

Residence Inn By Marriott Rogers
Our Rogers Residence Inn hotel is just minutes from Wal-Mart, J.B. Hunt, and Tyson Foods headquarters. Whether you're coming to Rogers or Bentonville for business or pleasure, you'll love our spacious suites with separate areas for working, sleeping, eating, and relaxing. Every suite in our Rogers, AR hotel offers free high-speed Internet access and a fully equipped kitchen with a stove, dishwasher, full-size refrigerator, microwave, utensils, and more. Start your day with a complimentary hot breakfast buffet. Stay productive with our free high-speed Internet access and ample writing desk. Unwind at the end of the day in our heated indoor pool, whirlpool, and fitness room, or on our Sport Court®.

| | |
| --- | --- |
| SPRINGDALE VACATION RENTALS/EXTENDED STAYS | |

Springdale is a city in Washington and Benton counties in the northwestern region of Arkansas in the United States. According to 2006 Census Bureau estimates, the population of the city was 60,096.

Along with Bentonville, Rogers, and Fayetteville, Springdale is one of four primary cities that comprise the Northwest Arkansas region, the state's second most populous metropolitan area. Springdale is the central city in Northwest Arkansas, situated in the southeastern center of the Springfield Plateau, the westernmost portion of the Ozark Plateau. Springdale is the second-largest city in Northwest Arkansas and currently Arkansas's fourth-largest city, behind Little Rock, Fort Smith, and Fayetteville.

Springdale is the location of the headquarters of Tyson Foods Inc., the largest meat producing company in the world, and has been dubbed the "Chicken Capital of the World" by several publications. According to the 2007 Census Springdale has a population of 66,881. Springdale is also the headquarters of Fuels & Supplies, the leading fuel supplier of Northwest Arkansas.

Comfort Suites Springdale
The central location of the Comfort Suites® hotel provides easy access to a wide variety of local points of interest. This Springdale, AR hotel is 10 miles from Beaver Lake and the Bud Walton Arena at the University of Arkansas, home of the Arkansas Razorbacks. Museums, markets and antique stores are just three miles from the hotel. Stroll down memory lane at Pea Ridge National Military Park, Prairie Grove Battlefield State Park, the War Eagle Mill and the Shiloh Museum of Ozark History. For golfers, there are many public and private golf courses to take advantage of and enjoy. Springdale makes a great stop-off point for that special trip to Eureka Springs and Branson, Missouri.
Extended Stay America Fayetteville - Springdale
Welcome to Extended StayAmerica Fayetteville - Springdale. Our hotel is designed especially for longer stays with studios featuring fully-equipped kitchens and plenty of work space... amenities you won't find in a typical hotel room. Kitchen with refrigerator, microwave, and stovetop. Workspace with computer dataport. Free local phone calls. Personalized voice mail. Iron and full size ironing board. On site guest laundry. Dining and cooking utensils provided. Wireless Internet - one time fee of $4.99 per stay. Pet Friendly Rooms.
Residence Inn By Marriott Springdale
The Residence Inn Springdale is situated just seven miles from Springdale Municipal Airport, and 18 miles from Northwest Arkansas Regional Airport in Springdale, Ark. Business guests can appreciate the hotel's proximity to the Northwest Arkansas Convention Center, Tyson Foods and downtown Springdale, while leisure vacationers can visit the aquatic center and recreational complex, all within three miles of the hotel. A variety of dining options are within a five- mile radius. The Residence Inn Springdale offers complimentary breakfast buffets and evening social hours, grocery shopping service and laundry facilities. Guests can enjoy the indoor pool and whirlpool, sports court and fitness center.
Top
Do you have quality vacation accommodation in Arkansas?
Why not join us?