Saxony Travel Information
The Free State of Saxony (German: Freistaat Sachsen, Upper Sorbian: Swobodny Stat Sakska) is the easternmost federal state of Germany.
Located in the country's southeast, it is the tenth-largest in area and sixth-largest in population among Germany's sixteen states, and has a land area of 18,413 km² and a population of 4.3 million.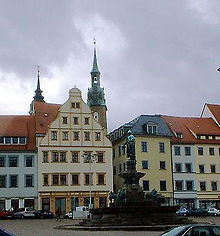 Saxony has a long history as a duchy, an electorate of the Holy Roman Empire (the Electorate of Saxony), and eventually as a kingdom (the Kingdom of Saxony). Its monarchy was overthrown in 1918 and a republican form of government was established under its current name subsequent to Germany's defeat in World War I. Abolished during communist rule, it was re-established at 3 October 1990 during the re-unification of East and West Germany.
During the early Middle Ages the term Saxony referred to the region occupied by today's states of Lower Saxony and northern North Rhine-Westphalia. The Saxons had migrated there from the area of present-day Schleswig-Holstein between 250 and 500.
Apart from Dresden and perhaps Leipzig international tourism is not well developed in Saxony, but some regions and cities are national, and potentially international touristic targets. Some attractive regions are the ones shared with Czech Republic, including the Lusatian Mountains, Ore Mountains, Saxon Switzerland, and Vogtland. In Germany Saxony offers an above-average number of very well preserved historic little towns, for example Meißen, Freiberg, Pirna, Bautzen, Görlitz and others; thus tourism from within Germany is important for Saxony.