Germany Travel Guide
Ruegen (German: Rügen) or Rugia is Germany's largest island.
Ruegen Featured Hotels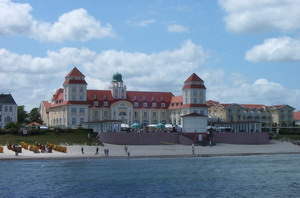 It is located in the Baltic Sea off the coast of Mecklenburg-Vorpommern. Rügen makes up the vast part of the Rügen District, which also includes the neighboring islands Hiddensee and Ummanz, as well as several small islands. Rügen is located in one of the most popular holiday and recreation areas within Germany, comprising such seaside resorts as Binz and Sellin and has more tourists per resident than any other location in Germany.
Rügen is located in northeastern Germany in the Baltic Sea and its shape is distinguished by many smaller peninsulas. The Rügendamm bridge, which connects the island by road and rail with the city of Stralsund on the mainland, crosses over the Strelasund. There are also ferry connections from Stralsund, Greifswald and Wolgast.
The climate is in the temperate zone. The winters are not particularly cold with mean temperatures in January and February of 0.0 °C and the summers are cool with mean temperature in August 16.3 °C. There is average rainfall of 520-560 mm and approximately 1800-1870 hours of sunshine annually.
Two of Germany's national parks are on the Isle of Rügen: Vorpommern Lagoon Area National Park in the west (also including Hiddensee) and Jasmund National Park, a smaller park including the famous chalk cliffs (Königsstuhl). There is also nature reserve, Southeast Rügen Biosphere Reserve, consisting of the peninsulas in the southeast.
Rügen is one of the most requested holiday destinations in Germany. The island has many popular seaside resorts along the eastern coast, such as Binz, as well as quieter locations in the west. Several of the holiday resorts are accessible via a historic narrow gauge railway employing steam locomotives, called Rügensche Kleinbahn. Tourists come both to enjoy the beaches and to explore the island's diverse landscape.
The most popular locations are Binz, Sellin, Sassnitz and Bergen auf Rügen as well as Cape Arkona.
read more