Search this site





| | |
| --- | --- |
| GERMANY TRAVEL INFORMATION | |

Germany Travel Guide
Göttingen is a city in the southernmost part of the German state of Lower Saxony, bordering Hesse and Thuringia.
Göttingen Featured Hotels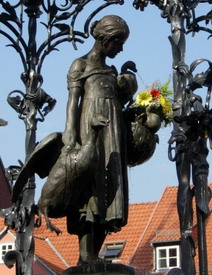 The population of Göttingen in 2004 was 129,446, of which around 30,000 are students. It is best known for being the home of the Georg-August-Universität Göttingen, as well as the site where the prestigious Max Planck Society (a German organization for scientific research) was founded in 1948. The Max Planck Institutes for Dynamics and Self-Organization, for Experimental Medicine, for Biophysical Chemistry, and for History are all located in Göttingen. 44 Nobel Prize winners have studied or taught in the city, and these and other notable former Göttingen residents are commemorated by white plaques on many buildings throughout the town. Its nickname is therefore the Stadt der Wissenschaft (City of Science). Today, Göttingen is a charming university town, off the radar screen for most English-speaking tourists but well worth a visit.
Attractions & Things to do:
Altes Rathaus (town hall), Marktplatz. Built 1369-1444, the Altes Rathaus was the town hall until 1978, and it now houses the Tourist Office. The coats of arms of other members of the Hanseatic League are painted on the walls.
Gänseliesel (goose girl), Marktplatz. This fountain outside the Altes Rathaus is Göttingen's most famous figure. She is known as the "most kissed girl in the world" since she is kissed by every local student who receives a Ph.D. (after being dressed up with a silly graduation hat and wheeled to the statue in a handcart).
Churches. Four of Göttingen's churches can be seen from the metal "Vier Kirchenblick" (four churches view) in front of the Altes Rathaus (James's, John's, Alban's, and Michael's). Mary's is also worth a peek inside.

Jacobikirche (St. James's Church), Jacobikirchhof and Weender Str. Built 1361-1461, St. James's has the most interesting interior of Göttingen's churches, with fascinating original paintwork (not unlike that of a barbershop) and modern stained-glass windows. The Ott organ is also impressive. It is sometimes possible to climb the tower, although the last set of stairs to the view may be blocked off -- ask before paying a euro.
Johanniskirche (St. John's Church), Johanniskirchhof. Originally built around 1200, St. John's is the oldest of Göttingen's churches, although it was mostly rebuilt in the 14th century (the north-side doorway dates from 1245). The interior is plain, although one of the two towers can sometimes be climbed.
Albanikirche (St. Alban's Church), Albanikirchhof. Built 1423-1467, St. Alban's stands on the site of an earlier mission chapel. Hans von Geismar painted the altarpiece in 1499, and he added himself to the scene of Mary's death as the 13th apostle.
St. Michael Kirche (St. Michael's Church), Kurze Str. Built 1787-1789, St. Michael's was Göttingen's first Catholic church after the Reformation.
Nikolaikirche (St. Nicholas's Church), Nikolaistr. An English Catholic mass is held here every second Friday at 7 pm. The area around the church is also used for flea markets on weekend mornings in the summer.
Marienkirche (St. Mary's Church), Neustadt and Groner-Tor-Str. The church bell tower used to be the gate into the neighboring city Neustadt (new city), which Göttingen bought in 1319. St. Mary's is probably older than that; it was formerly the church of the Teutonic Knights. The altar triptych was carved by Bertold Kastrop in 1524.

Georg-August University. The university is actually spread out in many sections around the city, though you see a couple of its buildings (the Auditorium and Aula) on the self-guided tour. Former staff and students include Gauss, Riemann, Dirac, Bismarck, Oppenheimer, Born, Hilbert, Teller, and Weyl.
Botanical Gardens, access behind the Auditorium at Weender Str. and Nikolausberger Weg. These gardens, established in 1736, are well worth a visit for plant-lovers. The former city wall around the Altstadt (old city) is also a circular green area, popular with joggers. Gauss's grave is located on the southwest side.
Synagogue Memorial, Obere-Masch-Str. and Untere-Masch-Str. This memorial, designed by Corrado Cagli in 1973, stands on the site of a synagogue that was destroyed in 1938. The names of Göttingen's Jewish residents who were "murdered" during the "dark time" are listed below an abstraction of the Star of David.
Half-timbered houses. Since Göttingen was not bombed during WWII, it still has many original buildings. Particularly impressive are the 1549 Schrödersches House (Weender Str. 62), the 1497 house at Paulinerstr. 6, the 15th century Junkernschänke (corner of Jüdenstr. and Barfüßerstr.), the 1536 house on Barfüßerstr. (between Jüdenstr. and Weender Str.), and the 16th century house at Groner-Tor-Str. 28, which was only recently revealed beneath a thick layer of plaster. (Half-timbering was regarded as unfashionable from the Baroque era into the 20th century, and many beautiful old buildings have only recently been discovered.)
top / Göttingen Featured Hotels

| | |
| --- | --- |
| GÖTTINGEN FEATURED HOTELS, LOWER SAXONY, GERMANY | |

Göttingen hotel search
Intercity Hotel Göttingen
Offering a friendly atmosphere and comfortable accommodation, this attractive property is the right choice of accommodation, while visiting Göttingen. Located in the heart of the traditional University city, the InterCityHotel is close to the main station. This property boasts modern guestrooms that are equipped with all the essential amenities to ensure you utmost ease and luxury. The onsite restaurant serves delicious dishes for you to enjoy. After a tiring day, you can unwind at the cosy bar. This hotel offers 12 well-equipped meeting rooms that can accommodate up to 250 guests for organising various important events. During leisure, you can also pamper your senses at the sauna or relax at the solarium.
NH Hotel Göttingen
Blending utmost comfort and cosy atmosphere, this property is an ideal place for a splendid vacation. Situated close to the motorway, the NH Hotel Göttingen is just 2 kilometres from the city centre. The property offers warmly decorated guestrooms, which provides its guests with modern and comfortable amenities. You can start your day with a scrumptious breakfast served at the breakfast room. The on-site restaurant serves delicious cuisine for you to feast on. You can relax at the cafe with snacks and beverages as well a sip on various drinks at the cosy bar.
Victor's Residenz Hotel Teistungenburg near Göttingen
This Teistungen hotel is located in the historical district. Recreational amenities include an outdoor pool, an indoor pool, a children's pool, a spa tub, and a sauna. The property's full-service health spa has massage/treatment rooms. Complimentary wireless Internet access is available in public areas. This Teistungen property has event space consisting of conference/meeting rooms and small meeting rooms. Guest parking is complimentary. Wedding services and tour/ticket assistance are available. Additional property amenities include a concierge desk, barbecue grills, and gift shops/newsstands. The property has designated areas for smoking.
Continue browsing hotels in the area surrounding Göttingen, Germany