Search this site





| | |
| --- | --- |
| GERMANY TRAVEL INFORMATION | |

Germany Travel Guide
Erfurt is small but it's the largest city and capital of Thuringia (Thüringen).
It was an important trading town during the Middle Age, thus has many old and beautiful buildings and parks. A city rich of culture and center of happenings in Thuringia, complemented by near-by Weimar.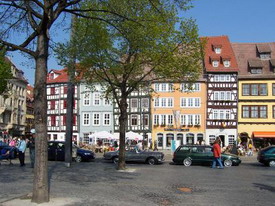 Travel in Erfurt is very easy as the city centre is quite compact so walking is quite often the best way to explore the city.
Regular tram services run all around the city with service intervals of every 10 minutes for most of the day. At night the frequencies diminish and service stops around midnight on weekdays.
Attractions and things to do:
Dom (Cathedral) and Severi Kirche (Church) both overlooking the Domplatz (main market square, location of the Christmas market in December as well as fairs throughout the year).
Krämerbrücke (Bridge with medieval houses, most important Erfurt's landmark)
Fischmarkt with its Burgerhouses and town hall.
Augustinerkloster (monastery where Martin Luther lived), the main gate of the old university (third oldest German university, shut down in the 19th century and reopened in 1992)
Anger (main square full of stores) with the old Post Office building.
Much of Erfurt's charm is found in its narrow streets, many pedestrianized now, with old beautiful old houses, its green areas and little bridges across the Gera river and both the Stadtpark and the Nordpark on either side of the city center.

top / Erfurt Featured Hotels

| | |
| --- | --- |
| ERFURT FEATURED HOTELS, THURINGEN, GERMANY | |

Erfurt hotel search
InterCityHotel Erfurt
Blended with quality service and convenience, the InterCityHotel Erfurt is a perfect choice for business and leisure patrons. Located next to the train station, this hotel is within in 2 minutes reach to the amazingly unspoilt historical town centre. The InterCityHotel features 160 cosy and well-decorated guestrooms that offer all the modern amenities for your comfort and luxury. The onsite restaurant serves tasty national and international dishes for you to savour in excellent settings. You can also sip a fine drink at the hotel's bar and round off your day. Business travellers can avail the facilities of the 5 well-equipped meeting rooms that are ideal to host any event. At leisure, you can visit the city's best attractions or explore the surroundings.
Park Inn Erfurt-Apfelstaedt
Offering splendid views of the 3 medieval castles, Drei Gleichen, this beautiful property is placed close to the well-known Thuringian forest, Gotha, Eisenach, Weimar and many other interesting places in the surrounding. This inn features a choice of exclusive accommodation units that offer a peaceful and productive environment for working and unwinding. This excellent inn offers comfortable restaurant where guests can choose a wide range of delicious dishes to have a wonderful dining experience. The cosy bar is the perfect setting for you to relax with some snacks and sparkling drinks at the end of the day.
Radisson Blu Hotel Erfurt
The hotel is located in Erfurt, the geographical centre of Germany and is situated close to a variety of restaurants and cafes. Radisson Blu Hotel Erfurt has 282 rooms that offer an array of amenities, comfortable setting and a fantastic view of the city thus ensuring you to have a lovely stay. Bistro and restaurant Classico with its lounge and bar area offers light Mediterranean cuisine as well as a wide range of international cocktails for the you to savour. The hotel's wellness centre provides guests with an ideal opportunity for relaxation. Guests can pamper themselves at the beauty and massage salon or workout at the fitness centre.
Continue browsing Erfurt hotels