Sauerland Travel Information
The Sauerland is a rural, hilly area spreading across most of the south-eastern part of North Rhine-Westphalia, in parts heavily forested and, apart from the major valleys, sparsely inhabited.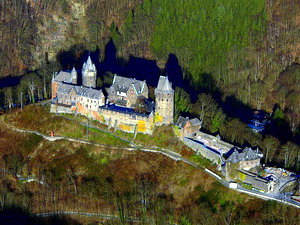 It has been chosen as the first place in Germany where the Wisent or European bison will be reintroduced mainly because of its large forests, and to help boost the tourism industry by attracting visitors to the region.

To the west the hills continue into the Bergisches Land, to the south into the Siegerland, and to the north-east into the Teutoburg Forest. The major rivers of the Sauerland are the Ruhr and the Lenne. Several artificial lakes were created on the smaller rivers by building dams to store water for the nearby Ruhr area, the biggest reservoirs being the Möhne and Bigge. Although the highest elevation of the Sauerland is the Langenberg (843 m) near Olsberg, the much more renowned summit, which is well-known for the nearby skiing facilities, its weather station and observation tower, is the slightly lower Kahler Asten (842 m) near Winterberg. Both Langenberg and Kahler Asten are parts of the Rothaargebirge.

The largest town of the Sauerland is Iserlohn followed by Lüdenscheid and Arnsberg. One of the biggest prehistorical caves of Europe is situated in Balve; the largest accessible limestone cave ouside the Alps is in Attendorn.

Meschede is the home of an abbey.