Search this site
Copyright © All World Vacation Station



| | |
| --- | --- |
| FLORIDA TRAVEL GUIDE - UNITED STATES OF AMERICA | |

An Exhilarating Adventure Vacation in Daytona Beach
Discover the Florida Frontier for an Authentic Cowboy Experience
Enjoying Charter Fishing in Florida
Florida Golf Vacations
Vacationing in Clearwater
Visit to Kennedy Space Center, See a Space Shuttle Launch
Want to See a Space Shuttle Launch - Better Hurry, Only Five Missions to Go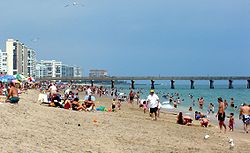 Deerfield Beach is a city in Broward County, Florida, USA. The city is named for the numerous deer that once roamed the area.
The Deerfield Beach Arboretum, also known as the Tree Zoo, is an arboretum and botanical garden located at 2841 West Hillsboro Boulevard, Deerfield Beach, Florida, USA. It covers 9 acres (3.6 ha). The Arboretum contains more than 200 different species of trees and palms from around the world, with more than 50 different species of flowering trees.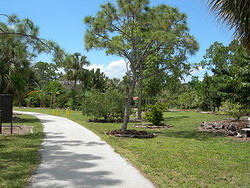 The Arboretum was founded by Zeke Landis in 1995 with a selection of 22 trees and palms, and has since grown to 325 species (excluding native) of palms, tropical fruit trees, exotic flowering and canopy trees, bamboos, and miscellaneous exotic trees.
Arboretum areas currently include: Bamboo, Butterfly garden, Children's Garden, Exotic canopy trees, Flowering trees, Native canopy trees, Orchid Display, Palm trees, Spice and Herb Garden, Tropical fruit trees, and a Wetlands demonstration area.

| | |
| --- | --- |
| DEERFIELD BEACH HOTELS, FLORIDA, USA | |
Search for more hotels in Deerfield Beach Fl. & surrounding areas
Best Western Deerfield Beach Hotel & Suites
The Best Western Deerfield Beach (Fla.) Hotel and Suites enjoys a convenient location, with beaches just 3 miles away. Additionally, the Festival Flea Market is 3 miles away, Butterfly World is 4 miles away and downtown Fort Lauderdale is 13 miles away. This hotel is located 21 miles from Fort Lauderdale-Hollywood International Airport. The hotel offers guest laundry, a fitness center, a business center, complimentary parking and meeting facilities. Each morning, guests can enjoy a breakfast (for a surcharge) while reading a complimentary newspaper at on the courtyard veranda which overlooks a heated pool and spa tub. After a busy day, guests can relax and dine in the on-site restaurant that serves regional American and Italian-style cuisine.
Comfort Suites Deerfield Beach
The Comfort Suites® hotel is ideally located close to the Fort Lauderdale International Airport, West Palm Beach International Airport and Miami International Airport. The Deerfield Beach hotel is located near area attractions including the Broward County Convention Center, Port Everglades, Pompano Beach and South Beach. The hotel is strategically located just minutes from Fort Lauderdale, beaches and area attractions and within easy access to three major highways. World-class shopping is located in neighboring Boca Raton. A variety of restaurants are located in the surrounding area. Enjoy cocktail specials at the Newport Sports Bar and Grill, the on-site restaurant and lounge.
Comfort Inn Ocean Side Deerfield Beach
The Comfort Inn Ocean Side is located in Deerfield Beach, Fla., which is between Boca Raton and Fort Lauderdale. The hotel is within one block of Deerfield Beach and Deerfield International Pier, three miles from Mizner Park and within six miles of the Festival Flea Market. Fort Lauderdale International Airport is 22 miles away. Hotel amenities at the Comfort Inn Ocean Side include complimentary deluxe continental breakfasts, an exercise room, and a heated freshwater pool with a water slide tower. An on-site Subway restaurant and yogurt parlor serve sandwiches and snacks. This pet-friendly hotel also offers meeting space and complimentary high-speed Internet access.
Embassy Suites Deerfield Beach - Resort & Spa
The Embassy Suites Deerfield Beach Resort is a gorgeous hotel located on the beach, 18 miles from Fort Lauderdale Airport. Beautiful Deerfield Beach - a suburb of Fort Lauderdale, sits just south of exclusive Boca Raton. This property is unique among Embassy Suites because of its C-shaped design with an open courtyard facing a pristine and tranquil beach. The outdoor swimming pool is heated and it is open year 'round. As with all Embassy Suites, guests are offered a full, hot breakfast each morning, as well as complimentary beverages at the manager's reception, every evening.
Howard Johnson Ocean Resort - Deerfield Beach
The Howard Johnson Plaza Resort is located on the ocean in Deerfield Beach, Fla., midway between Palm Beach and Fort Lauderdale, adjacent to Boca Raton. The property is surrounded by nightlife and excellent shopping. Guests can swim, snorkel, windsurf and scuba dive in the area. The bright and spacious guestrooms are beautifully appointed with a separate vanity area and balcony. The hotel offers live entertainment and two restaurants, Cafe Viggiano and Patio Bar and Grill.
La Quinta Inn Ft. Lauderdale Deerfield Beach
The La Quinta Inn is strategically located two miles from Boca Raton, two miles from the Deerfield Beaches, and is 22 miles from downtown Fort Lauderdale. The Hillsboro Beach is only three miles from the hotel and Pampano fashion Square is seven miles. Other attractions convenient to the hotel include Lake Okeechobee, Lion Country and Port Everglades, the cruise line boarding area. La Quinta offers guests a clean, comfortable room at a price that will allow you to enjoy the rest of your trip. Guests will appreciate the fresh, contemporary décor and comfortable standard and king rooms with thoughtful amenities. All of the rooms feature the modern amenities that guests have come to expect of a hotel of this quality.
The Holiday Park Hotel & Suites Deerfield Beach
Located in Deerfield Beach, Florida, this hotel is just off I-95 and 3 miles from the beach. Mizner Park and the Town Center at Boca Raton are 3.5 miles away. This two-story hotel wraps around a lushly landscaped courtyard with an outdoor splash pool. A small fitness center is also on site. Guests can start the day with a complimentary Continental breakfast. The on-site Donna's Diner serves American favorites. Air-conditioned guestrooms include cable TV with free premium channels. Rooms also offer coffee/tea makers, free local calls, and in-room safes. The Holiday Park Hotel & Suites permits pets (surcharge).
Browse the full list of hotels in Deerfield Beach Fl. & surrounding areas
Do you have quality vacation lodging in Florida?
Why not join us?