<!Master.com.content>

Vacation, Travel & Accommodation Guide
Global Travel & Lodging - Worldwide Holidays:
All World Vacation Station offers a choice of vacation venues all over the world including eco-tourism, hotels, bed & breakfasts, private vacation rental villas, apartments, condos and castles. Read interesting travel guides on each region in order to make an informed choice for your next holiday or vacation destination. Also browse our featured travel articles for valuable information to make an informed choice prior to travelling.

Where in the world do you want to go? Choose your destination using the menus above, or view our current featured destinations along with a few travel suggestions in our popular blog.



FEATURED DESTINATION: EUROPE - For a historic & fascinating vacation experience!

Travelling to England on a budget: Especially if you are living in crisis-torn Europe, holidays have become a budget-minded affair. You have to try your best to save a few euros along the way, but still have a great time. ... read more.
Balearic Islands, Spain - Majorca, the largest of the Balearic Islands, is so well-known as to be practically synonymous with sun, sea, sand and summer holidays. Spain is a great destination.... read more
Destination: Germany Winter is here and despite the weather, Berlin has an amazing amount of history and culture, shopping and dining experiences, plus of course that famous beer!.... read more

HOW ABOUT AFRICA? So many fascinating destinations to choose from for your next holiday ...

Visit the 'warm heart of Africa' in sunny Malawi!
Soak up the sun at Lake Malawi or take a cruise. The scenery is gorgeous and the people are really laid-back and friendly! read more
South Africa - Rainbow Nation
South Africa is quite literally a world in one country, with modern cities, beaches, winelands, deserts and game reserves to choose from! ... read more.
Namibia - fascinating desert environment
Situated between the Kalahari Desert and the South Atlantic Ocean, Namibia is known for its contrasting landscapes... read more

TRAVEL PLANNING FOR SPRING AND SUMMER 2015 ...



The benefits of accumulating Cruise Miles towards your next holiday
Everyone knows about air miles and how beneficial they can be when accumulated, giving access to free flights and other benefits, but did you know there is a similar scheme for those who prefer to take the more leisurely cruise option... read more

Planning for this summer's European river cruise
While it is still fairly chilly on the Costa del Sol in Spain, spring and summer are on the way and I really need to get down to planning my European river cruise. Prague has come to mind ... read more

Mijas – An essential stop on your Costa del Sol, Spain tour (Photo Essay)
Nestled up on the hillside above the seaside resorts of Fuengirola and Mijas Costa, whitewashed houses gleam in the sunlight, all the while gazing down on to the Mediterranean Sea below... read more

Have a grand adventure at Disneyland Paris
Disney fans can have a great time on a visit to Paris - located in Marne-la-Vallée, a town situated 20 miles east of the centre of the City of Light, Disneyland Paris is the most visited of all attractions in France, and indeed Europe... read more

The pleasures of cruising down the rivers of Europe
Planning ahead for spring and summer holidays while it is still winter normally brings to mind instantly scenes of sun, sand and sea. However, this year it's time to try something a little different.... read more

WINTER HOLIDAY SKI BREAKS ...



A Ski Holiday in Austria - The White Paradise
Ever experienced sliding on the ice with the skis on your feet? There must be a very exciting feeling running through your veins as you swish through the beautiful white velvety snow. Skiing is considered as a winter sport, but for me, it is an extension of one's personality and lifestyle. Austria offers an innumerable downhill and steep cross country tracks to accelerate the adventure that you are looking for.. read more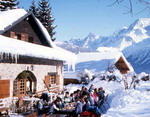 What Type of Accommodation Should I Choose on My Skiing Holiday?
With the power of online travel portals such as MountVacation, those perfect slopes are literally only a click away. Still, it is just as important to appreciate that you will also be presented with a number of options in terms of accommodation... read more

WORKING YOUR WAY AROUND THE WORLD...


The pleasures of working your way around the world
Have you ever wanted to just stop whatever you are doing, throw some clothes in a suitcase or backpack, and head off for endless travels around the world? Escape the madness and stress of the normal daily life and really live? This is something that most of us just dream about - I know I do... read more
Copyright © All World Vacation Station 2015/2016
Latest update: February 25, 2015