Visiting Delaware on Your Next Road Trip
Dog Friendly Rehoboth Beach Restaurants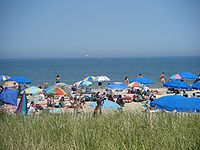 Rehoboth Beach is a city in Sussex County, Delaware, United States. It is part of the Seaford, Delaware Micropolitan Statistical Area. A popular regional vacation destination, Rehoboth Beach's seasonal population expands to over 25,000 within the city limits and thousands more in the surrounding area in the summer.
The town often bills itself as "The Nation's Summer Capital" due to the fact that it is a frequent summer vacation destination for Washington, D.C., residents as well as visitors from Maryland, Virginia, and Pennsylvania. Vacationers are drawn for many reasons, including the town's charm, artistic appeal, and nightlife.
Still famous for its beaches, wooden boardwalk, eclectic shops, amusements, and sporting activities, today's Rehoboth Beach is also known as one of the mid-Atlantic coast's popular gay and lesbian getaways because of the large number of gay-owned and operated businesses and because of the gay-frequented stretch of beach near Queen Street, known as Poodle Beach
Dog Friendly Rehoboth Beach Restaurants
Dog friendly restaurants in Rehoboth Beach, Delaware for those who can't bear to be separated.
Many Rehoboth Beach restaurants are sensitive to the needs of their patrons that own and travel with family dogs. Local establishments are seeing a need for support of this furry family member, and are creating opportunities for families to dine together away from home, or during travel time.
Resources are always increasing and restaurants are demonstrating compassion and interest man's best friend - or maybe woman's best friend - to join their families and friends. When thinking of where to eat in Rehoboth with furry friends, consider Hobos Restaurant and Bar, 56 Baltimore Avenue, 302-226-2226.
Hobos is open year round, and at the time of this writing, they will happily welcome your pets. It's best to call in advance, however, to double-check their guidelines. Sometimes things change, and we wouldn't want you and Fido to be turned away once you arrive.
Even though Hobos is the top dog-friendly list at the Rehoboth.com website, it's not the only doggie friendly spot. There are other restaurants providing dining accommodations for canines, including:
Arena's Deli & Bar, 149 Rehoboth Avenue/H 15, Dewey Beach
Eden, 23 Baltimore Avenue, Dewey Beach
Sharky's Grill, Hwy 1 and Read Street, Dewey Beach
The Gallery Espresso, 62 A Rehoboth Avenue, Rehoboth
Arena's Deli & Bar, 149 Rehoboth Avenue/H 15, Rehoboth Beach
Arena's Deli & Bar, 4113 H 1, Rehoboth Beach
Big Fish Grill, 4117 H 1, Rehoboth Beach
Dogfish Head Brewings & Eats, 320 Rehoboth Avenue, H 1/15, Rehoboth Beach
Hobo's Restaurant and Bar, 56 Baltimore Avenue, Rehoboth Beach
Rigby's Bar & Grill, 404 Rehoboth Avenue, H 1/15, Rehoboth Beach
Just dining with your furry friends is not enough to keep their health at its best. Remember to get them the exercise they need - and love. Keep in mind that dogs may not run free at any time. Leash laws are effectively enforced, and clean-up regulations also apply to pets on the beaches and boardwalks at all times. Dogs are allowed on the beaches at certain times during the year, and it's best to check the current local government regulations for scheduled dates before walking or running your pets after lunch or dinner at home or a Rehoboth Beach restaurant.
According to Dog Friendly an organization and website monitoring dog-friendly activities, eating establishments and sleeping accommodations for owners, "It is illegal for dogs to run at large at any time. The City has both a leash law and a pooper-scooper law which are enforced. Dogs are prohibited from the beach and boardwalk at all times from April 1 through October 31, but are allowed on the beach in Dewey Beach (just south of the RB Boardwalk) before 9:30am and after 5:30pm. They must still be on a leash and have a Dewey Beach Dog License. Dogs are allowed in the state parks."
If you need a place to stay with Fido by your side, there are also dog-friendly nighttime accommodations. Check out these local places before you arrive to ensure your needs will be met and that guidelines haven't changed for canine critters:
Atlantic Oceanside Hotel, 1700 Coastal, Dewey Beach
American Hotel, 329 Z Airport Road, Rehoboth
The Homestead at Rehoboth, 35060 Warrington Road, Rehoboth Beach
Whatever plans you make after your meal and visit, remember to plan in advance for your furry friends. Unfortunately, not all folks are as happy with wags and kisses as you and your family.
By Bill Bean