Search this site
Copyright © All World Vacation Station



| | |
| --- | --- |
| COLORADO TRAVEL GUIDE - UNITED STATES OF AMERICA | |


Winter Activities in Breckenridge Colorado
Aspen Colorado - A Travelers Guide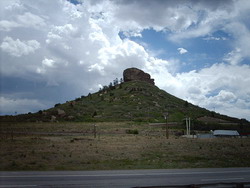 The Town of Castle Rock is a Home Rule Municipality that is the county seat of Douglas County, Colorado, United States. It is east of the Front Range of the Rocky Mountains at an elevation of 6,224 ft (1,897 m). The town is the center of the burgeoning urbanization of the county. Castle Rock is named after a prominent castle tower-shaped butte just north of the town, clearly visible from I-25. Public access is provided to climb to the top of the rock. Castle Rock is on East Plum Creek, a small stream which periodically floods. As of 2008, the city is estimated to have a total population of 44,369. Castle Rock is now the 17th most populous municipality in Colorado.
Castle Rock is within the Colorado Foothills Life Zone. Common landforms in Castle Rock consist of steep hillsides, cliffs, canyons, mesas, and plateaus. The castle-shaped butte that is the town's namesake sits near the town's center, immediately north of downtown. The hillsides are covered with large meadows of grass, small plants, scattered juniper trees and open ponderosa pine woodlands. Other prominent landforms visible from Castle Rock include Dawson Butte, Devils Head, Mount Evans and Pikes Peak.

| | |
| --- | --- |
| CASTLE ROCK, COLORADO, USA - HOTELS & LODGES | |

Search for more Castle Rock, Co hotels
Best Western Inn Suites Castle Rock
The Best Western Inn and Suites of Castle Rock is located 30 miles from Denver International Airport. An outstanding and inviting property, this hotel is the best place to call home while traveling on business or pleasure. The great number of amenities, facilities and extras this hotel features makes it an enjoyable place to stay. An overall atmosphere of peacefulness will delight guests when they check in, for this hotel is well attuned to the individual needs of all its visitors. In addition, area attractions and venues that guests will want to experience are within the vicinity, making it fun to get to know the area.
Comfort Suites Castle Rock
The Comfort Suites is located 48 miles from Denver International Airport. This hotel is also a comfortable driving distance from Colorado Springs Municipal Airport. Convenient to Prime Outlet Mall, horse back riding and golfing venues, the hotel is not far from Colorado Springs and Denver Zoo. The Comfort Suites provides an ideal home away from home for the business traveler and tourist. In addition to a fine location, the hotel offers impeccable accommodations and superb service. The guest accommodations are richly presented with careful attention to detail. Each guest room is thoughtfully equipped and features an array of modern amenities.
Castle Rock Days Inn & Suites
At the Days Inn and Suites Castle Rock, you'll get more than a good night's sleep - you'll get great service and unbeatable accommodations. This is one of the newer and better hotels in the area, with better amenities than many comparable or more expensive area hotels. The Days Inn is conveniently located just walking distance from Castle Rock Factory Outlet Mall and right next to IHOP (International House of Pancakes). There are many other restaurants located nearby including the Rockyard Brewery and the Days Inn is just a few minutes from many golf courses including Castle Pine Golf Course.

Super 8 Castle Rock Co
The Super 8 Castle Rock is located in Castle Rock, Colo., one mile from Castle Rock Museum. The hotel is two miles from shopping at Castle Rock Outlet Mall. The Super 8 Castle Rock serves complimentary continental breakfasts. The hotel does not include a restaurant but area restaurants are nearby. The 60 guestrooms at the Super 8 Castle Rock are equipped with cable televisions. Some guestrooms include microwave ovens. Pets are allowed to accompany guests at this Colorado hotel.
Browse the full list of Castle Rock, Co hotels and surrounding areas
Do you have quality vacation lodging in Colorado?
Why not Join Us?