Search this site

Copyright © All World Vacation Station




Featured Puerto Varas Hotels

Chile Travel: Visiting the Lake District from Puerto Varas by Hortense Soulier
Featured Puerto Varas Hotels
One of the highlights of any trip to Chile, the Lake District is made of wonderful landscapes of shimmering lakes, pristine forest and imposing peaks. The capital of the "Los Lagos" region, Puerto Montt, may not seem like it has much to offer with its chaotic streets and far from beautiful architecture. The city rapidly developed following a salmon fishing boom and the increase in tourism to the region, but without any kind of urban planning involved. However, it boasts excellent tourism infrastructure and is the perfect launching point for expeditions into the stunning Lake District.


Travelers looking for a more peaceful destination can stay in Puerto Varas, a small residential town located on the outskirts of Puerto Montt and which is home to many excellent, comfortable hotels, as well as good restaurants. Situated right on the shore of the striking Lago Llanquihue, Puerto Varas is a great base for tours on and around the lake, and is a charming fishing village which has managed to retain its picturesque charm even as tourism grew.

Puerto Varas is also the gateway to the Parque Nacional Vincente Perez Rosales, a beautiful national reserve protecting the entire area, and home to several beautiful lakes of various sizes. Between the hustle and bustle of Puerto Montt, and the wealthy crowds of Pucon, a nearby lake town, Puerto Varas offers a great alternative to visit the region.

Within the park, the eastern slopes of the awe-inspiring Osorno volcano provide for an excellent day-trip. You can travel to Ensenada, a tiny village located right at the foot of the volcano. With a few lodging and dining options, this is a great base for those who wish to get away from it all and enjoy a full nature experience.


Buy This Allposters.com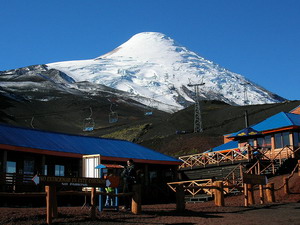 Most accommodations are equipped with their own kitchen and provide stunning lake views, perfect for independent travelers who just want to enjoy nature at its best and stray away from the regular crowds of tourists.

Puerto Varas itself is a pleasant town which can easily be explored on foot. Settled by the German around 1910-1940, it features many wooden buildings directly inspired by early 20th century German architecture, which makes for a nice, old-fashioned atmosphere. At least 8 former settlers' mansions have been declared national monuments and deserve a visit. You'll find some of these beautiful colonial homes on Purisima street: Gastof Haus, Casa Yunge, Casa Horn, Casa Opitz, and Casa Maldonado. A few of them have been turned into hotels.
About the Author: This guide to visiting Chile's Lake District was written by a Chile travel expert at Chile For Less available to help you design your customized Chile vacations.

| | |
| --- | --- |
| FEATURED HOTELS IN PUERTO VARAS, CHILE | |

Search for Puerto Varas Hotels
Borde Lago Hotel, Puerto Varas
Borde Lago Hotel with its cozy atmosphere and surrounded by the very nature of southern Chile, has an excellent location with spectacular views of Lake Llanquihue and Osorno and Calbuco. Located only 4 km. from the center of the city. Our hotel has heated pool, saloon and pool water activities such as passes on Kayak, the privileged setting allows many and varied activities such as horseback riding, canopy, boat passes, Sky Winter Visits to the Falls of Petrohue. Restaurant Flores y Leñerohas a wide selection of products, Meat, Seafood, who delight in a cozy atmosphere and a beautiful view of Lake Llanquihue.
Cabana del Lago Hotel, Puerto Varas
Standing on the high slopes of Puerto Varas, the Hotel Cabaña del Lago is renowned for its top quality service, completely devoted to satisfying every guest. This concept can be felt in every corner of the hotel, as well as in the exquisite cuisine. With an amazing view of the bay, surrounding volcanoes, the lake, green hills and the city, the Mirador del Lago Restaurant truly stands on an exclusive location within the area's breathtaking surroundings. The hotel's Tronador Bar constantly offers new and refreshing environments with privileged surroundings.
Hotel Solace, Puerto Varas
Hotel Solace is a new type of hotel in Puerto Varas, in the South of Chile, close to the Llanquihue Lake, and in front of imposing Osorno Volcano. Of modern style, designed, constructed and equipped in agreement with more demanding standards in criteria of efficiency, quality, attention and service, to satisfy the diverse needs with the travellers, in a total atmosphere of warmth and comfort. Designed for those who are looking for something different, Solace makes this city and its surrounding areas, a unique tourist destination, a special and unforgettable place. The outward appearance was specially designed to recreate the local architectural style, typical of the area.
Patagonico Puerto Varas
The hotel is strategically located on the shore of Lake Llanquihue and offers a privileged view of the Osorno Volcano. Each room features state-of-the-art technology and is decorated with natural, hand-crafted materials. Spa Kalül was designed to promote the wellbeing, relaxation and health of our guests and visitors. It features a heated pool, gymnasium, sauna (both steam and dry), Jacuzzi and massage room. The gymnasium is equipped with numerous machines for both aerobic exercise and muscle development. Decorated with exposed native wood, leather and fine-textured fabrics, our lakefront restaurant specializes in "cocina chilena", which celebrates the flavors of products found specifically in Chilean Patagonia.
End of recommendations - continue browsing hotels & resorts in Puerto Varas