Search this site

Financial District, San Francisco, California, USA
Buy at AllPosters.com

Sunset on the Big Sur Coastline, California, USA
Buy at AllPosters.com

Financial District, San Francisco, California, USA
Buy at AllPosters.com

Copyright © All World Vacation Station



| | |
| --- | --- |
| CALIFORNIA TRAVEL GUIDE - UNITED STATES OF AMERICA | |



| | |
| --- | --- |
| VACATION RENTALS IN CALIFORNIA, USA | |

| | |
| --- | --- |
| BIG BEAR LAKE VACATION RENTALS - CALIFORNIA, USA | |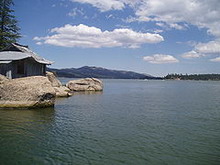 Big Bear Lake is a reservoir in the San Bernardino Mountains in San Bernardino County, California, United States. At a surface elevation of 6,750 ft, it has an east-west length of approximately 7 miles (11.2 km) and is approximately 2.5 miles (4 km) at its widest measurement, though the lake's width mostly averages a little more than 1 mile (1.6 km). These approximations are based on the lake having an optimum retainable water level. At dam's end Big Bear measures its deepest water at 72 feet (22 m). It is a completely snow-fed lake having no other means of tributary or mechanical replenishment.

Big Bear Lake provides an attractive setting for many outdoor activities, including fishing (trout, bluegill, crappie, catfish and largemouth bass), pleasure boating, and water skiing. Because of the very cold water and the presence of underwater obstacles near the shorelines, swimming is discouraged. The lake is patrolled by the BBMWD Lake Patrol.

Many lakeside residents have private docks, and visiting boaters obtain mooring in several of the marinas found on both shores. Big Bear Municipal Water District (a special district of the State of California) provides public launches on the east end and west end of North Shore. Local marinas rent various sport and pleasure boats, and parasailing is available.

Big Bear Frontier, Big Bear Lake
A beautiful lake front resort that offers a true mountain vacation experience. You'll have easy access to the ski slopes as well as the restaurants and shopping in the village to make your vacation more enjoyable. All of the cabins feature their own unique decor, a fully equipped kitchen, fireplace, and a balcony/patio with views of big bear frontier. Other conveniences include cable TV, direct dial telephone, alarm clock radio, and hair dryer.
Big Bear Condos, Big Bear Lake
Escape to the mountains of San Bernadino and enjoy the peaceful sanctuary of Big Bear. Almost 7,000 feet above sea level, this destination provides lots of sunshine, clear air and pristine views. Get the best of both worlds as you enjoy nature's gifts as well as modern amenities.
Fireside Lodge, Big Bear Lake
The Fireside Lodge is centrally located within walking distance from the shops, restaurants, and theaters of the village as well as the two major marinas on Big Bear Lake. With all the warmth of a Bed and Breakfast, the Lodge offers modern conveniences such as multiple bathroom and kitchens with microwaves. Motel rooms and Chalets are perfect for that weekend getaway and offer a cozy, comfortable setting.
Fireside Lodge opened its doors December, 1946. In 1992, it was completely rebuilt after the earthquake in Big Bear. It now has grown to 32 units. Motel rooms, one and two bedroom suites, and spa suites replaced the original architecture.

| | |
| --- | --- |
| CARLSBAD VACATION RENTALS / EXTENDED STAYS, - CALIFORNIA, USA | |

Carlsbad is a coastal resort city located in the North County San Diego section of Southern California. The 2009 population was estimated by the California Department of Finance to be 104,652. Carlsbad was incorporated in 1952, in large part to generate sufficient funding to connect with the water pipeline running through San Diego County, but also to avoid being annexed by Oceanside. It is one of the highest-income places in the United States.

The city has drafted ordinances protecting sensitive wildlife habitat, becoming one of the first municipalities in the State of California to do so. The city has also pledged to protect a specified amount of land within the city limits from development of any kind and spends significant funds to restore habitats destroyed by newer development projects.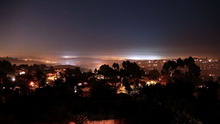 Carlsbad is located between the major cities of San Diego and Los Angeles. Its coastal location, scenic beauty, low population density, thriving commercial sector, abundance of upscale housing, and high performing school districts have made Carlsbad one of the most expensive housing markets in the United States.
Carlsbad Village, or downtown Carlsbad, is generally located along Carlsbad Village Drive (formerly "Elm Avenue", the 1991 name-change prompting local consternation, a "Locals Call it Elm" bumper-sticker campaign, and later license plate holders reading "Locals Still Call it Elm".) east of Carlsbad Boulevard (also Pacific Coast Highway or U.S. Route 101) and west of Interstate 5. It is currently in a process of ongoing redevelopment, and features many specialty shops, clothing stores, and restaurants. Regular events in the village, which include a farmers market held every Saturday and Wednesday from 1-5pm (see External Link below), an Annual Art Street Faire ~ "Art in the Village" the second Sunday in August from 9am - 5pm and a marathon, draw many people from throughout the region to downtown Carlsbad. The Carlsbad Chamber of Commerce also host a bi-annual street fair, called the Carlsbad Village Street Faire, of the first Sunday in May and November. The Village Street Faire is the largest single day street faire in North America with almost 1,000 vendors and well over 120,000 people in attendance.
The Barrio was the first Carlsbad neighborhood, built in the 1920s. It is densely populated by Latinos and is the site of the city's Centro de Información, a Spanish division of the Carlsbad City Library.
Olde Carlsbad refers to the area south of the Buena Vista Lagoon, west of El Camino Real and north of Cannon Road. These were the original boundaries of the city of Carlsbad. The area features many historic buildings. It is perhaps the most socioeconomically diverse section of the city, where homes range from enormous mansions to modest, one story homes. Architectural styles in the area vary widely as well. A number of elementary schools are located within the area, as well as Carlsbad High School and the current site of Carlsbad Seaside Academy, Magnolia Elementary School. Carlsbad's only historic museum, the Magee House, is located in this area, and it is the home of the Carlsbad Historical Society.

Carlsbad Seapointe Resort
unbelievable location for a San Diego vacation. These Carlsbad vacation rentals sit along some of the most beautiful beaches in Southern California, and are within easy driving distance of LEGOLAND California, SeaWorld, the San Diego Zoo and the Wild Animal Park. After a day of sightseeing or enjoying the sand and surf, relax in your own one- or two-bedroom designer-decorated condo. With an average of 800-square-feet of space, beautiful balcony views, and a romantic fireplace, you can unwind to the sound of the ocean. When quiet time is over, our Carlsbad, California, beach vacation homes offer swimming pools and a spa, plus basketball, volleyball and tennis courts.
Extended Stay America San Diego-Carlsbad
Extended Stay America San Diego-Carlsbad is designed specifically for people who need more than just a room while away from home. In addition to the comfortable recliner and large work desk, the oversized studio suites feature a kitchen that allows you to prepare meals at your convenience. As a guest of Extended Stay America- you receive complementary movie channels/ free local phone calls/ voice-mail and a two-line phone with a computer dataport.
Grand Pacific Palisades Resort Condos Carlsbad
North of San Diego and south of Anaheim, this resort is situated near Carlsbad on 12.2 landscaped acres overlooking the Pacific Ocean and the Carlsbad Flower Fields. Amenities include an olympic-size pool, a family pool, three spas, and a children's interactive water park. There is also a fully equipped fitness center, an activity center, and a game room on-site.
Residence Inn By Marriott Carlsbad
The perfect place to stay when traveling to the north county coastal area of San Diego. Tourists will enjoy our location just a couple of miles from the beach and downtown Carlsbad, 1 mile Legoland, and centrally located between Disneyland *50 miles north*. Nearby all San Diego attractions including Sea World and the San Diego Zoo -35 miles south. Our spacious suites offer separate living and sleeping areas and fully equipped kitchens.

| | |
| --- | --- |
| CATHEDRAL CITY VACATION RENTALS / EXTENDED STAYS, - CALIFORNIA, USA | |

Cathedral City is a city in Riverside County, California, United States. The population was 42,647 at the 2000 census. Sandwiched between Palm Springs and Rancho Mirage, it is one of the cities in the Coachella Valley (Palm Springs area) of southern California.

The town's name derives from "Cathedral Canyon" to the south of the town, so named in 1850 by Henry Washington because its rock formations were reminiscent of a cathedral. The city itself started as a housing subdivision in 1925, but was not incorporated until 1981. The city grew 4-5 times in two decades, as the 2006 population estimate is 48,000.

Locals gave it the nickname "Cat City", short for Cathedral. Others like historians claim that came from the reputation as a slinger gaming gulch in the late 1800s, and a safe haven for bars or saloons during prohibition of the 1920s.

Desert Oasis Resort Cathedral City
Located just five miles from downtown Palm Springs, the Desert Oasis Resort is convenient to plenty of chic galleries, trendy eateries, and boutique shopping venues. Just adjacent to the resort is the Cathedral Canyon Golf and Tennis facility. Helping to offset the desert heat is Knott's Soak City Water Park, located just a short drive from the property. The Indian Canyons are perfect for hiking or horseback riding. Guests willing to make the journey can enjoy the famous Joshua Tree National Forest, about 25 miles from the property. Each of the one-bedroom units at the Desert Oasis include complete kitchens with refrigerators, microwave ovens, dishwashers, and coffeemakers.

| | |
| --- | --- |
| CLEARLAKE VACATION RENTALS / EXTENDED STAYS, - CALIFORNIA, USA | |

Clearlake is a city located in Lake County, California.

Travelodge Clearlake
Welcome to the Travelodge Clearlake located 2 blocks from Redbud boat dock. Clearlake has been the site of the 2003 and 2004 National B.A.S.S. Pro Am Tournaments. Enjoy the fantastic fishing and wonderful scenery surrounding Clearlake. Located near the Clearlake Travelodge are several shops, restaurants and grocery stores to meet all of your needs. The staff and management of the Clearlake Travelodge look forward to making your next visit to Clearlake a pleasurable one!

| | |
| --- | --- |
| CORTE MADERA VACATION RENTALS / EXTENDED STAYS, - CALIFORNIA, USA | |

Corte Madera is an incorporated town in Marin County, California, United States. Corte Madera is located 3.25 miles (5.2 km) south of San Rafael, at an elevation of 39 feet (12 m). The population was 9,100 at the 2000 census. In 1980 the town merged its police department with that of its neighbor Larkspur into the Twin Cities Police Authority.

In Spanish, Corte Madera means "chopped wood". The area was famous for producing lumber out of redwood trees which went into the construction of the city of San Francisco.

Americas Best Value Inn Corte Madera
We are located in Marin County, Corte Madera, Ca. just 7 miles from downtown San Francisco, Golden Gate Bridge, and Fisherman's Wharf. Close to Muir Woods, Stinson Beach, and the wine country of Napa Valley. Most of the rooms have refrigerators and microwaves. We provide free HBO, CNN, ESPN and many more cable channels. We are in beautiful Marin County's peaceful countryside.
Marin Suites Hotel Corte Madera
This hotel is in Marin County, 12 miles north of San Francisco across the Golden Gate Bridge. Shops and restaurants are within two blocks, and the Golden Gate ferry to San Francisco departs from a dock one mile away. Formerly an apartment building, the hotel features oversized studios and suites, many facing the garden courtyard and outdoor pool. Suites include full kitchens.

| | |
| --- | --- |
| EL SEGUNDO (LAX) VACATION RENTALS / EXTENDED STAYS, - CALIFORNIA, USA | |

El Segundo is a city in Los Angeles County, California on the Santa Monica Bay, incorporated on January 18, 1917. It is one of the Beach Cities of Los Angeles County and part of the South Bay Cities Council of Governments.

Dockweiler State Beach is partially located in El Segundo, including the only RV park on the beach in Los Angeles County.

Homestead Los Angeles - Lax Airport - El Segundo
A first class hotel located 2 miles from The Los Angeles International Airport. Each attractive studio suite features a fully equipped kitchen, something you won't find in a typical hotel. The hotel's location is convenient to area attractions as well as area businesses. The hotel is minutes to fine dining, shopping and entertainment.

| | |
| --- | --- |
| LOS ANGELES VACATION RENTALS / EXTENDED STAYS, - CALIFORNIA, USA | |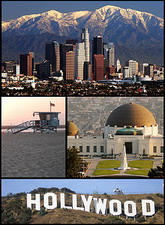 Los Angeles, Spanish for "The Angels") is the second largest city in the United States. Additionally the city spans over 498.3 square miles (1,290.6 km2) in Southern California and is anchored to the world's 13th largest metropolitan area with 17.7 million people spread out over much of coastal Southern California. The Los Angeles–Long Beach–Santa Ana metropolitan area is home to nearly 12.9 million residents. Los Angeles is also the seat of Los Angeles County, the most populated and one of the most multicultural counties in the United States. The city's inhabitants are referred to as "Angelenos".

Los Angeles was founded on September 4, 1781, by Spanish governor Felipe de Neve as El Pueblo de Nuestra Señora la Reina de los Angeles del Río de Porciúncula (The Village of Our Lady, the Queen of the Angels of the river of Porziuncola). It became a part of Mexico in 1821, following its independence from Spain. In 1848, at the end of the Mexican-American War, Los Angeles and the rest of California were purchased as part of the Treaty of Guadalupe Hidalgo, thereby becoming part of the United States; Mexico retained the territory of Baja California. Los Angeles was incorporated as a municipality on April 4, 1850, five months before California achieved statehood.

Often known by its initials, L.A., and nicknamed The City of Angels, Los Angeles is a world center of business, international trade, entertainment, culture, media, fashion, science, technology, and education. It is home to renowned institutions covering a broad range of professional and cultural fields, and is one of the most substantial economic engines within the United States. In 2008, Los Angeles was named the world's eighth most economically powerful city by Forbes.com, ahead of Shanghai and Toronto but behind New York City and London. As the home base of Hollywood, it is known as the "Entertainment Capital of the World", leading the world in the creation of motion pictures, television production, interactive games, and recorded music. The importance of the entertainment business to the city has led many celebrities to call Los Angeles and its surrounding suburbs home.

Hollywood Hills Luxury Vacation Rental Villa, Hollywood Hills, LA.
Live like the stars in this luxury, spacious villa - with 6 bedrooms and 6 bathrooms, 12 persons can stay in comfort. Modern kitchen has everything you could require. Lounge by the sparkling pool and enjoy the view. Airconditioned. Maid service 4 hours a day. Hollywood Hills just a 10 minute drive to the Beverly Hills Hotel and close to Malibu.
Westside Rentals Hollywood Hotel, Los Angeles
Located in downtown Hollywood, this hotel is one block from the Walk of Fame and two miles from Universal Studios. Guests can take advantage of an airport shuttle offered by the property for a fee. From the moment guests step foot into the Westside Rentals Hollywood Hotel they will feel welcome. This property offers the convenience of a concierge to assist visitors plan their stay in Los Angeles, and the hotel staff prides itself on its friendly customer service. Business services are available, and guests will appreciate the convenience of an ATM right in the hotel. Other amenities include laundry facilities, parking (fee) and complimentary local calls.

| | |
| --- | --- |
| MAMMOTH LAKES VACATION RENTALS / EXTENDED STAYS, - CALIFORNIA, USA | |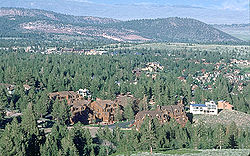 Mammoth Lakes is a town in Mono County, California, the county's only incorporated community. It is located 9 miles (14 km) northwest of Mount Morrison, at an elevation of 7,880 feet (2,400 m).

Mammoth Lakes resides on the edge of the Long Valley Caldera. The area around the town is geologically active, with hot springs and rhyolite domes that are less than 1000 years old. Visitors can take State Route 203 from the town of Mammoth Lakes to the Mammoth Mountain Ski Area, over Minaret Summit, then down to Devil's Postpile National Monument, with access to the Ansel Adams Wilderness.

The area has natural hot springs which are sometimes used after skiing. Other features include lakes, a soda springs, and an obsidian dome. Mammoth Lakes is north of the Owens Valley, a scenic area with extensive hiking opportunities. The town is surrounded by mountains: on the west, Mammoth Mountain looms over the town, while to the south, the Sherwin Range dominates the view. This hilly terrain and the high altitude makes the area great for high-altitude athletic training.

Mammoth Greens Condos, Mammoth Lakes
Tired of renting the same old 70's style condo that doesn't feel like you are in the mountains? Come be our guest and enjoy our only 2 years old new, NON-SMOKING 3 bedroom condo/townhome with all the comforts of home and spectacular views. This is the perfect location for the family! The kids can bike right outside our unit in a safe, very low traffic neighborhood. Located right on the the Sierra Star Golf Course and only yards away from Chair # 15/Little Eagle Express lift - you'll have the best of both worlds. Fully equipped with every modern necessity available...The living room boasts a 36" XBR HD TV with cable service, DVD, VCR, HBO and Bose surround-sound system.
Summit Condos Mammoth Lakes
Stay with us and enjoy some of the finest accommodations Mammoth Lakes has to offer, in a quiet location and conveniently within walking distance to the lifts. Our units feature full kitchens, TV, VCR, stereos, phones, and firewood as standard amenities. Enjoy underground parking, elevators, pool, tennis and outdoor spas. We provide a free daily towel exchange for your convenience.

| | |
| --- | --- |
| OCEANSIDE VACATION RENTALS / EXTENDED STAYS, - CALIFORNIA, USA | |

Oceanside is the third-largest city in San Diego County, California. The city has a population of about 179,681. Together with Carlsbad and Vista, it forms a tri-city area. The city is located just south of Camp Pendleton, the busiest military base in the United States.
Oceanside has experienced dramatic growth since 1970, when its population was 45,000. Much of the city's area was developed into single-family home tracts during the 1970s and 1980s. Since the 1990s, increased commercial and industrial development have diversified Oceanside's economic base.

Comfort Suites - Marina, Oceanside
The Comfort Suites® Marina hotel is conveniently located on Interstate 5, just one mile south of Marine Corps Base Camp Pendleton and four blocks from Oceanside Beach and Oceanside Harbor. This Oceanside, CA hotel is only 10 miles from LEGOLAND California, The Flower Fields at Carlsbad Ranch, San Diego Zoo's Wild Animal Park and Carlsbad Premium Outlets. SeaWorld San Diego, the San Diego Zoo, Balboa Park and Orange County are 35 miles away. Mission San Luis Rey, the Quail Botanical Gardens and the California Surf Museum are other points of interest nearby. Tijuana, Mexico is only one hour from the hotel. Several local shops and a variety of restaurants are within walking distance from the hotel.
Oceanside Marina Suites
Located 35 miles from San Diego Int'l Airport. Boasting an excellent location in Oceanside, the hotel is located on Oceanside Harbor. Within a 10-mile radius, guests can visit Legoland and Carlsbad shops. The Oceanside Marina Suites features one and two bedroom suites with fireplaces. All suites have a fully equipped kitchen where you can prepare your meals and make yourself feel at home.
Oceanside Travelodge
Located just one mile from Camp Pendleton, the Travelodge in Oceanside, Calif., is nine miles from family fun at Legoland and six miles from Children's Discovery Museum. This property is 40 miles from San Diego International Airport. On site, the hotel offers guest laundry services, safe-deposit boxes, and 24-hour front desk business amenities such as fax and photocopying services. Wireless Internet access is complimentary throughout the hotel. And, guests awake each morning to complimentary continental breakfasts. The hotel does not have its own restaurant, but there are several dining options throughout the surrounding area. This two-story hotel has 28 guestrooms with exterior access. All guestrooms feature refrigerators, microwave ovens, coffeemakers, and wireless Internet access is complimentary.

| | |
| --- | --- |
| PALM SPRINGS VACATION RENTALS / EXTENDED STAYS, - CALIFORNIA, USA | |

Palm Springs is a desert city in Riverside County, California, within the Coachella Valley. It is located approximately 37 miles east of San Bernardino, 111 miles (177 km) east of Los Angeles and 136 miles (225 km) northeast of San Diego. Golf, swimming, tennis, horseback riding and hiking in the nearby desert and mountain areas are major forms of recreation in Palm Springs.

As the 1970s drew to a close, increasing numbers of retirees moved to the Coachella Valley. As a result, Palm Springs began to evolve from a virtual ghost town in the summer to a year-round community. Businesses and hotels that used to shutter for the months of July and August instead remained open all summer. As commerce grew, so too did the number of families with children.

Located in the Coachella Valley desert region, Palm Springs is sheltered by the San Bernardino Mountains to the north, the Santa Rosa Mountains to the south, by the San Jacinto Mountains to the west and by the Little San Bernardino Mountains to the east. This geography gives Palm Springs its hot, dry climate, with 354 days of sunshine and less than 6 inches (150 mm) of rain annually. The winter months are warm, with daily high temperatures ranging from 70 °F – 80 °F (21 °C – 27 °C) and low temperatures rarely dipping below 42 °F (6 °C). The dry desert heat of summer pushes daytime temperatures well above 105 °F (41 °C) with overnight lows greater than 80 °F (27 °C) occurring often; however summer afternoon temperatures do frequently exceed 110 °F (43 °C).

7 Springs Inn and Suites, Palm Springs
A newly remodeled boutique-style hotel just a short walk from all that the village of Palm Springs has to offer. With a beautiful backdrop of the San Jacinto Mountain Range and lovely garden courtyards. Barbecue on the patio or enjoy the large heated pool, whirlpools and sauna. golf, tennis and hiking, as well as the Palm Springs nightlife, including world-class restaurants and nightclubs, are within walking distance. Some suites with kitchenettes.
Caballeros Townhouse, Palm Springs
Vacation within walking distance of downtown Palm Springs, restaurants, shops, golf, theater, and casino. This townhouse features fireplace, very spacious private patio complete with gas bar-b-q and a full set of patio furniture, 2 color tvs, vcr, 3 phones. It is completely turnkey furnished with plenty of sheets, towels, books, games--everything except personal items. Air conditioning, Cable television, Coffee maker, Deck, Dishwasher, Dryer, Fireplace, Full kitchen, Gas grill, Jacuzzi, Microwave, Oven, Refrigerator, Stereo System, Swimming Pool, Telephone, Television, Video Recorder, Washing machine
Marquis Villas Resort Palm Springs
Marquis Villas Resort rests in the beautiful Coachella Valley, surrounded by the majestic towering San Jacinto Mountains and some of the most famous golf courses in the country. The resort is located one block from downtown Palm Springs, Calif., and two blocks form the Spa Casino. Palm Canyon Drive, the cultural artery of the city, is lined with back lit palms and boasts a wealth of galleries, boutiques, restaurants and pubs. Palm Springs offers a wide array of recreational activities and sightseeing opportunities, including Knott's Soak City Water Park, the Palm Springs Aerial Tramway and the Palm Springs Desert Museum. Active pursuits include horseback riding, hiking, Jeep tours, tennis, and hot-air ballooning.
Silver Orchid Villa - Luxury Vacation Rental, Palm Springs
With a contemporary décor this sophisticated vacation rental home is located in the desirable Palm Canyon Estates bordering the greens on the 10th fairway. The architectural designer four-bedroom residence is just five minutes from downtown Palms Springs and located amongst a backdrop of mountain peaks of the Indian Canyons. The indoor / outdoor oasis on the fairway is complimented with tranquil setting in the lanai lounging area featuring a dramatic outside fireplace. A turbo grill with sit-at-bar is perfect for dining alfresco. 3 Bedrooms, 4 Bathrooms (2 Ensuite), Pool.
The Plaza Resort & Spa, Palm Springs
Enjoy desert vacation living at the Plaza Resort & Spa, the traditional playground for the rich and famous. Relax in style surrounded by beautiful Palm Springs scenery and sunshine. On-site amenities include two outdoor pools, two whirlpools, sauna, exercise room, tennis courts, basketball court, gas barbecues, scheduled weekend activities, movie rentals, and laundry facilities. Golfing close by.
Villa Avalon Las Palmas, Luxury Vacation Rental Home, Palm Springs
The architectural, mid-century estate was impeccably restored by renowned architect, Lance O'Donnell, AIA, and inspired by the modernist designs of Albert Frey with elements influenced by Richard Neutra's Kaufmann House nearby. The former estates of Howard Hughes, Howard Hawks, Lily Tomlin, Barry Manilow, and Jack Benny, surround the completely gated, luxury retreat which evokes a sense of refined minimalism and understated elegance. 4 Bedrooms, 4 Bathrooms (4 Ensuite), Pool.
Villa Sandacre, Luxury Vacation Rental Villa, Palm Springs
The elegant, secluded, stately Spanish hacienda where Marilyn Monroe was rumored to have been a frequent guest, has five bedroom and five and half bath. This Sand Acre Estate is one of the grande dames of the Movie Colony neighborhood. Upon entering through the fifteen-feet high Spanish wood gates and cobblestone motorcourt, one can only imagine the Hollywood glamour impressed on this estate. 5 Bedrooms, 6 Bathrooms (5 Ensuite), Pool
Top
Do you have quality vacation accommodation in California?
Why not join us?