Buena Park Featured Hotels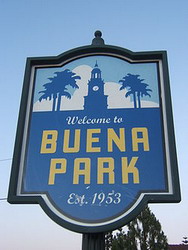 Buena Park is a city located in northwestern Orange County, California. The city is located adjacent to the city of Anaheim and is located 12 miles (20 km) northwest of downtown Santa Ana. The Current OMB metropolitan designation for Buena Park and the Orange County Area is "Santa Ana-Anaheim-Irvine, CA." Buena Park is home to several tourist attractions, most notably Knott's Berry Farm, and is the headquarters of grocery store chain Frazier Foods.
Buena Park's E-Zone district, located along Beach Boulevard, is home to several well-known tourist destinations: the venerable Knott's Berry Farm theme park and its sister water park Knott's Soak City, Pirate's Dinner Adventure Show, and a Medieval Times dinner show. The Movieland Wax Museum, one of the largest of its kind in the world, was once located in the E-Zone until it closed in 2005. The Ripley's Believe It or Not! museum, across the street from the Wax Museum, has also been vacated. There also used to be a Japanese Village and Deer Park on Knott Avenue. The E-Zone also neighbors Anaheim, with Disneyland just east by way of Katella Avenue, Ball Road, and Interstate 5.
The City of Buena Park has its own local history park located on Beach Blvd just south of Interstate 5. On these grounds, the city has preserved several historic buildings. These include the Whitaker-Jaynes House (which serves as the city's local history museum) the Bacon House - possibly the oldest surviving structure from the area, the Stage Stop Hotel (which houses the current Chamber of Commerce offices) and the Tice House. The Buena Park Historical Society manages and maintains the historical content of the museum. The Dreger Clock, a 75 year old multi-faced street clock, best known for the time it spent at Knott's Berry Farm, was installed in front of the Whitaker/Jaynes house overlooking Beach Blvd in September 2009 after a two year restoration project.
12 Theme Parks in Southern California -- Plan a Year of Weekend Escapes by Darla Blackmon
In an area best known for its glitzy lifestyle and iconic surf culture, sometimes residents just need to let it all loose. Luckily Southern California is home to an outstanding number of theme parks.
And, coincidentally, there are 12 theme parks -- just the right amount for a year's worth of adventure and escape.
Los Angeles Theme Parks
Universal Studios Hollywood: Universal City is home to this movie themed park that dates back nearly a hundred years. Original its main attraction was a modest tram tour of a working Hollywood studio. Boy has it has come a long way. Today the park features 11 attractions and is visited by tourists from every country.
Six Flags Magic Mountain: Since opening one of the world's first 360-degree roller coasters in 1976, this park has kept pace with a long list of thrill rides -- with scream machines like Terminator Salvation: The Ride, Tatsu and Superman: The Escape.
Raging Waters: When Southern California heats up, there is no better place to cool off that Raging Waters, San Dimas. This extra large water park has everything from kid-centered play areas like Splash Island to an extreme surfing simulator known as Flowrider.
Orange County Theme Parks
Disneyland: Located in Anaheim, CA, this fifty-five year old institution is the quintessential Southern California theme park. This Orange County jewel's themed areas consist of Adventureland, Tomorrowland, Fantasyland, Frontierland, Critter Country, Mickey's Toontown Adventure, New Orleans Square and Main Street U.S.A.
Disney's California Adventure Park: Opened in 2001 next-door to Disneyland in Anaheim, this park is the ultimate California experience. Designed to replicate every region of the Golden State, its attractions include Sunshine Plaza, Condor Flats, "A Bug's Land," Hollywood Pictures Back Lot, Golden Vine Winery and the Pacific Warf.
Knott's Berry Farm: At its official opening in 1940, this Buena Park, CA landmark was still more of a farm than amusement park -- complete with chickens that roamed the park. Today, though, this Western-themed attraction has 10 roller coasters making today's Knott's Berry Farm a world-class thrill park.
Knott's Soak City: The same people that create the excitement at Knott's Berry Farm operate this family-focused water park chain. With locations in Buena Park, Chula Vista and Palm Springs, a wet and wild Southern California adventure is always close at hand.
Wild Rivers: Plunging into the Abyss has never been this much fun! The 655 ft. thrill slide is just one of the excitement-drenched attractions at Irvine, CA's Wild Rivers Water Park. This family fun destination offers body surfing at Monsoon Lagoon as well as a play place for the small fry at the Pygmy Pond.
San Diego Theme Parks
San Diego Wild Animal Park: Nestled in San Pasqual Valley, the San Diego Wild Animal Park is one of the largest and most famous zoos in the world. Exotic and endangered animal species from all over the map guarantee visitors a truly unforgettable experience.
Lego Land, California: Based on the beloved plastic building bricks, this Carlsbad, CA attraction is all about creativity. With themed areas like the Land of Adventure, Dino Island and Mainland, U.S.A. visitors of all ages are sure to find wonder and inspiration.
Sea World: This is San Diego's ultimate undersea experience! Exciting kid-friendly Sesame Street themed rides and fun soaked Shamu show splash zones mean that there is never a dull moment at this amazing aquatic amusement park.
Sea Life Aquarium: Located inside Carlsbad's Lego Land, this aquatic adventure provides an entertaining educational experience. Interactive attractions like the Sea Life Lab and Discovery Zone Touch Pool offer fun learning opportunities for the whole family.
The best part about all of these attractions is, of course, the location. Foul weather is unlikely to ruin a trip to any theme park in beautiful, sunny Southern California.