Search this site

Financial District, San Francisco, California, USA
Buy at AllPosters.com

Sunset on the Big Sur Coastline, California, USA
Buy at AllPosters.com



Copyright © All World Vacation Station



| | |
| --- | --- |
| MORRO BAY, CALIFORNIA TRAVEL GUIDE | |



top / Morro Bay Featured Hotels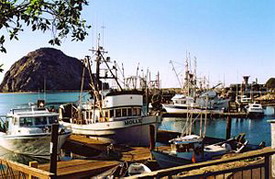 Morro Bay is a waterfront city in San Luis Obispo County, California, United States.
The town of Morro Bay was founded by Franklin Riley in 1870 as a port for the export of dairy and ranch products. He was instrumental in the building of a wharf which has now become the Embarcadero. During the 1870s, schooners could often be seen at the Embarcadero picking up wool, potatoes, barley, and dairy products.
Since the beginning of the 20th century, the town has been a center for beach holidays. Tourism is the city's largest industry. The most popular beach is on the north side of Morro Rock, north of the harbor. There are also excellent beaches north and south of the town which are now owned by the State of California.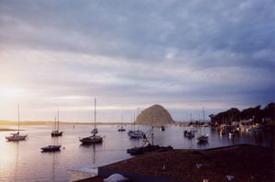 In the 1940s, Morro Bay developed an abalone fishing industry. Having peaked in 1957, stocks of abalone have now declined signicantly due to overfishing,[4] it remains a fishing port for halibut, sole, rockfish, albacore, and many other species for both commercial and sport vessels. The town now combines the fishing industry with coastal tourism. In addition, oysters are farmed artificially in the shallow back bay.
A portion of Morro Bay is also designated as a state and national bird sanctuary. This means it is illegal to kill or harm a bird in that portion of Morro Bay. It is also a state and national estuary. Much of Morro Bay is a state wildlife refuge where waterfowl hunting is conducted during the season and is one of the few areas in California where Pacific Brant are pursued. Recently, Morro Bay was also declared a California Marine Reserve by the California Fish and Game Commission.
A number of tourist attractions are found along the shoreline and the streets closest to it, especially the Embarcadero. These include a good range of restaurants, shops, and a number of parks. The combination of tourist-oriented businesses with a working fishing port and the dominant presence of Morro Rock makes an attractive waterfront.

| | |
| --- | --- |
| HOTELS IN MORRO BAY, CALIFORNIA | |

Search for more Morro Bay, CA hotels and surrounding areas
Anchor Inn Morro Bay
Anchor Inn Morro Bay is located in downtown Morro Bay, Calif., one block from the beach. The hotel is one-quarter from Morro Rock and 12 miles from the San Luis Obispo Mission. The hotel offers complimentary Continental breakfasts and freshly-brewed coffee all mornings. Complimentary parking is included. Anchor Inn Morro Bay does not have its own restaurant on site, but there are several dining options within the surrounding area. All 31 guestrooms feature complimentary wireless Internet access. Cable television includes premium channels.
Days Inn Morro Bay Ca
Located halfway between Los Angeles and San Francisco off Interstate 10, the Days Inn Morro Bay (Calif.) is less than one mile from the beach and three blocks from the waterfront shops and restaurants. Other outdoor recreation in the area includes fishing, golf, nature walks, bay cruises, whale watching, and bird watching at the mouth of Los Osos Creek. Mornings begin at the Days Inn Morrow Bay with a complimentary continental breakfast. Recreational amenities include a hot tub. All guestrooms in the two-story Days Inn have cable television with HBO. Guestrooms with refrigerators, suites with kitchenettes, and guestrooms with ocean views are available.
Fireside Inn Morro Bay
The Fireside Inn is located one block from Morro Bay. Nearby points of interest include the Waterfront and Hearst Castle. The Fireside Inn offers guests front desk services, coffee in the lobby, and complimentary breakfast each morning. The Fireside Inn does not have a restaurant onsite, but there are many restaurants in the area, offering guests a myriad of dining choices. The guests rooms are furnished with comfort in mind. Thoughtful room amenities include balconies, cable TV, clock radios, coffee makers, free local calls and refrigerators. The cordial staff is always attentive to every guest's need. Come and see what the Fireside Inn has to offer.
Inn At Morro Bay
One of California's best-kept secrets, the Inn at Morro Bay is a waterfront property, located inside Morro Bay State Park. Positioned just one mile from the village of Morro Bay and 15 miles from Central Coast wine country, this impressive seaside escape is praised for their on- site health spa, massage therapy treatments and complimentary beach cruisers. While select guests rush to claim a window seat in the Orchid Restaurant, where seasoned chefs prepare seafood, grilled specialties and other components of California cuisine, others prefer The Bay Club's relaxed atmosphere, featuring a bistro bar menu, live entertainment and Morro Bay views.
Pacific Shores Inn Morro Bay
Pacific Shores Inn Morro Bay in Morro Bay, Calif., is located two blocks from the beach and downtown. The inn is within 25 miles of Hearst Castle and Paso Robles Winery. The San Luis Obispo County Airport is 15 miles away. The hotel's sundeck offers coastal views. The sundeck features a spa tub. The hotel offers complimentary continental breakfasts all mornings. The three-story Pacific Shores Inn Morro Bay has 22 guestrooms with complimentary wireless Internet access and complimentary local telephone calls. Rooms have coffeemakers, microwave ovens and refrigerators. Select rooms provide panoramic views of the Pacific Ocean and Morro Rock for a fee. Select rooms include fireplaces.
Twin Dolphin Inn Morro Bay
The Twin Dolphin Inn has been given the AAA Three-Diamond rating and is a great hotel located in Morro Bay, conveniently accessed off Hwy 1. Just an ocean breeze from the water, it is just an easy walk to restaurants, shops, and gourmet dining. The Twin Dolphin Inn features all the amenities you've come to expect from a hotel on its' level. Very importantly, this property is a convenient base for exploring the regions many attractions - Hearst Castle, wineries, historic missions, and spectacular scenery, among other things.
Browse the full list of Morro Bay, CA hotels and surrounding areas
Do you have quality vacation accommodation in California?
Why not join us?