Search this site

Financial District, San Francisco, California, USA
Buy at AllPosters.com

Sunset on the Big Sur Coastline, California, USA
Buy at AllPosters.com



Copyright © All World Vacation Station



| | |
| --- | --- |
| MONTEREY, CALIFORNIA TRAVEL GUIDE | |



top / Monterey Featured Hotels
The City of Monterey in Monterey County is located on Monterey Bay along the Pacific coast in Central California. Monterey lies at an elevation of 26 feet (8 m) above sea level.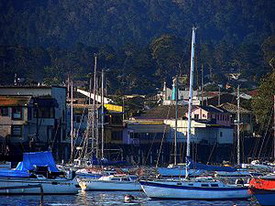 The city is noted for its rich history of resident artists beginning in the late 1800s, and its historically famed fishery. Monterey is home to the Monterey Bay Aquarium, the Monterey American Viticultural Area, Cannery Row, Fisherman's Wharf and the annual Monterey Jazz Festival.
Monterey has a strong arts community. Museums and entertainment venues abound in the city as do local and internationally known artists.
Monterey is also the home of the Monterey Museum of Art. Also, the Thomas Kinkade National Archive was founded in 1994 and is located within the Harry A. Greene Mansion at 361 Lighthouse Avenue. Kinkade originals have been limited in availability since 1997, however the museum does display many of the artist's earlier work and on rare occasions and at the discretion of the artist, more contemporary works. All works in the Archive are original Kinkade works of art. The mansion is Moorish-Victorian style and has been restored to its original 1886 condition. Monterey is also the site of numerous waterfront arts and crafts festivals held in the Custom House Plaza at the top of Fisherman's Wharf.

| | |
| --- | --- |
| HOTELS IN MONTEREY, CALIFORNIA | |

Search for more Monterey, CA hotels and surrounding areas
Best Western Victorian Inn Monterey
One block from Cannery Row and a half-mile from the Monterey Bay Aquarium, this smoke-free hotel comprises a historic Victorian mansion and a modern boutique inn. The hotelís Victorian-style parlor is the setting for complimentary Continental breakfast, as well as complimentary daily Monterey wine-and-cheese receptions. Out on the large, furnished patio, guests can unwind in the spa tub. Guestrooms at this Monterey hotel feature marble gas-lit fireplaces, along with balconies, patios, or window seats. Wireless Internet access is complimentary. Rooms also offer minibars, coffee/tea makers, and in-room safes.
Blue Lagoon Inn Monterey
The Blue Lagoon Inn is located within three miles of downtown Monterey, Calif., Fisherman's Wharf, the Del Monte Golf Course, Monterey Pines Golf Course and the Monterey Conference Center. Cannery Row, the Presidio of Monterey, the Monterey State Historic Park and Monterey Bay Aquarium are within minutes of the inn. The Blue Lagoon Inn was extensively renovated in 2004. Guests enjoy complimentary continental breakfasts, business services, limited front-desk services, and use of the lobby microwave oven. The inn is a completely non-smoking property.
Comfort Inn Monterey By The Sea
Comfort Inn Monterey by the Sea is a quaint and charming hotel located 4 miles from the Monterey Airport and one mile from downtown Monterey. Its ideal location also allows guests the advantage of visiting attractions like the Monterey Aquarium, Cannery Row and Pebble Beach. Guests can purchase tickets to the aquarium at the front desk. This quaint inn offers the recreational or the business traveler many amenities including a complimentary continental breakfast that is served daily. After a long day on the town, guests can relax in the hotels' outdoor heated swimming pool.
Comfort Inn Monterey
The Comfort Inn Monterey is located on the beautiful Monterey Peninsula and nestled in a garden-like setting in Monterey, California. The hotel is just one block from the Monterey Airport and only a short drive from the area's most popular attractions including Monterey Bay Aquarium, Cannery Row, Carmel and Pebble Beach. Hotel amenities include pre-purchase of aquarium tickets from the front desk, complimentary continental breakfasts and complimentary parking. The on-site restaurant is open for lunch and dinner every day except Sunday. The two-story Comfort Inn features 46 guestrooms with either a balcony or a bay window
Del Monte Pines Motel Monterey
When surrounded by world-renowned attractions, beaches and golf courses, a hotel has to offer a little more to make an impression. To contend with the Monterey Peninsula's gorgeous scenery and endless recreational activities, the Del Monte Pines has undergone sweeping renovations, including each of the spacious guest rooms. Minutes away, too, are the many attractions of the Monterey Peninsula scenic. 17-Miles Drive, Steinbeck's Cannery Row, the Monterey Bay Aquarium, World renowned golf courses, Point Lobos Reserve and the magical Big Sur coast.
Econo Lodge Monterey
The Econo Lodge Monterey Fairgrounds is conveniently located within walking distance from the Monterey Fairgrounds. The hotel is minutes away from attractions including Fisherman's Wharf, Pebble Beach, 7-Mile Drive, the Monterey Bay Aquarium, Cannery Row, the world's finest golf courses, Carmel by the Sea and Art Galleries. Visitors to the area will enjoy special events only five minutes away, like the AT&T Golf Tournament, the Monterey Jazz and Blues Festivals, and the Laguna Seca Sports Car Races. The Monterey Peninsula Airport is only one mile away. Guests are invited to enjoy amenities like a complimentary Continental breakfast and fresh brewed coffee in the lobby.
Hilton Garden Inn Monterey
The Hilton Garden Inn Monterey is located in a beautiful garden setting, one mile from downtown Monterey, Calif. Aptly situated to suit both business and leisure travelers, this hotel is within two miles from attractions such as Fisherman's Wharf, Cannery Row and Monterey Bay Aquarium and five miles from Pebble Beach. The central location and the warm and friendly staff make it a favorite with the business traveler and the leisure guest. Experience genuine and warm hospitality at the Hilton Garden Inn Monterey. The guest accommodations are tastefully appointed and will make you feel at home from the minute you step in.
Hyatt Regency Monterey Hotel & Spa
The Hyatt Regency Monterey Resort & Spa on Del Monte Golf Course stands on 22 beautifully manicured acres that border the Pebble Beach Resort's 18-hole championship Del Monte Golf Course. This expansive property features a lobby with a massive stone fireplace, plush leather chairs and gorgeous views of Del Monte Golf Course through floor-to-ceiling windows. Guests may sun and swim at the resort's two outdoor pools and soothe away their cares in the heated spa tubs. An on-site tennis professional is available to assist players with game strategies at the property's six tennis courts. Additional amenities include three restaurants, table tennis, complimentary parking, bike rentals, a fully-equipped fitness center and Accista Spa.
Mariposa Inn & Suites Monterey
The Mariposa Inn & Suites is a renovated boutique hotel in Monterey, Calif., within one-half mile of shopping, restaurants, and a movie theater. The Monterey Bay Aquarium and Cannery Row are less than three miles away. The unique village of Carmel by the Sea is three miles from the hotel. Complimentary continental breakfasts are served each morning. The hotel includes a garden and a heated pool, spa tub and outdoor fireplace patios. Other hotel amenities include business services and complimentary daily newspapers. Each of the 50 fireplace guestrooms and suites are professionally designed to accommodate both business and leisure travelers.
Marriott Monterey
The Marriott Monterey Hotel is located 4 blocks from Fisherman's Wharf, Cannery Row and Del Monte Beach in Monterey, Calif. Monterey Bay Aquarium is 1-and-1-half miles from the hotel. The 17-Mile Drive, a premier golfing area, is located 5 miles from the hotel. Dining options at the Marriott Monterey Hotel include Characters Sports Bar and Grill, Lobby Coffee Bar and Three Flags Café. The fitness center includes free weights, and all cardiovascular machines feature LCD televisions. The hotel includes an outdoor pool and spa tub. Health and beauty treatments, including massages, are available at the hotel's Escape Day Spa. John Steinbeck's novel, Cannery Row, spotlights the legendary lane during its industrial heyday. The tale of Cannery Row, so renamed by Monterey officials 13 years after the release of Steinbeck's novel, continues to fascinate guests.
Monterey Bay Inn
Set in one of Northern California's scenic locations and perched on the water at the quiet end of historic Cannery Row, the Monterey Bay Inn is a unique ocean getaway in the middle of natural beauty and an area teeming with marine life. Combining sleek, stylish décor and a coastal setting in John Steinbeck country, the inn is close to the Monterey Bay Aquarium, Fisherman's Wharf, lively restaurants, eclectic shops and various recreational activities. Guests will stay seven miles from Carmel- by-the-Sea, six miles from Monterey Peninsula Airport, and 22 miles from Big Sur and the National Steinbeck Center. Guests can start their mornings out with complimentary breakfasts in their rooms and then get help from the hotel's staff on tours, wine-tastings and day trips.
Monterey Downtown Days Inn
Come and witness some of the most beautifully delightful views the grand state of California has to offer! Our town boasts many different kinds of activities, from sightseeing up and down the gorgeous coastline to the breathtaking Monterey Bay Aquarium. Monterey CA has so much to witness and experience, from cultural events to a wonderfully active night life, Monterey is among the best of what California has to offer. The Downtown Monterey Days Inn not only offers our guests absolute convenience but comfort and ease as well. Our Monterey CA hotel has an especially expedient central location for Monterey California lodging
Monterey Surf Inn
On vacation, a pleasure trip, or a great escape? The Monterey Surf Inn offers great packages for Honey-Mooners, whale watching, and the world famous Monterey Bay Aquarium. Renovated in 2008, this non-smoking property has a beautiful garden setting and is situated in the heart of Monterey. The Monterey Surf Inn is just minutes away from the Monterey Airport, Fisherman's Wharf, Carmel, Pebble Beach and spyglass golf courses, the 17-mile drive and the Historic Downtown. The Conference Center is only a few minutes away. This property features complimentary high-speed wired and wireless Internet access throughout the hotel and complimentary continental breakfasts. The hotel also offers a heated outdoor pool.
Spindrift Inn Monterey
Spindrift Inn is located directly on the beach. The inn's distinctive lobby features hand-tiled floors, Oriental carpets, charming antiques, original art, and a wood-burning fireplace. The property offers complimentary Continental breakfasts, as well as complimentary afternoon wine and cheese. Each guestroom is unique, and includes a wood-burning fireplace, goose-down feather bed, comforter (bedspread), and marble brass bath.
Super 8 Monterey
The Super 8 Monterey is located one mile from the airport and two miles from Fisherman's Wharf. This small, economy hotel offers clean and comfortable rooms at a modest night rate. Complimentary breakfast pastries, coffee and tea are available each morning in this non-smoking motel. This motel has 20 guestrooms, all of which include cable televisions, refrigerators and granite-tile bathrooms. Room access is exterior-corridor only, and guests receive electronic keys.
Continue browsing Monterey, CA hotels and surrounding areas
Do you have quality vacation accommodation in California?
Why not join us?