Search this site

Financial District, San Francisco, California, USA
Buy at AllPosters.com

Sunset on the Big Sur Coastline, California, USA
Buy at AllPosters.com

Financial District, San Francisco, California, USA
Buy at AllPosters.com

Copyright © All World Vacation Station



| | |
| --- | --- |
| EL CENTRO, CALIFORNIA TRAVEL GUIDE | |



El Centro Featured Hotels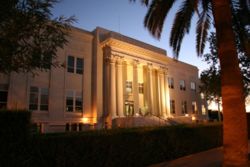 El Centro ("The Center" in English, formerly, Cabarker) is the county seat of Imperial County, California, United States and the largest city in the Imperial Valley, the region east of San Diego, as well as the east anchor of Southern Border. It is also the largest U.S. city to lie entirely below sea level (- 50 feet).
El Centro is Spanish, and means the center. This name is fitting, because it is the core urban area and principal city of the El Centro Metropolitan Area which encompasses all of Imperial County. El Centro is the center of one of Southern California's most promising new commercial and industrial regions. It is home to retail, transportation, wholesale, and agricultural industries. There are also two international border crossings nearby for commercial and noncommercial vehicles.
The nearby Algodones Dunes, the largest dune field in the US, draws thousands of visitors each year, mainly for off-road driving. The Salton Sea lies 30 miles north of El Centro, but water sport enthusiasts head to the Colorado River, 50 miles to the east near Yuma, Arizona. The El Centro Naval Air Station 10 miles to the west is home to the annual Blue Angels flight maneuvering event. Stark Field is home of a minor league baseball team El Centro Imperials of the Arizona Summer League. Mexico (the border city of Mexicali, Baja California) is 10 miles away, which offers big city amenities like museums, a zoo and a sports convention center.

| | |
| --- | --- |
| HOTELS IN EL CENTRO, CALIFORNIA | |

Search for more El Centro, CA hotels and surrounding areas
Brunner's Inn & Suites, El Centro
Brunners Inn and Suites offers all the comforts of without the price. The Inn offers an on site restaurant serving breakfast lunch and dinner at a reasonable price with desserts to die for. Hotel has an outdoor swimming pool spa and an exercise room for your pleasure. Offering all of the comforts at a reasonable price, Brunner's is located right in the heart of El Centro and close to shopping, dining, and many other amenities.
Clarion Inn El Centro
The Clarion Inn El Centro is off Interstate 8, 120 miles east of San Diego, in the heart of Imperial Valley, where the sun shines throughout the winter. This Clarion Inn is a two-story, 147-guestroom, brick building, just seconds from in El Centro, Calif., predominately an agricultural and farming community. Close to Glamis Sand Dunes, Buttercup Valley Sand Dunes, Luguna Mountain Recreation areas, Salton Sea Lake and Mexicalli, this Clarion Inn offers clean, comfortable rooms, a large outdoor pool, fitness center and the Amigo Lounge, where guests can sip a complimentary cocktail or go for a late night snack at the Denny's Restaurant on the Clarion's premises.
Comfort Inn & Suites, El Centro
The newly renovated Comfort Inn & Suites® hotel is conveniently located in the southernmost part of California, only 12 miles from Mexicali and 10 miles from Calexico. Desert Trails Golf Course and the Imperial Valley Mall are just half a mile away. There are several produce farms are within minutes from the hotel. The Imperial County Airport, Naval Air Facility El Centro and Imperial Valley College are within five miles from this El Centro, CA hotel. Several activities, including festivals, fiestas, parades, air shows and a cattle call, are held every month in El Centro. There are a wide variety of restaurants and lounges located in the area. Be sure to visit the on-site Mirage Bar & Grill.
Sun Valley Inn & Suites El Centro
The Sun Valley Inn & Suites is located in El Centro, Calif. One mile from Centinella Visitors Center Two-and-one-quarter miles from Desert Trails Golf Course Hotel Features. Business services Complimentary continental breakfasts Outdoor pool and heated spa tub Guestrooms. Complimentary wireless Internet access Cable television Refrigerators .
Continue browsing El Centro, CA hotels and surrounding areas
Do you have quality vacation accommodation in California?
Why not join us?