Search this site

Financial District, San Francisco, California, USA
Buy at AllPosters.com

Sunset on the Big Sur Coastline, California, USA
Buy at AllPosters.com

Financial District, San Francisco, California, USA
Buy at AllPosters.com

Copyright © All World Vacation Station



| | |
| --- | --- |
| CHICO, CALIFORNIA TRAVEL GUIDE | |



Chico Featured Hotels
Chico is the most populous city in Butte County, California, United States. The city is a cultural, economic, and educational center of the northern Sacramento Valley and home to both Chico State University and Bidwell Park, one of the country's 25 largest municipal parks and the 13th largest municipally-owned park.
Other cities in close proximity to the Chico Metropolitan Area (population 212,000) include Paradise and Oroville, while local towns and villages (unincorporated areas) include Durham, Cohasset, Dayton, Hamilton City, Nord, and Forest Ranch. The Chico Metropolitan Area is the 14th largest metropolitan statistical area in California.
The official city nickname is "City of Roses," according to the Seal of the City of Chico, California. Chico has been designated as a Tree City USA for 23 years by the Arbor Day Foundation.
Chico is located at the northeast edge of the Sacramento Valley, one of the richest agricultural areas in the world. The Sierra Nevada mountains lie to the East, with Chico's city limits venturing several miles into the foothills. To the west, the Sacramento River lies five miles (8 km) from the city limit.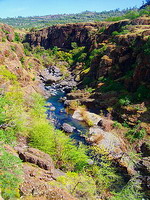 Bidwell Park is a municipal park located in Chico, California. The park was established July 20, 1905 through the donation by Annie Bidwell (widow of Chico's founder, John Bidwell) of approximately 2,500 acres (10 km²) of land to the City of Chico. Since that time, the City has purchased additional land, such as Cedar Grove in 1922, and 1,200 acres (5 km²) of land south of Big Chico Creek in upper Bidwell Park in 1995. Today, the total Park size is 3,670 acres (15 km²), nearly 11 miles (18 km) in length, making it the third largest municipal park in California and one of the 25 largest city parks in the United States.
Bidwell Park is "divided" by Manzanita Avenue. The area west of Manzanita Avenue is referred to as Lower Park and the area to the east is referred to as Upper Park. The noticeable difference between Upper and Lower Park is the terrain. Upper Park is located in the foothills of the Sierra Nevada Mountains. It has steep terrain and contains many rock formations, including the unique Chico Formation sandstone and Lovejoy Basalt rocks. Lower Park is flat and level with a thick canopy of trees which provide ample shade for the visitor. Special rules also apply in the Upper Park and the road is unpaved for much of its length.

| | |
| --- | --- |
| HOTELS IN CHICO, CALIFORNIA | |

Search for more Chico, CA hotels and surrounding areas
Chico Days Inn
The Chico Days Inn is located Broadway and 8th Streets in downtown and within walking distance to Chico State University as well as many popular bars and pubs. Plus, visitors will find themselves close to activities and destinations like: Bidwell National Park, Bidwell Mansion, micro-brewery tours, Oro Lake, farmers market, auto racing, the annual Rancho Chico Celebration and Taste of Chico Food Festival. Every morning guests can partake of Chico Days Inn's complimentary continental breakfasts and daily newspapers. All rooms include complimentary local calls, cable TV, coffeemakers, microwave ovens, refrigerators, irons and ironing boards, data ports, and more. Guests can opt for rooms with king-sized beds and whirlpool tubs.
Courtyard By Marriott Chico
Situated two miles from historic downtown Chico, Calif., the Courtyard by Marriott lies near the famous Bidwell Mansion and is within close proximity of California State University at Chico. Chico Municipal Airport is eight miles away. Guests can enjoy 24-hour food and beverage selections at The Market and during leisure moments can use the fitness room or ease into the hotel's spa tub. Additional amenities include guest laundry facilities, complimentary weekday newspapers, local restaurant dinner delivery and an on-site business center. The Courtyard by Marriott's guestrooms feature beds with pillowtop mattresses and triple sheeting, coffeemakers, complimentary high-speed Internet access and two data port telephones.
Oxford Suites Chico
The Oxford Suites Chico provides lodging in Chico California near Chico State University, Chico Mall and Sierra Nevada Brewery. The Oxford Suites Chico is also convenient to area businesses such as UnitedHealth, Norfield Industries and FAFCO and area attractions like Bidwell Mansion, Silver Dollar Fairgrounds and Feather River Canyon. The Oxford Suites Chico offers value added lodging at consistently competitive rates. AAA, Senior Citizen, Government/Military and Business Travel discount courtesies may be arranged for qualified corporate and institutional client accounts. When visiting Chico, California make the Oxford Suites your hotel of choice.
Super 8 Chico Ca
Located adjacent to SR-99 in Chico, the Super 8 Motel Chico offers affordable accommodations in northern California's almond-growing region. Positioned only two miles from historic downtown Chico and seven miles from Chico Municipal Airport, this budget property is ideal for leisure road travelers who value economy. The hotel features an outdoor pool. Complimentary continental breakfasts are served daily. The Super 8 Chico is a three-story motel with 52 guestrooms, all of which feature cable television, microwave ovens, refrigerators and complimentary local telephone calls.
Vagabond Inn Chico
Vagabond Inn Chico is centrally located in Downtown Chico, just off of the 99 Freeway and a few blocks from Chico State (CSU), the Silver Dollar Speedway and Chico Airport. Relax in the pool or take advantage of daily complimentary breakfast. For business travelers, their Business Friendly rooms have ample work space, larger TV with remote control, dual-line phones with dataports for Internet access and a desk lamp with an additional outlet. Each room features HBO for your enjoyment. Whether you visit for business or pleasure, you'll get their own brand of Western hospitality. Good Value, friendly people - it's how they do things.
Browse the full list of Chico, CA hotels and surrounding areas
Do you have quality vacation accommodation in California?
Why not join us?