Search this site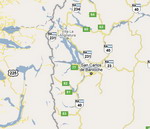 View map of San Carlos de Bariloche
Copyright © All World Vacation Station




San Carlos de Bariloche Featured Hotels
Argentina travel: What to do in Salta
Eco Travel: Iguazu Falls and the Perito Moreno Glacier
El Calafate, Land Of Glaciers In Argentina
If your destination is Argentina, you are going to need this information
Is Cordoba Argentina's Best Kept Secret?
Mar del Plata - A destination for everyone
Mendoza Bike and Wine
Tango in Buenos Aires
Top Ten Places to Visit in Buenos Aires
Tucumán Guide
Visiting Bariloche in Argentina Lake District
Visiting Bariloche in Argentina Lake District by Hortense Soulier
San Carlos de Bariloche Featured Hotels

Gateway to the beautiful Argentinean Lake District, one of the areas comprising the spectacular Patagonian region, the city of San Carlos de Bariloche, is one of the highlights of any trip to Argentina. Adventurers especially will find countless opportunities to experience the thrill of hiking, trekking, skiing and many more activities in Bariloche. The city is beautifully located on the shores of the glistening Lake Nahuel Huapi, surrounded by majestic, jagged Andean peaks.

The city of Bariloche itself is easy to navigate, small and with a warm atmosphere. Bariloche was founded in 1902 but only became a thriving destination in the 1930's after the creation of the nearby national park. Travelers from around the world gather here every day to spend their evenings in the town's cozy restaurants, bars and comfortable hotels, after long days exploring the surrounding area. The city is well equipped to welcome tourists, with most of entertainment found on the main street, Mitre. Don't forget to stop in some of the street's many chocolate shops, as this is one of Bariloche's excellent treasures.


Buy This Allposters.com


The real reason to travel to Bariloche is of course the beautiful landscapes that surround the city where adventure awaits the audacious traveler.


| | |
| --- | --- |
| Buy This Allposters.com | Start off with a stroll in Llao Llao, the area following the lake shore, and one of the most beautiful in the region, providing for absolutely superb views of Lake Nahuel Huapi. The most famous route for hiking and trekking around Bariloche, known as the Circuito Chico, will take you to this area. Free maps are available at the tourist information office but you can also enjoy a guided walk with expert guides that will tell you about the region's history and wildlife as you hike. The circuit is generally made by car with stops to hike, but you can also cycle. For views of the entire region, take the lift up Cerro Campanario, which goes up to 1,049 meters, from where you can enjoy the breathtaking scenery, encompassing the lake, mountains, as well as the San Pedro peninsula below. |


Bariloche is also known to be Argentina's ski capital, with an excellent, modern and fully equipped ski resort on the nearby Cerro Catedral. Located at 2,338 meters, about 21 kilometers from San Carlos de Bariloche, this resort boasts great infrastructure, with well-cared for slopes of various difficulty levels. The mountain can also be visited in the summer times with great opportunities for hiking.

San Carlos de Bariloche Featured Hotels
About the Author: This guide to visiting Bariloche was written by an Argentina travel expert at Argentina For Less available to help you customize your Argentina vacations.

| | |
| --- | --- |
| SAN CARLOS DE BARILOCHE, ARGENTINA FEATURED & RECOMMENDED HOTELS | |

Search for San Carlos de Bariloche hotels
Aldea Andina San Carlos de Bariloche
Surrounded by four acres of splendid parkland and not far from Bariloche's city centre you will find ALDEA ANDINA. Its architecture replicates the European mountain hut style which harmonically merges with the astonishing Patagonian geography. Aldea Andina offers a unique vacation experience combining relaxation and local cuisine with amazing adventures and outdoor experiences which will bring you to your senses. Aldea Andina's amenities include Wi-Fi in common areas, club house, gourmet restaurant, bar, a tennis court and two paddle courts, one "quincho for asados" (hut for BBQ), table game lodge, and a playground for children in the fabulous four-acre park surrounded by pines.
Aldebaran Hotel & Spa Bariloche
Aldebarán Hotel is located in the fantastic Peninsula of San Pedro, only 23 km away from San Carlos de Bariloche City, in the Argentine Patagonia. It is located in Nahuel Huapi Lake's bank, in the magical intimacy of the forest, and it offers an imposing view of López and Campanario Hills. Its Restaurant, Sirius, offers us, through immense windows, panoramic views of López Hill and Nahuel Huapi Lake's Campanario channel. Sirius combines exclusive urban design objects with elements from native villages, such as leathers and ethnic fabrics. The wine cellar is in a basement and it has near 150 national and international wine brands. Aquarius, the exclusive Spa of the Hotel, allows guests to relax and enjoy: hydromassage, Scottish shower, sauna, "in-out" heated pool.
Charming - Luxury Lodge & Private Spa Bariloche
Surrounded by lush mountains and the tranquil atmosphere of Lake Nahuel Huapi in Patagonia, Charming Luxury Lodge & Private Spa overlooks Playa Bonita, near the city of Bariloche in beautiful Argentina. With view of the snowcapped Cerro Catedral, this amazing mountain resort is a peaceful escape from the ordinary. Open and inviting rooms are warmed with soothing earth tones and radiant floor heating, while a large whirlpool tub is perfect for soaking away your stresses. Gaze out of large picture windows at the breathtaking panoramas, or enjoy a glass of wine on your private deck. At Charming Luxury Lodge & Private Spa, you will enjoy the comforts of modern living, while the pure and natural beauty of Patagonia beckons for you to explore.

Hosteria De Lago Bariloche
Hosteria Del Lago, situated on the edge of the lake in Nahuel Huapi National Park, offers rooms with free Wi-Fi and direct beach access. It features a games room. All of the simply-furnished rooms at Del Lago have cable TV and a DVD player. Del Lago Hosteria is just over 10 minutes' drive from San Carlos de Bariloche. The Museo de la Patagonia is a 10 minutes away from the hotel by car. The restaurant serves regional Argentinean cuisine and International dishes in the dining room which features panoramic views of Lake Nahuel Huapi.
Nido del Condor Resort & Spa Bariloche
Only two hours flight from Buenos Aires or Santiago de Chile, NIDO DEL CONDOR – RESORT & SPA was created in 1999 changing immediately the usual accommodation in Patagonia and establishing itself as the one and only Luxury Resort and Spa the atmosphere of a mountain. Conceived for families, couples and small groups, NIDO DEL CONDOR – RESORT & SPA has already become the preferred choice for enjoying the best holiday with the comfort of feeling at home. Built with Cypress logs combined with stones and glass all in a typical mountain style architecture, the Resort is placed on the mountain's slope and it is surrounded by a Cypress wood. The surrounding lakes and mountains enhance the Resort's splendid architectural style.
Pestana Bariloche Ski And Golf Bariloche
The new Pestana Bariloche Resort is located in a luxurious condominium, the Arelauquen Golf & Country Club, in the most famous and well known ski resort in South America, Argentina. A romantic landscape composed by mountains, lakes and snowy winter. With 23 charming rooms, the boutique hotel has a complete infrastructure for you to enjoy the summer, with golf courses, polo and water sports. In winter, skiing is fun. To get to Cerro Catedral and start skiing it only takes 10 minutes. The hotel offers special transportation services.
Continue browsing San Carlos de Bariloche hotels