Search this site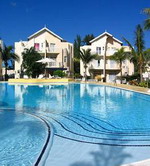 Villacool (1) (Ref: 24623), Self catering villa in Flic en Flac, Mauritius


Villacool is situated in the region of Flic en Flac, in the district of BLACK RIVER on the West coast of Mauritius and about 30 minutes drive from the capital city of Port Louis. The west coast is reputed for its dry, warm and stable climate with a temperature range of 18 to 32 degrees. Sleeps 7 ...read more
Flags and Maps courtesy ofITA's Quick Maps.
Copyright © All World Vacation Station




Mauritius - Your Mauritius Vacation Means Life Is A Beach by Mauritius
Mauritius Featured Self-Catering / Holiday Rentals / Featured Mauritius Hotels
If your definition of the perfect vacation is to be able to relax in one of the most beautiful locations that exists anywhere in the world, when you first step onto the beach at Mauritius you will instantly know that it is exactly where you want to be! The only catch is that Mauritius does not have "a" beach, it has dozens of them! The only problem you may encounter during your Mauritius vacation is deciding whether you want your stay to be in one location, or whether you would rather explore all of these beaches on the island!
There is no better focus for a vacation than the beach. In the tropical climate of Mauritius, each day at the beach will be filled with hours and hours of warm relaxation, soaking up the sun there is simply no other kind of vacation that could adequately compare to a beach vacation on Mauritius!
The beaches of Mauritius have the warmest, most sparkling white sand that you will ever see! From the sand, you will revel in the beauty of the vast ocean in front of you, its warm, crystal-clear waters absolutely perfect for a swim, exceptional photography, as well as taking it all in as one of the most spectacular sights that you could ever see.
When you choose a Mauritius vacation, you will see that these beaches are located all around the island itself; and you will also have the option of taking a boat to the Ile aux Cerfs, a small island off of Mauritius's east coast which has beautiful blue lagoons and beaches of its very own.
Your choice of beach at Mauritius can reflect your own individual preferences. You can choose between the privacy of long, quiet beaches, beaches with shops and active tourist life, and beaches with a variety of water activities. Whichever style suits you the best, you will find at least one which suits you. You will even find the surfing center of Mauritius, located at the Baie du Tamarin. If you have never seen or experienced the sport of surfing, it is amazing to watch and delightful to try.
As an island situated in the Indian Ocean, it should not come as a surprise that Mauritius contains some of the most beautiful beaches in the entire world! It should also not come as a surprise that each is unique in its own way, and each has much to offer. You can easily design your own individualized vacation package around the amazing beaches of Mauritius.
Whether you want to spend your entire trip at one beach, or visit every single beach that this island has to offer, you can be sure that every moment you are at the beach will be permanently etched into your memory as the most enjoyable beach vacation that you have ever experienced.
All you will need is your favorite colourful beach wear and a cold drink, and you can be assured that your vacation on Mauritius really does mean that life is a beach!
top / Mauritius Featured Self-Catering / Holiday Rentals / Featured Mauritius Hotels
About the Author - Mauritius http://www.tourism-mauritius.mu/

| | |
| --- | --- |
| MAURITIUS FEATURED SELF-CATERING/VACATION RENTAL ACCOMMODATION | |

Search for more self-catering and vacation rental properties in Mauritius
Belle Vue Villa, Pereybere (Ref: 22192) Self catering villa in Pereybere, Mauritius
This detached privately owned villa is ideally located in the picturesque village of Pereybere, only a 10 to 15 minute walk to the beach. Here you will have the dual benefit of being close enough to walk to the main beach attraction and enjoy the hustle and bustle of the fishing village, or choose to enjoy the peacefulness and privacy by relaxing within the spacious villa grounds, perhaps taking a dip in the villa's luxurious private swimming pool. The villa is privately owned by a retired British couple who are originally from Mauritius. They spend most of their time in the south of the island where they have their own family home. Sleeps 6.
Holiday Sunshine (Ref: 22812)
Self catering villa in Flic en Flac, Mauritius
An amazing, modern yet charming, modern, spacious and fully furnished 3-bedroom beach house with parking space. The Beach House, Holiday Sunshine, is a one minute-walk to the safe, lovely, fine sandy beach with turquoise water sea. The kitchen is well equipped with tiled work surface. Equipments such as electric fans, kettle, coffee maker, and bed linens and towels are provided. You are most welcomed to the delicious coconuts grown in the garden. All amenities are within a 5-minute walk: excellent reasonably priced restaurants, bars, supermarket, excursion/diving and car/bike hire centres and banks. Ideal for couple on honeymoon and families in quest of a dream-holiday. Holiday Sunshine is let for a minimum of 5 days. Sleeps 6.
Villacool (1) (Ref: 24623) Self catering villa in Flic en Flac, Mauritius
Villacool is situated in the region of Flic en Flac, in the district of BLACK RIVER on the West coast of Mauritius and about 30 minutes drive from the capital city of Port Louis. The west coast is reputed for its dry, warm and stable climate with a temperature range of 18 to 32 degrees. A T shirt is all you need in summer and a sweatshirt or something warmer is necessary for winter evenings. Flic en Flac since a few years has expanded from a seaside village into a busy tourist resort providing a whole range of services such as banks, automatic teller machines, Post office, pharmacy, laundry, bars and restaurants specialized in Indian, Chinese, Italian an local cuisine, excursion and tour operators, and more recently a Spar Shopping centre. Sleeps 7.
Villa Ravenale (Ref: 27738) Self catering villa in Mont Choisy / Trou Aux Biches, Mauritius
Villaravenale is located in the North West of Mauritius, within 5 minutes' walk to two of the most beautiful beaches on the island, the Trou Aux Biches Beach with its 3 kms of fine, golden sand and Mont Choisy Beach which stretches over 5 kms. The region is an oasis of peace and tranquility. The sea with its translucent blue water is surrounded by a barrier reef which protects it from high sea waves and enables a lot of beautiful fish to thrive in a natural habitat. Trou Aux Biches and Mont Choisy are essentially beach resorts, with some of the finest hotels like the 5-star Trou Aux Biches Hotel. Should you wish to dine out and watch the local artists perform the sega dance, you may try one of the restaurants of the hotels in the vicinity... Sleeps 5.
Villa Sandy (Ref: 21136) Self catering villa in Flic en Flac, Mauritius
Here at Sandycove Villas, we can offer you luxurious self catering accommodation at affordable prices. We are a small family run business situated only two minutes from one of Mauritius' finest white sand beaches, Flic-en-Flac. Our villas offer spectacular views of the beach and crystal clear blue seas, whilst allowing you to relax in a tranquil atmosphere. The magic of Mauritius will unfold on the beaches of Flic-en-Flac, with restaurants, bars and nightclubs all within easy walking distance of the villas You can escape in the peaceful silence of the villas and lose yourself in the beauty of Mauritius, whilst you discover a paradise on Earth. Sandycove Villas can be found on the west coast of Mauritius. Situated on one of the island's most popular beaches, Flic-en-Flac is a 2 minute walk from the complex. Sleeps 5.
Search for more self-catering and vacation rental properties in Mauritius

Top
Angola - Botswana - Burkina Faso - Cameroon - Congo - Eritrea - Ethiopia - Gabon - Gambia -
Ghana - Ivory Coast - Kenya - Lesotho - Madagascar - Malawi - Mauritius - Mozambique -
Namibia - Nigeria - Senegal- Seychelles - South Africa - Swaziland - Tanzania -
Tunisia - Uganda - Zambia - Zanzibar - Zimbabwe