Search this site

Copyright © All World Vacation Station





Shenzhen Featured Hotels
Begin In Beijing - Beijing Travel Information
Chongqing Museum invites you to experience 360-degree "mountain forest city"
Dongguan Information
Hangzhou Travel - The "City of Heaven"
Hong Kong Shopping - What are the best buys?
Nanjing travel info for your China vacations - 2 days in Nanjing
National Stone Museum – A Collection of Fascinating Stones in Wuhan
Shanghai Sightseeing, a perfect holiday destination
Study in Guangzhou, Guangdong Province
Tianjin City - Embrace the Journey and the Adventure
Top Attractions in Shenyang – A vibrant mixture of history, culture, nature and entertainment
Yangtze River Tours
Your China Travel Guide: How to discover the wonders of China
Shenzhen Museum: An Imperative Cultural Resource of Shenzhen. by Pushpitha Wijesinghe
Shenzhen Featured Hotels
Ideally positioned in the centre of downtown Shenzhen close to the Lychee Lake is a multifunctional Shenzhen Museum. Today the museum has grown to be an imperative cultural resource of Shenzhen.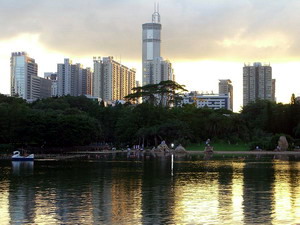 The Shenzhen Museum has always been praised for its role played as an institute that provides knowledge and awareness for the public through patriotic education, cultural relics collection and scientific research. The museum is home to over 20,000 pieces of cultural relics. One of the most important among them is the specimens of paleobioligical fossils that date back to nearly 100 million years. There are also exhibits showcasing nearly 5000 years of ancient Chinese civilisation.
Since the inception of the museum, it has taken significant measures to sustain its permanent exhibits. The permanent exhibitions include Ancient of Shenzhen, Reform and Opening-up History of Shenzhen, Modern History of Shenzhen and Folk Culture of Shenzhen. These materials reveal the great heritage of the Shenzhen region of about 6000 years.
The museum also offers its younger visitors the chance to enhance their knowledge on natural sciences through exhibitions such as Marine Organisms and Wild Animal Specimens. Shenzhen Museum also has an extensive collection of cultural relics. The museum collects new and important relics each year and the exhibitions are also in turn offered to its guests with a new twist.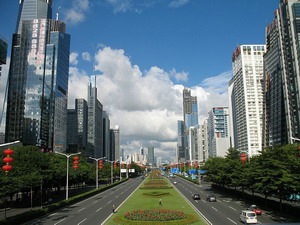 The Shenzhen Museum also plays an important role as an organization that researches social science. It has published a few monographs such as History of Shenzhen Special Zone, Modern History of Shenzhen, Ancient History of Shenzhen, Archaeological Finding and Research in Shenzhen and History Tells the Future. The results of these scientific researches have attracted many among the academic circles. The Shenzhen Museum has today become a one stop shop from where people can discover and learn the history of Shenzhen and important facts about the Hakka culture.
This comprehensive museum can be further discovered by conveniently staying at a nearby Shenzhen luxury hotel. Travellers can stay at a Luxury accommodation in Shenzhen and feel the warmth of great hospitality and friendly service. For instance, Shangri-La Hotel, Shenzhen offers even the most discerning travellers a feeling of elegance, comfort and convenience.
About the Author: Pushpitha Wijesinghe is an experienced independent freelance writer. He specializes in providing a wide variety of content and articles related to the travel hospitality industry. Luxury accommodation in Shenzhen


| | |
| --- | --- |
| SHENZHEN FEATURED HOTELS, CHINA | |

Search for hotels in Shenzhen
Best Western Shenzhen Felicity Hotel
The Best Western Shenzhen Felicity Hotel is in the heart of Lo Wu District, convenient to business, shopping and transportation. Business guests will appreciate the full service business center, complete with meeting rooms and banquet facilities. Other hotel amenities include a fully equipped fitness center, large outdoor pool, disco and onsite restaurant and lounge, offering a variety of Chinese, Japanese and international cuisine. Transportation is available from Shenzhen to Hong Kong city center and the Hong Kong International Airport.
Kempinski Hotel Shenzhen China
Located in Nanshan District, Kempinski Hotel Shenzhen features an indoor swimming pool, shopping arcade and 3 dining options. Free internet and parking are provided. Luxurious rooms at Kempinski Shenzhen feature ocean or city views. Each room has an LCD TV, chaise lounge and minibar. Guests can treat themselves to a massage, or relax in the sauna. The hotel also offers laundry and limousine services. Seasons Restaurant offers all-day international dining, while Hai Tao Restaurant serves Chinese dishes. Enjoy cocktails and live music at The Lounge. Kempinski Hotel Shenzhen is a 30-minute drive to Shenzhen Bao'an International Airport.
Marco Polo Shenzhen
The Marco Polo Shenzhen is in the heart of the Futian District, the city's new Central Business District, with 391 well-appointed rooms and suites. CCF Rooms and Suites prove an ideal choice with their spacious size, contemporary décor and exclusive setting. Club Floor guests can enjoy privileges like personalised check-in and check-out services, complementary breakfasts and 'Happy Hour' cocktails at the Club Lounge. Culinary delights abound at Marco Polo Shenzhen restaurants – Carrianna Chiu Chow Restaurant, Nishimura Japanese Restaurant and the Café Marco, serving a fusion of "Euro-Asian-Chinese" cuisine, as well as, fresh seafood and imported steaks.
Pavilion Hotel Shenzhen
With a location in one of the major shopping areas in Shenzhen, and numerous onsite facilities, the luxury hotel caters to everyone. Wake up to an international buffet at the Café Pavilion and later feast on Korean and Asian cuisine at the Jin Grand Shan Restaurant. One must spend at least a few hours lounging and sipping cocktails at the rooftop pool bar as well as the Goldrush Bar. Utilize the car rental services and visit close by attractions such as the High-Tech Exhibition Center. Take the children on an all day excursion to the many amusement parks in the area. The Pavilion Hotel's 11 service offices should accommodate most corporate and business needs. The hotel is ideal for all travelers who want to live in luxury while in Shenzhen.
Shangri-la Hotel, Shenzhen
The Shangri-La Hotel, Shenzhen is the city's premier international luxury hotel, combining spacious accommodations, exceptional fine dining, and comprehensive business and event facilities in the heart of this rapidly growing metropolis. Enjoy majestic views of Hong Kong's New Territory, as well as panoramic views of the Shenzhen city. The Shangri-La Hotel, Shenzhen offers guests an enticing array of dining options. The signature Shang Palace is renowned for its authentic Cantonese and superb regional dishes providing exceptional hotel dining in Shenzhen. The newest hotspot is 360º Bar, Restaurant & Lounge, which offers panoramic views of the city from its spacious interior. The Poolside Bar serves up barbecued snacks and refreshing cocktails
Shenzhen Sichuan Hotel
Shi Hua Hotel Shenzhen is a 3-star business and conference hotel. With 29 floors, the hotel located in North Jing Tian of Fu Tian District is opened in 2002. The worldwide supermarket like Sam's Club and Carrefour are within walking distance. Shenzhen High-Tech Fair and the beautiful Lotus Mountain are also close to the hotel. It is about 10-minutes by car from the hotel to the Happy Village and World Miniatures. Sichuan Hotel Shenzhen has 153 guestrooms and suites. All rooms are equipped with air conditioning, satellite TV, cable TV, IDD, DDD and internet access.
Continue browsing hotels in Shenzhen
Bangladesh - Cambodia - China - Georgia - Hong Kong - India - Indonesia & Bali - Japan -
Kazakhstan - Korea (South) - Kyrgyzstan - Laos - Macau - Malaysia - Maldives - Nepal - Pakistan -
Philippines - Singapore - Sri Lanka - Taiwan - Thailand - Turkmenistan - Uzbekistan - Vietnam