Search this site
Copyright © All World Vacation Station



| | |
| --- | --- |
| EUREKA SPRINGS, ARKANSAS TRAVEL GUIDE | |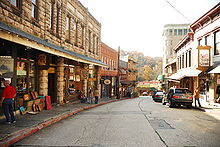 Eureka Springs is a city in Carroll County, Arkansas, United States, one of the two county seats for the county. It is located in the Ozark Mountains of northwest Arkansas. The entire town of Eureka Springs is on the National Register of Historic Places as the Eureka Springs Historic District and is one of the most popular tourist destinations in Arkansas.

Eureka Springs is a unique Victorian resort village in Carroll County, Arkansas which has its own culture and lifestyle. The city has steep winding streets filled with Victorian-style cottages and manors. The old commercial section of the city has an alpine character, with an extensive streetscape of well-preserved Victorian buildings. The buildings are primarily constructed of local stone and lie along streets that curve around the hills and rise and fall with the topography in a five-mile long loop. Some buildings have street-level entrances on more than one floor. The local Catholic Church boasts a street-level entrance to its bell tower. Eureka Springs has been selected as one of America's Distinctive Destinations by the National Trust for Historic Preservation.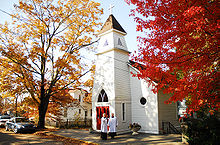 Most of the stores and shops in the commercial district are locally owned and managed. They consist primarily of specialty shops featuring local crafts, antiques, the works of local artists, and standard Ozark tourist fare. The downtown area also features various coffee shops and sidewalk cafés. The town has more than 20 art galleries in the downtown area. The city maintains a trolley service providing transportation around town for the tourists who visit the town.
The city hosts the 7-story tall, 2 million pound, white concrete statue of Jesus known as the Christ of the Ozarks, erected privately in 1966 as part of a planned religious theme park. The statue sits across the valley from the downtown area and is visible from most parts of the lakes and rivers in the immediate area. The city is home to The Great Passion Play. The play is "America's #1 attended Outdoor Drama," according to the Outdoor Institute of Drama at Chapel Hill, North Carolina. Celebrating its 40th season in 2008, the play will welcome its 7.5 millionth visitor.

| | |
| --- | --- |
| EUREKA SPRINGS FEATURED HOTELS | |

Search for more Eureka Springs, AR Hotels and surrounding areas
Best Western Eureka Inn, Eureka Springs
Located in America's Victorian village, historic Eureka Springs. Nestled in the Ozark Mountains, the Best Western Eureka Inn was carefully constructed to match the villages atmosphere and offers a variety of rooms to meet our guests needs. Best Western Eureka Inn offers Eureka Springs hotel lodging accommodations to meet any lodging need. All guests of the Best Western Eureka Inn are able to start their day with a FREE full breakfast. This isn't a muffin or danish and coffee you eat on the run but an actual full breakfast, cooked to order that you sit down to eat in our Gazebo Restaurant.
Best Western Inn Of The Ozarks, Eureka Springs
Welcome to the Best Western Inn of the Ozarks. Business and leisure travelers will both feel right at home in our full-service Eureka Springs, Arkansas resort hotel that delivers comfortable lodging, southern hospitality and ample amenities. Enjoy a first-rate location in the picturesque Ozark Mountains that's conveniently close to shopping, dining and a multitude of Arkansas attractions. Delight in a wide array of pleasing amenities, such as an outdoor swimming pool, hot tub, business center, gift shop, miniture golf course and convention center. Eureka Springs, Arkansas Restaurants. Savor home-style meals at Myrtie Mae's, our onsite award winning restaurant. Plus, you'll find fine food at an excellent selection of dining establishments that are a short drive from the Best Western Inn of the Ozarks..
Comfort Inn Eureka Springs
The Comfort Inn of Eureka Springs, Arkansas offers Victorian charm that will transport you back to the days of yore, relax and let the hectic world outside fade away. Conveniently located at the intersection of Highway 23 South and 62 East, near antique malls, gift shops, restaurants, shows, and more. Our spacious, clean and comfortable accommodations include your choice of Queen beds, King beds, luxurious Jacuzzi suites, and secluded cabin. Whether you are looking for a solitary retreat, a romantic getaway, or planning an event for your group, Comfort Inn of Eureka Springs has the perfect lodging choices for you. Come stay with us and treat yourself to our wonderful famous breakfast which includes homemade quiche, breads, hot Belgian waffles and more!
Days Inn Eureka Springs
The Days Inn Eureka Springs is nestled in the Ozark Pines with woods view, a quiet, secluded, scenic location off the highway. Eureka Springs, AR is 50 miles from University of Arkansas and 45 miles to Branson, MO. Eureka Springs has mountains full of fall colors and spring Dogwoods. Passion Play, Music Shows, Museums, Historic Homes, Boat and Train Rides are only a short distance away. The Trolley stops at the property. We have free wireless Internet access, an outdoor heated pool that is open 24 hrs in season with pool basketball and free continental breakfast. We have a picnic area with grill available
Browse the full list of Eureka Springs, AR Hotels and surrounding areas
Do you have quality vacation accommodation in Arkansas?
Why not join us?