Search this site

Copyright © All World Vacation Station




Dining in Taipei - a refreshing experience
Kaohsiung Guide
Magical Taipei: Capital of Taiwan
Taiwan: The Eastern Surprise
Taoyuan Guide
Top Places to Visit in Taiwan
Taoyuan County is a county located in Northern Taiwan, adjacent to Taipei County in the north and Hsinchu County in the south.
Taoyuan Featured Hotels
It is the home of Taiwan Taoyuan International Airport, which serves Taipei.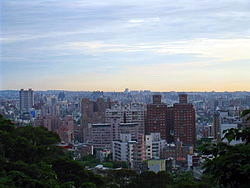 Often cataloged as a industrial region, Taoyuan County has more foreign laborers working there than any other region of Taiwan. Though it is the second most populated County in Taiwan, it is usually not a major target of travelers except for those with a overnight stopover at Taiwan Taoyuan International Airport. Taoyuan and Jhongli are the two largest cities in the County. Away from the crowded plains, in the mountain area, there are still natural beauty and aboriginal cultures to be seen.
Everyone arrives at Taiwan Taoyuan International Airport begins their journey in Taoyuan County. However, it is surprisingly inconvenient if you just want to leave the airport. Comparing to the comfortable and frequent expressway buses that go to Taipei, there are only 2 local bus routes, one for Taoyuan and one for Jhongli. The buses departs 1~2 times per hour. They don't have a separate luggage space so it's quite a trouble if you are traveling with large luggages. The bus trip takes about 50 minutes, travelers who are in a hurry or don't like local bus services are advised to take taxi instead.
Taoyuan City is the county seat of Taoyuan County in Taiwan, located in the northwestern part of the island. Taoyuan city is also the gateway of Taiwan with the Taiwan Taoyuan International Airport in vicinity and a 30-minute ride to Taipei- the capital city of Taiwan.
Taoyuan's sister cities are Irvine, California and Kennewick, Washington.


| | |
| --- | --- |
| TAOYUAN FEATURED HOTELS, TAIWAN | |

Search for more Taoyuan hotels
Fullon Hotel Linkou Taoyuan
Fullon Hotel Linkou is located between Wenhua Second Road and Wenhua Third Road in Guishan village, Taoyuan. It is next to Taoyuan's Huaya Science Park and Chang Gung Memorial Hospital Linkou Branch; only takes a three minute drive to arrive there. Also, it only takes a fifteen minute drive to downtown Taipei and a thirty minute drive to the Taoyuan international airport. Linkou Fullon is a brand new hotel opened in 2009. Its fine service, delicious cuisine, and wonderful facilities will make guests feel relaxed and cozy. Among Taoyuan hotels, this luxurious hotel provides comfortable and tranquil environment for both leisure and business travelers.
Luckynews Classic Hotel Taoyuan
Offering friendly hospitality and warmth, the Luckynews Classic Hotel Taoyuan welcomes you for an relaxing and wonderful stay. The Luckynews Classic Hotel Taoyuan is located in the area on the other side of Taoyuan Train Station with easy access to all directions and other part of Taoyuan. This hotel is also close to Northern Region Branch Bureau of National Health Insurance. Enjoy Chinese and Western style buffet breakfast served at the dining room before you tackle your day. The hotel offers well equipped meeting room for business travellers to organize their official meetings and seminars. At free time, spend your time by exploring the city and its beautiful attractions.
Taoyuan Chinatrust Hotel
Taoyuan Chinatrust Hotel is one of the leading business hotels in the vicinity, being located in the congregation ground of businesses and arts. There are 170 exquisite and comfortable guest rooms, and also equipped with a business center, conference center, VIP lounge, gym, as well as Chinese and Western cuisine to cater for your every need, giving you a sense of home. Taoyuan Chinatrust Hotel is locally famous for its delicious meals. Local and seasonal ingredients bring fresh, rich flavor to every dish by our experienced chefs. From Cantonese, Taiwanese, and Western cooking, to events like wedding banquets, parties, and buffets, enjoy the presentation, aromas, and rich flavors of every dish.
Zai Yan Leader Hotel Taoyuan
The Taoyuan Zai Yan Leader Hotel is located near the Taoyuan Train Station, as well as to the main roads and freeway exchange, regardless Chungli or Taipei, there are very good connections. The Taoyuan Zai Yan Leader Hotel is special for the elites, providing a quite leisure space after the whole day's business; we also provide you business suites which combine both business and leisure, the basic principle of kind service with zeal and concern, so you can relax in the pleasure after the exhaustion. The Taoyuan Zai Yan Leader Hotel is located in downtown Taoyuan with a superior geographic position; it is very convenient for shopping and conducting business.
Continue browsing Taoyuan hotels
Bangladesh - Cambodia - China - Georgia - Hong Kong - India - Indonesia & Bali - Japan -
Kazakhstan - Korea (South) - Kyrgyzstan - Laos - Macau - Malaysia - Maldives - Nepal - Pakistan -
Philippines - Singapore - Sri Lanka - Taiwan - Thailand - Turkmenistan - Uzbekistan - Vietnam