Beach holidays, mountain trekking and safari adventures in Kenya
For those planning an African experience, Kenya is an excellent choice. This East African country offers a variety of landscapes from its tropical Indian Ocean beaches to its inland savannah, mountain highlands and the Great Rift Valley and everything in between.


Photo Wildebeest in Masai Mara Kenya via Wikimedia by Bjørn Christian Tørrissen/CC BY-SA 3.0
Whether planning a safari holiday, beach break or more adventurous mountain trek, Kenya has it all. Adventure Alternative offers some great safari and trekking options, as well as the chance to volunteer in Kenya.
Masai Mara Safari in Kenya
Thereís nothing quite like a classic safari through the African bush. The Masai Mara Reserve, located in Narok County, is famous for its wildlife, including African leopards, Kenyan cheetahs and the Masai lions. However it is even better known for the annual migration that occurs here each year, to and from the neighbouring Serengeti.


Photo zebra in Masai Mara via Wikimedia by Key45/CC BY 2.0
The best time to visit Masai Mara is between July and October, to experience the Great Migration of the wildebeest, Thomsonís gazelle and zebra firsthand. This truly spectacular sight is a once in a lifetime experience.
However with its rolling golden plains, Masai Mara is a great safari destination all year around. Other species on view include giraffe, elephant, hyena, hippos and Nile crocodiles in the Mara River. While on safari, choose from among a range of luxury lodges and tented camps for a real safari experience.


Photo wildebeest in Great Migration Masai Mara via Flickr by Thomson Safaris Tanzania Safaris and Kili Treks/CC BY 2.0
Mountain trekking in Kenya
Mountain climbers and trekkers can experience Africa from a different angle from the peak of beautiful Mount Kenya. At 5,199 m, this snow capped mountain is the second highest in Africa, with several different options for both climbing and trekking. To add to the experience, a variety of wildlife is also on view as you head from the forested lowlands, to the alpine heath and finally up to the stunning snow-clad peaks. You might be lucky to spot lobelias and senecios, as well as the rock hyrax along the way.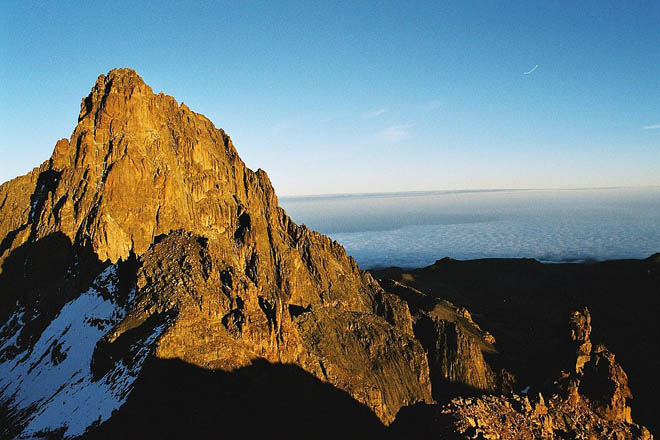 Photo Mt Kenya via Wikimedia by Håkon Dahlmo/ CC BY 2.5
Lifeís a beach in Kenya
The country offers a variety of beaches and beach resorts along its Indian Ocean coast. Among the most popular, Diani stands out. Located 30 km from Mombasa, this tranquil beach offers swimming, surfing and kite surfing, as well as beautiful coral reefs, shady palm trees and forest surroundings. The resort itself offers a range of hotels, restaurants and shops.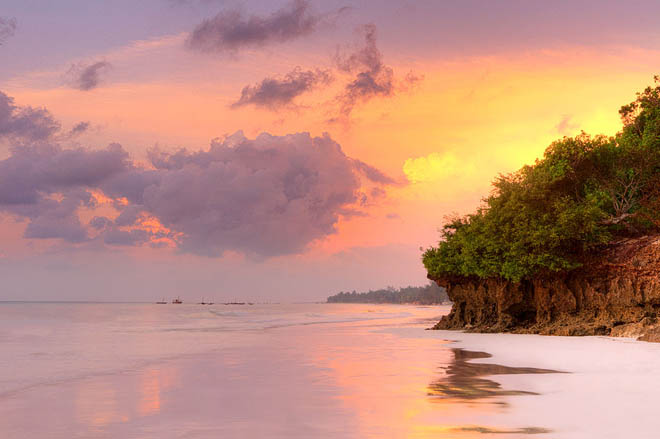 Photo Diani Beach Kenya via Wikimedia by Lukasz Ciesielski/ CC BY-SA 3.0
Nyali Beach is famous for its white sand, turquoise water and waving palms trees, while the coral reef is also worth exploring. The beach is a popular spot for all types of water sports, including scuba diving, kite surfing, jet skiing and beach volley ball, or just plain chilling out on the sand. Nyali is a residential area of Mombasa with a range of resorts, hotels and shops.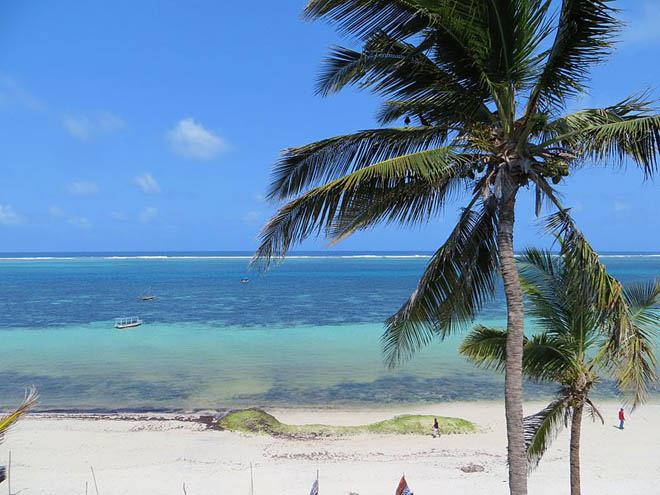 Photo Nyali Beach Kenya via Wikimedia by FredD/CC BY-SA 3.0
Whether lounging on the beach, heading up a mountain or relaxing on a safari, consider Kenya for your next relaxing or adventure holiday.
Home - Kenya Travel Guide - Travel Blog