Search this site

Copyright © All World Vacation Station




Pattaya Recommended Hotels
Chiang Mai Travel Guide
Chiang Rai - A Great Retreat
Discover the Best of Bangkok: Bangkok Sights, Lodging and Its Spicy Nightlife
Eco Travel in Thailand
Exciting Island Hopping in Krabi
Experience the wild side of Phuket - Phuket Safari Tour
Hua Hin: Thailand's Beach Resort Paradise
Living in Hua Hin, Thailand
The tropical beaches of Phuket
Tourist Attractions in Ko Samui
Travel to Thailand - Thailand Cities and Attractions
An Effective Travel Guide for Pattaya
Pattaya Featured Hotels
Thailand is one place where many people would love to visit. The warm climate and the beautiful natural resources, such as the mountain geography in the north and the coastal beaches in the east and the south make it a very attractive location. We are going to look closer at the eastern region where the city of Pattaya is located. You may already have knowledge or you have been there been before but it is common knowledge that Thailand is a popular tourist location and has millions of visitors every year. This is due to the beautiful beaches and the vibrant night life which give people endless enjoyable activities.


For first time visitors to Thailand or Pattaya there are plenty of information resources that provide information about Pattaya. There are travel guides and there are websites that provide comprehensive information, such as the website of Tourism Authority of Thailand, (TAT), or you may want to visit lonelyplanet.com which can also be used as an information reference.

Even though Pattaya gets its reputation from its beach and night life, there are many other tourist attractions that tourists can enjoy. For example, there is a fish aquarium that has recently opened and this aquarium can boast that it is the largest in Southeast Asia. As well as these tourist attractions there are activities such as rock climbing, hiking or even just relaxing on the beach.


Buy This Allposters.com


The hotel accommodation in Pattaya can also offer excellent services. You can find a wide range of hotels available which cater for all budgets. There are the top luxury hotels which can provide a very private environment and services to ensure that you will not be disturbed. The massage and the beauty services in Pattaya have a very good reputation, particularly the traditional Thai massage and the facial therapy massage in the typical Thai style, which you will experience with the use of traditional Thai herbs that claim to cure various diseases through an elaborate massage method.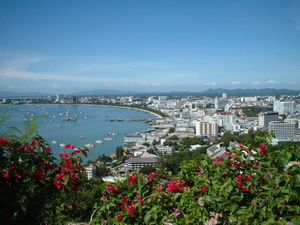 Pattaya is divided into three areas: north Pattaya, central Pattaya and south Pattaya. Each area has its own unique characteristics, such as the beautiful beaches and other travel attractions. North Pattaya is the closest to other attractions which are nearby, such as the Sila Village where the local mortar is made. Central Pattaya offers beautiful beaches and typical Thai city life
The people as well as the environment in Pattaya are also very pleasant. Even though there is more urban areas than suburban area, there is still a very good environment and very little pollution. People are also very friendly and always willing to help tourists.
Even though there are travel guides for Pattaya on the internet, some in Thai and some in English not all of them are reliable. It is wise to compare the various sites and ensure that they are up to date.
Read some facts about Pattaya, Pattaya Travel Guide at http://www.pattayahotelbooking.com

| | |
| --- | --- |
| PATTAYA FEATURED HOTELS, THAILAND | |

Search for hotels in Pattaya
Amari Orchid Pattaya
The Amari Orchid Resort and Tower offers a relaxing and luxurious retreat from the city by the sea. The facilities and services of this complex make it ideal for both leisure and business travellers. The Amari Orchid Resort and Tower is located at the quiet northern end of Pattaya Bay and is easily accessible to all the local attractions. The resort offers comfortable accommodation units that are elegantly decorated and well-equipped with a host of modern amenities. Most of the rooms have balconies with views over the surrounding area. Guests can dine on the Asian, Mediterranean and international cuisine in a relaxing and friendly atmosphere of the 3 restaurants. After a tiring day, you can unwind at the cosy bar or at the pool bar.
Baramie Residence Pattaya
The Baramie Residence is a small, delightful boutique hotel at the Jomtien-Sattahip Beach, approximately 12 km south of Pattaya City. It consists of several two level buildings and bungalows, all set in beautiful, tropical gardens. The Baramie Residence is linked to the beach by a beautiful lawn area, providing ample space for sun beds and shades. Because of the small number of rooms and suites (in total 36) every guest will find at any time of the day a free sun bed, either on the very large lawn or on the beach. The kitchen serves international dishes and Thai specialities throughout the day and guests have the choice where to have their lunch or dinner: in the restaurant, at the pool or in the room.
Citin Garden Resort Pattaya
Located on the South Pattaya Road, Citin Garden Resort is very close to downtown Pattaya city, an area surrounded by a variety of entertainment and shopping centers such as Central Festival Pattaya, Royal Garden Plaza, home to Ripley's Believe It or Not Museum, Walking Street and more. These shopping centers along with Pattaya beach, are easily reached in only minutes by Citin Garden Resort's free tuk-tuk shuttle service, making this Pattaya Resort the ideal location. Facilities of Citin Garden Resort Pattaya include a swimming pool with Jacuzzi, a pool deck complete with deck chairs for soaking up the sun, a pool bar and free wifi throughout the hotel. For dining there is the newly built Gazebo Café, overlooking the pool and tropical gardens it makes for a great place to unwind.
Dusit Thani Pattaya
A beach resort endowed with city status, offering a unique blend of urban efficiency and seaside leisure. Located on the suburbs of the Pattaya Beach in the city of Pattaya, it combines the natural delights of sun, sea and sand with fun and excitement of a Metropolis. Every room has a private balcony with wonderful views of the lush green gardens and the ocean. Pattaya is a popular destination for global travellers, and the Dusit Resort is a Pattaya hotel that reflects this through its wide variety of international cuisine. The various restaurants reflect a plethora of cuisine ranging from Oriental favourites, to Italian dishes. The Cascade Cafe has a culinary mix of European and Asian dishes.
Garden Cliff Resort and Spa Pattaya
Pattaya remains a consistently popular, easy-going hideaway along Thailand's sun-drenched coastline. World-class dive spots and watersports, aquariums, cabaret shows and bustling open-air bars are some of Pattaya's attractions for discerning travelers. Garden Cliff Resort and Spa, Pattaya is minutes from the excitement of Pattaya, yet could be a world away. Stylish restaurants serve the finest Thai and International cuisine as well as delicious bakery treats. The spacious infinity pool overlooks the golden sands of secluded Crescent Moon Beach, directly accessible from the resort. An air of serenity and peace graces the Sanctuary of Truth. This ornate hand-carved wooden sanctuary wooden sanctuary is a popular tourist attraction and a short walk from the resort.
Green Park Resort Pattaya
Surrounded by trees and plants, Green Park Resort is a convenient location where you can enjoy privacy and unmatched scenery. Located in the heart of Pattaya, Green Park Resort is built in contemporary Thai style and surrounded by a lush tropical garden. The amazing location of the hotel along with the best Thai hospitality in it makes it the most ideal destination for any kind of visitors. The hotel offers guestrooms that are neatly set-up and maintained with all modern amenities for its guests to feel the utmost comfort while living in this hotel. All accommodation units overlook the huge lagoons and the marvelous landscaped gardens. Guests can dine at the onsite restaurant, which serves international dishes and the typical spicy Thai cuisine in a warm and pleasant atmosphere.

Hard Rock Hotel Pattaya
Offering more than just a vacation, the Hard Rock Hotel Pattaya is the ultimate rock retreat and is a complete rock and roll experience. Overlooking the eastern shores of the Gulf of Thailand, the hotel is a jewel in the heart of the city with its internationally famed image, bringing a unique style and first class entertainment to town. This property is a haven of 320 themed guestrooms and luxury suites that are designed and decorated in a hip and vibrant style, with each room featuring all the modern amenities. With six restaurants and bars to choose from, guests will be spoilt for choice with the various outlets serving traditional Thai-Chinese, Japanese, Californian and Italian cuisine. The double-storey drum-shaped Hard Rock Cafe is the place to see and be seen as the party rages on every night with its resident band.
Hilton Pattaya Thailand
Set in the heart of the city overlooking Pattaya Beach and the Bay, the stunning Hilton Pattaya hotel is situated above the new Central Festival Pattaya Beach complex – a 250,000m² center which has over 300 international shops and restaurants, a 10-screen cinema and a bowling alley. The airport is only 90 minutes from this elegant Thai hotel. Enjoy succulent seafood in Flare or sip cocktails in our relaxing Lobby Lounge, Drift. Swim in the landscaped outdoor Infinity Pool, work out in the 24-hour Fitness Center or enjoy a treatment in our Spa. A variety of recreation activities are available nearby, including golf, watersports and horse riding.
Continue browsing hotels in Pattaya


Bangladesh - Cambodia - China - Georgia - Hong Kong - India - Indonesia & Bali - Japan -
Kazakhstan - Korea (South) - Kyrgyzstan - Laos - Macau - Malaysia - Maldives - Nepal - Pakistan -
Philippines - Singapore - Sri Lanka - Taiwan - Thailand - Turkmenistan - Uzbekistan - Vietnam