Search this site

Copyright © All World Vacation Station




Chiang Rai Recommended Hotels
Chiang Rai - A Great Retreat
Discover the Best of Bangkok: Bangkok Sights, Lodging and Its Spicy Nightlife
Eco Travel in Thailand
Exciting Island Hopping in Krabi
Experience the wild side of Phuket - Phuket Safari Tour
Hua Hin: Thailand's Beach Resort Paradise
Living in Hua Hin, Thailand
The tropical beaches of Phuket
Tourist Attractions in Ko Samui
Travel to Thailand - Thailand Cities and Attractions
Chiang Rai - A Great Retreat by Alex Albert
Chiang Rai Recommended Hotels
A laid-back city with a unique appeal, Chiang Rai is every vacationers delight, with a number of historical attractions amidst scenic surroundings. Chiang Rai offers wanderlust travelers a lure of adventure and an insight into its historical past, which speaks of many mysteries and folk lores. From being a photographer's delight to being a culinary traveler's favorite, Chiang Rai Hotels is a great base to explore the picturesque surroundings.

Chiang Rai is laid-back city with a rich cultural diversity that strikes an instant chord with the wanderlust traveler. The picturesque city is surrounded by mystic hills and valleys, and allures travelers to explore the terrains. Chiang Rai is Thailand's northern-most province and shares its border with Myanmar and Laos. Chiang Rai has colorful customs and an unchanged way of life which gives a generous glimpse of its traditional lifestyle. There's a large highland population of hill-tribes, with each tribe speaking a different language. There are a numerous tourist attractions featuring Buddhist temples, shrines, and a lot of Lanna-style architectures which speaks volumes of history of Chiang Rai.

The most famous tourist attraction in Chiang Rai is the Wat Phra Kaeo, which is famous for its Emerald Buddha, which was later shifted to Bangkok. The Gate of Siam is also a much frequented place and its one of those few places from where you can witness a panoramic view of the mighty Mekong River. Wat Doi Se Tung is another very important temple in Thailand, and it is believed to have the left collar bones of Lord Buddha enshrined in the twin pagodas. The way up to this mountain shrine offers fantastic views; a shutterbug's true delight.


Buy This Allposters.com
Apart from the historical attractions, Chiang Rai has a lot on its platter to offer to travelers. It's also a place where you can get fantastic souvenirs and a splendid cuisine for the culinary traveler.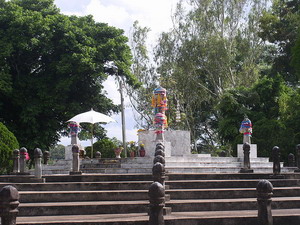 Chiang Rai being a picturesque city, offers many sightseeing opportunities, and the best way to get around is bikes. They are readily available too, and you can set out at your own convenience in a relaxed mood. Car rentals are also easily available and it would be worth while to explore the surrounding areas, for which Chiang Rai serves as a good base to explore. Apart from a number of tourist attractions in the city, visitors can also enjoy a scenic drive to the city of Chiang Mai, which takes around 3 hours by car. For a more relaxed vacation, you can also try out the two international golf courses, Santiburi and The Old Airport, located outside the city. Chiang Rai is served by an international airport, and travelers can also arrive in the city by road directly from Bangkok.
Getting an accommodation in Chiang Rai is easy and Chiang Rai hotels offer varied options, and travelers can choose from bed and breakfast types to luxurious ones. Travelers will find a host of desired facilities and services, and surprisingly, Chiang Rai hotels are also affordable at the same time. Most of the hotels in Chiang Rai are located in scenic surroundings and offer ample glimpses of the local life.
About the Author: Get the best deals on Chiang Rai Hotels through AsiaRooms at affordable rates and make your trip to this serene destination a memorable experience.

| | |
| --- | --- |
| CHIANG RAI FEATURED HOTELS, THAILAND | |

Search for hotels in Chiang-Rai
Dusit Island Resort Chiang Rai
Dusit Island Resort Chiang Rai hotel is situated on an island in the Mae Kok River that flows through central Chiang Rai, Thailand's northernmost province. Located close to Chiang Rai City Center, Dusit Island Resort Chiang Rai provides a gateway to explore the varied sights and sounds of the northern region. With easy access to the mountains, forests, rivers, ancient temples and colourful hilltribes, many of the region's major attractions are within a day's journey from the Resort. The hotel's decor and furnishings also reflect the diversity of northern Thai styles. For special functions, guests can enjoy traditional dining on the floor while leaning against multi-coloured triangular cushions. The Mae Kok River provides a spectacular natural backdrop visible from all the guest rooms, as well as from the rooftop restaurant, The Peak.
Laluna Hotel Resort & Spa Chiang Rai
Laluna stands apart from the crowd with a unique feel. A collection of 79 spacious bungalows hidden away from the main road and nestled within a tropical paradise, 20 of or bungalows surround the large lagoon style swimming pool and Jacuzzi with a large deck area where you can sit and relax, order a poolside snack or cocktail. We are located only minutes from the famous night bazaar and centre of town, and a 15 minute drive to the airport and bus station. Laluna has a large lagoon swimming pool with sun deck to relax on. Laluna feels like a secret garden hidden away from the main road, you can leave that concrete jungle behind. Many services available to release that stress and make your stay relaxing, with a great buffet breakfast, pool side massage and 48inch plasma tv in every room.
Le Meridien Chiang Rai Resort
The only 5-star resort found in Chiang Rai, a cultural region of Northern Thailand, the resort has 159 rooms that meld luxury with style. The resort features a blend of activities, including therapeutic treatments at the spa, refreshing swims in the pool, and hearty workouts in the gym. Outdoors, guests can embark on hill tribe visits, elephant trekking, and river tours. Le Méridien's European heritage for gourmet cuisine and fine wines has evolved into a diverse menu of stimulating and innovative tastes that invite guests to discover a new dining perspective each time they visit. A savoury Italian menu can be found at Favola, and diners can explore captivating international and Asian cuisine at Latest Recipe. Latitude 19 serves snacks and drinks from morning until midnight, and Chill Bar is open poolside for light meals and cocktails until the sunset.
The Mantrini Boutique Resort Chiang Rai
This contemporary and stylish boutique hotel is located a few minutes from the airport and just outside of Chiang Rai city center.The hotel skillfully blends the essence of traditional Lanna style with modern design. The fifty nine spacious rooms are designed in a minimalist but still feature a full range of services and amenities as expected of todayís modern hotel. The hotel provides disabled facilities, a swimming pool and conference facilities for business travelers. The comfortable rooms offer views of Chiang Raiís rolling and un-spoilt landscape, combined with the service of friendly staff makes this an ideal spot from which to discover Thailandís northern most province.
The Palm Garden Hotel Chiang Rai
Palm Garden Hotel provides 33 rooms that are tastefully furnished with quality and comfort in mind. Our rooms offer modern conveniences including: air conditioning, satellite TV, and wireless internet. We are centrally located just 5 minutes from the Chiang Rai Airport and Downtown shopping areas. Come and enjoy Northern Thailand Hospitality and beautiful countryside. This nice boutique hotel is a hidden jem in Chiang Rai. All guest will enjoy a memorable stay with style and convenience. Our staff will assist guests in every aspect of their stay. Experience true northern Thailand hospitality. The hotel restaurant is decorated in a Modern Lanna style. Offers a delicious international buffet breakfast. Also, a Thai and International cuisine menu for travelers.
Wiang Inn Chiang Rai
Wiang Inn Hotel is a luxury hotel that brings to fast modernizing Chiangrai an enhancing beauty and host of first class facilities. At the same time, guests enjoy the very personalized hospitality Thailand's north has become famous for. The Hotel offers 260 beautiful and comfortable guest room decorated in a pleasing elegant northern motif. Besides modern facilities for recreation and relaxation, convention rooms are also available for seminars, conferences and banquets for up to 500 persons, Our attentive service is prompt and courteous under the warmth of Thai hospitality, catering to guests' desires.
Continue browsing hotels in Chiang-Rai


Bangladesh - Cambodia - China - Georgia - Hong Kong - India - Indonesia & Bali - Japan -
Kazakhstan - Korea (South) - Kyrgyzstan - Laos - Macau - Malaysia - Maldives - Nepal - Pakistan -
Philippines - Singapore - Sri Lanka - Taiwan - Thailand - Turkmenistan - Uzbekistan - Vietnam