Search this site

Copyright © All World Vacation Station




Featured Malaysia Hotels
A Cool Holiday Getaway at Cameron Highlands
Diving in Kota Kinabalu: An Idyllic Holiday
Enjoy the Beauty of Pangkor Island in Malaysia
Explore the Delightful City of Kuala Lumpur
Guide to Malaysia Overview
Kota Kinabalu City Tours
Langkawi - Caribbean Of The East
Masjid Sultan Abu Bakar, Johor Bahru
Melaka - The Red City of Malaysia
Penang - Famed tourist destination in Malaysia
Sunway Lagoon Theme Park - Unstoppable dose of Fun, Thrill and Exhilaration (Petaling Jaya)
Travel to Malaysia
Enjoy the Beauty of Pangkor Island in Malaysia by Pinky Mcbanon
Pangkor Island featured hotels
Pangkor is an island in Malaysia that is located 84 kilometers from Ipoh City, three hour drive from Kuala Lumpur. It is a mostly a fishing community where in fishing is a main source of living for the people living here. Pangkor is a beautiful island packed with many wonderful and amazing beaches that is one of tourists' favorite places in Malaysia.


Here, one can enjoy the view of the elegant beaches and engage to certain beach activities. Pangkor is a tropical island that is quiet and peaceful getaway place. There are also several beach resorts to choose from offering the best accommodations and quality services. There are also numbers of private suites where visitors can fully enjoy the quietness and tranquility they're looking for.

Tourists visiting Malaysia always spare time to visit and stay in Pangkor to have a taste of the true Asian native experience. Pangkor beach resorts, though offers modern facilities has always maintained their natural features. One can enjoy here the joy of having the finest comforts with the best experiences with their family and friends. People visiting Pangkor will never have a time to feel bore, for viewing and taking time to see the beauty of the island itself is a very exciting experience.

Families and friends traveling abroad for their vacation trips are always welcome to visit Pangkor promising to be the best vacation place they will ever be. Being a gorgeous beach and a fun place for so many beach activities, Pangkor definitely has it all for everyone.


Buy This Allposters.com


Buy This Allposters.com

Also, discover Pangkor's amazing wildlife. The place has been a habitat for much wildlife among the forests and sea rocks lying in the shores; Pangkor is truly nature-friendly vicinity. There are so many incredible things one can discover here and one will always have something to enjoy.

Also, enjoy the experience of jungle trekking in Pangkor, one of the favorite activities in the island. There are lots to see around the island that will definitely fascinate everyone.

Plus, witness the gorgeous view of Pangkor sky during the night. One will surely be captivated by its stunning evening beauty and the brightly sparkling stars.


Pangkor is a place for everyone to have the best times. There are other islands around Pangkor that will also definitely catch everybody's eyes. You can visit here any time of the year and take pleasure to experiencing having the best things nature has to offer.

Pangkor Island featured hotels
About the Author: Her blogs and websites focuses on stay-at-home moms, dads and students who wants to work at home, build homebased business http://www.mommyisworkingathome.com. Visit her Interesting Site on Asian Travels and Destinations. Discover Asia's Culture and Great Food! at http://www.goingplacesinasia.com

Sunway Lagoon Theme Park - Unstoppable dose of Fun, Thrill and Exhilaration by Pushpitha Wijesinghe
Petaling Jaya featured hotels
Petaling Jaya is a city sited in the Petaling District in Selangor State nestled towards the west coast of the Malaysian peninsula. It sits on the west of Kuala Lumpur city bordered by an imposing marble arched gateway called the Kota Darul Ehsan Arch, towering above the Federal Highway. Petaling Jaya boasts of an extensive park snuggling seven beautiful lakes called the Kelana Jaya Lake Park.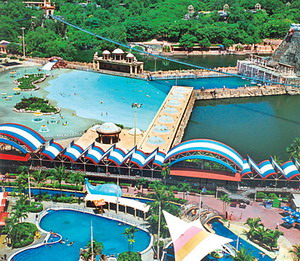 Being famous as a highly developed residential and commercial area, Petaling Jaya also houses one of the most famous tourist attractions in Malaysia. Renowned as the Sunway Lagoon, this exclusive theme park is set in Bandar Sunway Town in Petaling Jaya. Sunway Lagoon Theme Park is packed with an exciting array of fun filled rides and adventures drawing throngs of tourists from the world over.
Sunway Lagoon Theme Park is an excellent place to spend an exciting day out with your friends and family. The surprises here are abundant while fun and excitement are unstoppable. Sunway Lagoon was launched on 29th April 1992 and has climbed its way up to become one of the most frequented theme parks in Malaysia. Covering about 80 acres of land the park is divided into three key segments presenting unique themes accompanied by a high dose of amusement.
The daring and the fearless will thoroughly enjoy the thrilling rollercoaster rides at the World of Adventure. You can also take a stroll along its 428 metre long suspension bridge and capture a breathtaking panorama of the entire Sunway Lagoon. If tunnels, tarantulas and booby traps would not scare you much, then Lost City of Gold is a ride not to be missed. Pirate's Revenge is the country's first attraction that can swivel you 360 degrees around and let you see the world upside down.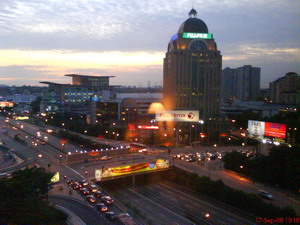 When you step into the Wild Wild West you may feel like you are reliving a cinematic show when cowboys and cowgirls were in vogue. When you pass through daunting totem poles and simulated cowboy towns, it is time to meet the famous Apache Indians. Taking your thrill level a notch up you can try the Niagara Falls Flume Ride, by riding a log that plunges a steep slope into a long river.
For ones who prefer a splashier ride there is the Grand Canyon Rapid Falls to swirl you round and round along a 350 metre long river. But there is still more to the adventures awaiting you at the Sunway Lagoon Theme Park. And these exciting attractions include Waters of Africa, Extreme Park, Scream Park, Wildlife Park and lots more.
You can easily get to the Sunway Lagoon Theme Park from Kuala Lumpur as Petaling Jaya is its neighbouring city. Strategically positioned in the heart of Kuala Lumpur, Shangri-La Hotel Kuala Lumpur is a great choice for accommodation if you are looking for a luxury hotel Kuala Lumpur.This elegant Kuala Lumpur hotel provides tastefully designed rooms and suites complemented with a range of modern amenities. Discerning guests can also access Kuala Lumpur's top shopping malls and key business venues within minutes from here.
About the Author: Pushpitha Wijesinghe is an experienced independent freelance writer. He specializes in providing a wide variety of content and articles related to the travel hospitality industry. Kuala Lumpur Hotels


| | |
| --- | --- |
| FEATURED HOTELS IN PANGKOR ISLAND, MALAYSIA | |

Enjoy the Beauty of Pangkor Island in Malaysia

Pangkor is an island in Malaysia that is located 84 kilometers from Ipoh City, three hour drive from Kuala Lumpur. It is a mostly a fishing community where in fishing is a main source of living for the people living here. Pangkor is a beautiful island packed with many wonderful and amazing beaches that is one of tourists' favorite places in Malaysia..... read more


View map of Pangkor Island

Search for hotels in Pangkor Island, Malaysia
Pangkor Laut Resort
Pangkor Laut Resort is a beachfront resort located in Pangkor Laut. Dining options at Pangkor Laut Resort include a restaurant and a bar/lounge. Recreational amenities include 2 outdoor swimming pools. Also located on site are a fitness facility and tennis courts. The property's full-service health spa has beauty services. This 5.0-star property offers secretarial services and limo/town car service. Complimentary wireless Internet access is available in public areas. The property offers a ferry terminal shuttle (surcharge). Wedding services, concierge services, and tour/ticket assistance are available. Additional property amenities include gift shops/newsstands and a hair salon.
Continue browsing hotels in Pangkor Island, Malaysia

| | |
| --- | --- |
| FEATURED HOTELS IN PETALING JAYA, MALAYSIA | |


Search for hotels in Petaling Jaya, Malaysia
Eastin Hotel Petaling Jaya
Eastin Hotel is located to your advantage. A short drive away from Kuala Lumpur, close to Subang, Shah Alam and within easy reach of Bangsar and Taman Tun Dr. Ismail. Guests can experience the busy lifestyle of downtown KL in a short drive, or visit shopping malls such as One Utama, Atria, Jaya, Swez brasserie is designed with a sky deck roof. Guests can enjoy a selection of local and Western dishes from the a la carte menu as well as the buffet breakfast, lunch and dinner. High tea is served on Saturdays, Sundays and public holidays. There are also restaurants which specialize is Chinese and Japanese cuisine.
Grand Dorsett Subang Hotel Petaling Jaya
Situated just half an hour from Kuala Lumpur International airport, it is just 20 minutes from the city, this beautiful urban resort boasts 502 elegant and modern rooms. An ideal place of stay for both leisure and business travelers, it offers easy access to the commercial hub of Malaysia and is just 15 minutes from Subang National Golf Club. This five star property also offers services like high speed internet access, star wood preferred guest room, writing desk, minibar and they also feature rooms with spectacular views of pool and lake. A wonderful and flawless property, they also feature leisure activities like spa, outdoor whirlpool, sauna, beauty salon and fitness centre. All in all, a brilliant place of stay.
Hotel Armada Petaling Jaya
Set on the buzzing heart of Petaling Jaya, Hotel Armada Petaling Jaya is among the finest 4 star hotel in Kuala Lumpur and a short 20 minutes drive from most Kuala Lumpur hotels. Strategically located next to the Federal Highway, Hotel Armada Petaling Jaya is within access to bus, taxis and LRT. It is the perfect base for exploring the city as this Petaling Jaya hotel is surrounded by endless shopping malls, parks and attractions. Being one of the renowned Hotels in Petaling Jaya, one can be assured of an enchanting experience as you retire into a haven of comfort, facilities and hospitality. With the added touch of warmth and comfort all year round, Hotel Armada Petaling Jaya is ready to tend to all your business and holiday needs.
Continue browsing hotels in Petaling Jaya, Malaysia

| | |
| --- | --- |
| FEATURED HOTELS IN SANDAKAN, MALAYSIA | |

Search for Sandakan, Malaysia Hotels
Swiss Inn Waterfront Sandakan
Swiss-Inn Waterfront Sandakan is strategically located at the Sandakan Harbour Square, a premier waterfront landmark set to be the entertainment, leisure and commercial hub. The vibrant Waterfront offers an eclectic mix of sidewalk walk cafes and quaint shops while nearby attractions includes a central market where local produce, fresh seafood and souvenirs are abundant. The town's historical and architectural sights are within walking distance while eco-tourism attractions beckon the adventurous travelers. A gastronomic journey awaits diners in search for the extraordinary. For dining pleasures, guests can visit Swiss-Deli and indulge in snacks and pastries while The Waterfront Seafood Bar & Grill offer a tempting array of fresh seafood and local delights, al-fresco style.
Continue browsing Sandakan, Malaysia Hotels

Top
Bangladesh - Cambodia - China - Georgia - Hong Kong - India - Indonesia & Bali - Japan -
Kazakhstan - Korea (South) - Kyrgyzstan - Laos - Macau - Malaysia - Maldives - Nepal - Pakistan -
Philippines - Singapore - Sri Lanka - Taiwan - Thailand - Turkmenistan - Uzbekistan - Vietnam