An Exhilarating Adventure Vacation in Daytona Beach
Discover the Florida Frontier for an Authentic Cowboy Experience
Enjoying Charter Fishing in Florida
Florida Golf Vacations
Kingfish to Blue Marlin - Destin, Florida is a Great Little Fishing Town With Beaches Your Family Will Love
Reeling them in, Destin Style
The Best of Fort Lauderdale Restaurants
The Top 10 things to do in Fort Lauderdale
Vacationing in Clearwater
Vacationing in Fort Myers
Visit to Kennedy Space Center, See a Space Shuttle Launch
Want to See a Space Shuttle Launch - Better Hurry, Only Five Missions to Go
The Top 10 things to do in Fort Lauderdale by Isla Campbell
Famous as one of America's favourite holiday destinations, Florida's Fort Lauderdale encompasses some of the very best sights and attractions from the sunshine state, making a rewarding year-round getaway. Renowned amongst the sailing community for its many marinas, Fort Lauderdale has built up a steady and strong army of visitors who travel to it every year for boating, yachting and more. However, there are plenty of other reasons to visit this sun-kissed beach destination, and here are ten of the most popular.
Though all of the beaches in the area have their own unique character and perks, the most popular by far has to be Fort Lauderdale Beach itself. Thousands of visitors are drawn to this spotless beachfront all summer thanks to its miles of clean sand, warm waters and backdrop of busy bars, clubs and restaurants. For snorkelling around the famous Florida coral reef, head to Hillsboro Beach, or spend a day on Hollywood Beach to feel like you're on a movie set.
After a long day's sunbathing, stretch your legs a little at Sawgrass Recreation Park, where the Everglades come to life. Jump on one of the airboat tours and let a knowledgeable guide show you the real Everglades, complete with alligators and even reconstructed Seminole Indian villages. Or jump aboard a Jungle Queen Riverboat Tour to take a sightseeing trip of a lifetime up and down Florida's New River. Stop off for a BBQ on the Jungle Queen Indian Village Island and keep an eye out for wildlife on route.
Alternatively, following 'Florida's Most Beautiful Mile' is another equally good way of exploring Fort Lauderdale. This bustling downtown walk will take you through the city's historic district and past many of the top restaurants and museums, including the Museum of Discovery and Science. Designed for the whole family, this interactive museum is full of hands-on exhibits, a massive IMAX cinema and even a replica of a living forest.
Discover even more of Fort Lauderdale's indigenous wildlife by taking a visit to Butterfly World. Themed around a large rainforest, this family attraction has thousands of colourful butterflies, as well as caterpillars too, all in glass hot houses. Over at Flamingo Gardens you can spend a day exploring real botanical gardens, where dozens of these brightly-coloured wading birds live, as well as other wild inhabitants, like the river otter and even the wild bobcat.
Delving into Fort Lauderdale's historic past couldn't be easier as the city's many museums and exhibitions make learning about the area's history a treat. The Bonnet House Museum & Gardens dates back to the 1920s and, as such, is listed on America's National Register for Historic Sites. Once owned by artists Evelyn and Frederic Bartlett, the house and extensive woodland and swampland grounds were bequeathed to the Florida Trust and now remain as a conserved and untouched reminder of the city's bygone days.
Whatever reason you choose to visit this naturally vibrant and sun-kissed city, there are many Fort Lauderdale Hotels and restaurants to enjoy in between attractions.
About the Author - Isla Campbell writes for a digital marketing agency. This article has been commissioned by a client of said agency. This article is not designed to promote, but should be considered professional content.
The Best of Fort Lauderdale Restaurants by Jade De Leon
Chima Brazilian Steakhouse
Foodies and meat lovers can devour Brazilian meat specialties at Chima Brazilian Steakhouse. It is located at 2400 E. Las Olas Blvd., just minutes away from the sandy beaches of Fort Lauderdale, Florida. The steakhouse offers mouth-watering meals from the freshest cuts of beef, pork, chicken, and generous chops of lamb. They also offer a delectable assortment of fresh vegetables for a gastronomical salad delight that vegans can't resist. Chima Brazilian Steakhouse gives amazing courtyard ambiance with a lush dining experience, its succulent menu withstands with its motto "Sharing a one-of-a-kind experience".
Canyon Southwest Café
The aroma of exotic foods creates an eccentric taste for food lovers. The captivating ambiance and amazing atmosphere of The Canyon Southwest Café offers famous Asian, Central and South American dishes that will surely delight your taste buds.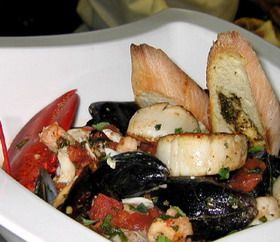 Fine Dining at the Grill Room on Las Olas
Fine dining in Fort Lauderdale Restaurants is best savored at Grill Room along Las Olas Blvd. The restaurant offers a wide range of New American specialties delicately combined from the contemporary with traditional, fused with Latin zest as part of their continental favorites. Guests will surely enjoy a superb dining experience as the Grill Room displays its lavish decor and neatly dressed attendants take orders, while choosing from its top-rated dishes like rack of lamb, yellow fin tuna, sauteed jumbo shrimp, and succulent veal chop while enjoying a glass of good quality wine from its wine cellar which can store 1500 bottles.
3030 Ocean
3030 Ocean in Marriott's Harbor Beach Resort offers an amazing summer soothing menu, prefect to refresh your hunger for garden-fresh salads and fresh seafoods. Their unique salads are filled with the green and freshly-picked ingredients starting from appetizers such as the watermelon and French feta salad, main courses include wild arugula salad with passion fruit vinaigrette or tempura tuna with sweet rice. There is also a separate menu for thirst quenching beverages such as the Goombay Smash which is prepared with sweet mix of banana liqueur, orange and pineapple juices, and rum or try the special Frozen Oreo Mudslide that is made up of vanilla vodka, Kahlua, and of course Oreos and cream.
Sunfish Grill
Beach goers shouldn't miss a delightful seafood meal at Sunfish Grill, a platter from their authentic seafood menu will surely give you gastronomical delight in an instant. The restaurant also offers a superb menu of juicy beef and chicken dishes glazed with their flavorful sauces as well as an assortment of freshly bakes breads, and sweet homemade desserts you can order anytime.
For more info about the latest news, events and attractions, visit FortLauderdaleMetro.Travel, a complete list of Fort Lauderdale Guide for tourist and locals.