Search this site
Copyright © All World Vacation Station



| | |
| --- | --- |
| COLORADO TRAVEL GUIDE - UNITED STATES OF AMERICA | |


Winter Activities in Breckenridge Colorado
Aspen Colorado - A Travelers Guide
Family Adventure in Keystone, Colorado
Great Family Fun in Colorado Springs
Looking for Denver Restaurants?
Great Family Fun in Colorado Springs by Rich Herman
Colorado Springs is the second largest city in Colorado, and is located about an hour south of Denver. Set against the backdrop of Pike's Peak, Colorado Springs still has many historic buildings from the booming days of gold mining in this area. This is a beautiful mountainous area offering spectacular views and a favorite vacation spot for many. Aside from the great scenery, there are many fun things to see and do while visiting here. Here are some of our personal favorites.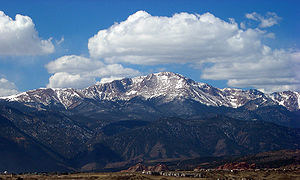 Pikes Peak - This is the most visited mountain in North America and stands 14,110 feet above sea level, towering over Colorado Springs. There are several ways to reach the top. You can travel over the 19 mile Pikes Peak Highway (paved part of the way), hike the 13 mile long Barr Trail, or take the Pikes Peak Cog Railway. The Cog Railway is a favorite of many. It is a 8.9 mile trip and normally operates from April through December.
Garden of the Gods - A Registered National Natural Landmark with 300 foot towering sandstone rock formations set against the backdrop of beautiful Pikes Peak. There are 15 miles of trails for those who love to hike. Group hikes and tours are also available along with guided horseback rides. Tours are available by bus, and every half hour a new tour begins. These last about 20 minutes and are narrated by trained guides that are very knowledgeable about the history and geology of the park.
Manitou Springs Cliff Dwellings - A rare historical treasure located in Manitou Springs at the foot of Pikes Peak. It is open 7 days a week pretty much year-round, and you can easily spend the entire day exploring this area. Authentic Anasazi cliff dwellings, built over 700 years ago, are well preserved and protected under a large red sandstone overhang. There is also a nice museum, gift shop and snack bar located nearby.
There are so many other fun things to see and do in this area, with over 50 different attractions. Visit the Air Force Academy, take a mine tour near Cripple Creek, visit the Olympic Training Center, or enjoy any number of outdoor activities, in this beautiful area that enjoys over 300 days a year of sunshine. Hopefully, this gives you some good ideas for your next family vacation. Take the time to create fun family memories together. You will be glad that you did. Have a great time!
Colorado Springs Hotels / Top
About the Author - Rich Herman loves to travel and spend time with his family. If you have a family member or friend that loves to travel, but has limited mobility, a folding wheel chair may be just what they need. Visit: www.foldingwheelchairshop.com for more information. For more family vacation ideas click here.

| | |
| --- | --- |
| COLORADO SPRINGS, COLORADO, USA - HOTELS & MOUNTAIN LODGES | |

Search for more Colorado Springs, Co hotels
Apollo Park Executive Suites Colorado Springs
Centrally located in Colorado Springs, the Apollo Park Executive Suites is one mile from the Olympic Training Center and eight miles to the Garden of the Gods Springs. The Apollo Park specializes in extended stay lodging for corporations, government, relocation, military families, temporary duty and individuals. The Apollo Park offers an outdoor heated pool, golf course and barbeque/picnic areas, weekly or daily maid service, complimentary parking and business services. Whether you're planning a family reunion, wedding, or an extended stay Apollo Park provides an enjoyable environment of home-like living.
Best Western Academy Hotel Colorado Springs
The Best Western Academy Hotel in Colorado Springs is located 18 miles from the Colorado Springs Municipal Airport in the heart of Colorado Springs, Colorado. The hotel is one mile from the United States Air Force Academy. Dining at the Academy is provided by the Garden Terrace, which serves breakfast, lunch and dinner. The Garden Terrace provides a champagne brunch on Sundays. The hotel's on-site amenities include a fitness center, a heated indoor swimming pool and spa tub. Complimentary wireless Internet access is available throughout the hotel, including guestrooms. Guestrooms at The Academy Hotel in Colorado Springs are decorated with modern furniture.
Cheyenne Mountain Resort Colorado Springs
Featuring spectacular views of Cheyenne Mountain and the Rockies, this Colorado Springs resort offers a wealth of recreational activities on site and nearby. Garden of the Gods is 7 miles away. The 200-acre Cheyenne Mountain Resort features an 18-hole golf course designed by Pete Dye, as well as four pools, a lake, and 18 tennis courts. The resortís Mountain View Restaurant faces Cheyenne Mountain, while the Pineview Dining Room faces the golf course. Spacious guestrooms feature private balconies or patios with mountain, resort, or courtyard views. Decor includes antique-style furnishings. Rooms also offer complimentary wireless Internet access.
Colorado Springs Marriott
The Colorado Springs Marriott is located in Colorado Springs, Colo., less than 2 miles from Ute Valley Park. The hotel is 4 miles from Pulpit Rock Open Space. Chapel Hills Mall and the United States Air Force Academy are within 5 miles. The hotel offers complimentary shuttle service to locations within 7 miles. The Colorado Springs Marriott's lobby features natural granite walls, cherrywood tables, plants, a fireplace and floor-to-ceiling windows. Zebulon's Grill serves Southwestern cuisine for breakfast, lunch and dinner. The hotel serves cocktails at the Lobby Lounge and coffee specialties at Starbucks. The hotel offers an indoor pool, a seasonal outdoor pool, a sauna and a spa tub.
Comfort Suites Colorado Springs
Comfort Suites Colorado Springs is located one mile from the U.S. Air Force Academy in Colorado Springs, Colo. The hotel is five miles from Garden of the Gods. Chapel Hills Mall is less than one-quarter mile away. Comfort Suites Colorado Springs features an indoor pool, an outdoor pool and an 88-foot water slide. The hotel includes meeting space. The hotel offers complimentary full breakfasts including sausage, eggs and waffles. Guestrooms at Comfort Suites Colorado Springs feature televisions with regular cable service.
Drury Inn Pikes Peak Colorado Springs
Enjoy our FREE 5:30 Kickback, FREE hot breakfast, FREE wireless Internet access and FREE long distance. Our 5:30 Kickback includes a rotating menu of chicken tenders, meatballs, baked potatoes, salad, chicken wings, beer, wine, soda, mixed drinks and more (subject to state and local laws). Our QUIKSTART breakfast buffet includes scrambled eggs, sausage, Belgian waffles, biscuits and gravy, fresh fruit, bagels, and pastries. Enjoy our exercise room, business center, swimming pool and spa tub. Amenities featured in guestrooms include coffee/tea makers, 60 minutes of free long distance calls in the United States and free local calls.
Econo Lodge Downtown Colorado Springs
The Econo Lodge is a quaint hotel that offers affordable and comfortable accommodations in a location that is convenient to the area's many attractions. The Garden of the Gods, the Air force Academy and the Olympic Training Center are only minutes from the Econo Lodge. Just three blocks from downtown, and only one block from Colorado College, this hotel is great option for those visiting the area, regardless of their purpose or business. For dining, there are several restaurants in the area, offering guests a variety of dining options. The Econo Lodge is conveniently located near I-25, just off exit 143, offering easy access for motorists.
La Quinta Inn Colorado Springs Garden Of The Gods
The La Quinta Inn Colorado Springs Garden of the Gods is nestled on the eastern slope of the Rocky Mountains, with easy access to picturesque Garden of the Gods, Pro-Rodeo Hall of Fame, Pikes Peak, and Pikes Peak Cog Railway. The United States Air Force Academy, Fort Carson, Peterson Air Force Base, and Schreiver Air Force Base are also within easy reach of this hotel. You will find plenty of great restaurants and golf nearby. The hotel features spacious rooms that come with free high-speed Internet access, a coffee maker, hair dryer, free local calls, and much more. Enjoy a Free Bright Side BreakfastTM served every morning in the lobby by our friendly staff. We have a sparkling outdoor swimming pool (open seasonally) for your enjoyment.
Radisson Hotel Colorado Springs Airport
With a convenient location near area businesses, military installations and the Colorado Springs Municipal Airport, the Radisson Colorado Springs Airport hotel's accommodations are perfect for any business traveler. Our hotel in Colorado Springs offers a 24-hour complimentary shuttle service and is just minutes away from a number of corporate offices. Additionally, we offer an ideal setting for leisure travelers. We offer easy access to Pike's Peak and downtown Colorado Springs, offering guests the opportunity to experience the wonderful attractions near the Radisson Hotel Colorado Springs Airport.
Ramada Limited Colorado Springs Airport
The Ramada Limited Colorado Springs Airport is located 10 miles from Colorado Springs Municipal Airport. This hotel is also conveniently located one mile from the Citadel Shopping Mall and numerous restaurants. At 17 miles away from the hotel, the Garden of the Gods is an attraction not be missed. The Pikes Peak International Raceway and Cheyenne Mountain Zoo are 40 miles away. The Ramada Limited Colorado Springs Airport boasts an excellent location, elegant accommodations and impeccable service. At the Ramada Limited Colorado Springs Airport guests can enjoy first class service at budget rates.
Continue browsing hotels in Colorado Springs, Co & surrounding areas
Do you have quality vacation lodging in Colorado?
Why not Join Us?