Search this site


4x4 Hatta Safari - Mountain Springs
From our travel partners:
Copyright © All World Vacation Station



| | |
| --- | --- |
| UNITED ARAB EMIRATES TRAVEL GUIDE | |

Featured Hotels in Fujairah
United Arab Emirates Travel Guide:
A First Time Visitor's Guide to Dubai
Abu Dhabi - Ancient and Modern by Design
Ajman - The New Dubai
Al Ain: a True Oasis in the Desert
Dubai hotels and accommodation: Simply the Best
Exploring Stunning Sharjah
Top Attractions Of Ras Al-Khaimah
Tourist Attractions in United Arab Emirates
UAE Area Guide - Fujairah
Uae Area Guide - Fujairah by John Hill
Featured Hotels in Fujairah
Fujairah is one of the seven emirates that make up the United Arab Emirates or UAE and is a wonderful emirate to visit with many attractions and points of interest to keep visitors busy. Fujairah is steeped in history and there are many historical sites of interest as well as archaeological sites to visit in this emirate. Fujairah is also blessed with a beautiful and diverse natural environment which offers visitors everything from landscaped parks to mountainous rock climbing areas, beautiful natural waddies and waterfalls through to hot springs which people visit for their natural therapeutic properties. The marine environment of Fujairah is also pristine and varied and attracts visitors from all over the world who dive and fish in the waters off this emirate as well as partaking in every imaginable form of water sports.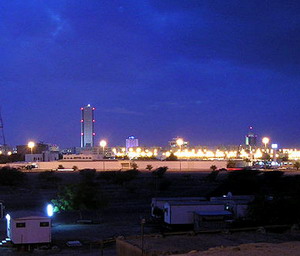 Fujairah has three ancient castles or forts situated within fifteen kilometers of the city, the first Fujairah Fort is a massive mud brick castle that was built in 1670 and was fully restored to it's former glory in 2000. Al Heil Castle is a more modern structure that has been used as a castle by the rulers of Fujairah as well as being used for defence of the surrounding area and as a vantage point for surveillance in years gone by. Al Bithnah Fort was built in 1735 at a strategic location to guard the main passage across the Hajar Mountains through the Ham Wadi; it has long been considered the most important fort and castle in the eastern region of the UAE. Thirty kilometres north of the city of Fujairah is the 400 year old Al Bidya Mosque, this mud brick structure complete with several domes is an engineering marvel of its time and well worth a visit.
There are several beautiful waddies throughout Fujairah those of us in the West would think of them as oasis complete in many cases with waterfalls. The waddies are well worth a visit and many people choose to take four wheel drive adventure tours that take tourists on tours through the desserts of Fujairah and on to the waddies.
Ain Madhab Park is a resort and 50 hectare landscaped garden in Fujairah that is a popular attraction for families who enjoy the tranquillity of the beautiful gardens and resort. Ain Al Ghamour, twenty kilometres south of Fujairah city in the mountainous area of the emirate, has natural springs that reach sixty degrees Celsius and are often bathed in by people hoping to gain health benefits from the springs therapeutic properties, rheumatism, arthritis and back pain are all said to be relieved by the waters.
Fujairah's coastline is pristine and the climate in the emirate is perfectly suited to water sports and activities. There are numerous reefs off the coast of Fujairah that attract divers and recreational fishermen from all over the world. Water sports of all kinds are available in the emirate from sailing to jet skis and everything else imaginable. Fujairah also hosts the Power Boat Racing World Championship every October.
About the Author: Sandcastles UAE Property offers a wide range of Fujairah property for sale. Why not buy Fujairah investment property and take advantage of one of the worlds premier investment opportunities?

| | |
| --- | --- |
| FEATURED HOTELS IN FUJAIRAH, UNITED ARAB EMIRATES | |

Search for Al Fujairah Hotels
Concorde Fujairah Hotel
The Concorde Fujairah Hotel is situated a 5-minute walk from the beach and offers luxurious rooms with either mountain or ocean views. The rooftop pool overlooks the Hajaar Mountains. Guests can relax at the Concorde Spa and Fitness with its jacuzzi, sauna and steam room. A cool drink at the rooftop Smash Pool Bar with its skyline views will offer refreshment after a visit to the gym. The Belle View restaurant serves an extensive breakfast and small snacks during the day. The Samakino seafood restaurant offers fresh fish in a modern setting. The Concorde Fujairah is situated in the heart of Fujairah city, only steps away from restaurants and shops. The Fujairah International Airport is a 5-minute drive away.
Emirates Springs Hotel Apartments, Al Fujairah
The Emirates Springs Hotel Apartments is one of the remarkable tourist landmarks in Fujairah. It is located in the heart of Fujairah surrounded by banks, commercial markets, and leisure areas. The unique feature of Emirates Springs Hotel is its swimming pool, restaurant, and sheesha terrace located in the roof top. After a sumptuous meal one can relax and enjoy a tasteful water pipe whilst savoring a traditional Arabic infusion at the Al Roof Terrace. From the roof top one can enjoy the spectacular view of the Fujairah City and Indian Ocean or ease in the swimming pool. It is made of 50 luxurious apartments, fully equipped with modern furniture.
Fujairah Rotana Resort & Spa - Al Aqah
A secluded retreat, Fujairah Rotana Resort & Spa reflects a warm, friendly, and relaxed ambience amidst glorious gardens, white sandy beaches, sparkling pools and cascading waterfalls. Rediscover genuine care, outstanding and unobtrusive service, friendly surroundings, and authentic cuisine. Trendy yet relaxed restaurant located on the beachside with a panoramic view of the beautifully landscaped gardens and majestic Indian Ocean. Tabu, the most entertaining bar in Al Aqah. Live the rhythm of the night enjoying legendary Tabu cocktails and Cuban cigars whilst the live band and DJ entertainment sets your mood with cool tunes.
Hilton Fujairah Resort
With the dramatic Hajjar Mountains as a backdrop and the waves of the Indian Ocean breaking on its shores, the Hilton Fujairah Resort is ideally located in the city centre. Relax on this Fujairah hotelís private beach, enjoy a stroll through the tranquil gardens or take in the sea or garden views from the balcony of a recently refurbished Guest Room. Unwind at this friendly and laidback Fujairah hotel and enjoy the personalized service and range of activities on offer. Play a game of tennis, enjoy water sports or a work out in the fitness center at the Hilton Fujairah Resort. Take a trip to the Gold Souk or Kalba Lagoon or spend a day shopping in Dubai, then dine in one of the hotelís 4 restaurants and bars. Enjoy fresh seafood in the beachfront Breezes Beach Bar & Terrace.
Hotel JAL Fujairah Resort & Spa
Hotel JAL Fujairah Resort & Spa delivers unparalleled level of guest service and individual attention for the discerning international traveler. Located just 90 minutes from the dynamic city of Dubai and 40 minutes from Fujairah City, the hotel is situated between the Hajjar Mountains and the ocean and is set on more than 500 meters of private beach. All guest rooms and suites are spacious and offer uninterrupted views over the azure waters of the ocean. Experience a sumptuous array of the best traditional and authentic Japanese, Arabic, Asian and Mediterranean cuisines. Each restaurant is characterized by unique décor to ensure charming and stylish dining experience.
Le Meridien Al Aqah Beach Resort Fujairah
Experience the dramatic meeting of verdant mountains and cobalt sea, where outdoor adventures fuse with modern venues and rich traditions. An array of dining options makes Le Méridien Al Aqah Beach Resort an ideal setting for hosting an anniversary, birthday celebration, wedding, or any special occasion. The Baywatch Village is an outdoor complex with a beach bar, pool bar, a beach side restaurant and an Italian restaurant offering al fresco dining during the day and Italian fine dining in the evening. The hotel also offers romantic moonlight dinners beachside on special request.
Continue browsing Al Fujairah Hotels



Bahrain - Cyprus - Egypt - Israel - Jordan - Kuwait - Lebanon -
Morocco - Oman - Qatar - Saudi Arabia - Syria - Turkey -
United Arab Emirates - Yemen