Search this site

Copyright © All World Vacation Station





A Quick Overview of Mexico
Lesser Known Yet Fabulous: Puerto Aventuras
Lets Go To Mexico - 5 Great Mexico Vacation Destinations
The macabre 'Island of the Dolls' is calling you to visit
As 'the largest city in the world' Mexico City has more than a bit of excitement in store for you by Andrew Regan
Featured Mexico City hotels
With 25 million inhabitants, Mexico City is the largest city in the world; it's therefore no surprise that it has so much to offer - from intriguing modern attractions to a variety of ancient cultural wonders. The roots of Mexico's capital lie in its historic centre, which is home to a number of museums, galleries and landmarks; visitors can also experience various religious festivities, cultural events and the 'spirit' of the city by spending time wandering through its centre. Some of Mexico City's top attractions include the National Museum of Anthropology, the Templo Mayor and the Catedral Metropolitana, which now dominates the city's main square, the Zacolo. What's more, Mexico City offers an exquisite opportunity for children to partake in its cultural splendour. The Papalote Children's Museum, for example, holds an array of treasures and is one of the most visited scientific museums in the world.
But the cultural wealth of Mexico is apparent in much more than its ancient buildings, museums and galleries; it's particularly evident in the city's traditions and celebrations. Cinco de May, Dia de Muertos, Representación de la Pasión de Cristo and countless other traditions exude the intriguing character of Mexico City to visitors and locals alike.
While in Mexico City, visitors can take their pick from an extensive array of activities. It's particularly worthwhile to tour one of the city's local markets - such as the La Merced and San Juan markets in the downtown area - where you will find a vast variety of fruits, herbs, flowers and regional products. And where better to experience the world-renowned Mexican cuisine than in Mexico City?
Mexico City's nightlife is also something which should not be missed on your trip to the city; with various shows, restaurants, clubs, bars and discotheques around the city, night time adventures are guaranteed to be just as exciting as daytime jaunts. Dance to cumbia, salsa or meringue music, or see a show in one of Mexico City's numerous theatres.
If you'd like to take a break from the bustle of the city, rest assured that you have countless options to consider. Take an Aztec tour just northeast of Mexico City, where you'll experience the Teotihuacan Pyramids and the ceremonial centre - with its palaces, plazas and altars - along the Avenue of the Dead. Or, for a bit of spectacular fun in the sun, head to one of Mexico's many blissful beach resorts and seaside towns. Mexico's beaches are truly stunning: explore junglous regions, take a dip into the crystal waters, or sun-bathe on the vast, golden coastline. If you're after a bit of beach-side adventure, take your pick from a range of activities such as snorkelling, sailing, surfing and more. Cancun, Acapulco and Puerto Vallarta are particularly popular destinations for Mexican beach holidays.
If you're thinking about taking a trip to Mexico City, you'll find that getting there is easy; countless airlines and travel agents offer frequent flights to Mexico City as well as various other places of interest in Mexico - so don't delay. With so much to choose from on a holiday to Mexico City - from bustling excitement to nearby quaint villages and serene beach settings - every holiday-goer can fulfil his or her idea of the perfect getaway.
About the Author - Andrew Regan is a freelance online journalist that enjoys travelling.

The macabre 'Island of the Dolls' is calling you to visit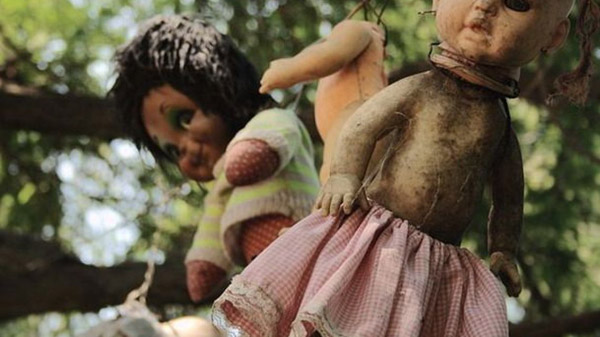 If you have a yen to visit somewhere really unusual, just south of Mexico City is a small island – a strange and eerie place which was never intended to be a tourist destination. Between the canals of Xochimico, this island is known as the "Isla de las Muñecas," or Island of the Dolls and it has quite a story behind it.
The terrifying scene on arrival reveals hundreds of dolls, some with severed limbs, some with decapitated heads, but all extremely eerie, hanging from the trees or posed in the grasses.
Even in the daytime, the scene is very disturbing. At night, it would be sheer terror to stroll around, as according to the locals, the dolls move their limbs and even open their eyes.
This weird and wonderful place is apparently dedicated to the lost soul of a young girl who drowned in mysterious circumstances around 50 years ago on the island. Local legends say that the dolls are possessed by her sad spirit.
Some visitors say they hear the dolls whispering to them. Others say they were passing by on a boat and the dolls called to them, telling them to come visit the island.
Of course, if sense prevails, the island and its strange inhabitants are not truly possessed, but it is indeed a very creepy and fascinating place to visit.
It seems the Island of the Dolls is the brainchild of its former caretaker, Julian Santana Barrera. According to the story of the island, Barrera found the body of a little girl who had drowned in strange circumstances on the island. He said that shortly after this, he found a doll, floating in the canals, which probably belonged to the dead girl.
As a show of respect for the girl and to support her spirit, Barrera picked up the doll and hung it in a tree. He then felt he was being haunted by the spirit of the girl and began to hang even more dolls around the island, to try and appease her spirit. Soon afterwards, according to the tale, he realized the dolls themselves were possessed by the girl, but he carried on collecting dolls and hanging them on trees all over the island.
Some question the very existence of the drowned girl and say that Barrera made up the story because he was lonely on the island. People close to him said it was as if he was driven by unseen forces that had completely changed the man. They say he was made this way because he could not save the life of the little girl.
50 years later, Barrera himself was found dead, apparently drowned in the very same spot where he originally found the girl.
Residents of the island believe that it is a charmed place and after Barrera passed away in 2001, they made the "Isla de las Muñecas" into a tourist attraction. The macabre island has become a popular place to visit and apparently tourists bring even more dolls to hang in the trees.
You can visit this strange and macabre island in the video below, if you dare.
--
By Anne Sewell
Photo:
CC Esparta Palma

| | |
| --- | --- |
| MEXICO CITY FEATURED HOTELS | |
Search for more hotels in Mexico City
Camino Real Aeropuerto Mexico City
The Camino Real Aeropuerto Mexico is connected, by a pedestrian bridge, to domestic terminal 1, gate B of Benito Juarez International Airport in Mexico City, Mexico. The hotel also offers complimentary transportation to Terminal 2. Beautiful Chapultepec Park lies 11 kilometers away. The business and financial district of Polanco is 13 kilometers away. Open late into the evening, Cualli restaurant serves Mexican cuisine while La Huerta offers international specialties from early morning until late at night. La Mansión serves steak entrees and a lobby bar offers evening patrons appetizers and cocktails.

Camino Real - Mexico City
Strategically located in the exclusive financial and commercial zone of Polanco, the Camino Real Hotel Mexico City is within close proximity of many local attractions including Chapultepec Castle, Mariano Escobedo Avenue and the Rufino Tamayo. Built in an attractive architectonic style, and imagined as a hotel-museum by Architect Ricardo Legorreta, the Camino Real opened to the public on July 25, 1968, combining modern architect profiles with obvious pre-Hispanic pyramid reminiscences. This hotel receives its guests with the traditional Mexican hospitality and provides them with a pleasant and unforgettable stay.
Fiesta Americana Grand Chapultepec Mexico City
The Fiesta Americana Grand Chapultepec is located on Mariano Escobedo Avenue, close to one of the most important financial and commercial areas of Mexico City. This architecturally innovative hotel is located adjacent from the legendary Chapultepec Park, one of the most important areas of the city. Fiesta Americana Grand Chapultepec encompasses a concept of both luxury and comfort, designed with the business and pleasure traveler in mind. The hotel offers a spa tub, suana and steam bath. From the lobby, a curved staircase leads up to the hotel restaurant and wine bar. Salammbo serves an international fare.

Four Seasons Hotel México, D.F.
Located on the Paseo de la Reforma boulevard, this luxury hotel is a 5-minute walk from vast Chapultepec Park and a 15-minute walk from the National Museum of Anthropology. The hotel's Reforma 500 restaurant serves Mediterranean cuisine and offers al fresco dining in the garden courtyard. Other amenities include an outdoor pool, a spa tub, and a health club. Business services and concierge assistance are available around the clock. Spacious guestrooms face the hotel's courtyard or the avenues of Mexico City. All include luxury bedding, LCD TVs, iHome clock radios, and wireless Internet access (surcharge). Marble bathrooms have deep soaking tubs and separate showers.

Hilton Mexico City Reforma
Hotel Geneve Cd. de Mexico is located in the Zona Rosa district of Mexico City, Mexico, and stands three blocks from Paseo de la Reforma. Set within the city's financial and historic center, the hotel is close to shopping malls, movie theaters, dining and entertainment. A subway station is located close to the hotel, providing easy access to many sectors of the city. The hotel's Sanborns Traditional Restaurant offers selections of regional Mexican cuisine and international dishes while the Sanborns Garden Restaurant serves buffet-style Mexican food in a casual atmosphere.

Hotel Geneve Ciudad De Mexico
Hotel Geneve Cd. de Mexico is located in the Zona Rosa district of Mexico City, Mexico, and stands three blocks from Paseo de la Reforma. Set within the city's financial and historic center, the hotel is close to shopping malls, movie theaters, dining and entertainment. A subway station is located close to the hotel, providing easy access to many sectors of the city. The hotel's Sanborns Traditional Restaurant offers selections of regional Mexican cuisine and international dishes while the Sanborns Garden Restaurant serves buffet-style Mexican food in a casual atmosphere.

Hyatt Regency Mexico City Mexico City
Located across the street from the National Auditorium in the Polanco area of Mexico City, Mexico. The Anthropology Museum and Chapultepec Castle are one kilometer from the hotel. The historic downtown district and the Zona Rosa are four kilometers away. The Hotel provides several dining venues, including El Jardin Restaurant, serving Mexican and international cuisine, and Teppan Grill Restaurant offering Japanese dishes. Room service is available 24 hours. The English pub-style Shelty Bar serves cocktails and light fare. The health club features an indoor pool, a sauna, a steam room and treadmills.
Galeria Plaza Mexico By The Independence Angel
Galeria Plaza Mexico By The Independence Angel stands in the Zona Rosa district in downtown Mexico City, Mexico. The property sits one block from the Paseo de la Reforma, a grand tree-lined boulevard featuring public parks, bronze monuments and fountains commemorating the liberal reforms of President Benito Juárez. Chic shopping opportunities flourish in the prestigious Polanco district, just one mile away. US-bound flights regularly depart from Mexico City International, roughly a 30-minute drive from the Galeria Plaza.
Krystal Grand Reforma Uno Mexico City
The Krystal Grand Reforma Uno Hotel is ten miles from Benito Juarez International Airport and situated right in the heart of Mexico City. The hotel is decorated in a combination of European and Hispanic styles. Amenities offered by the Krystal Grand Reforma Uno Hotel include a business center, flower shop, gift shop, news stand, 24-hour taxi service, a full-service spa, indoor pool and fitness center. Currency exchange, laundry and dry-cleaning service and babysitting services are also available. Wireless Internet access is available in the lobby, business center, and meeting areas. Spacious guest rooms offer large windows overlooking Paseo de la Reforma or Plaza de la República.

Mision Express Zona Rosa Mexico City
The Hotel Mision Express Zona Rosa is a deluxe hotel located in the most important Financial Center in Mexico City, near the best entertainment and convenient to the cultural attractions. It is only two blocks away from Insurgentes Avenue and three from Reforma Boulevard. In the interior, tourists find the tranquility desired after a busy day in Mexico City, while the executives discover a hotel that offers services of the highest level. Guests will enjoy privacy in the harmonious luxury and comfort of the 50 guest rooms, but it is only a small sample of the personal touch and charm that Mision Express Zona Rosa offers, a hotel where great events are made up from small details.
Sheraton Maria Isabel Hotel & Towers
The Sheraton Maria Isabel Hotel & Towers overlooks the famous Angel of Independence in the Zona Rosa business district of Mexico City, Mexico. This property stands two blocks from the Casa de Bolsa stock exchange building and is less than two kilometers from Chapultepec Castle and Park. Four restaurants and bars are located on this hotel's premises. Restaurant Amice serves Italian fare for breakfast, lunch and dinner. Restaurant Pavilion prepares international cuisine, while the Manhattan Deli and Bar offers New York-style drinks and light meals. Jorongo Bar features Mexican ambience and serves drinks and snacks.

St. Regis Mexico City
Overlooking the Plaza de la Reforma, this luxury hotel is in Mexico City's historic center, 1 km (0.6 mi) from Chapultepec Park and 1.5 km (about a mile) from the world-class Museo Nacional de Antropologia. The Zocalo is 4 km (2.4 mi) away. Designed by renowned architect César Pelli, St. Regis Mexico City features the full-service Remède spa and an indoor pool. The fitness center offers spectacular city views. A Mediterranean restaurant overlooks the Fountain of Diana the Huntress. Afternoon tea is served in the Atrium, which is also the setting for a Champagne Ritual on Wednesday evenings. St. Regis Butlers are at guests' service from the moment of arrival.
Continue browsing hotels in Mexico City

Top