Search this site


Celarain Lighthouse,
Cozumel, Mexico
Buy at AllPosters.com


Beach Chairs, Cozumel, Mexico
Buy at AllPosters.com


Palapa Umbrella on
Cancun Beach
Buy at AllPosters.com


Aerial of the Beaches of
Cancun, Mexico
Buy at AllPosters.com


Copyright © All World Vacation Station





A Quick Overview of Mexico
Lesser Known Yet Fabulous: Puerto Aventuras
Lets Go To Mexico - 5 Great Mexico Vacation Destinations
Vacation Rentals in Akumal
Mexico's Island of Cozumel
The island of Cozumel is only 12 miles (19 km) off the Mexican Yucatan Peninsula's east coast and 44 miles (71 km) south of Cancun. For years, Cozumel was a quite sleepy island that didn't get many visitors until Jacques Cousteau did a documentary on it after discovering the world class scuba diving at the Palancar Reefs nearby... read more
Become a Castaway on Cozumel by Caitlin Moore
The island of Cozumel serves as an oasis of tempting vacation possibilities in a drab world of office meetings, commutes and daily shots of depressing global news. Not that these things can be forever solved or banished, but taking a trip to a piece of Mexican paradise can cast the rest of the world in a rosier light; it can make life a little more bearable knowing that there is serenity and beauty out there somewhere. Absorb your share of this loveliness by taking a trip to Cozumel, and make the deal extra sweet by choosing to stay in an inviting, reasonably priced vacation rental that will whisk you away from routine.

Imagine a villa gracefully perched on a hilltop overlooking the sea. Tropical trees and plants bring shade and vibrancy to the yard, and a pebble path goes from the door to a stretch of sandy beach. There are doors in the master suite that open out to a sunny patio, and windows covered with long wispy drapes flutter with each warm breeze. A garden tub offers to easy any stressed or achy muscles, and a spacious closet will ensure that no dresses or khaki pants suffer prolonged wrinkles. This is just one taste of one property, and there's much more where that came from.

Larger groups might enjoy an affordable condo right on the beach, perhaps nearby one of the well-kept facilities like Playa Uvas or Play Mia Grand Beach Park. With room to spare, a full kitchen, entertainment center and a fold out couch thrown in for good measure, families, friends and whatever motley crew you've brought along will all be happy in Cozumel. Being able to wake up and hit the beach within minutes or simply walk down the coast towards shops, restaurants and historical attractions are priceless commodities that will push this trip to the next level.

Open layouts, access to pools, Jacuzzis and work out centers, snorkeling, beach bars and night clubs just down the way...these details make condos perfect for diverse and energetic groups of people.


Cruise Ship, Cozumel, Mexico
Buy at AllPosters.com
They could be good for romance-minded couples, too, but so would a cozy little casita tucked slightly away from the action. Let the TV go untouched and don't worry about making the bed; all you need to do is stock the fridge with some champagne and snacks and see where each day and night takes you. Reconnecting with your love can be the first priority of this vacation, so sit back and let the turquoise waters and sunsets be the backdrop.


Underwater Diver and Corals, Cozumel Island, Mexico
Buy at AllPosters.com

In addition to being filled with diving opportunities, nature sightings, duty free shopping, nighttime entertainment and consistently fine weather, Cozumel also has dozens of vacation rentals to choose from. In addition to the ones mentioned above, there are many others, each with its own personality, that have the potential to fulfill the daydreams you've been having while languishing in your cubicle.

The sky, the ocean and the sand are all necessary elements, but the bed, the bath and the home-like atmosphere provide the finishing touches.

Luxurious haciendas exist for the high-rollers but perfectly attractive condos and beach houses can be had without breaking the bank.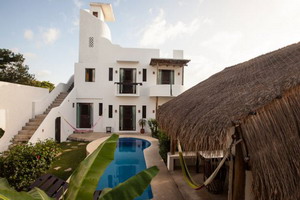 No matter what your style or budget, there's something that fits Go online to check out all the Cozumel Vacation Rental options and get ready to set sail for a place that will free you, if just temporarily, from the confines of the real world.
Cozumel Vacation Rentals - Cozumel Hotels

| | |
| --- | --- |
| FEATURED COZUMEL VACATION RENTAL VILLAS & CONDOS | |

Casa Corales, Cozumel Vacation Rental Villa
The Casa Corales is located in the Villas Mar y Sol townhouse complex, right in between the Cozumeleno and Paradisus Hotels. There is a sandy beach directly in front of this home and those interested in water sports will find plenty to do nearby. These include wind surfing, jet skiing, snorkeling, and much more. Inside this beautiful townhouse you will find ocean views from almost everywhere as well as plenty of space for your group to make themselves at home. A full kitchen awaits those hungry from a day on the beach, but if the chef of the group is tired let one of our chefs prepare your meals. Catch your favorite program on the Satellite TV after dinner, or head out on the town which is only a ten minute drive from the property.
Casa P - Cozumel, Luxurious Oceanfront Condo, Cozumel Island
Mexican Caribbean Oceanfront Yet In Town. The Ocean At Your Back Door, The Town at Your Front Door. The Only 5-Star Condo Building On Cozumel Island, And It's Brand-New! Oceanfront, 4 Master Suites, each with attached private bath. Jaw-dropping ocean vistas from your private 45-foot balcony. Watch the cruise ships and dive boats go by while lounging in your own private hot tub! This brand-new property is in the hands-down best location in Cozumel. It is on the 7th floor of El Cantil, the brand-new luxury building that everyone has been talking about, right across the street from Chedraui (the largest grocery superstore in Cozumel) and the multiplex cinemas, next door to Plaza Las Glorias.
Coral Princess Hotel & Resort , Cozumel
The Coral Princess Hotel and Resort in Cozumel is located on the north side of island and is one of just six hotels in the north hotel district. Punta San Juan reef is also located in the area and is one of the island's top diving and snorkeling sites. For day trips, the ferry station for Playa del Carmen is located 2.8 kilometers away while Cancun is located 13 kilometers away. Cozumel airport is located less than four kilometers from the hotel. The Coral Princess Hotel and resort offers 136 guestrooms and suites in two nine-story towers colored white with terra-cotta accents. Two heated pools, a spa tub, a swim-up bar and a sundeck area provide on-site relaxation. Studio, one, two and three bedroom villas
Villa Caribe, Vacation Rental Villa, Cozumel
We offer trouble free villas so guests can be on vacation with home prices and unmatchable Mexican hospitality. These villas are exquisitely decorated in Mexican / Tropical style providing a peaceful atmosphere for relaxing while at the same time offering a location that is within proximity of all of the exciting places to enjoy in town (restaurants, shopping, night clubs). The property is also within walking distance to the best white sand beaches and the most superb diving reefs ever seen. For the outdoor enthusiast there is the great experience of deep sea fishing and a lot more.
Villa Iguanas Sur, Vacation Rental Villa, Cozumel
Villa Iguanas Sur is a seafront home that offers 3 bedrooms and 2 bedroom suites; both suites have private entry. The architect has specially shaped a portion of the home to capture the prevailing winds and direct them into this area. There are also ceiling fans. You will also find here a complete stereo with cassette, CD, and 20+ channels of digital music for your listening pleasure.Up a winding staircase from the living room, is a second bedroom, also with queen size bed. This bedroom also affords access via another staircase at poolside. Ascending the poolside stairs, you'll come to the master bedroom with king sized bed...

Villa Princesa, Vacation Rental Villa, Cozumel
Villa Princesa was recently upgraded with new furnishings and decor, giving it a totally different look and feel. Warm hues and special decorative touches have brought the Princesa a new style and grace. The Princesa now has the best of everything: prime oceanfront location, seven well appointed bedrooms, elegant decor throughout and capacity for up to 15 guests. Villa Princesa is a fully air conditioned villa sitting on the side of a natural coral reef overlooking the tranquil blue waters of the Caribbean Sea. Located on a quiet section of ocean front, this home offers privacy along with a spectacular views and is one of our more popular vacation homes. The house is divided into three sections, the main house (Princesa) casita (Prince), and another casita...
Villa Riviera, Vacation Rental Villa, Cozumel
Located in the exclusive Country Club Estates neighborhood of Cozumel situated perfectly in between the beach and the golf course. Just four miles north of town, there is no better location on the island. This beautiful five bedroom five bath luxury home will accommodate up to 12 guests comfortably. Everyone is sure to enjoy the contemporary Caribbean design of the home, as well as the private, tranquil atmosphere of location. Relax and enjoy the tropical sun at your own pool or at the beach just a couple of minutes away. 5 bedrooms, 5 bathrooms.
Top
BAJA CALIFORNIA SUR - Cabo San Lucas - San Jose del Cabo
GUERRERO - Acapulco
JALISCO - Puerto Vallarta
QUINTANA ROO - Akumal - Cancun - Cozumel - Playa del Carmen - Playa del Secreto - Puerto Aventuras
- Puerto Morelos
SINALOA - Mazatlan
YUCATAN - Celestun